Commentary
Daily Notes for Sunday: Harang back in Reds' rotation
Updated:
August 9, 2008, 4:29 PM ET
By
Adam Madison
| Special to ESPN.com
Aaron Harang makes his return from the disabled list Sunday after being on the shelf for a month because of a strained forearm. However, Harang wasn't pitching well before he went on the DL, so it will be telling to see how effective he is now that he's healthy again.
A number of other starting pitchers with health questions also take the mound Sunday. Despite rumors his start would be skipped because of arm trouble, Andy Pettitte will start against the Angels and fellow southpaw Joe Saunders. Josh Johnson, just five starts removed from Tommy John rehab, faces the division rival Mets. And Chris Carpenter, himself a Tommy John surgery patient, gets a tough test at Wrigley Field against the Cubs and Ryan Dempster.
Matchups for Sunday, August 10
Time
Visitors
L/R
Record
ERA
WHIP
Home
L/R
Record
ERA
WHIP
1:05 p.m.
Greg Smith
L
5-10
3.99
1.28

@

Nate Robertson
L
6-8
6.11
1.63
1:07 p.m.
Cliff Lee
L
15-2
2.58
1.09

@

Scott Richmond
R
0-1
4.91
1.36
1:10 p.m.
Josh Johnson
R
2-0
3.34
1.52

@

Mike Pelfrey
R
10-7
3.85
1.44
1:15 p.m.
Wandy Rodriguez
L
6-4
3.98
1.36

@

Aaron Harang
R
3-11
4.76
1.40
1:35 p.m.
Jason Davis
R
1-1
2.57
1.14

@

Jamie Moyer
L
10-7
3.78
1.35
1:35 p.m.
Matt Harrison
L
3-2
6.46
1.73

@

Chris Waters
L
1-0
0.00
0.50
2:05 p.m.
Clay Buchholz
R
2-7
5.94
1.68

@

Gavin Floyd
R
11-6
3.66
1.25
2:05 p.m.
John Lannan
L
6-11
3.55
1.31

@

Manny Parra
L
9-5
4.18
1.50
2:10 p.m.
Scott Baker
R
7-3
3.86
1.17

@

Gil Meche
R
10-9
4.17
1.32
3:05 p.m.
Chris Young
R
4-4
4.06
1.40

@

Livan Hernandez
R
10-8
5.48
1.63
3:35 p.m.
Andy Pettitte
L
12-9
4.34
1.35

@

Joe Saunders
L
14-5
3.03
1.16
4:05 p.m.
Chad Billingsley
R
11-9
3.01
1.25

@

Matt Cain
R
7-9
3.60
1.28
4:10 p.m.
Mike Hampton
L
1-0
6.75
1.63

@

Brandon Webb
R
16-4
2.93
1.12
4:10 p.m.
Edwin Jackson
R
8-7
4.22
1.43

@

R.A. Dickey
R
3-6
4.36
1.51
8:05 p.m.
Chris Carpenter
R
0-0
1.00
1.11

@

Ryan Dempster
R
12-5
2.93
1.15
All times are ET.
Injury report
Day-to-day
Milton Bradley, OF, Rangers (quadriceps)
Michael Cuddyer, OF, Twins (finger)
Jack Cust, OF, Athletics (thumb)
David DeJesus, OF, Royals (ankle)
Carlos Guillen, SS/1B/3B, Tigers (back)
Andy LaRoche, 3B, Pirates (thumb)
Evan Longoria, 3B, Rays (wrist)
Scott Rolen, 3B, Blue Jays (shoulder)
Kerry Wood, RP, Cubs (back)
Jack Wilson, SS, Pirates (shoulder)

Start 'em, sit 'em
Hitters: Thirteen of Curtis GrandersonJay Bruce is another left-handed slugger who, well, doesn't slug against lefties: one home run, a .210 average and a .310 slugging percentage in 87 at-bats. Bruce's teammate, Edwin Encarnacion, however, is another story: His .302 average against southpaws is 79 points higher than his average versus righties. … Chris Young is hitting nearly 100 points higher (.303 versus .205) against lefties, and his opponent, Mike Hampton, hasn't looked too impressive since coming off the disabled list three starts ago.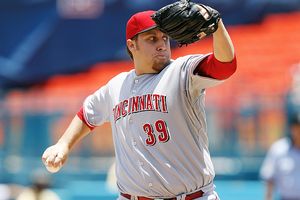 Joel Auerbach/US PresswireAaron Harang certainly looks more promising to fantasy owners now than he did a month ago.
Pitchers:
While Harang was regularly lit up in the starts preceding his trip to the disabled list, he now sounds healthy and without limits, and he fired six scoreless innings in a rehab start. You're welcome to activate him versus the Astros. … After allowing just four home runs in 108 2/3 innings before the All-Star break, it was a given that Mike Pelfrey's impossible home run rate would rise. In 24 2/3 innings since the break, Pelfrey has allowed five homers, and he now faces an offense that is third in the majors in home runs. Also, the Marlins have hit Pelfrey hard two previous times, so keep him reserved. … In a combined five starts against top-five offenses (in terms of OPS), Gavin Floyd has a 5.88 ERA (four starts against the Tigers, one against the Rangers). He faces the Red Sox on Sunday, who are also in the top five, so don't be ashamed to put Floyd on your bench. … Chris Young has looked pretty good in his first two starts since being activated from the disabled list. While you normally would play it safe and bench a pitcher at Coors Field, Young has a 2.40 ERA and 0.99 WHIP in 10 career starts against the Rockies, and a 2.42 ERA and 1.04 WHIP in five starts at Coors. … Andy Pettitte refuted a report that he was going to miss his next scheduled start due to arm stiffness, and the Yanks still have him penciled in. Either way, the 14 earned runs he has allowed his past two starts is far from pretty. Let's hope Pettitte is not hiding an injury, but it would conveniently explain those two starts. Keep him reserved until he gets it together.
Waiver-wire pickups
Hitters: Kelly Shoppach is hitting a scorching .375 with five home runs since the All-Star break, and his average and production have gone up each month since he has been a full-time catcher. Though Victor Martinez might return soon, the lack of production from first baseman Ryan Garko gives Shoppach a window of opportunity to retain most of his value since Martinez can play first base often enough to keep Shoppach's bat in the lineup.
Pitchers: Jamie Moyer is now up to 11 consecutive starts without allowing more than three earned runs, and he has a 2.90 ERA in that span. Somehow that results in availability in 88 percent of ESPN standard leagues, but it gives you the opportunity for a prime spot start versus the Pirates, whose lineup is lacking with Adam LaRoche on the disabled list, Andy LaRoche banged up and Brandon Moss and Steve Pearce struggling to replace Jason Bay and Xavier Nady. … Though Manny Parra has been inconsistent, his strikeouts have not. Though he has a 5.78 ERA in his past five starts, he also has 31 strikeouts in 31 1/3 innings. With a start against the lowly Nationals, that strikeout potential should be the only reason you need to put him in your lineup despite his recent troubles. … Gil Meche continued his superb pitching in his last start, striking out nine Red Sox in six innings en route to just two runs allowed. He's an easy player to plug every week because he's still available in nearly two-thirds of ESPN standard leagues, and there's no reason to believe his streak won't continue versus the Twins. … Scott Baker has allowed a home run in five straight starts and is coming off a poor start against the Mariners (six runs in 5 1/3 innings). Baker's combined 3.26 ERA in June and July give him a bit of a mulligan, though, and a Sunday matchup versus the Royals is too soft to pass up.
Weather concerns
A handful of contests might be threatened by rain, beginning with the Athletics-Tigers game, which has a 30 percent chance of being hit by showers. Both the Marlins-Mets and Padres-Rockies have a 30-40 percent chance of thunderstorms as well. … The Pirates-Phllies and Rangers-Orioles have the worst weather prospects, with an expected 40 percent chance of rain throughout the afternoon and evening. … Finally, Indians-Blue Jays, Nationals-Brewers, Braves-Diamondbacks and Rays-Mariners all have the benefits of a dome.
Adam Madison is a fantasy baseball analyst for ESPN.com
SPONSORED HEADLINES
FANTASY TOP HEADLINES
MOST SENT STORIES ON ESPN.COM