Commentary
Daily Notes for Thursday: Litsch, Glavine return
Updated:
August 13, 2008, 12:59 PM ET
By
Will Harris
| Special to ESPN.com
A full National League slate is in store for Thursday, along with five games on the junior circuit. Toronto's Jesse Litsch and Atlanta's Tom Glavine return to their teams' rotations. Colorado's Aaron Cook won't pitch in order to rest his back, but Scott Olsen of the Marlins is expected to pitch despite a sore ankle.
Matchups for Thursday, Aug. 14th
Time
Visitors
L/R
Record
ERA
WHIP
Home
L/R
Record
ERA
WHIP
1:05 p.m.
Jesse Litsch
R
8-7
4.46
1.33

@

Armando Galarraga
R
10-4
3.23
1.16
2:05 p.m.
Kyle Davies
R
5-3
4.66
1.63

@

D.J. Carrasco
R
1-0
2.57
1.00
2:05 p.m.
Kevin Correia
R
2-6
5.21
1.59

@

Brian Moehler
R
8-4
3.83
1.29
3:05 p.m.
Dan Haren
R
12-6
3.00
1.03

@

Glendon Rusch
L
5-3
5.22
1.50
3:35 p.m.
James Shields
R
10-7
3.65
1.12

@

Sean Gallagher
R
4-5
4.39
1.50
3:35 p.m.
Ben Sheets
R
11-5
2.95
1.15

@

Greg Maddux
R
6-8
4.12
1.24
7:05 p.m.
Vicente Padilla
R
12-6
4.85
1.48

@

Daisuke Matsuzaka
R
13-2
2.90
1.33
7:05 p.m.
Daniel Cabrera
R
8-7
4.78
1.47

@

Zach Jackson
L
0-0
4.91
1.91
7:05 p.m.
Johnny Cueto
R
7-11
5.01
1.39

@

Ian Snell
R
4-9
6.06
1.89
7:10 p.m.
Ted Lilly
L
11-6
4.26
1.34

@

Tom Glavine
L
2-3
4.85
1.57
7:10 p.m.
Oliver Perez
L
8-7
3.90
1.35

@

Collin Balester
R
2-4
4.66
1.36
7:10 p.m.
Todd Wellemeyer
R
9-4
4.01
1.28

@

Scott Olsen
L
6-7
4.04
1.31
10:10 p.m.
Brett Myers
R
5-9
5.09
1.43

@

Hiroki Kuroda
R
6-8
4.02
1.27
All times are ET.
Injury report
Out
Aaron Cook, SP, Rockies (back)
Carl Crawford, OF, Rays (hand)
Orlando Hudson, 2B, Diamondbacks (wrist)
Adam Jones, OF, Orioles (foot)
Adam LaRoche, 1B, Pirates (ribs)
Carlos Lee, OF, Astros (finger)
Evan Longoria, 3B, Rays (wrist)
Marcus Thames, OF, Tigers (shoulder)
Billy Wagner, RP, Mets (shoulder)
C.J. Wilson, RP, Rangers (elbow)

Day-to-day
Garrett Atkins, 3B, Rockies (illness)
Jason Bartlett, OF, Rays (finger)
Ryan Braun, OF, Brewers (back)
Carlos Guillen, 3B, Tigers (back)
Jerry Hairston, Jr., SS, Reds (hamstring)
Brad Lidge, RP, Phillies (shoulder)
Mike Lowell, 3B, Red Sox (oblique)
Kazuo Matsui, SS, Astros (back)
Carlos Quentin, OF, White Sox (forearm)
Shane Victorino, OF, Phillies (back)
Joey Votto, 1B, Reds (bereavement)
Jack Wilson, SS, Pirates (shoulder)

Start 'em, sit 'em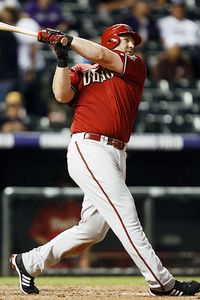 AP Photo/David ZalubowskiAdam Dunn is already making a name for himself in Arizona.
Hitters:
Detroit shortstop
Edgar Renteria
, who has hit over 100 points higher at home this year, is on a 9-for-23 streak, with four extra-base hits during that span. … Mike Lowell may not play Thursday due to an oblique strain, and he's managed only a .538 OPS in 38 at-bats versus Rangers starter
Vicente Padilla
anyway. …
Randy Winn
is one of the National League's hottest hitters, with 25 hits in his last 64 at-bats. The Giants outfielder is 13-for-24 with six extra-base hits versus Astros starter
Brian Moehler
. … Newly acquired Diamondbacks slugger
Adam Dunn
wasn't sorry to see Rockies starter Aaron Cook scratched in favor of
Glendon Rusch
. Dunn has hit .370 with six home runs in just 27 at-bats versus Rusch. …
Troy Tulowitzki
hit well in July, but is slumping again, notching just six singles in August. He's also struck out in all three career at-bats against Arizona starter
Dan Haren
. …
Jim Edmonds
is a near-everyday player who has achieved at least a .970 OPS during every month since May. The Cubs center fielder does sit against some left-handers, though, and with a mere .190 slugging percentage in 26 meetings with Atlanta southpaw Tom Glavine, Thursday will be one of those occasions.
Pitchers: Rangers starter Vicente Padilla should probably not be owned in mixed leagues at all, but he certainly needs to sit out Thursday's game at Boston. Padilla has allowed 33 earned runs in his last 38 innings. He has also managed just a 5.40 career ERA versus the Red Sox, whose probable lineup is hitting .371 off him. … Pirates right-hander Ian Snell is still owned in around a quarter of ESPN leagues, but there's no need to hold onto him. This year has become a lost season for Snell, who has constantly battled arm trouble and has given his owners an ERA under six in only one month all year. A trip to Cincinnati is unlikely to key a turnaround, as the Reds lineup is blasting Snell at a .348 clip. … Oliver Perez, who is surprisingly still unowned in 15 percent of ESPN leagues, has allowed just 10 earned runs in his past eight starts, striking out 55 batters while walking just 18 during that span. The Mets left-hander is an easy choice Thursday against the light-hitting Nationals. … Todd Wellemeyer struggled to a 5.88 July ERA after missing much of June with arm trouble. The Cardinals right-hander is back on track now, with a 13/3 strikeout-to-walk ratio in his past three starts, allowing six earned runs during that 18 2/3-inning span. He can be used against a Marlins squad he's never faced.
Waiver-wire pickups
It's not too late! Leagues are forming and drafting until Sep. 20, with scoring retroactive to Week 1.
Sign Up Today!
Hitters:
Cleveland shortstop Asdubral Cabrera hasn't shown his speed yet, but he's hitting .301 since his recall from the minors on July 18 and has posted a .967 OPS so far in August. He's a likely mixed-league contributor down the stretch. …
Melvin Mora
quietly put up a .906 July OPS, and the Baltimore third baseman is really heating up in August with a monster .405 BA/.422 OBP/.645 SLG line so far this month. … Padres outfielder
Brian Giles
owns a .300/.349/.625 August line, and he's been one of the few hitters to consistently get the best of
Ben Sheets
, compiling a .522/.607/1.000 line in 23 career at-bats versus the Brewers ace. … Owners needing a spot starter at catcher Thursday can look to Cincinnati's
Javier Valentin
, who homered in his Tuesday start and likely will earn another start Thursday thanks to his 1.405 OPS against Pirates starter Ian Snell.
Pitchers: A rough stretch in July has made Greg Maddux a forgotten man in ESPN leagues, but he's been masterful in August and is still a good bet in mixed formats at Petco Park, where he's posted a 2.73 ERA and .228 batting average against. Maddux is 15-6 with a 2.80 ERA in his career versus the Brewers, and the current Milwaukee roster has managed just a .674 OPS off the Padres veteran. … Brett Myers struggled in his first start back from minor league exile, but now it appears the demotion did indeed help the Phillies right-hander. Myers allowed just three earned runs in his next three starts, showing better command with each outing and cutting way down on the walks and home runs that plagued him in the first half of the season. Myers is owned in fewer than half of ESPN leagues but could be one of the National League's most dominant pitchers down the stretch.
Weather concerns
Games in Houston are always weatherproof. Rain across most of the country could affect every contest save the West Coast games and the Braves' home date with the Cubs.
Will Harris is a fantasy baseball and college football analyst for ESPN.com
Betting
College football handicapper
Covering fantasy sports for ESPN since 2008
MOST SENT STORIES ON ESPN.COM