Commentary
Daily Notes for Saturday: Phillies look to exploit Padres' injury
Updated:
August 15, 2008, 2:42 PM ET
By
Sean Allen
| Special to ESPN.com
Chris Young will miss his scheduled start on Saturday, and instead hit the disabled list with a strained right forearm, an injury that might keep him out for the season. If so, Young will have pitched just 68 1/3 innings this season, adding an exclamation point on the Padres' disappointing season. The Phillies and Kyle Kendrick, fighting for first place in the NL East, try to take advantage of that stroke of luck.
Matchups for Saturday, Aug. 16
Time
Visitors
L/R
Record
ERA
WHIP
Home
L/R
Record
ERA
WHIP
1:05 p.m.
Zack Greinke
R
9-8
4.09
1.35

@

Sidney Ponson
R
7-3
4.27
1.54
3:55 p.m.
John Lackey
R
9-2
3.15
1.12

@

Fausto Carmona
R
5-4
4.91
1.64
3:55 p.m.
John Danks
L
9-5
3.18
1.18

@

Greg Smith
L
5-11
3.92
1.31
3:55 p.m.
Ryan Rowland-Smith
L
2-1
3.71
1.38

@

Scott Baker
R
7-3
3.78
1.17
7 p.m.
Jonathan Sanchez
L
8-9
4.53
1.41

@

Mike Hampton
L
1-1
8.10
1.65
7:05 p.m.
Yusmeiro Petit
R
1-3
3.12
0.89

@

Brandon Backe
R
7-11
5.14
1.60
7:05 p.m.
Dennis Sarfate
R
4-2
5.16
1.61

@

Justin Verlander
R
8-13
4.77
1.29
7:05 p.m.
Pedro Martinez
R
3-3
5.37
1.52

@

Zach Duke
L
4-10
5.10
1.56
7:05 p.m.
Shaun Marcum
R
7-5
3.42
1.12

@

Josh Beckett
R
11-8
3.92
1.18
7:10 p.m.
Sean Marshall
L
2-2
3.55
1.13

@

Anibal Sanchez
R
1-2
4.08
1.36
7:10 p.m.
Livan Hernandez
R
10-9
5.94
1.68

@

John Lannan
L
6-11
3.40
1.30
7:10 p.m.
Joel Pineiro
R
5-5
4.82
1.46

@

Aaron Harang
R
3-12
5.17
1.43
8:05 p.m.
Edwin Jackson
R
9-7
4.07
1.42

@

Matt Harrison
L
4-2
7.07
1.82
10:05 p.m.
Kyle Kendrick
R
10-6
4.74
1.54

@

TBA
n/a
n/a
n/a
n/a
10:10 p.m.
Dave Bush
R
7-9
4.35
1.13

@

Derek Lowe
R
9-10
4.11
1.24
All times are ET.
Injury report
Out
Russell Branyan, 3B, Brewers (oblique)
Andruw Jones, OF, Dodgers (knee)
Mike Lowell, 3B, Red Sox (oblique)
Ryan Sweeney, OF, A's (thumb)
Chris Young, SP, Padres (forearm)
Joel Zumaya, RP, Tigers (arm)

Day-to-day
Garrett Atkins, 1B/3B, Rockies (strep throat)
Jason Bartlett, SS, Rays (finger)
Ryan Braun, OF/3B, Brewers (back)
Scott Downs, RP, Blue Jays (ankle)
Jacoby Ellsbury, OF, Red Sox (tailbone)
Carlos Guillen, 1B/3B/SS, Tigers (back)
Jerry Hairston Jr., SS/OF, Reds (hamstring)
Maicer Izturis, 2B/3B/SS, Angels (thumb)
Chipper Jones, 3B, Braves (quadriceps)
Ron Mahay, RP, Royals (foot)
Kazuo Matsui, 2B, Astros (back)
Aaron Rowand, OF, Giants (back)
Marcus Thames, OF/1B, Tigers (shoulder)
Joey Votto, 1B, Reds (bereavement)
Jack Wilson, SS, Pirates (shoulder)

Start 'em, sit 'em
Hitters:
Garrett Atkins was back on Thursday from strep throat and should be inserted immediately against the Nationals'
John Lannan
. He has a .412 batting average and 1.171 OPS against left-handers. ... Newest Diamondback
Adam Dunn
is a career 0-for-12 against
Brandon Backe
. No reason to start him with a matchup like that. ... Carlos Guillen's back pain is expected to keep him out until at least Saturday. Check the lineup, though. ... Marcus Thames had a cortisone shot and is expected back soon. Check his status for Saturday, as he has a homer in his only at-bat against the Orioles'
Dennis Sarfate
. ... Joey Votto is expected back from bereavement leave in time for Saturday's game. ...
John Lackey
is dominant, but keep
Jhonny Peralta
active. The shortstop is 10-for-20 lifetime versus Lackey. ... He's hitting like a maniac against everyone lately, but its still notable that
Raul Ibanez
is 6-for-13 (.583) versus
Scott Baker
with a pair of home runs. ... It's hard to explain why Beltran is a career 1-for-12 versus
Zach Duke
. Consider benching Beltran if you have other options. ...
Vernon Wells
is already licking his chops ahead of Saturday. Wells is 9-for-27 (.333) versus
Josh Beckett
, a pretty good line. It gets real impressive when you note that five of those nine hits are home runs. ... Look for
Jim Thome
to sit versus lefty
Greg Smith
. Aside from being the routine, Thome is 0-for-5 versus Smith, while
Nick Swisher
is 3-for-4 with a home run. ...
David DeJesus
has unreal numbers against
Sidney Ponson
in his career. In 19 at-bats, DeJesus has 12 hits (.632) and a home run. ... Three of the four hits Giambi has in 14 at-bats against
Zack Greinke
have been home runs.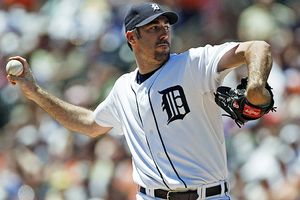 Leon Halip/US PresswireAs long as he's not facing the White Sox, Justin Verlander is a good option.
Pitchers:
John Lackey has an impressive 0.99 ERA in four starts in Cleveland. ...
Fausto Carmona
clearly lacks the command of his sinker that helped him to his stellar 2007 campaign. He's owned in too many ESPN leagues still (94 percent) and doesn't look close to getting back on track. The walks and hits he'd likely give up against the Angels would do way too much damage to your WHIP. ... He's not facing the White Sox, so there is nothing to fear starting
Justin Verlander
. The Orioles' combined lineup is a career 14-for-76 (.184) versus Verlander with a lowly .477 OPS. He should be just fine. ... Absolutely start
Shaun Marcum
. All we were looking for since he hit the DL were signs that he had shaken off the rust that saw him go 0-1 with a 9.82 ERA in his first three starts back from injury. In his past two outings, Marcum is 2-0 with a 2.08 ERA. He dominates most Red Sox hitters, so even a match in Fenway Park should be favorable.
Waiver-wire pickups
Hitters: There is still no timetable for Ryan Braun, but Gabe Kapler is starting and hitting while he is out. Kapler has six hits in four games since Braun hurt his ribs. ... Look for Luis Gonzalez to get a start for the Marlins. He is 11-for-19 (.579) with a pair of home runs versus the Cubs' Ryan Dempster. ... The Rockies love lefties and John Lannan should whet their appetite nicely. Chris Iannetta and Ian Stewart are the starts you might find on waivers in some leagues. ... Austin Kearns is 11-for-25 (.440) with two home runs and 11 RBIs versus Livan Hernandez. ... In case you have been using him for deep-league stolen bases, check out this matchup: Cesar Izturis is 0-for-17 versus Aaron Harang.
It's not too late! Leagues are forming and drafting until Sep. 20, with scoring retroactive to Week 1.
Sign Up Today!
Pitchers:
I like
Ryan Rowland-Smith
for a spot start. The Twins have a weak OPS against left-handers (.710) and Rowland-Smith has done a more than adequate job as a starter and reliever this season in letting his defense do a lot of the work. ... Another reason I like Rowland-Smith here is that his counterpart, Scott Baker, got knocked around pretty bad by the Mariners two starts ago. He had success in his most recent outing by keeping the ball down, but the smackdown from Seattle is too recent to roll out Baker again. He's had plenty of ups and downs this season. ...
Yusmeiro Petit
looks like a trap for this Saturday. He has looked terrific as the D-backs' fifth starter, as well as a reliever, but the Astros have some heavy bats coming into the matchup. Houston has the best OPS of any club this August (.861). That's too much to roll out a spot-start pitcher. ...
Jonathan Sanchez
looks to have worked through a terrible July, where his ERA skyrocketed to 8.57. He's back in the mid-3.00's for this month after two solid August starts, one of them was a mediocre five-inning display against the Braves. But Sanchez didn't walk anyone in that game and could be a nice NL-only add for this game.
Weather concerns
Boston and New York are both weather risks, affecting Blue Jays-Red Sox and Royals-Yankees, although it's expected to clear up later in the day in New York. ... Rain might delay or threaten Rays-Rangers and Cubs-Marlins, as there's a 40 percent chance of showers in both cases. Other areas, however, are clear, and domes in both Minnesota (Mariners-Twins) and Houston (Diamondbacks-Astros) make for weatherproof games.
Sean Allen is a fantasy baseball and hockey analyst for ESPN.com. You can e-mail him here.
Sean Allen is a fantasy analyst for ESPN.com. He was the 2008 and 2009 Fantasy Sports Writers Association Hockey Writer of the Year. You can tweet him
@seanard
.