Commentary
Daily Notes for Friday: Maddux debuts for L.A., Wainwright returns
Updated:
August 21, 2008, 11:57 AM ET
By
Adam Madison
| Special to ESPN.com
Two National League teams fighting for a spot in the playoffs gain a couple of trump cards. Greg Maddux makes his season debut for the Dodgers, while the Cardinals' Adam Wainwright returns from the disabled list after missing 11 weeks because of a ruptured tendon in his middle finger. Although Maddux has struggled away from Petco Park this season (he has a 5.75 road ERA), he seems to benefit from pitching in Dodger Stadium, with a 2.45 ERA in nine starts there since 2005.
Matchups for Friday, Aug. 22
Time
Visitors
L/R
Record
ERA
WHIP
Home
L/R
Record
ERA
WHIP
2:20 p.m.
John Lannan
L
6-12
3.81
1.34

@

Jason Marquis
R
8-7
4.67
1.44
7:05 p.m.
Greg Maddux
R
6-9
3.99
1.22

@

Kyle Kendrick
R
10-7
5.01
1.58
7:05 p.m.
Mike Mussina
R
16-7
3.35
1.20

@

TBD
0
0.0
0.00
0.00
7:07 p.m.
Paul Byrd
R
7-11
4.55
1.30

@

Shaun Marcum
R
8-5
3.36
1.14
7:10 p.m.
Roy Oswalt
R
11-8
4.28
1.37

@

Johan Santana
L
11-7
2.75
1.13
8:05 p.m.
Fausto Carmona
R
5-5
4.71
1.61

@

Matt Harrison
L
5-2
5.77
1.56
8:05 p.m.
Zach Duke
L
4-11
5.26
1.56

@

Dave Bush
R
7-9
4.26
1.12
8:10 p.m.
Justin Verlander
R
9-13
4.60
1.29

@

Brian Bannister
R
7-12
5.96
1.52
8:11 p.m.
Edwin Jackson
R
9-8
3.97
1.42

@

John Danks
L
10-5
3.11
1.20
8:15 p.m.
Charlie Morton
R
3-7
5.95
1.52

@

Adam Wainwright
R
6-3
3.14
1.09
9:05 p.m.
Aaron Harang
R
3-13
5.59
1.47

@

Aaron Cook
R
15-8
3.86
1.32
9:40 p.m.
Anibal Sanchez
R
2-2
3.52
1.39

@

Randy Johnson
L
10-9
4.16
1.28
10:05 p.m.
Glen Perkins
L
10-3
4.17
1.42

@

Joe Saunders
L
14-5
3.14
1.19
10:10 p.m.
Gio Gonzalez
L
1-2
7.53
1.81

@

Ryan Feierabend
L
0-1
18.00
3.67
10:15 p.m.
Cha Seung Baek
R
4-8
4.99
1.37

@

Tim Lincecum
R
13-3
2.60
1.20
All times are ET.

Injury report
Out

Jason Isringhausen, RP, Cardinals (elbow)
Ian Kinsler, 2B, Rangers (hernia)
Casey Kotchman, 1B, Braves (bereavement)
Mike Lowell, 3B, Red Sox (oblique)
Troy Percival, RP, Rays (knee)
George Sherrill, RP, Orioles (shoulder)

Day-to-day
Ryan Braun, OF/3B, Brewers (back)
J.D. Drew, OF, Red Sox (back)
Cristian Guzman, SS, Nationals (thumb)
Nate McLouth, OF, Pirates (flu)
Placido Polanco, 2B, Pirates (knee)
Hanley Ramirez, SS, Marlins (thumb)
Jim Thome, DH, White Sox (leg)

Start 'em, sit 'em
Hitters: Pirates lefty Zach Duke has allowed a whopping 13 home runs in his past eight starts, and the Brewers, with the third-most home runs in the majors, are licking their chops. J.J. Hardy (seven home runs in 110 at-bats) and Mike Cameron (five in 77 at-bats) are good options. For deeper leagues, Bill Hall has crushed Duke in his career (.346 average, three home runs in 26 at-bats) and is hitting .328 off southpaws this season. … Carlos Pena is hitting a paltry .169 against lefties and is unsurprisingly 1-for-6 with a single against John Danks this season. … Garret Anderson has been swinging the bat well, and his hitting streak is at 23 games through Wednesday. But against southpaws he's of little value: one home run, 12 RBIs and a .277 average in 94 at-bats this season. His teammate Torii Hunter has also displayed minimal power against lefties (two home runs and 11 RBIs in 113 at-bats). … In four starts against the Padres, Tim Lincecum has been essentially unhittable, with a 1.03 ERA. Not even Adrian Gonzalez has much success against Lincecum (3-for-16 in his career), so find replacements for your Padres hitters for the day.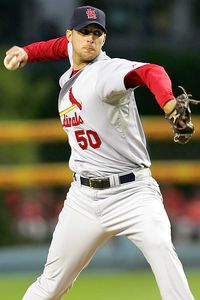 Gary A. Vasquez/US PresswireAdam Wainwright had been rumored to be a closer when he came off the DL, but he's back in the rotation.
Pitchers:
The Orioles have been one of the few teams that have been able to knock around
Mike Mussina
. Mussina has allowed seven runs and 13 hits in two starts (5 2/3 innings) this season. It could have been worse -- Mussina allowed seven runs in 2/3 of an inning back in May, but six were unearned. The Orioles' offense is at its peak now, with the highest team OPS since the All-Star break and a league-best .319 average in August, so it makes sense to reserve Mussina. … Keep
Fausto Carmona
firmly planted on your bench against the Rangers. He has an 8.30 ERA and 12 strikeouts and 16 walks since returning from the disabled list. … Coming off a successful rehab start (seven strikeouts and no walks in 4 2/3 scoreless innings) and facing a weak offense, the Cardinals' Adam Wainwright looks safe to start in his return from the disabled list. Wainwright might be able to throw only 85 to 90 pitches, considering he threw 64 in his rehab start, but he does have a career 1.00 ERA in 18 innings against a Braves team that originally drafted him. …
Aaron Harang
had his start Thursday against the Cubs pushed back because of neck spasms, a poor sign he'll be able to overcome his troubles since returning from a forearm strain. With 16 earned runs on six home runs versus the Astros and Cardinals, facing the Rockies in Coors Field sounds like a recipe for disaster.
Waiver-wire pickups
Hitters: With five home runs in the past three weeks, the Rockies' Ian Stewart has nine home runs in 154 at-bats in the majors. When combined with his 19 home runs in Triple-A, he has hit 28 home runs in 411 professional at-bats this season. His improved power is nice to see. Stewart slugged .607 in Triple-A this season; his highest mark in three years prior was .497. Although his 57 strikeouts in 48 games with the Rockies will keep his average down, Stewart has the patience, power and home park to remain a valuable contributor.
It's not too late! Leagues are forming and drafting until Sep. 20, with scoring retroactive to Week 1.
Sign Up Today!
Pitchers:
Greg Maddux held the Phillies to one run in seven innings in his past start, and, this time as a member of the Dodgers, heads to Citizens Bank Park for a rematch. The Phillies have struggled immensely this month, with a major league-low .204 batting average, so Maddux could make a decent spot start. … Taking advantage of a soft schedule,
Dave Bush
has a 1.78 ERA his past three starts against the Reds, Nationals and Dodgers. Friday's opponent, the Pirates, continues the trend of weak offenses; after hitting .282 BA/.340 OBP/.462 SLG as a team in July with
Jason Bay
and
Xavier Nady
on the roster, the offense is down to just .236/.298/.345 in August, an OPS above only the A's.
Weather concerns
Games in Toronto, Milwaukee, Arizona and Seattle are, as always, weatherproof. … Chicago is expected to see thunderstorms throughout the day, which puts both Nationals-Cubs and Rays-White Sox at risk. … Thunderstorms have a 50 percent chance of striking St. Louis (Braves-Cardinals). Arlington (Indians-Rangers) and Denver (Reds-Rockies) both have a 30 percent chance of storms.
Adam Madison is a fantasy baseball analyst for ESPN.com.
SPONSORED HEADLINES
FANTASY TOP HEADLINES
MOST SENT STORIES ON ESPN.COM