Commentary
Daily Notes for Sunday: Key AL series wrap up
Updated:
August 23, 2008, 4:34 PM ET
By
Adam Madison
| Special to ESPN.com
A couple of finales of key series between American League powers highlights Sunday's schedule. The Twins' Kevin Slowey and the Angels' Ervin Santana face off in what might be the day's best pitching matchup (more on Slowey below), and the Rays and White Sox finish a three-game series, with Andy Sonnanstine and Mark Buehrle taking the mound for their respective sides.
Matchups for Sunday, August 24
Time
Visitors
L/R
Record
ERA
WHIP
Home
L/R
Record
ERA
WHIP
1:07 p.m.
Daisuke Matsuzaka
R
15-2
2.77
1.37

@

A.J. Burnett
R
16-9
4.51
1.41
1:10 p.m.
Randy Wolf
L
8-11
4.81
1.47

@

Oliver Perez
L
9-7
3.93
1.38
1:35 p.m.
Darrell Rasner
R
5-9
4.93
1.46

@

Daniel Cabrera
R
8-8
4.98
1.51
2:05 p.m.
Paul Maholm
L
8-7
3.64
1.23

@

CC Sabathia
L
14-8
2.99
1.16
2:05 p.m.
Andy Sonnanstine
R
13-6
4.37
1.31

@

Mark Buehrle
L
11-10
3.91
1.33
2:10 p.m.
Kenny Rogers
L
9-10
4.94
1.57

@

TBD
0
0.0
0.00
0.00
2:15 p.m.
Jo-Jo Reyes
L
3-9
5.18
1.55

@

Braden Looper
R
11-10
3.94
1.29
2:20 p.m.
Jason Bergmann
R
2-9
4.50
1.37

@

Rich Harden
R
8-2
2.04
1.08
3:05 p.m.
Johnny Cueto
R
8-12
4.74
1.37

@

Ubaldo Jimenez
R
9-11
3.99
1.48
3:35 p.m.
Kevin Slowey
R
10-8
3.78
1.06

@

Ervin Santana
R
13-5
3.39
1.13
4:05 p.m.
Josh Banks
R
3-6
4.81
1.46

@

Kevin Correia
R
2-7
5.15
1.59
4:10 p.m.
Ricky Nolasco
R
12-7
3.67
1.16

@

Doug Davis
L
5-7
4.68
1.53
4:10 p.m.
Dan Meyer
L
0-1
5.52
1.50

@

Felix Hernandez
R
7-8
3.23
1.34
8:05 p.m.
Anthony Reyes
R
4-2
3.66
1.38

@

Vicente Padilla
R
12-7
4.96
1.49
8:05 p.m.
Hiroki Kuroda
R
7-9
3.97
1.22

@

Joe Blanton
R
6-12
4.87
1.42
All times are ET.
Injury report
Out
Alex Gordon, 3B, Royals (quadriceps)
Jason Isringhausen, RP, Cardinals (elbow)
Ian Kinsler, 2B, Rangers (hernia)
Day-to-day
Ryan Doumit, C, Pirates (flu)
J.D. Drew, OF, Red Sox (back)
Mark Ellis, 2B, A's (shoulder)
Casey Kotchman, 1B, Braves (bereavement)
Nate McLouth, OF, Pirates (flu)
Hanley Ramirez, SS, Marlins (thumb)
Start 'em, sit 'em
Hitters: J.D. Drew was diagnosed with a herniated disk Friday and is probably closer to out, though he might not land on the disabled list, considering rosters expand September 1. … The return of Ryan Church puts Fernando Tatis in a part-time role, and although Church is expected to get Sunday off, Tatis hasn't been especially productive against southpaws this season (zero home runs in 77 at-bats). Tatis wasn't hitting in August anyway, so feel free to remove him from your mixed-league rosters. … Jose Guillen still remains useful against lefties (eight home runs, .292 average), and right-handed hitters are batting .302 against Kenny Rogers this season.
Pitchers: A.J. Burnett has a 1.98 ERA in five starts versus the Red Sox since joining the AL East in 2006. … The Rays are hitting only .244 against left-handed pitching, and without Evan Longoria in the lineup, they don't pose much of a threat to any quality left-hander. Mark Buehrle should bounce back nicely from a poor start versus the Mariners. … Johnny Cueto is coming off an impressive start against the Cubs - one run in seven innings, six strikeouts - and has a 3.13 ERA over his past four starts, but you have to bench the homer-prone fireballer in his first career start at Coors Field. With 26 home runs allowed in 152 innings, it would seem the more substantial the hitters' park, the worse off Cueto is.
Waiver-Wire pickups
Hitters: Willy Aybar has multiple hits in four of his past five games and is now hitting .303 with three home runs in 66 August at-bats. … Away from Petco Park, Jody Gerut has shown some impressive power, with 10 home runs and a .552 slugging percentage in 143 at-bats. He has been particularly hot since the All-Star break, with a .327 average and nine home runs, six of which he has hit in August.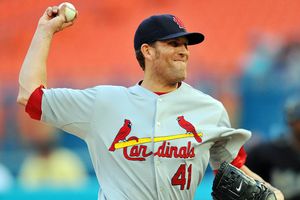 Steve Mitchell/US PresswireBraden Looper has been pitching mighty well of late.
Pitchers:
Braden Looper has quietly put together quite the streak of effectiveness, with a 2.02 ERA his past six starts. His opponent Sunday, the Braves, have continued to hit poorly since Looper held them to two runs in seven innings back on July 28, and with the Cardinals offense hitting .310 this month, Looper is a wise choice to spot-start. … The Reds are an easy offense to pick on, with an absurdly low .278 on-base percentage in August, last in the majors. Ubaldo Jimenez has allowed 27 hits and 13 runs his past three starts, but in 11 starts prior to that, he had a 1.87 ERA, so he should be a good bet to get back on track. … After holding the A's to one earned run over seven innings in his last start, Kevin Slowey has allowed one run or less in four of his past five starts, good enough for a 2.16 ERA in 33 2/3 innings. Slowey also has a 27-to-2 strikeout-to-walk ratio in that span, so it's safe to say he is pitching quite well, and a matchup with the Angels looks good on paper. … Hiroki Kuroda dominated the Phillies just 10 days ago, striking out seven while allowing zero walks, one run and just two hits. Kuroda has been a boom-or-bust pitcher this season, but with the Phillies having struggled to hit all month, it's hard to see things going too differently in the rematch.
Weather concerns
Tigers-Royals has a moderate weather concern, with a 30-to-40 percent chance of storms at game time and throughout the afternoon. The Braves-Cardinals affair could briefly be subject to precipitation, but for the most part clear skies are expected across the league. … Domes cover games in Toronto, Milwaukee, Arizona and Seattle.
Adam Madison is a fantasy baseball analyst for ESPN.com
SPONSORED HEADLINES
FANTASY TOP HEADLINES
MOST SENT STORIES ON ESPN.COM