Commentary
Daily Notes for Wednesday: Hampton heating up
Updated:
August 26, 2008, 11:46 AM ET
By
Sean Allen
| Special to ESPN.com
Don't look now, but Mike Hampton has logged two straight quality starts for the first time since April 2005. To be fair, Hampton didn't take the mound in 2006 or 2007, but the statement still holds true. He may not factor into fantasy play in 2008, but he noted a return in his velocity after the game and did hit 90 on the radar gun a couple of times. The Marlins are a lefty-friendly matchup (.695 OPS is fourth-worst in majors), but you can understand my hesitation in recommending him. Who knows, though -- with a good outing here, he may be useful over the next couple of weeks as the Braves have another series with Florida plus two with Washington (fifth-worst OPS in majors, .707).
Matchups for Wednesday, Aug. 27
Time
Visitors
L/R
Record
ERA
WHIP
Home
L/R
Record
ERA
WHIP
12:35 p.m.
Jason Marquis
R
8-7
4.76
1.44

@

Zach Duke
L
4-12
5.29
1.55
3:35 p.m.
Randy Johnson
L
10-9
4.03
1.27

@

Cha Seung Baek
R
4-9
5.08
1.37
4:40 p.m.
Glen Perkins
L
11-3
3.90
1.39

@

Ryan Feierabend
L
0-1
7.87
2.00
7:05 p.m.
John Danks
L
10-6
3.16
1.21

@

Radhames Liz
R
4-3
7.32
1.82
7:05 p.m.
Fausto Carmona
R
6-5
4.40
1.60

@

Justin Verlander
R
10-13
4.42
1.30
7:05 p.m.
Paul Byrd
R
8-11
4.61
1.30

@

Sidney Ponson
R
7-4
4.67
1.59
7:05 p.m.
Johan Santana
L
12-7
2.64
1.14

@

Kyle Kendrick
R
11-7
4.87
1.55
7:10 p.m.
David Purcey
L
2-4
6.55
1.54

@

Matt Garza
R
10-7
3.71
1.23
7:10 p.m.
Greg Maddux
R
6-10
4.25
1.24

@

Tim Redding
R
8-8
4.54
1.40
7:10 p.m.
Josh Johnson
R
3-0
3.51
1.42

@

Mike Hampton
L
2-1
6.47
1.59
8:05 p.m.
Josh Fogg
R
2-6
7.66
1.62

@

Roy Oswalt
R
11-9
4.23
1.33
8:10 p.m.
Matt Harrison
L
5-3
6.27
1.63

@

Brian Bannister
R
7-13
5.89
1.49
8:15 p.m.
Manny Parra
L
10-6
4.10
1.51

@

Adam Wainwright
R
7-3
3.04
1.09
10:05 p.m.
Gio Gonzalez
L
1-2
6.52
1.76

@

Joe Saunders
L
14-6
3.37
1.21
10:15 p.m.
Livan Hernandez
R
11-10
6.28
1.70

@

Tim Lincecum
R
14-3
2.48
1.19
All times are ET.
Injury report
Out
Alex Gordon, 1B/3B, Royals (quadriceps)
Jerry Hairston Jr., SS/OF, Reds (hamstring)
Geoff Jenkins, OF, Phillies (quadriceps)

Day-to-day
Garret Anderson, OF, Angels (knee)
Sean Casey, 1B, Red Sox (neck)
Jeff Clement, C, Mariners (knee)
Francisco Cordero, RP, Reds (personal)
J.D. Drew, OF, Red Sox (back)
Mark Ellis, 2B, A's (shoulder)
Carlos Guillen, 1B/SS/3B, Tigers (back)
Casey Kotchman, 1B, Braves (bereavement)
Mike Lowell, 3B, Red Sox (oblique)
Victor Martinez, 1B/C, Indians (elbow)

Start 'em, sit 'em
Hitters: Of the day-to-day hitters likely to have returned by Wednesday, take an extra look at the status of Garret Anderson, Mike Lowell and Jeff Clement. Lowell may not be an asset, though, as he has managed just one hit in nine tries versus Sidney Ponson. ... Dustin Pedroia, on the other hand, is a perfect 5-for-5 with three doubles versus Ponson. ... Start all your Twins hitters. They smacked 10 hits and put up a five-run first inning against Ryan Feierabend on August 17. ... Lean toward using Jason Giambi, as his four home runs in just 16 at-bats against Paul Byrd are quite impressive. ... Paul Konerko has been the most likely candidate to sit versus a right-hander in recent White Sox games, while Ken Griffey Jr., Jim Thome and Nick Swisher all start. ... Make sure to check Victor Martinez's status on game day. If activated, he should be slotted in. V-Mart has four home runs in 30 at-bats versus Justin Verlander. ... This matchup should go a long way to lifting the "Fogg" around Lance Berkman's batting eye. Even with only four home runs since July 1, Berkman should be good for one against the Reds' Josh Fogg. In 35 career at-bats, Berkman has 15 hits (.429 BA) with six doubles and six home runs and 14 RBIs (1.705 OPS).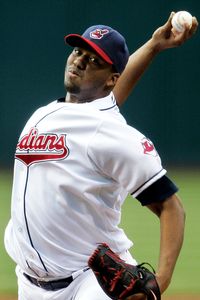 AP Photo/Tony DejakFausto Carmona's shining light is facing the Tigers.
Pitchers:
Randy Johnson
is coming off seven straight quality starts, the most recent a 13-strikeout performance against Florida. This matchup in pitcher-friendly Petco Park is a tasty one. Start him in all formats. ...
John Danks
is a toss-up. He has lost two of his last three games, but all three were quality starts. That is despite the White Sox offense boasting the league's best OPS in August (.871). The trouble is that Baltimore is right behind Chicago for August OPS (.865) and also rate in the top 10 versus left-handers (.802 OPS). I'd proceed with caution, but probably will end up starting Danks myself as the Baltimore bats have notably cooled over the past week. ... In a season filled with injury, disappointment and lack of control,
Fausto Carmona
has one bright spot: he has dominated the Tigers. In two starts, he has compiled 13 innings with three earned runs (2.08 ERA) and a 2-0 record. Carmona also has five strikeouts compared with two walks against Detroit, despite his season total of 57 walks and just 40 strikeouts. ... Working in Carmona's favor as well is Justin Verlander's struggles against the Indians. He's 4-8 in his career versus Cleveland with a 6.51 ERA and is 1-3 this season with a 5.84 ERA. ... Predicting
Matt Garza
should be easy for once as he has a 0.39 ERA in three starts versus the Blue Jays this season. That would be one earned run over 23 1/3 innings. His most recent outing against Toronto was a complete-game, five-hit shutout. ...
Roy Oswalt
is on a roll with four straight quality starts, and is a must-start until further notice. ...
Adam Wainwright
returned from the DL in fine form and should be started with confidence, as he should be allowed to go deeper than the 72 pitches he threw in his return. ...
Joe Saunders
is 2-0 with a 1.26 ERA versus Oakland this season and the A's still own the worst OPS in the league versus southpaws (.646). Saunders should be just fine.
Waiver-Wire pickups
Hitters: Reed Johnson hits lefties well (.360 BA/.945 OPS) and is 5-for-10 against Zach Duke. ... If you use Brian Giles in a deeper league, consider Johnson as a replacement. Giles is 3-for-32 against Randy Johnson (.094) and his normally good eye doesn't work against the Big Unit either (two walks, 13 strikeouts). ... Marcus Thames is not an option with Fausto Carmona pitching. Thames is 0-for-12 versus the sinkerballer. ... Ryan Church is back from concussion problems and is a career 4-for-8 with a home run versus the Phillies' Kyle Kendrick. ... Brad Ausmus could be a deep-league option at catcher on Wednesday. He has a .308 career average versus Josh Fogg (26 at-bats) with six RBIs.
It's not too late! Leagues are forming and drafting until Sep. 20, with scoring retroactive to Week 1.
Sign Up Today!
Pitchers:
Jason Marquis
should provide a cheap waiver-wire win, if only thanks to the likelihood of his counterpart, Zach Duke, being lit by the Cubs. Chicago has handed Duke a 5.91 ERA in four starts against him and has won three of those games. Marquis actually looked decent in the beginning of his last outing, with five scoreless innings before getting into trouble, and may be sharper as he is back on regular rest (instead of eight days). ...
Cha Seung Baek
breaks the trend of Padres pitching better at home than on the road. Baek's is 0-8 with a 5.97 ERA in Petco (4-0, 3.72 ERA on the road). It doesn't make sense, and it does make sense not to use him. ... Don't let
Glen Perkins
win streak fool you. He's 4-0 in his previous five starts, but has allowed at least four runs in three of those games -- one of them against these same Mariners on Aug. 17. In that contest,
Wladimir Balentien
,
Kenji Johjima
and
Adrian Beltre
all took him deep. ... In eight starts off the DL,
Josh Johnson
has allowed more than three runs just once (four) and logged five quality starts in the process. He is pitching effectively and catches a Braves team that hasn't been all that threatening this month (.701 OPS). ... One of Kyle Kendrick's redeeming qualities is his win total, but with
Johan Santana
opposing him, there is a fat chance he can help much on Wednesday. ...
Manny Parra
finally notched his 10th win in his most recent outing, but still got into plenty of trouble, logging a 2.00 WHIP in five innings. The Cardinals may have a lower OPS versus lefties (.802 versus RHP, .748 versus LHP), but this still isn't a strong test for a pitcher who hasn't shown us much since early-July.
Weather concerns
The only game threatened by the weather is the same contest that could see rain on Tuesday. Stay tuned to the news out of Atlanta as the Marlins-Braves game is looking grim on the forecast. ... Weatherproof games to be played in Seattle (Twins-Mariners), Tampa Bay (Blue Jays-Rays) and Houston (Reds-Astros).
Sean Allen is a fantasy baseball and hockey analyst for ESPN.com. You can e-mail him here.
Sean Allen is a fantasy analyst for ESPN.com. He was the 2008 and 2009 Fantasy Sports Writers Association Hockey Writer of the Year. You can tweet him
@seanard
.
SPONSORED HEADLINES
FANTASY TOP HEADLINES
MOST SENT STORIES ON ESPN.COM