Commentary
Daily Notes for Thursday: Liriano and Harden should dominate
Updated:
September 10, 2008, 4:36 PM ET
By
Will Harris
| Special to ESPN.com
There are 10 games Thursday, five in each league. The lone day game is an American League affair, pitting Twins phenom
Francisco Liriano
against the lowly Royals. On the senior circuit, the Cardinals look to salvage their fading playoff hopes against
Rich Harden
and the Cubs, while the second-place Phillies and Brewers begin a four-game set.
Matchups for Thursday, Sept. 11
Time
Visitors
L/R
Record
ERA
WHIP
Home
L/R
Record
ERA
WHIP
1:10 p.m.
Brandon Duckworth
R
2-1
6.60
1.93

@

Francisco Liriano
L
5-3
3.33
1.31
7:00 p.m.
Ubaldo Jimenez
R
10-12
4.20
1.47

@

Jair Jurrjens
R
12-9
3.54
1.36
7:05 p.m.
Zach Jackson
L
0-2
5.56
1.41

@

Brian Bass
R
3-4
5.01
1.54
7:05 p.m.
Ben Sheets
R
13-7
2.82
1.11

@

Jamie Moyer
L
13-7
3.64
1.34
8:05 p.m.
Zach Duke
L
5-13
4.87
1.50

@

Roy Oswalt
R
14-9
3.72
1.23
8:11 p.m.
Shaun Marcum
R
8-6
3.42
1.16

@

Gavin Floyd
R
15-6
3.72
1.24
8:15 p.m.
Rich Harden
R
9-2
1.99
1.05

@

Todd Wellemeyer
R
12-6
3.74
1.22
10:05 p.m.
Brandon Morrow
R
2-2
1.42
0.83

@

John Lackey
R
11-3
3.25
1.15
10:05 p.m.
Dustin Nippert
R
2-4
6.59
1.82

@

Dallas Braden
L
5-3
3.72
1.33
10:05 p.m.
Matt Cain
R
8-11
3.75
1.33

@

Josh Geer
R
1-0
3.60
1.80
All times are ET.
Injury report
Out
Ty Wigginton, 3B, Astros (hamstring)
Jack Wilson, SS, Pirates (finger)
Brandon Phillips, 2B, Reds (finger)
Paul Konerko, 1B, White Sox (knee)
Troy Glaus, 3B, Cardinals (shoulder)
Day-to-day
Erick Aybar, SS, Angels (hamstring)
Ronnie Belliard, 1B, Nationals (wrist)
Milton Bradley, OF, Rangers (wrist)
Chris Dickerson, OF, Reds (ankle)
J.D. Drew, OF, Red Sox (back)
Mark Ellis, 2B, A's (shoulder)
Jody Gerut, OF, Padres (finger)
Carlos Guillen, 3B, Tigers (back)
Torii Hunter, OF, Angels (quad)
Evan Longoria, 3B, Rays (wrist)
Kazuo Matsui, 2B, Astros (back)
Melvin Mora, 3B, Orioles (hamstring)
Freddy Sanchez, 2B, Pirates (eyes)
Start 'em, sit 'em
Hitters: Don't expect much from David DeJesus Thursday. The Royals outfielder is slugging just .380 against left-handers. Neither he nor his light-hitting Kansas City teammates are likely to generate much offense against the red-hot Francisco Liriano, who has allowed just seven earned runs in seven starts since rejoining the Twins' rotation. … Adrian Beltre has earned 100 percent ownership in mixed leagues with another solid if unspectacular season. Beltre, however, has been owned by John Lackey, going 7-for-43 with 12 strikeouts against the Angels' ace. … Ben Sheets has gotten the best of most hitters, and the Phillies' bats are generally no exception. Chase Utley (1-for-10), Jimmy Rollins (4-for-19), and Shane Victorino (1-for-7) have been frequent victims of Sheets. Pat Burrell, however, has reached the Brewers' ace for seven hits in 14 at-bats, including two home runs and two doubles. … Troy Glaus should get a day off Thursday. The Cardinals' third baseman is hitting just .227 this month and is battling a shoulder injury. Nobody's having much success off Cubs right-hander Rich Harden anyway. The former Oakland ace has allowed more than one earned run just once in nine starts since coming to Chicago.
[+] Enlarge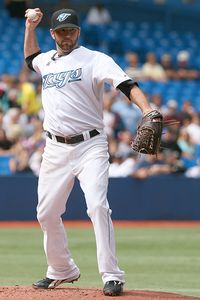 AP Photo/J.P. MoczulskiShaun Marcum is developing, but still a young pitcher in Toronto.
Pitchers:
Shaun Marcum has been up and down in eight starts since rejoining the Jays' rotation in late July. He shut out the Rays for seven innings in his most recent turn, though, and was exceptional in his only start against the White Sox this season. In fact, the current Sox lineup is hitting just .179 BA/.258 OBP/.339 slugging in 56 at-bats versus Marcum. … Atlanta right-hander Jair Jurrjens had a rough August (5.73 ERA) but he got back on track with five innings of one-run ball in his first September start and can be used Thursday against the Rockies. … Roy Oswalt is officially out of his slump. He's sporting a 2.17 ERA and 0.96 WHIP in the second half, and is unscored upon in two September starts, spanning 17.1 innings at Coors and Wrigley! … Matt Cain is not in the greatest recent form, having served up 12 runs in his past three starts. Don't hesitate to use him Thursday, however, as a visit to Petco to face the light-hitting Padres is the perfect antidote. The current Padres lineup is hitting just .185 off Cain in 168 at-bats.
Waiver-wire pickups
Hitters: Owners whose regular catcher is off Thursday can look to Ramon Hernandez. The Orioles' backstop is batting .296 and slugging .519 this month, and he's hit .316 this year versus lefties like Cleveland's Zach Jackson. … Toronto first baseman Lyle Overbay is barely owned in ESPN leagues at 14 percent. Overbay, however, is really heating up of late, batting .379/.400/.793 with three home runs in September. Overbay also owns a solid .298/.394/.497 line versus right-handers this year. All 14 of his home runs and 27 of his 33 doubles and triples have come off righties. … With 28 steals in just 193 at-bats, Oakland outfielder Rajai Davis has been one of the sport's biggest base stealers among nonregulars. Davis has been doing it at the plate recently as well, going 11-for-29 during his current seven-game hitting streak. His contributions during that span include eight runs, eight RBIs, four steals and a home run. … Rangers slugger Nelson Cruz had a monster season in Triple-A, leading the minor leagues in home runs for much of the year before his call-up last month. Since then, he's hit .327 with three home runs, three stolen bases, nine runs scored and nine RBIs in just 49 at-bats. Cruz should get more attention than his current 10 percent ownership figure in ESPN leagues. … Milwaukee third baseman Bill Hall's highly publicized struggles against right-handed pitching cost him his everyday job this year and made him a pariah in mixed leagues. Hall, however, isn't having any trouble with lefties, posting a solid .317/.383/.549 line against them this season. He's seen Jamie Moyer only a half-dozen times, but has three singles and two doubles in those six at-bats.
It's not too late! Leagues are forming and drafting until Sep. 20, with scoring retroactive to Week 1.
Sign Up Today!
Pitchers:
Brandon Morrow was just turning into a dominant closer when the Mariners decided to send him to Triple-A to stretch him out as a starter. The plan was for Morrow to rejoin the rotation when rosters expanded in September, and the 24-year-old made the club look brilliant in his Sept. 5 debut. Morrow was four outs away from a no-hitter against the Yankees, finishing with 7.2 innings of one-hit ball. His inexperience means that Morrow carries some risk, as there will be growing pains, but this is a premium talent worth using even against John Lackey and the Angels.
Weather concerns
Games in Minnesota and Houston are always weatherproof. Games at Atlanta and St. Louis will be threatened by rain Thursday.
Will Harris is a fantasy baseball and college football analyst for ESPN.com
Betting
College football handicapper
Covering fantasy sports for ESPN since 2008
SPONSORED HEADLINES
FANTASY TOP HEADLINES
MOST SENT STORIES ON ESPN.COM