Commentary
Daily Notes for Tuesday: Sonnanstine versus Sawx, Take Two
Updated:
September 15, 2008, 2:53 PM ET
By
Will Harris
| Special to ESPN.com
Big-time divisional matchups highlight Tuesday's slate. The Rays and Red Sox play the second game of a three-game set, with Boston ace Josh Beckett taking the mound at the Trop against Andy Sonnanstine. In the National League, Central division contenders clash as hired gun C.C. Sabathia leads his Brewers into Wrigley to face Ryan Dempster and the Cubs.
Matchups for Tuesday, Sept. 16
Time
Visitors
L/R
Record
ERA
WHIP
Home
L/R
Record
ERA
WHIP
7:05 p.m.
Francisco Liriano
L
5-3
3.19
1.24

@

Zach Jackson
L
0-3
5.63
1.45
7:05 p.m.
Gavin Floyd
R
15-7
3.77
1.24

@

Andy Pettitte
L
13-13
4.52
1.40
7:05 p.m.
Derek Lowe
R
13-11
3.48
1.15

@

Jeff Karstens
R
2-5
4.46
1.26
7:07 p.m.
Chris Waters
L
2-3
5.73
1.64

@

Shaun Marcum
R
9-6
3.38
1.15
7:10 p.m.
Josh Beckett
R
12-9
4.10
1.22

@

Andy Sonnanstine
R
13-7
4.47
1.30
7:10 p.m.
Jamie Moyer
L
14-7
3.68
1.33

@

James Parr
R
1-0
0.00
0.83
8:05 p.m.
Braden Looper
R
12-12
4.02
1.32

@

Bronson Arroyo
R
14-10
4.65
1.43
7:10 p.m.
Mike Pelfrey
R
13-9
3.77
1.35

@

Odalis Perez
L
6-10
4.48
1.53
7:10 p.m.
Roy Oswalt
R
15-9
3.54
1.19

@

Chris Volstad
R
4-3
3.31
1.41
8:05 p.m.
Zach Miner
R
8-4
4.29
1.45

@

Kevin Millwood
R
9-9
5.15
1.63
8:05 p.m.
C.C. Sabathia
L
15-8
2.81
1.13

@

Ryan Dempster
R
15-6
3.02
1.21
8:10 p.m.
Brandon Morrow
R
2-3
1.64
0.93

@

Brandon Duckworth
R
2-1
5.85
1.90
8:35 p.m.
Shawn Estes
L
2-2
3.82
1.27

@

Ubaldo Jimenez
R
10-12
4.18
1.48
9:40 p.m.
Matt Cain
R
8-12
3.96
1.36

@

Dan Haren
R
14-8
3.39
1.14
10:05 p.m.
John Lackey
R
11-3
3.25
1.15

@

Sean Gallagher
R
4-6
5.01
1.59
All times are ET.
Injury report
Out
Rick Ankiel, OF, Cardinals (abdomen)
Adrian Beltre, 3B, Mariners (thumb)
Carl Crawford, OF, Rays (hand)
Joe Crede, 3B, White Sox (back)
Mark Ellis, 2B, A's (shoulder)
Maicer Izturis, SS, Angels (thumb)
Howie Kendrick, 2B, Angels (hamstring)
Jeff Kent, 2B, Dodgers (knee)
Fred Lewis, OF, Giants (foot)
Brandon Phillips, 2B, Reds (finger)
Carlos Quentin, OF, White Sox (wrist)
Frank Thomas, DH, A's (quad)
Ty Wigginton, 3B, Astros (hamstring)
Jack Wilson, SS, Pirates (finger)

Day-to-day
Erick Aybar, SS, Angels (hamstring)
Ronnie Belliard, 1B, Nationals (wrist)
Casey Blake, 3B, Dodgers (back)
J.D. Drew, OF, Red Sox (back)
Stephen Drew, SS, Diamondbacks (personal)
Yunel Escobar, SS, Braves (hamstring)
Andre Ethier, OF, Dodgers (personal)
Jody Gerut, OF, Padres (finger)
Troy Glaus, 3B, Cardinals (shoulder)
Vladimir Guerrero, OF, Angels (knee)
Carlos Guillen, 3B, Tigers (back)
Conor Jackson, 1B, Diamondbacks (shoulder)
Paul Konerko, 1B, White Sox (knee)
Kazuo Matsui, 2B, Astros (back)
Yadier Molina, C, Cardinals (thigh)
Juan Rivera, OF, Angels (hip)
B.J. Upton, OF, Rays (quad)

Start 'em, sit 'em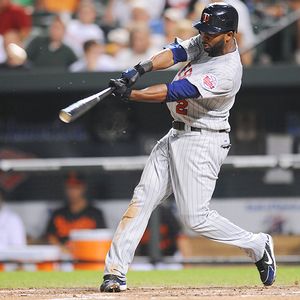 AP Photo/Gail BurtonDenard Span has been doing it all over the past week-plus.
Hitters:
Twins leadoff man
Denard Span
has posted five multi-hit games in his past seven starts, with two home runs, two steals and 10 runs scored during that period. Don't hesitate to use him Tuesday against fellow lefty Zach Jackson. Span is hitting .310/.408/.512 against left-handers this season. … White Sox slugger
Jim Thome
can sit Tuesday. He's hitting just .240 lifetime against Andy Pettitte, with no home runs and nine strikeouts in 25 at-bats. … Orioles star
Nick Markakis
doesn't get many days off in most leagues anyway, but those in shallow formats should make sure he's active Tuesday. Markakis is 8-for-17 with an incredible five home runs versus Toronto starter Shaun Marcum. … The Blue Jays'
Lyle Overbay
and
Adam Lind
are both everyday players, but they're better off on the fantasy bench Tuesday, as neither has been very effective against fellow left-handers such as Baltimore starter Chris Waters. … Oakland shortstop
Bobby Crosby
is not a good choice Tuesday. He's hitting just .188/.212/.281 with 11 strikeouts in 32 at-bats versus Angels ace John Lackey, and has been losing time to
Cliff Pennington
of late anyway. … Pirates infielders
Freddy Sanchez
and
Adam LaRoche
have reached base just once each in 23 combined meetings with Derek Lowe. The Dodgers right-hander has been lights out recently, so look beyond Pittsburgh for hitting help Tuesday. … After three straight unproductive months, Braves second baseman
Kelly Johnson
has caught fire in September. Johnson is hitting .471/.509/.843 this month, including multi-hit games in seven of his past nine starts. He's just 2-for-7 in limited exposure to Phillies veteran Jamie Moyer, but Johnson has hit .347 versus fellow left-handers this season. … After putting up a 2.51 August ERA, Astros ace Roy Oswalt hasn't been scored upon in 26.1 September innings! Against a starter this hot, it's not out of the question to sit even Marlins stars such as
Mike Jacobs
(.286 OBP versus Oswalt) or
Dan Uggla
(0-for-11 versus Oswalt). … Brewers shortstop
J.J. Hardy
is in an 11-for-58 September slump, and is 0-for-13 versus Cubs starter Ryan Dempster anyway. Bench him.
Pitchers: Andy Pettitte hasn't pitched well of late, making him a risky play Tuesday against the White Sox. Pettitte has allowed 19 runs in his past four starts, and he has also struggled at home this season, managing just a 5.32 ERA at Yankee Stadium. … Shaun Marcum has looked sharp so far in September. He shut down the White Sox and Rays, respectively, his past two starts and should be used against the O's on Tuesday. … Dodgers groundball artist Derek Lowe hasn't allowed more than two runs in a game since August 11 and has surrendered just four second-half home runs. He's a must-start this week against the Pirates. … Mike Pelfrey was hit hard by the Nationals in his last outing, but he had allowed just eight runs in his five previous starts. The Mets right-hander shut down the Washington lineup twice earlier this year, and should be given another chance Tuesday.
Waiver-wire pickups
Hitters: Detroit's Mike Hessman has been filling in at third base for the injured Carlos Guillen, and he has responded with three home runs in just 22 at-bats since his call-up. Hessman also hit 34 longballs in Triple-A, and he'll likely get the nod Tuesday against Rangers starter Kevin Millwood, who (like most pitchers) has been homer-prone in Arlington. … Even Hessman didn't hit as many Triple A home runs as Nelson Cruz this year. The Texas outfielder has continued his power surge since his call-up, slugging .627 with four home runs in 67 at-bats. He also has chipped in three steals. Cruz is primed for a roaring finish to the season, and he should be owned in more than 60 percent of ESPN standard leagues. … Another Rangers power source can be found at catcher. Taylor Teagarden has been behind the plate a lot with Jarrod Saltalamacchia hurt. Teagarden has blasted five home runs in just 32 at-bats, driving in 12 runs in the process. … Indians shortstop Asdrubal Cabrera has hit well since returning from minor league exile in mid-July, but he has been nothing short of incredible in September, batting .463 with a .522 OBP and .634 slugging percentage and 13 RBIs in 41 at-bats. … Mets comeback story Fernando Tatis is hitting .360/.484/.520 in September. He's available in a majority of ESPN standard leagues despite a .300 average and .487 slugging percentage this year. Tatis sports a career 1.091 OPS versus Nationals left-hander Odalis Perez. … Brian Giles is a solid outfield bet Tuesday. The Padres veteran hit .340/.418/.567 in August and is at .302/.393/.434 so far in September. He's on a 10-for-28 tear over the past seven games as well. Giles boasts a very solid .304 average and .878 OPS, with all 11 of his homers, against right-handers this year. He's 5-for-15 lifetime versus Rockies right-hander Ubaldo Jimenez and should definitely be starting for some team Tuesday at Coors Field. … Giants second baseman Eugenio Velez owns a 1.000 September OPS, and the switch hitter's OPS is more than 200 points higher against righties this year. Use him against Arizona right-hander Dan Haren, who has struggled (6.00 ERA) since the end of July.
Pitchers: Andy Sonnanstine has managed an ERA under 4.00 in just one month this year, but he's fresh off a shutdown effort against Boston and now draws the Sox again, this time at home. He should be able to hold up his end of the anticipated pitching duel with Josh Beckett. … Converted closer Brandon Morrow is just two starts into his stint in the Mariners' rotation, but so far the results have been good. Morrow tossed 7 2/3 innings of one-hit ball against the Yankees, then followed that up with five frames of two-run ball against the Angels. He's a prime pickup versus the light-hitting Royals. … Bronson Arroyo is officially back on track. After getting knocked around for much of the year, the Reds' right-hander has allowed just five earned runs in his past five starts. He's pitching as well as anyone right now, and yet he's owned in just 35 percent of ESPN leagues.
Weather concerns
Games in Toronto, Tampa and Arizona are weatherproof. Except for the southeast, the nation should be relatively dry Tuesday. Atlanta's home date with the Phillies is the only game that could be affected by weather.
Will Harris is a fantasy baseball and college football analyst for ESPN.com
SPONSORED HEADLINES
FANTASY TOP HEADLINES
MOST SENT STORIES ON ESPN.COM