Commentary
Daily Notes for Wednesday: Welcome back, Freddy
Updated:
September 17, 2008, 10:01 AM ET
By
Sean Allen
| Special to ESPN.com
There is no time like the present. Freddy Garcia, who hasn't pitched in the majors since June 2007 with the Phillies, will start against the Rangers on Wednesday. The Tigers signed him last month to a "tryout contract" after he spent much of the season getting back into pitching shape. He had surgery last year to repair his labrum and rotator cuff in his pitching shoulder, and no one signed him off the free-agent market at the beginning of the season. Garcia has pitched a combined five scoreless innings in Class A and Triple-A, throwing three of those scoreless innings for Triple-A Toledo while striking out five and allowing two hits.
It's a very limited sample size of what Garcia still has left, and I wouldn't dare compare minor league hitters to those he'll face in Arlington on Wednesday, but he plays for a team that will give him plenty of offensive support (.848 September OPS) and he has a history of being a useful fantasy pitcher within the last three years. If you are in a deep league and in the stretch drive, he could be a difference-maker if he has his stuff back. He's definitely worth an add to your bench.
Matchups for Wednesday, Sept. 17
Time
Visitors
L/R
Record
ERA
WHIP
Home
L/R
Record
ERA
WHIP
3:05 p.m.
Josh Geer
R
2-0
3.18
1.59

@

Livan Hernandez
R
11-11
6.21
1.67
7:05 p.m.
Scott Baker
R
9-4
3.57
1.20

@

Cliff Lee
L
22-2
2.36
1.06
7:05 p.m.
Lance Broadway
R
1-0
8.49
1.89

@

Phil Hughes
R
0-4
9.00
2.14
7:05 p.m.
Chad Billingsley
R
15-10
3.02
1.30

@

Zach Duke
L
5-14
4.84
1.49
7:07 p.m.
Brian Bass
R
3-4
4.84
1.55

@

David Purcey
L
3-6
5.10
1.40
7:10 p.m.
Tim Wakefield
R
9-10
3.92
1.19

@

Matt Garza
R
11-9
3.60
1.23
7:10 p.m.
Brandon Backe
R
9-12
5.44
1.60

@

Ricky Nolasco
R
14-7
3.56
1.12
7:10 p.m.
Brandon Knight
R
0-0
6.43
1.57

@

Shairon Martis
R
0-2
2.70
1.40
7:10 p.m.
Todd Wellemeyer
R
12-7
3.63
1.23

@

Aaron Harang
R
4-16
4.96
1.40
7:10 p.m.
Kyle Kendrick
R
11-9
5.44
1.63

@

Jair Jurrjens
R
13-9
3.62
1.37
8:05 p.m.
Freddy Garcia
R
0-0
0.00
0.00

@

Dustin Nippert
R
3-4
6.20
1.80
8:10 p.m.
Ben Sheets
R
13-8
2.97
1.13

@

Jason Marquis
R
10-8
4.36
1.40
8:10 p.m.
Ryan Rowland-Smith
L
4-2
3.65
1.37

@

Gil Meche
R
11-11
4.14
1.32
8:05 p.m.
Jonathan Sanchez
L
9-10
4.47
1.40

@

Brandon Webb
R
20-7
3.28
1.18
10:05 p.m.
Jered Weaver
R
11-10
4.25
1.27

@

Greg Smith
L
7-15
4.23
1.37
All times are ET.
Injury report
Out
Rick Ankiel, OF, Cardinals (abdominal)
Adrian Beltre, 3B, Mariners (thumb)
Joe Crede, 3B, White Sox (back)
J.D. Drew, OF, Red Sox (back)
Howie Kendrick, 2B, Angels (hamstring)
Fred Lewis, OF, Giants (foot)
Brandon Phillips, 2B, Reds (finger)
Jack Wilson, SS, Pirates (finger)

Day-to-day
Erick Aybar, 2B/SS, Angels (hamstring)
Rod Barajas, C, Blue Jays (hamstring)
Ronnie Belliard, 1B/2B/3B, Nationals (wrist)
Casey Blake, 3B, Dodgers (back)
Milton Bradley, OF, Rangers (wrist)
Damion Easley, 2B, Mets (quadriceps)
Yunel Escobar, 2B/3B/SS, Braves (hamstring)
Jody Gerut, OF, Padres (finger)
Troy Glaus, 3B, Cardinals (shoulder)
Vladimir Guerrero, OF, Angels (knee)
Carlos Guillen, 1B/3B/SS, Tigers (back)
Conor Jackson, 1B, Diamondbacks (shoulder)
Paul Konerko, 1B, White Sox (knee)
Kazuo Matsui, 2B, Astros (back)
Yadier Molina, C, Cardinals (thigh)
Troy Percival, RP, Rays (back)
Juan Rivera, OF, Angels (hip)
B.J. Upton, 2B/OF, Rays (quadriceps)
Ty Wigginton, 2B/3B/OF, Astros (hamstring)

Start 'em, sit 'em
Hitters: Stephen Drew did not play Sunday or Monday, but he is expected back in time for Wednesday's game following the death of his grandmother. Andre Ethier also missed a couple contests following the birth of his child, but even if he's available Wednesday, he might not start since the Dodgers have more impressive options against left-handed pitcher Zach Duke. Matt Kemp, Juan Pierre and Manny Ramirez are all hitting better than .300 against lefties for the Dodgers. … The other Drew in the big leagues, J.D., might be back in the Red Sox lineup, so check his availability. Drew's return would mean Coco Crisp would be in line to lose at-bats. … Red-hot lefty hitter Denard Span does even more damage against lefties than righties, although both have faced his wrath this season. Make sure he is in your lineup, even against a formidable starter such as Cliff Lee. Span is hitting .326 with a .990 OPS against southpaws this season. Twins teammate Jason Kubel is not an option against elite lefties, though, as his average this season versus southpaws is just .237. … Vladimir Guerrero is expected back for Wednesday's game, but look closer at his status as game time approaches; his knee has been bugging him. … Kevin Kouzmanoff has two home runs in 11 at-bats versus Livan Hernandez. … Mike Aviles is hitting .358 against lefties, and with Ryan Rowland-Smith scheduled to pitch Wednesday, Aviles should be in your lineup. Also consider Billy Butler, who excels against southpaws (.341 BA). … Chipper Jones is usually a good start, and he should do well Wednesday. He has six hits, with two doubles and two homers, in 12 at-bats versus probable Phillies starter Kyle Kendrick. … Carlos Pena has some issues with the knuckleball. He is 4-for-29 (.138) versus Tim Wakefield. … Randy Winn doesn't mind seeing 20-win pitcher Brandon Webb on the mound. In 35 career at-bats, Winn has 15 hits (.429 BA) against the sinkerballer.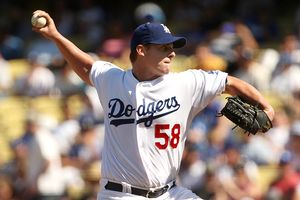 Stephen Dunn/Getty ImagesChad Billingsley has been outstanding of late ... and now he faces the Pirates.
Pitchers:
Chad Billingsley has not allowed more than three runs in any of his past 12 starts; he's 7-2 with a 2.52 ERA during that span. He should be dominant against the Pirates. … I'm pointing this out for amusement only, but Minnesota was actually the last team to beat Cliff Lee -- way back on July 6! He's still 2-1 with a 2.35 ERA against the Twins this year. … Do we have any choice but to consider Ricky Nolasco an elite pitcher now? Over his past nine starts, he is 4-1 with a 2.68 ERA and has struck out 71 batters while walking only five. … Gil Meche didn't have his best stuff in his last outing (six runs in five innings) and has a history of struggles (5.01 ERA and .346 batting average against) against his former team, the Mariners. I'd maybe hold back. … Jered Weaver has a strong history against the A's, and he looked solid after a 12-day layoff because of cuts on his pitching hand. He is 2-2 in his career against Oakland, but a 2.72 ERA and 0.91 WHIP tell a better story. … ESPN.com's Jason Grey has a
terrific look
at Aaron Harang's issues this season, and his resurgence over his past five starts. He should be fine in this outing against St. Louis. … Brandon Webb did exactly what we needed him to do in his last outing. After allowing at least six earned runs in his three previous outings, he pitched eight shutout innings against the Reds. Webb looks good to go now, especially considering he induced 13 ground balls in his last outing.
Waiver-wire pickups
Hitters: As much as Brandon Wood has been useful lately, he is hitting only .107 (3-for-28) against lefties this season and should not be considered with Greg Smith on the hill. … Edwin Encarnacion likes facing Todd Wellemeyer. The Reds' third baseman is 4-for-7 (.571) against Wellemeyer with three doubles. … Akinori Iwamura is 9-for-22 (.409) against Tim Wakefield's knuckleball. He also has five walks and no strikeouts versus the veteran righty. … Taylor Teagarden has been getting at-bats either at catcher or DH, and he has been taking advantage of every start, with five home runs and 12 RBIs in 32 at-bats. … The Royals seem to have decided they'll see what Ryan Shealy can do, and he looks like he'll be able to help teams who need some last-minute power. He has three home runs and a .642 average over his past 14 at-bats.
Pitchers: Phil Hughes certainly wasn't ready for the big leagues at the start of this season, and he certainly hasn't been dominant in the minors (5.90 ERA). There were some positives, though, with 31 strikeouts in 29 innings and only nine walks and two home runs surrendered. He was also 1-0 with a 0.69 ERA in postseason play. Hughes should be picked up and monitored, but not started at this point. … I'm OK with starting David Purcey, especially if you need strikeouts, but I expect there to be some risk considering his 120-pitch outing against Boston in his last start was certainly a heavy workload for a rookie. … Tim Wakefield bounced back from a terrible outing to throw eight shutout innings against a red-hot Blue Jays team. The Tampa Bay Rays are no easy target, and Matt Garza is no easy opposing pitcher (he's 3-1 against Boston this season), but Wakefield should throw a quality start and will battle for the win here. His ERA versus the Rays this season is a nice 2.77.
Weather concerns
After a crazy weekend of rainouts, it's nice to see a relatively uneventful forecast for Wednesday. The only city that might be affected by rain is Miami; there is a 30 percent chance of thunderstorms for the Astros-Marlins contest. … Weatherproof games include: Orioles-Blue Jays, Red Sox-Rays and Giants-Diamondbacks.
Sean Allen is a fantasy baseball and hockey analyst for ESPN.com. You can e-mail him here.
Sean Allen is a fantasy analyst for ESPN.com. He was the 2008 and 2009 Fantasy Sports Writers Association Hockey Writer of the Year. You can tweet him
@seanard
.