Commentary
Daily Notes for Thursday: NL East aces take mound
Updated:
September 17, 2008, 2:50 PM ET
By
Will Harris
| Special to ESPN.com
A dozen games are on tap for Thursday, including road outings for both of the American League's playoff hopefuls. The Rays, Red Sox and Angels are nearly sure to fill three of the Junior Circuit's postseason slots, so the remaining battle is being waged in the Central Division, where the Twins continue to chase the White Sox. Both those AL Central contenders send 12-game winners to the mound to answer stiff challenges, as Glen Perkins meets James Shields in Tampa and Javier Vazquez faces Mike Mussina in the Bronx. As for the National League, Rich Harden and the Cubs meet the Brewers at Wrigley, while the East Division hopefuls both call on their aces. Philadelphia's Cole Hamels will try to tame the Braves in Atlanta, while Johan Santana of the Mets is in action at Washington.
Matchups for Thursday, Sept. 18
Time
Visitors
L/R
Record
ERA
WHIP
Home
L/R
Record
ERA
WHIP
1:35 p.m.
Clayton Kershaw
L
4-5
4.41
1.52

@

Paul Maholm
L
9-8
3.68
1.28
2:10 p.m.
Ryan Feierabaned
L
1-3
5.79
1.65

@

Zack Greinke
R
11-10
3.73
1.32
2:20 p.m.
Dave Bush
R
9-10
4.24
1.15

@

Rich Harden
R
10-2
2.04
1.04
3:35 p.m.
Joe Saunders
L
15-7
3.65
1.24

@

Josh Outman
L
1-0
3.86
1.29
7:05 p.m.
Javier Vazquez
R
12-13
4.13
1.27

@

Mike Mussina
R
17-9
3.63
1.25
7:07 p.m.
Daniel Cabrera
R
8-10
5.25
1.61

@

Jesse Litsch
R
11-8
3.75
1.28
7:10 p.m.
Glen Perkins
L
12-4
4.40
1.46

@

James Shields
R`
13-8
3.50
1.14
7:10 p.m.
Cole Hamels
L
13-9
3.11
1.07

@

Jo-Jo Reyes
L
3-11
5.50
1.62
7:10 p.m.
Kyle Lohse
R
13-6
3.80
1.30

@

Edinson Volquez
R
16-5
3.22
1.34
7:10 p.m.
Johan Santana
L
13-7
2.70
1.16

@

Tim Redding
R
10-9
4.54
1.38
7:10 p.m.
Alberto Arias
R
1-0
1.93
1.12

@

Scott Olsen
L
7-10
4.31
1.34
9:40 p.m.
Tim Lincecum
R
17-3
2.43
1.17

@

Randy Johnson
L
10-9
4.11
1.28
All times are ET.
Injury report
Out
Rick Ankiel, OF, Cardinals (abdomen)
Adrian Beltre, 3B, Mariners (thumb)
Carl Crawford, OF, Rays (hand)
Joe Crede, 3B, White Sox (back)
Mark Ellis, 2B, A's (shoulder)
Maicer Izturis, SS, Angels (thumb)
Carlos Guillen, 3B, Tigers (back)
Howie Kendrick, 2B, Angels (hamstring)
Jeff Kent, 2B, Dodgers (knee)
Fred Lewis, OF, Giants (foot)
Yadier Molina, C, Cardinals (thigh)
Brandon Phillips, 2B, Reds (finger)
Carlos Quentin, OF, White Sox (wrist)
Edgar Renteria, SS, Tigers (chest)
Fernando Tatis, OF, Angels (shoulder)
Frank Thomas, DH, A's (quad)
Jack Wilson, SS, Pirates (finger)

Day-to-day
Jason Bay, OF, Red Sox (personal)
Ronnie Belliard, 1B, Nationals (wrist)
J.D. Drew, OF, Red Sox (back)
Yunel Escobar, SS, Braves (hamstring)
Jody Gerut, OF, Padres (finger)
Vladimir Guerrero, OF, Angels (knee)
Conor Jackson, 1B, Diamondbacks (shoulder)
Mike Lowell, 3B, Red Sox (hip)
Kazuo Matsui, 2B, Astros (back)
Juan Rivera, OF, Angels (hip)
B.J. Upton, OF, Rays (quad)
Ty Wigginton, 3B, Astros (hamstring)
Chris Young, OF, Diamondbacks (wrist)

Start 'em, sit 'em
Hitters: Jose Lopez is enjoying his best month of the season. The Mariners' second baseman is batting .333 BA/.368 OBP/.574 SLG with three home runs so far in September. … Yankees catcher Ivan Rodriguez is 13-for-29 with six extra-base hits versus White Sox starter Javier Vazquez. … Ken Griffey Jr. has always had trouble with Mike Mussina. The veteran White Sox outfielder is batting just .163/.196/.367 against the Moose. … Third baseman Casey Blake struggled initially upon being traded to the Dodgers, but he's in better form now, smacking four home runs in just 46 September at-bats. Blake is a .299 hitter against left-handers this year; he makes a good choice against Pittsburgh's Paul Maholm. … After three straight unproductive months, Braves second baseman Kelly Johnson has been red-hot in September. Still, he belongs on the bench Thursday versus Phillies ace Cole Hamels. The Philadelphia left-hander has been nearly unhittable, posting an ERA higher than 2.89 in just one month this year (May). Johnson is just 1-for-11 versus Hamels, as is infield mate Yunel Escobar. Even backup Martin Prado has just one hit in nine chances against Hamels; look beyond Atlanta for hitting help. … Jayson Werth has broken out with 23 home runs and 17 steals this year, driving his ownership in ESPN leagues above 90 percent. The Phillies outfielder is really only mixed-league material against left-handers, though. He's batting .309/.381/.669 versus southpaws like Atlanta's Jo-Jo Reyes, and just .255/.368/.411 versus righties. … Nationals shortstop Cristian Guzman hit .338 in August and has posted a monster .383/.431/.681 line in September. However, it's best to bench Guzman and all his Washington teammates -- including Lastings Milledge and Ryan Zimmerman -- against a pitcher like Johan Santana (although Guzman is 6-for-10 in his career versus the Mets' ace.) … Stephen Drew and Chris Young have each battled nagging injuries this week. Both Diamondbacks should take a seat on the bench, since they're a combined 3-for-32 with 14 strikeouts versus Giants starter Tim Lincecum.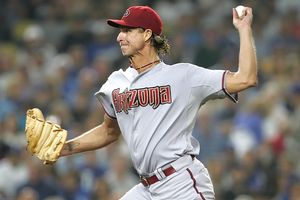 Gary A. Vasquez/US PresswireRandy Johnson has not won a game since Aug. 12.
Pitchers:
Zack Greinke
hasn't allowed more than three earned runs since Aug. 9. With a 21-4 strikeout-to-walk ratio in 19 September innings, the Royals right-hander shouldn't be overlooked against the woeful Mariners. …
Joe Saunders
was brutalized in August, but his control is back on target this month, as his 1.11 September WHIP attests. The Angels left-hander is ready for use against the A's on Thursday. …
Daniel Cabrera
's shaky command has been even worse of late. The Baltimore fireballer has struck out just two batters against 14 walks in his past three starts. … New Milwaukee manager Dale Sveum has replaced
Manny Parra
in the Brewers' rotation with
Dave Bush
. The latter is owned in more than a quarter of ESPN leagues, but a Thursday outing against the potent Cubs is a good time to leave him on the bench. Bush's ERA is nearly two runs higher on the road, and he's managed just a 5.21 ERA in three September starts. …
Randy Johnson
was hit hard by the Cardinals in his first September start. He allowed four home runs in that outing, though he did strike out eight batters in just 3 2/3 innings. Johnson was coming off an August in which he posted a 2.45 ERA and a 47-6 strikeout-to-walk ratio. He also got back on track in his second September outing, hurling six innings of one-run ball versus the Reds. The Unit is owned in just 80 percent of ESPN leagues, but he's a must-start against the Giants on Thursday.
Waiver-wire pickups
Hitters: Any list of hot hitters should have the name of Oakland outfielder Ryan Sweeney, who is on an 11-for-18 tear. Sweeney is batting just .232/.309/.244 against left-handers, though, so look elsewhere against the Angels' Joe Saunders Thursday. … Cubs center fielder Jim Edmonds hasn't received much playing time in September, though he does have a 1.023 OPS for the month. Edmonds is sure to get a start Thursday, though, as he's 5-for-11 with three doubles, two home runs and 10 RBIs against Milwaukee right-hander Dave Bush.
Pitchers: Toronto right-hander Jesse Litsch has been worthy of mixed-league consideration lately. Litsch has surrendered just eight runs in 41 innings since his return form the minors in mid-August. … Glen Perkins captured the attention of mixed leaguers with two eight-inning shutouts in August, but the Twins left-hander has allowed 19 runs in his past four starts. Perkins has shown promise this season, but he's wearing down under the heavy major league workload. Stay away until next year. … Pittsburgh's Paul Maholm boasts a 2.99 ERA and 1.18 WHIP in the season's second half. Maholm has been the Pirates' best starter this year, and it's surprising that he's owned in just 12 percent of ESPN leagues as he's allowed more than two runs only three times in 13 turns since the beginning of July. … Dodgers rookie Clayton Kershaw has been predictably inconsistent, but he impressed last time out with six innings of one-run ball at Coors Field. Risk takers can use him against the Pirates Thursday. … Scott Olsen picked up his first win since July 19 with six innings of one-run ball in his last outing. Don't be tempted by Olsen Thursday. The successful last start came against lowly Washington, and Olsen had allowed 26 runs in his six previous turns. The Marlins left-hander continues to struggle with his command; he walked and struck out four in his victory over the Nationals.
Weather concerns
Games in Toronto, Tampa and Arizona are always weatherproof. Thursday's forecast calls for dry weather around the nation. Only the Marlins' home date with the Astros may be jeopardized by rain.
Will Harris is a fantasy baseball and college football analyst for ESPN.com