Commentary
Grand Theft Roto: My sweet, replaceable you
Updated:
April 12, 2009, 3:32 PM ET
By
Shawn Peters
| Special to ESPN.com
So I have these two 27-year-old girlfriends. They're former pro beach volleyball players, and they were fighting the other day over which one will get to go out with me Saturday night. It got mean, with name-calling, wrestling and lots of hair whipping about, but eventually one of them realized she can just go out with me Friday night, which is just as good, and everything worked out.
Of course, everything I just wrote is a lie. I mean, I do have two kids who often fight over the Disney World blanket on the couch until one of them realizes the Red Sox blanket is just as warm and accessible … but it's not really the same visual.
But the point stands: There is no reason to covet something if there's a perfectly viable replacement that's sitting there, unused and available.
Casing the joint
I get a lot of e-mails from fantasy owners wondering if they should do a deal, with a list of whom they'd get, and whom'd they'd trade away. But the really savvy inquiries are from people who also let me know which players would fill in for any positions left vacant by a trade, because that's often what decides whether a deal is worth doing.
Getting David Wright for Jimmy Rollins might be a win for you if you have a finally healthy and hot Troy Tulowitzki ready to fill your shortstop slot and the eternally promising Yunel Escobar to slide into your middle infield. But what if trading Rollins means Jed Lowrie goes from the waiver wire to your starting lineup? As a Sox fan, I'd love to think Jeddy Ballgame has the "skills to pay the bills," but even I'm not that silly. The upgrade of getting Wright in your lineup probably doesn't make up for what you lose.
Sign up today for the most customizable free Fantasy Baseball game out there. You set the rules, scoring, everything. Sign Up Today!
I'm not saying you should turn down a good deal because of limited options to fill holes right now. At this time of year, you can't really go wrong collecting the most production possible on your roster. But what I am advocating in standard ESPN leagues is dealing players who have solid replacements waiting on the waiver wire.
Every league is its own individual snowflake, but for my purposes, if a player is owned in 75 percent of ESPN leagues and has a fill-in available in more than half the leagues, that's a guy who's replaceable. But the sword cuts both ways, so for the guys I'm stealing, I'm targeting guys who offer something that is close to irreplaceable.
Three I'm stealing
Chone Figgins, 3B, Angels: Let's face it, David Wright's stolen bases aren't going to jump back into the 30s again and Alex Rodriguez's hip will turn him into a four-category guy, at best, when he returns. If you have plenty of power, trading for Figgins will provide you with 40-plus swipes from a position where most players are single-digit stealers. Figgins' legs weren't right for much of 2008, but stolen bases in two of his first three games of 2009 tell me he's feeling fine again.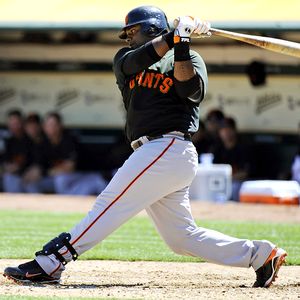 Bob Stanton/Icon SMIYou might want to grab Pablo Sandoval before he gets catcher qualification.
Pablo Sandoval, 1B, Giants:
This is simply based on the fact that Sandoval will become more valuable as the year goes on by virtue of gaining positional eligibility. When he won the starting job at the hot corner for the Giants, we all knew he'd be picking up that little morsel of positional flexibility. However, the Giants' decision not to carry a pure second catcher means that Sandoval is
Bengie Molina
's backup. Turning 35 this year, Molina has little chance of matching the career-high 145 games he played in 2008. He's one strained groin away from giving Sandoval a chance to earn catcher eligibility before the All-Star break. Might be a good idea to get Sandoval, who is owned in just 25 percent of ESPN standard leagues, beforehand.
Chris Carpenter, SP, Cardinals: Here's a question for you: How many starting pitchers are there who are legitimate Cy Young contenders anytime they make 30 starts? Eight? A dozen, maximum? Well, Chris Carpenter is one of them, and he's still not owned in as many leagues as Hiroki Kuroda or Mark Buehrle. Because Carpenter is an injury risk, he'll never be untouchable. But if you have a solid foundation of "healthy and reliable" starters (if there is such a thing), I don't think there's any better risk to take out there than Carpenter, because if he's on, he puts up "Wii" numbers (that's the modernized version of "video game numbers" for the uninitiated).
Three I'm dealing
Melvin Mora, 3B, Orioles: Mora's 2008 season -- .285 average, 23 home runs, and 104 RBIs -- was the feel-good hit of the summer, but it was also slightly above his career 162-game averages. Now at age 36, he's owned in 84 percent of leagues. However, that big-time bounce-back year wasn't much better than Hank Blalock's career average for 162 games --- .275 average, 26 home runs and 97 RBIs -- and Blalock is owned in only 31 percent of ESPN leagues. I know Blalock is fragile, but he's also only 28 and plays in one of the best lineups (and ballparks) in the league. I'd deal Mora for the upgrade and replace him with Hank and an industrial-sized bottle of Advil.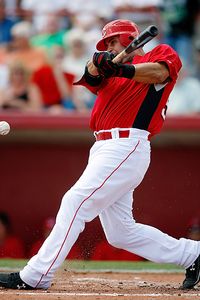 J. Meric/Getty ImagesWhat's all the Ramon Hernandez hubbub about anyway?
Ramon Hernandez, C, Reds:
From 2003 through 2006, Hernandez averaged 18 homers and never hit lower than .273, so he got a reputation as a bona fide fantasy starter, as evidenced by the fact he's owned in 83.9 percent of ESPN standard leagues. But in the past two years, he has hit only 24 homers combined and hasn't batted higher than .258.
A.J. Pierzynski
has more homers and a higher average during that span, while
Chris Snyder
has mashed 29 homers in only 660 at-bats. Neither of those catchers is owned in even 40 percent of ESPN leagues. Is either a real downgrade to Hernandez? Not really, so feel free to offer the Reds' catcher to anyone feeling the loss of "Mauer Power."
Josh Johnson, SP, Marlins: This isn't about me doubting his talent or Florida's chances of being solid this year. Instead, I'm dealing Johnson because his good half season in 2008 and his tidy 6.2 innings of shutout ball this past Tuesday have him owned in more than 97 percent of leagues, despite the fact that he's still a guy who has yet to pitch 100 total big league innings since Tommy John surgery. Meanwhile, John Maine, who has had similar strikeout numbers and less-serious injuries over the past three seasons, is available in more than a third of all ESPN leagues. If you like Johnson a bit more than Maine, I have no issues with that, but the trade-and-replace possibilities are intriguing.
Pulling the job
When I started The S.T.E.A.L. (Serious Traders, Everything Allowed League) with 15 swap-addicted readers, I knew there was potential. But it has exceeded even my expectations so far. In two short weeks since our draft, there have been 17 trades made in our league, and there is no team that hasn't made at least one deal.
After fielding more offers than Megan Fox at a Comic-Con, I got into talks with Simon "The Brain" Jones, the S.T.E.A.L.'s lone British import. He originally offered me Scott Baker (pre-DL stint) for my favorite Flyin' Hawaiian, Shane Victorino. Now, I'm not a huge fan of creating holes with deals, and I knew Baker was dealing with some shoulder stiffness, so I aimed higher. I countered with Victorino and Jesse Litsch for Yovani Gallardo and Adam Lind, who was only a borderline starting outfielder for Simon's squad.
The sales pitch was that he was getting a guy with 20/40 potential and a serviceable last starter for an unproven ace-in-waiting and a decent outfielder. Of course, what I didn't say was that Lind had been on my personal sleeper list as one of those classic "huge-hype rookies" who doesn't pan out in his first year but reminds us of what we loved about him in his second go-round.
If Victorino continues his career trajectory and cracks the top 10 fantasy outfielders this year, and Gallardo doesn't post his first full healthy season, then I made a mistake. But if Gallardo and Lind both live up to expectations like they have in early action, I like this deal even more than when I made it.
Have you made your first deal of the year? If not, get going! That first-trade feeling is truly irreplaceable. Until next week, don't just win your league … steal it.
Shawn Peters is a fantasy analyst for ESPN.com. You can e-mail him your own grand theft rotos by clicking here.
SPONSORED HEADLINES
FANTASY TOP HEADLINES
MOST SENT STORIES ON ESPN.COM