Commentary
Hit Parade: Life with baseball-induced ADD
I have trouble concentrating.
Like many of you, my brain is moving a hundred miles per hour, even though my body rarely tops five mph. (Five? Hmm, what do I run on the treadmill? Oh, and I'm due to run on the treadmill.) Therefore, I have trouble -- did I turn off the coffee pot? -- sticking to one task -- those Reese's peanut butter cups over there look pretty good -- and … what was I saying again? Oh yeah, trouble concentrating.
As it turns out, I have even more trouble on Opening Day.
It's not too late! You have until April 18 to sign up and draft your own free fantasy baseball team!
Sign Up Today!
The season has begun! And my mind is a mush of highlights, live trackers, as many games as I can watch and Cheez-Its -- a very underrated snack. Plus, ESPN asked me to work. Heh. To quote Peter Gibbons from "Office Space" -- Ah, how 'bout that Milton? He's a funny dude! -- I probably gave 'em about "15 minutes of real, actual work." But I
am
writing this column … which probably will take me about 12 hours.
(Editor's note: It did.)
This ADD is understandable. No matter how many Opening Days I've witnessed, they all turn out this way. I flitter around like an oversized bee -- Hmm, still need to see that "Bee Movie" -- and it's completely acceptable for you, too. Enjoy the moment. Don't feel guilty (Remember that movie "Guilty as Sin?" It stunk.) if you didn't accomplish much on Monday. You're part of a brotherhood (I think the last time I used that term I was in Cub Scouts.), a growing group of fantasy baseball players. Monday was a big day for you. Relish it.
Hitter Rankings

Victor Martinez takes a dive to No. 46, as it appears his hamstring injury could sideline him a while.
1. Alex Rodriguez, Yankees
2. Jose Reyes, Mets
3. Hanley Ramirez, Marlins
4. David Wright, Mets
5. Miguel Cabrera, Tigers
6. Chase Utley, Phillies
7. Matt Holliday, Rockies
8. Carl Crawford, Rays
9. Jimmy Rollins, Phillies
10. Ryan Braun, Brewers
11. Ryan Howard, Phillies
12. Alfonso Soriano, Cubs
13. Albert Pujols, Cardinals
14. Ichiro Suzuki, Mariners
15. Brandon Phillips, Reds
16. Grady Sizemore, Indians
17. David Ortiz, Red Sox
18. Prince Fielder, Brewers
19. Carlos Lee, Astros
20. Mark Teixeira, Braves
21. Vladimir Guerrero, Angels
22. B.J. Upton, Rays
23. Magglio Ordonez, Tigers
24. Carlos Beltran, Mets
25. Lance Berkman, Astros
26. Nick Markakis, Orioles
27. Justin Morneau, Twins
28. Eric Byrnes, D-backs
29. Derek Jeter, Yankees
30. Aramis Ramirez, Cubs
31. Carlos Guillen, Tigers
32. Alex Rios, Blue Jays
33. Troy Tulowitzki, Rockies
34. Travis Hafner, Indians
35. Brian Roberts, Orioles
36. Manny Ramirez, Red Sox
37. Robinson Cano, Yankees
38. Garrett Atkins, Rockies
39. Rafael Furcal, Dodgers
40. Chone Figgins, Angels
41. Curtis Granderson, Tigers
42. Chipper Jones, Braves
43. Russell Martin, Dodgers
44. Carlos Pena, Rays
45. Bobby Abreu, Yankees
46. Victor Martinez, Indians
47. Derrek Lee, Cubs
48. Torii Hunter, Angels
49. Ryan Zimmerman, Nationals
50. Gary Sheffield, Tigers
On that note, I'll pass along 10 random thoughts that flashed through my cerebrum -- or is it cerebellum? What a neat word cerebellum is! -- while I was
supposed
to be working:
The guy I'm hinging my season on is young Tim Lincecum. Apparently, I'm out on a limb with him, as measured both by average draft position and by the opinions of my fellow writers. I think the guy finishes in the top 10 in NL Cy Young voting. I really do.

I watched the Tigers-Royals. Many fantasy owners no longer respect Gary Sheffield, but opposing pitchers sure do. The only thing that could keep him from a big season is 120 walks.

Speaking of the Royals, Gil Meche has legitimately good stuff. Some good hitters made some pretty silly swings against him.

I still believe Barry Bonds signs somewhere. It won't happen anytime soon, but something tells me he's not done yet.

The Yankees were rained out, huh? My over/under for Yankees rainouts in April is four. No foolin'. I tracked rainouts for years (for the purpose of this column) and found, though without exact numbers, they seemed to have more rainouts than any other team. It's El Nino time!

If Chad Cordero had been healthy, Ryan Zimmerman's walkoff homer Sunday wouldn't have been necessary.
Despite that setback (I have Cordero on a few teams), I still stray from fellow writers in my belief that you should have a top-five closer, just in case.

One of my inexplicable loves this spring was Xavier Nady, who homered twice Monday. Heck, I even highlighted him in my outfield position preview, which I wrote before spring training. And yet I looked, and I missed out on him in half of my leagues. Why is it that I/we conform to the "wisdom" of the masses? Why?

You know whom Ben Sheets reminded me of Monday? A young Curt Schilling. Ol' Bloody Sock used to rely on throwing it by people in his younger years, but he couldn't stay healthy. As he matured, he realized impeccable control and preparation could save him pitches and his arm. I see Sheets, now almost 30, having a good run of thirty-something seasons.

It's going to be a heck of a season at ESPN Fantasy. We have built a "dream team" of writers and editors -- and readers.
This here is the Hit Parade, the weekly column on all things offensive. I'll try to tap in to the pulse of the players you owners have questions about, identify the players you wouldn't normally think of but who can help, refute common beliefs and basically use all my knowledge about baseball and hitting (I was a successful NAIA outfielder, a Brian Giles type, several pounds ago) to help you win your league.
The column features sections like ortunes rising and falling, pickup(s) of the week, position watch, lineup watch, my tip of the week. & And, as always, if there's someone you want me to touch on, just leave a little note in ESPN Conversation about it. I have many opinions; it's just a matter of knowing which ones to express.
Good luck this season!
Fortunes Rising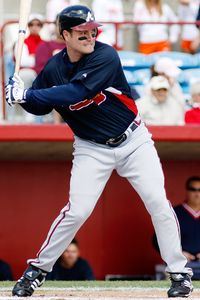 J. Meric/Getty ImagesMatt Diaz hits both lefties and righties for better than a .300 average.
Matt Diaz, OF, Braves:
Yes, that was Diaz starting in left field Monday against
Ian Snell
, a right-hander. It all makes sense. Diaz has been lights-out hitting in a platoon role, and he deserves the chance to start every day in left field for the Braves, who are so loaded with veterans that they're not yet ready to turn the reins over to a youngster. He's a career .319 hitter with a full-time job& how is he not more in demand?
Andre Ethier, OF, Dodgers: Named the starter in left field over proven vet Juan Pierre, Ethier immediately became the most-added player in ESPN leagues. So, can he hold down the fort and stave off Pierre? I say no. Ethier started slowly (including a .250 average in April) last season and then proved streaky after that. Whether it's because of the close competition in the NL West or because manager Joe Torre sees a division that's there for the taking, look for him to move back to the proven commodity in Pierre. Ethier's everyday status will be short-lived.
Eric Hinske, OF, Rays: Now that he's been named a starter -- or at least the better part of a platoon -- give me one good reason Hinske can't help your mixed-league team. OK, so he's a career .256 hitter, but that doesn't seem to bother owners of Adam Dunn, Pat Burrell and like company. Plus, if the Rays keep him from batting regularly against lefties, whom he's struggled to hit over the last three seasons, then I don't see why he couldn't hit .270. I'm calling for 20 homers and 10 steals from a guy who wasted two prime years as a utility player for the Blue Jays and Red Sox.
Fortunes Falling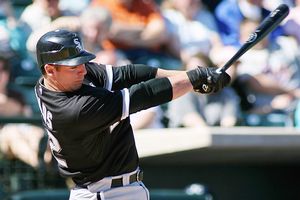 Christian Petersen/Getty ImagesJosh Fields is stuck behind Joe Crede in Chicago.
Josh Fields, 3B/OF, White Sox:
Even after
Joe Crede
fouled a ball off his ankle, leaving him day-to-day, there was still no talk of bringing back Fields. Let's not forget that Crede has done some fine things for manager Ozzie Guillen and the Sox and that Fields could use some time to learn the outfield. All the pundits are saying Fields should return soon, but I just don't see it. Let's also not forget that in Crede's last full season (2006), he hit .283-30-94. Crede should be more in demand than he is.
Kelly Johnson, 2B, Braves: The Braves have kept quiet about it, but Johnson's knee has been bothering him all spring. No problem 'cause it's spring, right? Well, Johnson left Monday's game after just three innings because of what the Braves are calling an "undisclosed injury." But it's the knee, and I'm starting to think a trip to the DL might be in order if things don't turn around soon.
Giants offense: We expected futility, but we also expected a few runs. The Giants were shut out (on five hits) by the Dodgers on Monday. It's going to be a long season. Let's not forget that guys like Bengie Molina and Randy Winn were helped by the presence of Barry Bonds, who was either on base in front of them or got them better pitches to hit. Even the few "reliables" will be pulled down by the team's hitting struggles.
Pickup of the week
Tony Gwynn Jr., OF, Brewers: By the time Mike Cameron returns from suspension, Gwynn could have 8-10 steals. He's going to make a lot of owners happy.
Splits watch
Khalil Greene, SS, Padres: He collected two hits at home in the opener, which is a very good sign. He had multiple hits in just 13 of 76 home games last season.
Ballpark watch
Nationals Park: A few homers are hit at the new Nationals ballpark, and already folks are declaring it neutral or better. As our own Lee Corso would say, "Not so fast, my friend." Let's not forget that 12 homers were hit in the first six games at RFK last season, including two on Opening Day. By no means were people calling RFK a neutral park. Let's just wait a bit before we peg Ryan Zimmerman for that 30-homer season.
5x5 watch
Steals
Dave Roberts, OF, Giants. He's hardly elegant, but Roberts has stolen a combined 80 bases in the past two seasons despite averaging just 122 games per. And yet who was out there starting for the Giants (over Rajai Davis) on Opening Day? Yup, it was Roberts. He'll still get a lot of playing time and steal attempts (he was thrown out trying to steal Monday) and is owned by just four percent of ESPN leagues.
Points watch
Dan Uggla, 2B, Marlins: Pop quiz, hotshot: who had more total bases in 2007 between the .245-hitting Uggla and the .306-hitting Robinson Cano? Obviously, it was Uggla, or I wouldn't be asking the question. In points leagues, where the total base (and on-base percentage) is king, the slugging Uggla, who had 49 doubles, two triples and 31 homers, more than makes up for his low batting average. In fact, points owners shouldn't even look at batting average, they should evaluate using OBP and OPS. Also worth noting: Uggla had 29 more walks than Cano.
Tip of the week
I hereby challenge you to not make any pickups or drops at all this week, unless it's injury- or lineup-related. It's too early in the season to give up on the players you felt strong enough about to draft. Granted, you'll read this reminder another 47 times to hammer it home, but I wanted to re-emphasize that point. Simply put, don't put a small sample size against the large sample size that represents the remainder of the season. Remember that moves you make now are changing the landscape of the entire season.
Brendan Roberts is a contributing writer/editor for ESPN Fantasy.
Fantasy
Brendan Roberts is a contributing writer/editor for ESPN Fantasy. He has been covering fantasy sports as an editor and writer for more than eight years and was awarded the Fantasy Baseball Writer of the Year award in 2006 from the Fantasy Sports Writers Association. Roberts can be read in both the fantasy baseball and football areas at ESPN.com.
SPONSORED HEADLINES
FANTASY TOP HEADLINES
MOST SENT STORIES ON ESPN.COM