Commentary
Hit Parade: The replacements
If I could get a do-over for one prediction over this season, it would've been not forecasting a disappointing season from Carlos Zambrano. If I could do two predictions over, well, first would be the Zambrano thing, second I'd go back to around the All-Star break, and channel a little "Mr. T" when forecasting what lay ahead for the season's second half.
"Prediction: Pain!"
Tell me, which of the elite, ailing hitters rests comfortably on your squad (and now in one of your DL spots)? What's that you say, none? Boy, you're a lucky fella (or gal). That's because in the past four days, Carlos Lee, Carl Crawford, Evan Longoria and Orlando Hudson, listed in their ranked order on the Player Rater, all landed on the disabled list, each with a potentially season-ending injury.
It's horrific timing for such fantasy stalwarts to hit the shelf, with six weeks and five days (six if there's a need for makeup games or one-game playoffs) remaining in the fantasy baseball season, and a ton of leagues' trade deadlines now in the rearview mirror. How's a contending fantasy team to endure it all?
Let's take a closer look at each, and pitch some survival suggestions [e]
Hitter Rankings

Manny Ramirez loves Dodgertown; he's a .475 hitter with four homers and 13 RBIs in his first 10 games in L.A.
1. Alex Rodriguez, Yankees (1)
2. Hanley Ramirez, Marlins (3)
3. Albert Pujols, Cardinals (5)
4. Matt Holliday, Rockies (6)
5. Ryan Braun, Brewers (2)
6. David Wright, Mets (8)
7. Chase Utley, Phillies (4)
8. Josh Hamilton, Rangers (7)
9. Lance Berkman, Astros (10)
10. Jose Reyes, Mets (9)
11. Miguel Cabrera, Tigers (13)
12. Grady Sizemore, Indians (11)
13. Alfonso Soriano, Cubs (12)
14. Ian Kinsler, Rangers (16)
15. Brandon Phillips, Reds (14)
16. Mark Teixeira, Angels (18)
17. Prince Fielder, Brewers (17)
18. David Ortiz, Red Sox (25)
19. Ryan Howard, Phillies (21)
20. Jason Bay, Red Sox (19)
21. Manny Ramirez, Dodgers (32)
22. Jimmy Rollins, Phillies (15)
23. Justin Morneau, Twins (23)
24. Magglio Ordonez, Tigers (24)
25. Nick Markakis, Orioles (29)
26. Nate McLouth, Pirates (22)
27. Corey Hart, Brewers (31)
28. Carlos Quentin, White Sox (26)
29. Carlos Beltran, Mets (28)
30. Ichiro Suzuki, Mariners (30)
31. Vladimir Guerrero, Angels (33)
32. Jermaine Dye, White Sox (34)
33. B.J. Upton, Rays (37)
34. Matt Kemp, Dodgers (44)
35. Aramis Ramirez, Cubs (35)
36. Ryan Ludwick, Cardinals (39)
37. Garrett Atkins, Rockies (36)
38. Alex Rios, Blue Jays (38)
39. Xavier Nady, Yankees (40)
40. Dan Uggla, Marlins (41)
41. Derrek Lee, Cubs (43)
42. Chipper Jones, Braves (46)
43. Adrian Gonzalez, Padres (47)
44. Dustin Pedroia, Red Sox (45)
45. Torii Hunter, Angels (NR)
46. Curtis Granderson, Tigers (NR)
47. Howie Kendrick, Angels (NR)
48. Kevin Youkilis, Red Sox (NR)
49. Pat Burrell, Phillies (47)
50. Carlos Pena, Rays (NR)
This week's rankings were updated by Tristan H. Cockcroft. Hit Parade's regular author, Brendan Roberts, returns next week.
Carlos Lee, OF, Astros: A broken left pinkie threatens his season, with the playoffs his only realistic chance at returning in 2008, in the event the Astros make an unlikely run at the wild card. Even then, Lee is a long shot. If he's done, he finishes with a .314 batting average (13th in baseball when he got hurt), 28 home runs (sixth), 100 RBIs (second) and a .937 OPS (15th), extraordinary numbers, and irreplaceable, really. But we'll try!
In-house fix: It looks like it's going to be a Darin Erstad/Mark Loretta platoon, with Erstad manning left field against right-handers, Ty Wigginton playing there against left-handers with Loretta at third base. Loretta's NL-only appeal increases, but these guys don't come close to Lee's level of run production.
Fantasy fix: Let's face it, you can't easily fill Lee's lost production with a free-agent pickup, and with a lot of leagues past their trade deadlines, riding hot streaks and playing matchups might be your best bet. Among "slugger" types, Marlon Byrd, surprisingly, is batting .377 with four homers, 16 RBIs and a 1.109 OPS in 21 games since the All-Star break, and be aware he did manage a very impressive .313 batting average, four homers and 15 RBIs in 26 games after Sept. 1 last season. Among alternatives, Ryan Church (on the mend), Chase Headley and Adam Lind could help out.
Carl Crawford, OF, Rays: He suffered a torn tendon in his right middle finger swinging at a pitch this past Saturday, and on Tuesday decided he'll undergo surgery. He's probably out six to eight weeks, which would allow for a playoff return but likely not in time to help fantasy teams. Crawford has been a disappointment all year, batting .273, his lowest number in any full big-league season, and maintaining a 36-steal pace, again, his worst full-year total, so it's not like he can't be replaced. Problem is few players have the five-category potential of Crawford, historically one of the better second-half players in baseball (.300 BA, 137 steals in 409 career games).
In-house fix: The Rays filled their injured outfielder's roster spot with an injury-prone outfielder, activating Rocco Baldelli to help match up at the corners. How ironic is it that they'll replace a guy who averaged 151 games per year from 2003-07 with one who averaged 84 during that same time span? Baldelli should actually play a fair share and was once an up-and-coming fantasy stud, making him a useful pickup. But you can count on a lot more Cliff Floyd and Gabe Gross as the Rays play matchups, too.
Fantasy fix: Since Baldelli stands practically zero chance at filling the steals you'll lose from Crawford, a speed-demon outfielder is almost a mandatory fill-in for Crawford owners. If you missed the boat on Lastings Milledge, Denard Span might be well worth your while. He has played every inning of the Twins' 36 contests since being promoted, batting .328 with five stolen bases during that span, three of the steals coming in the past week. That could be a sign Span is figuring out pitchers' pickoff moves, making him a stolen-base sleeper the next month-plus. Also take a look at speedy outfield types like Chris Dickerson, just recalled by the Reds, and Shin-Soo Choo.
Evan Longoria, 3B, Rays: His is a positively devastating loss for fantasy, but he's also the most likely of the four to return this season. A fractured right wrist could cost him as little as two weeks and as much as the entire year, and even if his absence is a short-term one, there's also the worry that this might sap his power. Consider that in a 73-game span from May 16 through Aug. 7, Longoria batted .304 with 18 home runs, 56 RBIs and a .960 OPS, and if you extrapolate that to an entire season, he'd be a .304-40-124 hitter.
In-house fix: So far it's Willy Aybar, who belted two home runs on Sunday. The onetime Dodgers prospect isn't a bad fill-in for the Rays, or for AL-only teams, though he comes with a glaring weakness -- a brutal track record against right-handers. He's hitting .188 with a .555 OPS against that side this season, which hurts his batting-average potential for fantasy. One can only wonder whether the Rays would try to platoon Aybar and Hinske at third if they hadn't just lost both Crawford and Longoria.
Fantasy fix: In deeper leagues Aybar might yet be your man, but I'm big on Ian Stewart, especially knowing Todd Helton might be another veteran done for the season. Stewart has batted a phenomenal .343 with three homers, 20 RBIs and a 1.023 OPS in 22 games since being promoted from Triple-A, and, you know, there's the Coors thing. But I'd also take a look at the aforementioned Headley and Daniel Murphy, both third-base eligible.
Orlando Hudson, 2B, Diamondbacks: For the second straight season the "O-Dog" will miss the playoffs -- assuming Arizona gets there -- this time for a dislocated right wrist. He's not quite the name of the above three, but he's no slouch, either, ranking within the top 15 at his position on the Player Rater. By the way, he finishes 2008 with a .305 batting average, 25th in baseball at the time he got hurt. That's not bad for a middle infielder!
In-house fix: It's Augie Ojeda with a little Chris Burke sprinkled in for now, and Ojeda could qualify as a useful NL-only middle infielder. Still, this will be an interesting situation to watch once Justin Upton returns. It hasn't been entirely ruled out that when that happens, newly acquired Adam Dunn returns to left field, Conor Jackson to first base, Chad Tracy shifts back to third base and Mark Reynolds slides over to second.
Fantasy fix: Middle infield isn't an easy spot to fill, but why not Asdrubal Cabrera, the Indians early-season bust now starting to show some signs of life? Hey, he did bat .326 in Triple-A ball and is hitting .275 with three homers and a steal in 21 games since his recall. That sounds pretty Hudson-like! Others who might fit the bill include Jed Lowrie, Emilio Bonifacio, Omar Infante and Joe Inglett, for those digging deep.
Fortunes Rising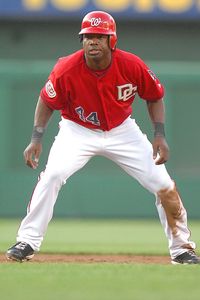 Mitchell Layton/Getty ImagesLastings Milledge is making good on his ample potential.
Lastings Milledge, OF, Nationals: Except for in a small handful of ESPN leagues, you're too late to ride the Milledge bandwagon, but if you hopped aboard two weeks ago when he was fresh off the DL, surely you're happy today. Including his 0-for-7 start in his first two games after being activated, Milledge is batting .313 with five homers, 11 RBIs and three stolen bases in his past 17 contests, demonstrating the five-category potential people were anticipating when he was a beast with the bat in spring training. He might be a tad enigmatic, but Milledge does qualify as a category-filling sleeper.
Carlos Pena, 1B, Rays: Now there's the Carlos Pena we saw in his breakout 2007! In his past 33 games, the slugger is batting .288 with 10 home runs, 27 RBIs and a .998 OPS, a pace that would put him right around last year's .282-46-121 stat line. It's good timing; Pena will be needed to provide offensive punch for the Rays as they cope with losing two of their key offensive cogs. Now the team's No. 3 hitter, behind on-base specialists Akinori Iwamura and B.J. Upton, Pena should be primed for a solid finish.
Fortunes Falling
Melky Cabrera, OF, Yankees: Oh, what that Yankee uniform can do for a player's name value, because if you look at Cabrera's actual statistics, you might realize he's not all that great a ballplayer. Here's a troubling fact: Since May 1, Cabrera is a .228 hitter with a .570 OPS, 24 RBIs and 24 runs scored in 88 games, an average of about one run or RBI per four contests. Those are terrible fantasy numbers, and don't think manager Joe Girardi hasn't noticed. He has held Cabrera out of the starting lineup in six of the Yankees' past nine games, with such stalwarts as Wilson Betemit and Justin Christian getting the call instead. It's time to let Cabrera go; he's doing nothing but hurting your team.
Chad Tracy, 1B/3B, Diamondbacks: I alluded to it a little before, but if the Diamondbacks don't employ that creative four-position corner-spots shuffle once Justin Upton gets healthy, Tracy is the hitter who stands to suffer most. Let's face it, Adam Dunn isn't going to sit. Conor Jackson isn't going to sit. Mark Reynolds really is no less an option at the hot corner than Tracy. Besides, Tracy is the only one of those four in a straight platoon right now, so his value already has a limit. There's matchups value in him, but he actually has more downside than upside at this point.
5x5 Watch: SBs
We've heard the phrase "one-category fantasy player" bandied about a lot over the years, but truth is, most of the time, we're talking about a speedster, and many of those are actually two-category players, with runs scored their other decent category. That's why what Willy Taveras is doing this season is so astonishing, because, well, he's actually fitting the literal description of the one-category performer.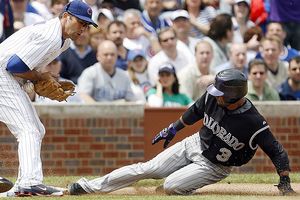 AP Photo/Nam Y. HuhWilly Taveras brings speed to the table, but not much else.
To date, Taveras has a major league-leading 51 stolen bases ... and a pedestrian .251 batting average, one home run, 22 RBIs and 52 runs scored. Consider that the league-average hitter with Taveras' number of at-bats (371) would be batting .262 with 11 homers, 47 RBIs and 50 runs scored (the only number beneath his). That puts the Rockies center fielder in serious jeopardy of becoming only the fourth player in the Rotisserie era (1980 and beyond) to steal 50-plus bases but match or fall beneath league-average rates for a player with his number of at-bats in said season. The others:
Vince Coleman, 1994: 50 SBs, .240 BA, 2 HRs, 33 RBIs, 61 R's.
League-average hitter: 438 ABs, .270 BA, 13 HRs, 59 RBIs, 63 R's.
Scott Podsednik, 2004: 70 SBs, .244 BA, 12 HRs, 39 RBIs, 85 R's.
League-average hitter: 640 ABs, .264 BA, 21 HRs, 85 RBIs, 89 R's.
Ozzie Smith, 1980: 57 SBs, .230 BA, 0 HRs, 35 RBIs, 67 R's.
League-average hitter: 609 ABs, .265 BA, 13 HRs, 72 RBIs, 76 R's.
What do all of those players have in common, besides 50-steal potential? Perilously low on-base percentages; none had higher than .313, which is actually 19 points beneath this year's league average. Taveras sits at .305, something he'll likely need to bring closer to his career .332 mark in order to maintain a 72-steal pace or contribute more in runs scored.
Position Watch
Those White Sox sure are masters of multi-position eligibility, aren't they? They've already gotten Nick Swisher up to 75 games in the outfield, 50 at first base, assuring he'll qualify at both for 2009, and now they have Juan Uribe up to 18 games at third base, getting him close to being second and third base eligible for next season. Both already qualify at those positions in standard ESPN leagues. Even better, if your league breaks down outfielders by position, Ken Griffey Jr. is up to four games in center field since his trade to the White Sox. At that pace he'd become eligible there well before month's end.
Lineup Card
It's not too late! Leagues are forming and drafting until Sep. 20, with scoring retroactive to Week 1.
Sign Up Today!
J.D. Drew
found himself in the leadoff spot for the Red Sox on Tuesday for the sixth time in eight games, and it's not as crazy an idea as you might think. Heading into the night, he held the team leads in on-base percentage (.413) and walks (75), while former leadoff hitter
Jacoby Ellsbury
has only a .292 on-base percentage and five walks since June 1. Ellsbury now finds himself hitting in the bottom third of the order, often ninth, though that really does little to his fantasy value besides decrease his number of trips to the plate. Drew, meanwhile, loses some RBI appeal, but should see his runs total bump up.
Tristan H. Cockcroft covers fantasy sports for ESPN.com. You can e-mail him here.
Fantasy
Senior writer for ESPN.com
Co-host of the Fantasy Focus Baseball podcast
Two-time LABR, three-time Tout Wars champion
Member of the FSWA Hall of Fame
MOST SENT STORIES ON ESPN.COM