Commentary
Hit Parade: 10 things I've learned this season
"So what do you think of Larry Johnson?"
A fellow fantasy football drafter asked me that at the table just before the season began, and I went off in a personal soliloquy, giving the guy six reasons why I didn't like L.J. and finishing with "he's a big risk." The guy's next pick comes up: "I'll take Larry Johnson." He turns to me: "Sorry, I like risks."
He might have wanted to do the opposite of what I said, but fantasy history suggests that wasn't the case. Instead, it seemed as though he'd had a preset opinion, and I was unable to change it. That's fantasy. As much as we read or are influenced by compelling arguments, our personal opinions matter most, and they're awfully tough to change. I probably could have left my rankings list in the middle of the table, but it would have been used more to affirm picks than to help make them. Even I couldn't care less what's on another guy's draft sheet (unless he's picking before me and it offers a hint of whom he'll pick).
It's even worse in fantasy baseball. I mean, some guys load up on starting pitchers early, while others might wait until Round 10 to get one. Either way, it's good to sit back and reassess how you've been judging people and which strategies you've been employing right around this point in the season. Because if you're like me, some of that late-season reflection time is lost in the fist-pumping, joy-and-pain hobby that is fantasy football once September arrives.
I've been playing fantasy baseball since 1992, and I'm still learning as much now as I did then. Here are 10 things I've learned about hitters this season:
1. It's next to impossible to trade for a good catcher, especially in two-active-catcher leagues. Let's just say I made the mistake of drafting Jason Varitek in a few mixed leagues, and I quickly learned that he stinks and that all the options on the free-agent wire stink. I was loaded with great outfielders, but no matter how sweet I made the offers, nobody was budging on guys like Russell Martin, Geovany Soto, Brian McCann or Joe Mauer. Jeff Clement bailed me out for a time in one league, but I'm biting the bullet with Tek in another. Ouch. On a related note, I will never own Jason Varitek again.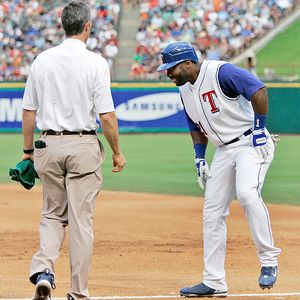 AP Photo/Tony GutierrezThough Milton Bradley is having a career year, he's still frustrating to own in fantasy because of his inability to stay healthy.
2. That the injury bug eventually finds its way back to most guys who wear the "injury-prone" label.
Players who taught me this:
Chipper Jones
,
J.D. Drew
(of late),
Hank Blalock
,
Bobby Crosby
,
Milton Bradley
… I mean, even if they play more than they otherwise usually would, they still don't play as much as a durable player does.
3. A player who plays hurt is worse than a player who hits the disabled list. Don't you just love it when, say, a hitter tweaks something on a Saturday and is placed on the DL on Sunday, so you know exactly what his status is? OK, "love it" might be a bit strong, but baseball's version of "game-time decisions" or "walking wounded" can cause a fantasy owner lots of effort and angst. In a chat recently, a user told me he was an "exhausted" Milton Bradley owner. Well put.
4. Early underperformers such as Alex Rios and Ryan Howard are tough to get for bargain prices. The fantasy baseball community is too smart for its own good. Look around. Look at the links on this page. Within one or two clicks you can find a hitter's past numbers, stat splits, analysis on why a guy might be struggling, regular player updates … nothing slips past the fantasy owner anymore. Because …
5. Fantasy baseball has changed greatly in the past five years because of how knowledgeable and savvy we all are. Just when you think you know something a fantasy owner doesn't and you try to use that to your advantage in a trade, the owner references it, and you then realize that either he's read the same thing you read or he noticed the same bit of research. I used to trade like the fat kid amassing peanut butter bars in the grade-school cafeteria; now it's more like the kid seeing the dentist after eating too many peanut butter bars. Sweet talk and sales pitches don't work, at least in my leagues, and in many cases, the deal spins unnecessarily out of control after seven e-mail exchanges. Please tell me y'all have had the same experience. I'll bet so.
Hitter Rankings

We're at the point when early-clinching teams will sit their stars more, which is why Vlad Guerrero is not as high as he usually would be.
1. Matt Holliday, Rockies (1)
2. Alex Rodriguez, Yankees (2)
3. Hanley Ramirez, Marlins (3)
4. Albert Pujols, Cardinals (4)
5. Chase Utley, Phillies (5)
6. Ryan Braun, Brewers (6)
7. Jose Reyes, Mets (8)
8. David Wright, Mets (7)
9. Miguel Cabrera, Tigers (10)
10. Manny Ramirez, Dodgers (14)
10. Grady Sizemore, Indians (9)
11. Ryan Howard, Phillies (15)
12. Lance Berkman, Astros (11)
13. Josh Hamilton, Rangers (16)
14. Alfonso Soriano, Cubs (18)
15. Mark Teixeira, Angels (12)
16. Dustin Pedroia, Red Sox (19)
18. Jimmy Rollins, Phillies (23)
19. David Ortiz, Red Sox (17)
20. Ryan Ludwick, Cardinals (22)
21. Kevin Youkilis, Red Sox (30)
22. Justin Morneau, Twins (36)
23. Magglio Ordonez, Tigers (33)
24. Jason Bay, Red Sox (20)
25. Prince Fielder, Brewers (29)
26. Aubrey Huff, Orioles (35)
27. Matt Kemp, Dodgers (24)
28. Corey Hart, Brewers (21)
29. Carlos Beltran, Mets (26)
30. Nate McLouth, Pirates (NR)
31. Brian Roberts, Orioles (37)
32. Nick Markakis, Orioles (25)
33. Xavier Nady, Yankees (38)
34. Carlos Delgado, Mets (NR)
35. Jermaine Dye, White Sox (42)
36. Vladimir Guerrero, Angels (31)
37. Ichiro Suzuki, Mariners (28)
38. Vernon Wells, Blue Jays (NR)
39. B.J. Upton, Rays (32)
40. Milton Bradley, Rangers (44)
41. Chipper Jones, Braves (34)
42. Brian McCann, Braves (49)
43. Aramis Ramirez, Cubs (39)
44. Alex Rios, Blue Jays (45)
45. Adam Dunn, D-backs (48)
46. Carlos Pena, Rays (40)
47. Garrett Atkins, Rockies (46)
48. Geovany Soto, Cubs (43)
49. Shane Victorino, Phillies (NR)
50. Bobby Abreu, Yankees (NR)
6. All that said, underperformers truly kill fantasy teams.
Like we've always said, it isn't as likely that a good early-round pick will win a fantasy league as it is that he'll lose one. In some cases, past numbers or stat splits can cripple a fantasy owner and lock a player on his team who shouldn't be there. And really, since star hitters tend to remain star hitters from season to season, more slow starters heat up than not. So there's really nothing an owner can do but realize he or she might be cursed. Can't cut him, or he'll tear it up for someone else. But at some point, the frustration level sets in, and you have to do something, or you'll hate that player forever. Just be sure to compare that underperformer versus the options on the free-agent wire or trade market, not your expectations.
Hideki Matsui
might not have been quite what you expected, but he still beats any option you'll find on the free-agent wire.
(I have to say, this lesson is a relearned one; I learned it my very first fantasy season. An early-round pick in an AL-only points league back in 1992 was a fella named Wade Boggs, who was a career .330-something hitter. He batted .259 that season.)
7. Why don't we take ballparks and lineups into account when discussing call-ups? We shall call this the Chase Headley rule. Look, the kid could do all he wanted in the minors, but he's in a different home ballpark, a different league and a different lineup. But when the Padre is called up, he's a rookie facing major league pitchers for the first time, in a bad ballpark for hitters and in a bad lineup. Still, we just love the unknown, don't we? That's why Headley (.264 average, nine homers and 31 RBIs) is owned in more leagues than teammate Brian Giles, who is hitting .303 and is on pace for 12 homers and 61 RBIs.
8. Speaking of youngsters, when it comes to selecting keepers, I just don't have the guts to include unproven minor leaguers instead of decent big leaguers. I'm talking guys like Matt LaPorta and Colby Rasmus, the "can't-miss" prospects. I guess I've just seen too many rookies flop. But the biggest reason is that I'm playing to win next year, and I feel that established big leaguers are the safer way to do that.
9. When it comes to injuries, you really shouldn't start a guy who's due back at a certain date. You know how many times I was prepared to activate Moises Alou this season? Yeah, I know, my mistake. But still, unless it's a confirmed report of a player returning Monday or Tuesday in a weekly-transaction league, I ain't budgin'.
10. I still like fantasy baseball better than fantasy football. Last year, a handful of local friends and I started a fantasy football league, and boy, as a fantasy "expert," did I have pressure. It's kind of a no-win situation because if I do well, I was expected to. If I don't, I'm a hoax. Fortunately, I did very well, but who knows about this year? The point here is that fantasy football takes skill but takes into account more luck of the draw (injuries, NFL team matchups, your opponent's score). Fantasy baseball is more about skill. You have a lot more time to compensate for bad luck during the course of a major league season, and your sleeper picks have more time to assert themselves. And so I feel I win or lose the league myself. Fantasy football is like mini golf: quick, fun and chancy. Fantasy baseball is a 72-hole golf course: long and challenging, and the rewards are sweeter.
Fortunes rising
Nelson Cruz, OF, Rangers: Although his fortune may appear to be rising, sorry folks, I just don't see major league stardom here, no matter how well he did at Triple-A (.342 BA, 37 HRs, 99 RBIs). And I swear it has nothing to do with the fact that I dropped him from an AL-only league taxi squad in favor of Justin Smoak two days before he was called up. Cruz has cut down his strikeouts this season, which is encouraging, but he's just too much of a fly-ball hitter to have big league success. For instance, did you know he hit only 18 doubles for Oklahoma this season? Usually good line-drive hitters hit both homers and doubles (unless they're Mark McGwire), not relying as much on power swings connecting. With full-time work, he could hit 25 homers, but with a .240 to .250 average, and in mixed leagues, that's really nothing special.
Rajai Davis, OF, A's: The quietest 30-steal player (he has 27 right now) in the majors. Davis has come into his own as a hitter, batting .347 in August and .385 so far in September, and he's looking like a guy who can anchor a stolen-base category for a roto owner in future seasons. If only he could draw more walks … but he's in an organization that will work on that.
Fortunes falling
Billy Butler, 1B, Royals: He has proven to be more consistent since being called back up from Triple-A, but where's his power? He has just three homers since Aug. 2, and it also bothers me that he has a .247 average with just three homers in 279 at-bats against righty pitchers this season. Too much more of that and I fear he'll get tagged with the dreaded "only hits lefties" label. No, anything but that!
Josh Willingham, OF, Marlins: He quickly became a fantasy household name, but now he's available in almost half of ESPN standard leagues, and for good reason. But he missed almost two months because of lower back pain, struggled in a rehab assignment, then struggled with the big club. I think his back is still bothering him (though I've seen no reports to verify as such), probably from all those years of catching. But I still believe in the 29-year-old, and I'm already tagging him as a late-round bounce-back option next season.
Pickups of the week
Mixed: Brandon Wood, SS, Angels. Now that the Angels have clinched the division, they get to sit back and see what he can do in a low-pressure situation. And he's finally starting to hit in the majors like he did in the minors.
AL-only: Dan Johnson, 1B, Rays. The Rays invested in him; why not see what he can do? He hit .307 with 25 homers in Triple-A this season, still has an ex-prospect label, and took Jonathan Papelbon deep in his first game with the team.
NL-only: Mike Lamb, 3B, Brewers. Kinda stretching this one, but as the new lefty pinch-hit specialist for the Brewers, he should be good for an at-bat per game, and he should come up with runners on base.
A great new nickname
It's making its way around baseball as we speak, and I can't help but go off on a tangent to pass it along: (Joakim) Soria the Mexicutioner.
About Pujols' elbow
There are strange things afoot here in St. Louis regarding Albert Pujols' possible elbow surgery. Pujols told a local TV station on Monday that he was leaning toward undergoing Tommy John surgery on his achy right elbow after the season, a surgery that could sideline him a month into next season. Well, his tune changed Tuesday when he told the St. Louis Post-Dispatch that he's leaning toward not having the surgery, saying, "Unless I blow it out tonight or in the next three weeks, I'm not going to have surgery after the season. That's how I feel." So what changed? Well, Pujols' agents were called into the Cardinals' offices, and a reliable local source speculated that Cardinals management urged Pujols not to have surgery. The thinking is that the Cardinals likely are headed for a second straight playoff-less season and have the All-Star Game coming to town in 2009, and they need Pujols to play a part in offseason ticket sales and represent the city at the All-Star Game next July.
We'll see how this plays out, but for now it's looking as if Pujols will have a regular offseason and be good to go next spring. And if he hits as well with a sore elbow as he has this season, fantasy owners need not be concerned.
Stat Talk (courtesy of ESPN Research)
Remember when Kevin Youkilis used to slump in the second half? Now he's as consistent as can be. He has reached base in 44 straight games, the second-most streak by a Red Sox player in the past 50 years. (The highest: the aforementioned Wade Boggs, and I can assure you it wasn't in 1992.)
5x5 watch: SBs
There's no two ways about it: Michael Bourn has been a disappointment this season. But he still is in the top 10 in the majors with 38 steals, which has resurrected his 5x5 value. In fact, despite hitting .222 this season, Bourn has a higher Player Rater value than such players as Jeremy Hermida and Jay Bruce.
Position watch
Starts at second base for the Brewers the past three games: Ray Durham 2, Rickie Weeks 1. I'll take any opportunity I can to downplay Weeks, but I think the Brewers would rather have the veteran Durham starting during the playoff chase than Weeks.
Tip of the week
It's time to look at those percentage categories and maybe make some rash decisions. For instance, if you have a tight lead over the next few owners in ERA and/or WHIP but are more or less locked into a position in wins and K's, you'll want to avoid any start that could end up badly, even if you have innings to burn. Simply put, it's time to set those lineups with actual category standing in mind.
Brendan Roberts is a contributing writer/editor for ESPN Fantasy.
Fantasy
Brendan Roberts is a contributing writer/editor for ESPN Fantasy. He has been covering fantasy sports as an editor and writer for more than eight years and was awarded the Fantasy Baseball Writer of the Year award in 2006 from the Fantasy Sports Writers Association. Roberts can be read in both the fantasy baseball and football areas at ESPN.com.
SPONSORED HEADLINES
FANTASY TOP HEADLINES
MOST SENT STORIES ON ESPN.COM