Commentary
Hitting decline alters fantasy landscape
Value of top-performing stars rises as marginal bats continue to struggle
What do you do when baseball's landscape shifts from hitting- to pitching-rich?

You adjust your benchmarks.
It's a discussion Nate Ravitz and I began on Friday's podcast

, and one examined more in-depth in Tuesday's "60 Feet 6 Inches." Today we continue looking at the impact of this shift, this time focusing on hitters, determining whether past benchmarks for what constitutes a "good" hitter remain accurate measures.
Up front, there's a hitting benchmark with which you're obviously familiar: the .300 batting average. Players who bat .300 or better are widely regarded as "good," and in a fantasy hitter, that's the number you want (if batting average is your object).
But here's a startling reality: 33 qualified hitters have a .300 batting average or better this season, through the games of May 23.
Through May 23, 2010, 45 hitters were batting .300 or better.
Through May 23, 2009, 49 hitters were batting .300 or better.
Consider this: 43 qualified hitters (through May 23) were batting .290 or better. Perhaps .290 is the new .300?
[+] Enlarge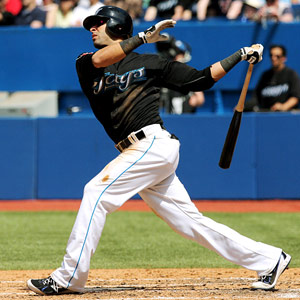 Tom Szczerbowski/US PresswireJose Bautista's huge stats look even more impressive given how pitching has seemingly dominated the past couple of years.
Certainly the fear we once had regarding low-average hitters should diminish with the knowledge that league-wide batting averages are on the decline. For example, Mike Stanton -- a player whose strikeout rate has his owners sweating the prospect of a sub-.250 average -- is currently hitting .257, 101st out of 189 qualified hitters (47th percentile). On the same date in 2010, however, he'd have ranked 126th out of 182 qualified hitters (31st percentile), and on the same date in 2009, he'd have ranked 128th out of 185 qualified hitters (31st percentile).
Batting average is hardly the be-all, end-all measure, of course. Besides the need to lower our accepted benchmark in that particular category, it's also clear from the early returns that -- while the value of an elite fantasy hitter might not have significantly changed -- the value of a back-of-your-lineup -- and for that matter, a replacement-level -- hitter has noticeably declined. The following chart shows what the average hitter according to Player Rater ranking has done the past three seasons; "counting number" stats are per 500 at-bats:
2011

2010

2009

AVG

HR

RBI

R

AVG

HR

RBI

R

AVG

HR

RBI

R

Top 10
.304
39.5
113.2
115.4
.314
35.5
115.4
112.9
.316
30.2
107.4
108.1
Top 50
.290
26.6
97.8
99.8
.292
26.4
96.1
99.6
.301
27.4
98.7
103.9
51-100
.273
18.8
77.8
82.4
.278
19.0
80.0
86.9
.284
21.7
87.9
88.8
101-150
.266
15.6
71.8
72.9
.265
18.1
75.0
78.0
.274
20.3
79.5
83.6
That represents a 13.8 percent drop in home run production, 4.4 percent in RBIs and 6.5 percent in runs scored from the Nos. 101-150 hitters since last season, making "stars-and-scrubs" strategies tougher to execute and injury replacements more challenging to find. And while they're not in the chart, consider that the next 50 hitters, Nos. 151-200, have actually experienced a 20.4 percent drop in homer production, 17.5 percent in RBIs, 7.8 percent in runs scored and 4.0 in batting average from their 2010 counterparts. It seems that the deeper you go, the more treacherous the landscape, and it's the weaker hitters suffering the most from what's a pitching-rich game in 2011.
If you're wondering how sample sizes come into play, here's another chart to demonstrate the rapidly changing offensive landscape. These statistics, however, are only for games through May 23, and count the number of players who met the specific benchmarks as of that date.
AVG

HR

RBI

R

SB

.300

.280

15

10

30

25

30

25

15

10

2011
33
61
2
15
19
50
19
57
4
15
2010
45
78
0
18
30
60
28
73
5
15
2009
49
77
3
26
35
68
28
70
4
17
It's numbers like this that demonstrate the considerable advantage of Jose Bautista's major league-leading 19 home runs, or the double-digit homers and steals accumulated by both Ryan Braun and Matt Kemp. As the benchmarks for replacement-level hitters drop, the value of an elite performer in those categories increases. And it's for that reason you'll notice that, while I did rank more pitchers higher in my top 250 a week ago, the elite hitters still received generous rankings, including a majority of those in my top 25.
In other words, protect your studs. It's seasons like this in which 2- and 3-for-1 trades, when you're on the "1" side, look especially foolish.
Change up top
TOP 125 HITTERS
Note: Tristan H. Cockcroft's top 125 hitters are ranked for their expected performance from this point forward, not for statistics that have already been accrued.
Rnk

Player, Team

Prev
Rnk

1
Jose Bautista, TOR
6
2
Ryan Braun, MIL
3
3
Adrian Gonzalez, BOS
8
4
Miguel Cabrera, DET
2
5
Albert Pujols, STL
1
6
Joey Votto, CIN
4
7
Hanley Ramirez, FLA
7
8
Robinson Cano, NYY
5
9
Troy Tulowitzki, COL
9
10
Carlos Gonzalez, COL
14
11
Matt Kemp, LAD
11
12
Alex Rodriguez, NYY
13
13
Jose Reyes, NYM
15
14
Matt Holliday, STL
10
15
Evan Longoria, TB
12
16
Curtis Granderson, NYY
21
17
Carl Crawford, BOS
20
18
Jacoby Ellsbury, BOS
17
19
Mark Teixeira, NYY
16
20
Josh Hamilton, TEX
36
21
Andrew McCutchen, PIT
24
22
Prince Fielder, MIL
19
23
Ryan Howard, PHI
18
24
Kevin Youkilis, BOS
22
25
Drew Stubbs, CIN
27
26
Justin Upton, ARI
25
27
Dustin Pedroia, BOS
28
28
Brandon Phillips, CIN
34
29
Adrian Beltre, TEX
23
30
Hunter Pence, HOU
26
31
Victor Martinez, DET
33
32
Shin-Soo Choo, CLE
29
33
Elvis Andrus, TEX
39
34
Rickie Weeks, MIL
32
35
Mike Stanton, FLA
35
36
Jay Bruce, CIN
47
37
B.J. Upton, TB
37
38
Nelson Cruz, TEX
45
39
Jayson Werth, WAS
42
40
Paul Konerko, CHW
31
41
Ian Kinsler, TEX
30
42
Shane Victorino, PHI
38
43
Ichiro Suzuki, SEA
40
44
David Wright, NYM
51
45
Asdrubal Cabrera, CLE
66
46
Buster Posey, SF
50
47
David Ortiz, BOS
58
48
Michael Bourn, HOU
53
49
Martin Prado, ATL
56
50
Chris Young, ARI
48
51
Michael Young, TEX
57
52
Jimmy Rollins, PHI
61
53
Adam Lind, TOR
64
54
Ben Zobrist, TB
41
55
Adam Jones, BAL
60
56
Joe Mauer, MIN
62
57
Andre Ethier, LAD
44
58
Alexei Ramirez, CHW
77
59
Adam Dunn, CHW
46
60
Alex Rios, CHW
59
61
Derek Jeter, NYY
70
62
Neil Walker, PIT
65
63
Howard Kendrick, LAA
54
64
Rajai Davis, TOR
63
65
Stephen Drew, ARI
68
66
Dan Uggla, ATL
55
67
Carlos Quentin, CHW
67
68
Vladimir Guerrero, BAL
91
69
Jason Heyward, ATL
43
70
Colby Rasmus, STL
49
71
Chase Utley, PHI
87
72
Starlin Castro, CHC
79
73
Lance Berkman, STL
52
74
Corey Hart, MIL
90
75
Coco Crisp, OAK
76
76
Carlos Santana, CLE
73
77
Bobby Abreu, LAA
81
78
Eric Hosmer, KC
78
79
Carlos Beltran, NYM
72
80
Billy Butler, KC
69
81
Brett Gardner, NYY
93
82
Nick Markakis, BAL
83
83
Brian McCann, ATL
85
84
Ryan Zimmerman, WAS
82
85
Mark Reynolds, BAL
116
86
Logan Morrison, FLA
97
87
Gaby Sanchez, FLA
75
88
Ian Desmond, WAS
94
89
Placido Polanco, PHI
86
90
Torii Hunter, LAA
84
91
Ike Davis, NYM
80
92
Johnny Damon, TB
92
93
Alfonso Soriano, CHC
74
94
Matt Joyce, TB
115
95
Pablo Sandoval, SF
112
96
Justin Morneau, MIN
101
97
Jhonny Peralta, DET
NR
98
Grady Sizemore, CLE
96
99
Jose Tabata, PIT
88
100
Denard Span, MIN
109
101
Brian Roberts, BAL
95
102
Aramis Ramirez, CHC
102
103
Jason Kubel, MIN
100
104
Rafael Furcal, LAD
118
105
Aaron Hill, TOR
111
106
Delmon Young, MIN
106
107
Russell Martin, NYY
103
108
Erick Aybar, LAA
NR
109
Kelly Johnson, ARI
108
110
Chris Coghlan, FLA
89
111
Juan Pierre, CHW
99
112
Nick Swisher, NYY
105
113
Casey McGehee, MIL
107
114
Justin Smoak, SEA
114
115
Josh Willingham, OAK
121
116
Alex Gordon, KC
71
117
Carlos Lee, HOU
NR
118
Jeff Francoeur, KC
113
119
Gordon Beckham, CHW
123
120
Danny Espinosa, WAS
NR
121
Matt Wieters, BAL
124
122
Aubrey Huff, SF
104
123
Michael Brantley, CLE
NR
124
Orlando Cabrera, CLE
117
125
Chase Headley, SD
NR
Speaking of Bautista, this was the most difficult week of top-five calls all season, and you'll notice he's the new name up top. He leads the majors in home runs (19) and is fifth in batting average (.343), and is on pace for an absurd 64 home runs and 138 walks, not to mention 17 stolen bases. Go ahead and claim he'll never meet those paces, but why are we so quick to assume he can't get close? He is the majors' home run leader since Opening Day 2010, and it's not even close; his 73 bombs best Albert Pujols' total (50) by 23. He's first in runs (148) and second in RBIs (156, only Miguel Cabrera's 160 is higher). And as for the batting average -- the A-No. 1 doubt people seem to have with him -- be aware that since July 1, he's a .306 hitter, including .287 after the All-Star break last season alone. Pitchers do appear to have an intense fear of him, and if his walk rate remains in the 20 percent range -- it was 14.5 in the second half of 2010 -- there's no reason he can't keep his batting average in the .300 range.
Pujols, meanwhile, slips to fifth overall, but that's not a condemnation of the unquestioned No. 1 pick entering the year. The differential this week between first and fifth is precariously slim; but Pujols' career-low 9.1 percent walk rate is one thing that bothers me just enough regarding his slow start. In no way does a four-spot drop signal a hop off his bandwagon. It's simply that he's no more guaranteed to top the fantasy leaderboard any more than the four men ahead of him.
Three up
Jay Bruce, Cincinnati Reds: While Bautista terrorizes American League pitching, Bruce has given National League pitchers fits, moving into a tie for the NL lead in home runs (12) thanks to a torrid May, including .333/.395/.718 rates, eight homers and 22 RBIs in 21 games. It's a welcome change from the Bruce we knew during his first three big league seasons; even with that he's a lifetime .251/.322/.457 first-half hitter, compared to .276/.343/.527 in the second half. Now 24, Bruce appears to be realizing his full potential, which is a premier power source, a potential 40-homer, 100-RBI man for the foreseeable future. A strikeout rate hovering near 25 percent -- it's 24.6 percent so far this year -- might make him susceptible to brief cold spells and keep his batting average within range (or lower) than his current .280 mark, but as mentioned above, it's no longer so terrible to bat .270. At .270-40-110, Bruce would be one of the NL's most coveted fantasy hitters.
Asdrubal Cabrera, Cleveland Indians: When you hear people whisper that Cabrera might be the AL's "best" shortstop, they're not without reason. Though his defensive metrics -- per FanGraphs his -5.6 Ultimate Zone Rating is second-worst among qualified shortstops -- don't back it up, Cabrera has historically been known for quality glove work. His bat work so far this year, meanwhile, has been superb. He's the top-ranked fantasy shortstop per our Player Rater, and is in the midst of another torrid streak, batting .393/.431/.754 with five homers, 13 RBIs and five stolen bases in his past 15 games. And while his 35-homer pace might be somewhat fluky -- his 16.7 home run/fly ball percentage is well north of his 6.6 career rate -- he's putting more of a charge into the ball than ever before, his 37.3 percent fly-ball rate a career high. Cabrera might yet hit another 10-plus homers from this point forward, and the batting average and steals aren't flukes; he batted .308 and stole 17 bases in a 131-game season as recently as 2009.
Corey Hart, Milwaukee Brewers: Isn't it funny how quickly a player can get his season back on track? Hart belted three home runs Monday, then followed it up with another homer Tuesday, putting him on pace for 24 home runs, that is, assuming he plays in every remaining Brewers game. At a pace of 145 games, he'd hit 25 home runs, which seems quite a bit like vintage Hart. Thanks to his recent power surge, he's now hitting .274/.315/.500, well within reach of 2010's .283/.340/.525, and there has been nary a whisper of issues with the oblique injury that sent him to the disabled list to begin the season. Perhaps Hart isn't quite the fantasy slugger he was in 2010 -- a 25-homer, 90-RBI full-year pace is a lot more realistic -- but he's still one who belongs in every lineup now.
Three down
Andre Ethier, Los Angeles Dodgers: It's remarkable sometimes how a hitter can begin a season so hot, then run so cold shortly thereafter. Explain Ethier's .380/.446/.556 April rates, followed by .208/.288/.250 numbers, as the "law of averages"/regression to the mean if you wish, but if it earns him the label of a streaky player, it's a frustration in fantasy. Plus, this is what's bothersome: The bruised elbow he suffered Sunday has already cost him a couple of starts, and it's hard to suppress memories of the pinkie issue he suffered last May, an injury that significantly hurt his remainder-of-year production. No, it's not fair to compare the two; they're completely different injuries. Ethier might bounce back from this superbly. But the issue with his dreadful slumps is legitimate, as he has shown a tendency throughout his career to be one of the best players in the game for months at a time, and a mediocre, forgettable non-asset in fantasy in other months. That streaky history is the one thing keeping him from joining the truly elite class.
Ian Kinsler, Texas Rangers: I keep renewing my annual pass on the Kinsler-is-overrated bandwagon, as this is a guy who, in spite of his glowing fantasy reputation, has been every bit as much of a headache as a boon for our purposes during his six-year big league career. Batting average has always been a problem for him, odd for a player whose strikeout rate is somewhat modest (14.4 percent career); he has been susceptible to miserable cold spells; and he's injury-prone, having made six career trips to the disabled list and never playing in more than 144 games in a single year. Granted, the healthy returns of both Nelson Cruz and Josh Hamilton might make Kinsler an odd choice for "three down," as there's no better time for his value to increase. But I argue that it might merely present the ideal selling opportunity, as his .244/.341/.333 rates in 21 May games underscore how slump-prone he can be, not to mention that an untimely injury could come at any time.
Colby Rasmus, St. Louis Cardinals: Sometimes it's not all about the batting eye. Rasmus' 2011 breakout case was built upon his improvement in the walk column in 2010, as well as the increase in his fly-ball rate (from 45.7 percent as a rookie to 48.6 percent last year, according to FanGraphs), but so far this year, he's walking even more often (career-high 14.7 percent) but failing to put as much of a charge into the ball (44.2 percent fly-ball rate). Increases in his ground-ball rate and infield pop-up rate (10.5 percent) suggest he's not clicking, which leads to the inevitable follow-up question: Was it a good idea for the Cardinals to begin dabbling with dropping him in the lineup? There's still elite fantasy potential -- 20/20 caliber -- here, but so far he's on a 10/10 pace.
Tristan H. Cockcroft is a fantasy baseball analyst for ESPN.com and a two-time champion of the League of Alternative Baseball Reality (LABR) experts league. You can e-mail him here, or follow him on Twitter @SultanofStat.
Fantasy
Senior writer for ESPN.com
Co-host of the Fantasy Focus Baseball podcast
Two-time LABR, two-time Tout Wars champion
Member of the FSWA Hall of Fame
SPONSORED HEADLINES
FANTASY TOP HEADLINES
MOST SENT STORIES ON ESPN.COM