Commentary
Is it time to cut ties with Uggla, Dunn?
Fantasy owners face dilemma with a number of underachieving high draft picks
Patience: It can be both virtue and vice.

As a whole, fantasy owners tend to get attached to their players, especially those early-round picks, the foundations of our teams. Letting go has never been our strength; we tend to cling desperately to the hope that once a player is an intriguing selection, he'll always be an intriguing selection.
As a result, we tend to wait far too long with struggling stars, often saying such things as "He'll come around," or "He's got to still be as good as he always was, right?" Even I fall prey to these traps; I'm a fantasy owner who typically preaches patience with your slumping superstars.
Stress "typically." Even I have my limits, and those limits include the time you can point to a specific shortcoming of said player that signifies the prospect of no immediate hope of a turnaround. When there's a quantifiable reason for a player's slump, eventually the time arrives when it's time to say, "I'm done."
Today, let's take a look at six such players who, if we haven't yet reached the point of being "done" with them, certainly we're close -- perhaps a matter of days away. These are the players who, without the excuse of a disabled-list stint, have suffered the most significant drops between their preseason average draft positions (ADP) and their current standing on the Player Rater. Numbers below are rankings among hitters only; considering how low some of their Player Rater rankings are, it shows how unbelievably poorly each has performed.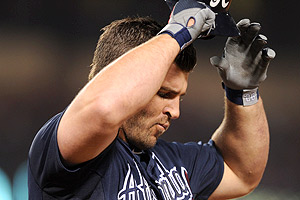 Harry How/Getty ImagesDan Uggla has often been a batting-average liability, but this year has been worst of all.
Dan Uggla, Atlanta Braves (ADP: 26, Player Rater: 262): He has been one of the most frustrating hitters to own in all of fantasy, primarily because if you picked him, you thought you had locked up one of the more difficult positions to fill. All Uggla has done is give you a major league-worst .170 batting average, having gone all year without back-to-back multihit games and never having had anything longer than a six-game hitting streak. Jayson Stark on Tuesday shared two scouts' takes on Uggla's problems; let's take a closer look at the numbers.
Fastballs have been a particular issue for Uggla. Though he has seen roughly the same rate of them so far in 2011 (46.2 percent of all pitches seen) compared to 2009-10 combined (44.8 percent), his performance in plate appearances that have ended with them has dropped, from .315/.424/.598 in 2009-10 to .154/.250/.319 this year. Lefties have also presented issues; he's a .098/.179/.131 hitter against them after managing .258/.377/.492 rates the previous two seasons. Meanwhile, Uggla's chase percentage -- the percentage of the time he swings at pitches outside the strike zone -- has risen, from 20.5 percent in 2009-10 to 27.5 this year (and 29.3 percent against lefties in 2011 alone).
That sure makes Uggla's problems look more like a timing issue than a clear decline in skills. He's 31 years old, not far removed from his prime, so it's difficult to imagine him suffering such a dramatic career collapse. At the same time, Uggla also isn't showing any signs of nearing a turnaround, meaning that while he's seemingly a buy-low candidate, the move only makes sense if you're acquiring him at a dirt-cheap discount. Approach it like this: If his owner is dangling him at the price of a back-of-your-lineup mixed-league hitter and the move can't significantly damage your roster, go for it. But chances are, the Uggla owner is probably going to be stuck with him, clinging to the desperate hope that he'll figure it out.
Adam Dunn, Chicago White Sox (ADP: 31, Player Rater: 290): Like Uggla, Dunn is 31 years old, with many of the same problems. Stark also addressed the Dunn topic, as did Eric Karabell on Monday; I generally agree with Eric on the "you've got one more week" approach with Dunn, but I bet we'd both admit it might be our tendency to preach patience talking.
[+] Enlarge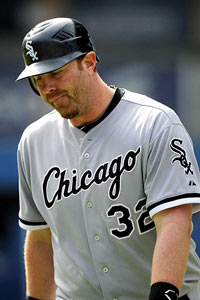 Tom Szczerbowski/US PresswireThe move to the American League has been anything but good for Adam Dunn.
Dunn, again like Uggla, has had fastball issues in 2011; he's a .165/.310/.243 hitter against them this season, after .309/.399/.652 in 2009-10 combined. There's a key difference between the two, however: Dunn isn't improving in that department with time, and as a result, he's actually seeing an increased rate of fastballs in recent weeks. Through April, 54.4 percent of the pitches he saw were fastballs, 6.9 percent sinkers; since May 1, those numbers have risen to 59.3 and 9.5. Dunn is also a .197/.351/.311 hitter against fastballs since May 1, only marginally improved upon his .174/.309/.261 rates before that date. And surely you've heard all about his miserable performance against lefties, 1-for-42 (.024 avg.) so far. Clearly he's not adjusting, and American League pitchers are challenging him more as a result.
Nevertheless, just like Uggla, Dunn's problems are unlikely a decline in skills, and in his case, he actually has a wider array of explanations for them: the league change, the adaptation to designated hitter -- though his .296/.449/.648 rates in 16 career games as a National League DH during interleague play suggest otherwise -- and his hasty return after an April 5 emergency appendectomy. Those make me slightly more confident in Dunn's ability to bounce back than Uggla's, but at the same time, there aren't any hints that such a bounce-back is imminent.
That is what presents a dilemma, and it's why Dunn and Uggla are so perfectly linked, both in terms of their age and comparably poor performances to date: They're names so familiar in fantasy, so trusted over multiple seasons, and probably so sensible to keep around if you drafted them merely because of their track records and the fact that their numbers really can't go anywhere but up. They're also players with whom patience could mean another three weeks of terrible statistics before a modest rebound -- one that might merely be a "law-of-averages" product, and a so-so one at that -- and those three additional weeks of bad stats would only cut even deeper.
Chone Figgins, Seattle Mariners (ADP: 83, Player Rater: 293): His fantasy ownership continues to drop -- he's down to 41.9 percent owned in ESPN leagues -- and it probably should be lower, considering his numbers have only gotten worse as the season has progressed. Figgins batted .204 in April, .163 in May and is hitting .143 so far in June, his well-hit average has gone from .240 in April to .109 in May to .048 in June, his walk rate for the season is a career-worst 6.5 percent, and he has been successful on only 53.8 percent of his stolen-base attempts, also a career worst. Figgins, now 33, should get better from here, but primarily because he can't possibly get much worse. It's long since time to bail.
TOP 125 HITTERS
Tristan H. Cockcroft's top 125 hitters are ranked for their expected performance from this point forward, not for statistics that have already been accrued.
Note: Last week, Tristan ranked 150 hitters when doing his rest-of-season projections, thus there are some hitters with previous ranks above 125.
Rnk

Player, Team

Prev
Rnk

1
Jose Bautista, TOR
1
2
Albert Pujols, STL
4
3
Ryan Braun, MIL
2
4
Adrian Gonzalez, BOS
3
5
Miguel Cabrera, DET
5
6
Joey Votto, CIN
7
7
Robinson Cano, NYY
9
8
Carlos Gonzalez, COL
8
9
Matt Kemp, LAD
11
10
Alex Rodriguez, NYY
10
11
Carl Crawford, BOS
15
12
Jose Reyes, NYM
13
13
Mark Teixeira, NYY
14
14
Troy Tulowitzki, COL
12
15
Jacoby Ellsbury, BOS
17
16
Curtis Granderson, NYY
16
17
Hanley Ramirez, FLA
6
18
Justin Upton, ARI
22
19
Jay Bruce, CIN
25
20
Josh Hamilton, TEX
19
21
Andrew McCutchen, PIT
21
22
Prince Fielder, MIL
24
23
Nelson Cruz, TEX
30
24
Dustin Pedroia, BOS
27
25
Evan Longoria, TB
20
26
Ryan Howard, PHI
23
27
Hunter Pence, HOU
28
28
Kevin Youkilis, BOS
26
29
Drew Stubbs, CIN
31
30
Rickie Weeks, MIL
33
31
Matt Holliday, STL
18
32
Mike Stanton, FLA
34
33
Elvis Andrus, TEX
41
34
B.J. Upton, TB
32
35
Paul Konerko, CHW
37
36
David Ortiz, BOS
45
37
Brandon Phillips, CIN
35
38
Asdrubal Cabrera, CLE
40
39
David Wright, NYM
38
40
Ian Kinsler, TEX
42
41
Shin-Soo Choo, CLE
36
42
Michael Bourn, HOU
44
43
Jayson Werth, WAS
29
44
Shane Victorino, PHI
43
45
Adrian Beltre, TEX
39
46
Chris Young, ARI
47
47
Alexei Ramirez, CHW
51
48
Rajai Davis, TOR
52
49
Victor Martinez, DET
48
50
Jimmy Rollins, PHI
50
51
Corey Hart, MIL
49
52
Ichiro Suzuki, SEA
46
53
Carlos Quentin, CHW
56
54
Adam Jones, BAL
54
55
Adam Lind, TOR
55
56
Andre Ethier, LAD
63
57
Chase Utley, PHI
65
58
Michael Young, TEX
53
59
Stephen Drew, ARI
66
60
Neil Walker, PIT
61
61
Martin Prado, ATL
59
62
Derek Jeter, NYY
57
63
Ben Zobrist, TB
58
64
Bobby Abreu, LAA
64
65
Joe Mauer, MIN
67
66
Jason Heyward, ATL
71
67
Colby Rasmus, STL
73
68
Eric Hosmer, KC
74
69
Brian McCann, ATL
79
70
Matt Joyce, TB
80
71
Adam Dunn, CHW
60
72
Coco Crisp, OAK
70
73
Starlin Castro, CHC
72
74
Howard Kendrick, LAA
75
75
Gaby Sanchez, FLA
78
76
Ryan Zimmerman, WAS
76
77
Mark Reynolds, BAL
83
78
Dan Uggla, ATL
69
79
Michael Morse, WAS
96
80
Carlos Santana, CLE
81
81
Vladimir Guerrero, BAL
68
82
Lance Berkman, STL
84
83
Alex Rios, CHW
62
84
Pablo Sandoval, SF
86
85
Billy Butler, KC
90
86
Carlos Beltran, NYM
89
87
Kelly Johnson, ARI
98
88
Denard Span, MIN
87
89
Johnny Damon, TB
91
90
Juan Pierre, CHW
99
91
Danny Espinosa, WAS
100
92
Erick Aybar, LAA
95
93
Brett Gardner, NYY
82
94
Logan Morrison, FLA
88
95
Miguel Montero, ARI
97
96
Jhonny Peralta, DET
94
97
Ian Desmond, WAS
93
98
Torii Hunter, LAA
77
99
Alex Gordon, KC
101
100
Nick Markakis, BAL
85
101
Josh Willingham, OAK
105
102
Gordon Beckham, CHW
107
103
Aaron Hill, TOR
110
104
Aubrey Huff, SF
127
105
Justin Morneau, MIN
92
106
Michael Brantley, CLE
103
107
Jose Tabata, PIT
102
108
Ryan Ludwick, SD
113
109
Grady Sizemore, CLE
106
110
Russell Martin, NYY
108
111
Alfonso Soriano, CHC
112
112
Jason Kubel, MIN
104
113
Nick Swisher, NYY
114
114
Carlos Pena, CHC
118
115
Mark Trumbo, LAA
124
116
Mike Napoli, TEX
133
117
Peter Bourjos, LAA
134
118
J.P. Arencibia, TOR
130
119
Andres Torres, SF
146
120
Carlos Lee, HOU
119
121
Aramis Ramirez, CHC
115
122
Mitch Moreland, TEX
138
123
Angel Pagan, NYM
141
124
J.J. Hardy, BAL
NR
125
Brennan Boesch, DET
NR
Justin Morneau, Minnesota Twins (ADP: 45, Player Rater: 235): There was a point a week ago when Morneau looked on the verge of reviving his season, as he hit two home runs May 31. Unfortunately, outside of of that performance, he has done little to warrant close to the respect his ADP commands. Morneau's well-hit average has gone from .260 in April to .160 in May to .105 in June (that one a small, five-game sample), and his chase percentage on pitches out of the strike zone has gone from 30.1 to 35.8 to 43.1 percent by month. He also has that history of second-half injuries and offensive struggles, and at 30 those questions remain relevant. If you can recoup any value in a trade, you should do it.
Alex Rios, White Sox (ADP: 41, Player Rater: 212): He's an incredibly up-and-down player, yet it's remarkable how much trust people tend to have in him; he's still owned in 77.2 percent of ESPN leagues. Remember when Rios began his White Sox career with .199/.229/.301 rates in 41 games late in 2009? They demonstrate two things: This season-opening funk isn't entirely out of character, and he's streaky enough to be an appealing option for a month or two at a time, but also one you don't want anywhere near your roster for his bad months. In a shallow mixed league, Rios is actually more add-when-he's-hot, cut-when-he's-not than the type of player you consistently want on your roster.
Casey McGehee, Milwaukee Brewers (ADP: 67, Player Rater: 204): His might be the quietest miserable season; you hear so much said about Dunn or Uggla or Rios but so little about McGehee, who is off to the worst start of his young career. His ground-ball rate is a problem; his has risen sharply, from 37.3 percent in 2009, to 47.1 percent in 2010, to a career-high 54.5 percent this season. He's also struggling with off-speed pitches, a dead-red fastball hitter who has managed but .177/.195/.215 rates combined and a mere .114 well-hit average on all other offerings. It sure looks like opposing pitchers have found some of the holes in McGehee's swing and are exploiting them, which isn't surprising for a player who spent four full years in the Double- and Triple-A levels before breaking into the big leagues permanently at 26. Something to think about: McGehee's OPS by half-season have gone .928 to .811 to .797 to .806 to .620, meaning there has been a gradual decline as his career has progressed. He's probably better than this, but maybe not much more than league-average, and a marginal mixed-leaguer.
Three up
Elvis Andrus, Texas Rangers: The simplest argument for Andrus' swift rise in the rankings is his current No. 3 status among shortstops on the Player Rater, but the more detailed case is the noticeable improvements he has made in two key aspects of his game, his base-stealing efficiency and ability to drive the ball. Andrus is a perfect 19-for-19 in stolen-base attempts this season, a substantial improvement from the 68.1 percent success rate in 2010 (32-for-47), putting him on pace for 50 steals. To put that into perspective, only six shortstops in the past quarter-century have swiped as many as 50 bases in a season: Barry Larkin (51 in 1995), Pat Listach (54 in 1992), Jose Reyes (78 in 2007, 64 in '06, 60 in '05 and 56 in '08) and Hanley Ramirez (51 in both 2006 and '07). But that's not all: After managing the fourth-worst single-season isolated power since World War II in 2010 (.036), Andrus has upped that number to .082 this year, thanks to three home runs in 58 games. That's not to say that he's on the verge of becoming a premier power source, but if he's even marginally better than he was in the home run department in 2010, he'll be a clear top-five fantasy shortstop all season.
J.J. Hardy, Baltimore Orioles: That's "J.J. Hardy, leadoff hitter" to you. Perhaps thanks to the second-best on-base percentage (.346) of anyone on the Orioles, Hardy earned a spot atop the lineup Tuesday, and continued his hot hitting with a home run. That gives him three in six games in June alone, to go along with a .429 batting average (9-for-21). While Hardy's time in the leadoff spot might be short -- Brian Roberts and Robert Andino are typically ticketed for it -- it's clear he has earned a more prominent role in the offense. Hardy, now 28 years old, has always had underrated power, with a .166 isolated power and an average of one home run per 28.5 at-bats since 2007, and that's a valuable asset from a shortstop. Injury questions might be the one thing preventing him from a run at top-10 status at his position from this date forward.
Michael Morse, Washington Nationals: Remember this sleeper power source from the preseason? Morse might have begun the season slowly, earning him a high-ranking spot on our most-dropped list in April and early May, but if you were patient with him through his struggles in an NL-only league, or recently scooped him back up, he's finally rewarding you. Beginning with a 2-for-4 effort on May 22, Morse has batted .369 (24-for-65) with seven home runs and 22 RBIs in his past 16 games. Why is that date important? Simple: It represents the first of a 16-game string of starts at first base, as the Nationals have committed to him as their every-day first baseman during that time. Perhaps Morse has found his comfort zone playing first base, which will lead to an interesting debate: Morse or Adam LaRoche, once the latter is healthy? Morse's owners will surely be rooting for him, and at the rate he's currently playing, the Nationals should consider keeping him there.
Three down
Torii Hunter, Los Angeles Angels: Just as quickly as he seemed to be turning around his season, Hunter has slipped into another mild funk -- Tuesday's two-hit effort notwithstanding -- as he's a .130 hitter (3-for-23) with only one RBI in six games so far in June. He continues to exhibit many of the issues that have plagued him all year: As with some of the hitters mentioned above, fastballs have given him problems, as he has .198/.297/.342 full-season numbers against them, and he has a 22.2 percent strikeout rate that represents his worst number in any full season. That might not be a problem for a Dunn or an Uggla, both of whom are four years younger; it's a greater concern for a 35-year-old like Hunter. His career indeed might be hitting its steep-decline phase, not a good thing for a player who is typically more .285-25-90 than .300-30-100 hitter.
Hideki Matsui, Oakland Athletics: Speaking of aging hitters, Matsui is even older than Hunter -- he's 37 -- and he's in an even deeper, more disconcerting funk. Matsui went 0-for-3 on Tuesday, in what was only his ninth start in the Athletics' 15 games since returning from San Francisco -- where they lacked the designated hitter due to interleague play -- on May 23, giving him a .111 batting average (4-for-36) and zero extra-base hits during that span. There hasn't been any reported injury to explain the days off; Matsui's poor play is apparently the reason. Remember, he's a player typically used to every-day at-bats -- he once had a streak of 518 consecutive games played in the U.S. alone (1,768 if you include time in Japan) -- so there's no saying that some time off is going to straighten him out.
Geovany Soto, Chicago Cubs: In six games since returning from a groin injury, Soto is a .143 hitter (3-for-12) with eight strikeouts, and his funk could easily be explained as his having yet recaptured his timing following a three-week absence. But here are the two problems with that argument: One, he was struggling at the plate before getting hurt, with .226/.322/.387 rates and only three home runs in 31 games. Two, his Cubs are in a monstrous funk offensively, having scored just 27 runs as a team in their past 11 contests (2.45 per game), and that means diminished runs/RBI potential even if Soto was hitting. Fantasy owners can't be patient through slumps like this, not from players on average-to-below offenses, because the counting numbers simply aren't there.
Tristan H. Cockcroft is a fantasy baseball analyst for ESPN.com and a two-time champion of the League of Alternative Baseball Reality (LABR) experts league. You can e-mail him here, or follow him on Twitter @SultanofStat.
Fantasy
Senior writer for ESPN.com
Co-host of the Fantasy Focus Baseball podcast
Two-time LABR, two-time Tout Wars champion
Member of the FSWA Hall of Fame
SPONSORED HEADLINES
FANTASY TOP HEADLINES
MOST SENT STORIES ON ESPN.COM