Commentary
Top hitting prospects getting called up
How excited should fantasy owners get over Moustakas, Rizzo, Ackley, etc.?
It's prime time to be a prospect.

In this era of eight-figure salaries for veteran superstars but cost-controlling measures for youngsters, June tends to be a popular time for top prospects making big league debuts. You'll hear these words tossed about a lot: "Super Two." That refers to the group of arbitration-eligible players with between two and three years' big league service time, a percentage of which are granted arbitration early, advancing their salaries more quickly than those who miss it. As a result, teams tend to go out of their way to prevent prospects from reaching Super Two arbitration status, suppressing them in the minors until such time they believe they're "safe" from the Super Two cutoff. Jim Bowden explains the process well here.
For some reason, the beginning of June has become a widely assumed time for the Super Two cutoff, despite the process dictating no specific date and instead dependent upon how quickly teams promote their prospects. (Look at it like this: If every team waited until exactly -- and only -- Sept. 1 to recall prospects, the Super Two cutoff would probably be on that date or later.)
[+] Enlarge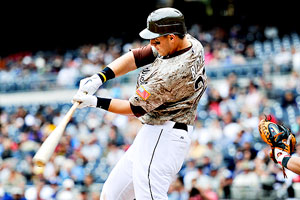 Andy Hayt/Getty ImagesAnthony Rizzo is already trying to do his best to replace Adrian Gonzalez in the Padres lineup.
That is why, in the past 10 days, we've seen the big league debuts of such exciting young names as Dee Gordon, Mike Moustakas and Anthony Rizzo. It's why we might see prospects such as Dustin Ackley and Brett Lawrie in the coming days. For a full list -- and detailed analysis -- of the soon-to-come prospects, check out David Schoenfield's SweetSpot blog on the topic, or read any of Jason Grey's work on the individual names.
But today's "Hit Parade" isn't about the prospects to come. Rather it's about the likelihood of fantasy impact of the prospects who have -- and will -- come. It's all well and good to talk about these hotshot prospects, as fantasy owners always want to read about the next big thing. But do these kids really matter?
Though each represents an individual case, for the most part, I say yes.
Think about this: Between May 29 and June 22 in the past three seasons (2008-10), 15 members of Baseball America's Top 100 prospect lists in those years were promoted by their respective big league clubs. Twelve of them were hitters and six, in fact, were deemed top-10 prospects overall. (The full list of 15: Pedro Alvarez, Homer Bailey, Gordon Beckham, Kyle Blanks, Jay Bruce, Jason Castro, Carlos Gonzalez, Tommy Hanson, Chase Headley, Andrew McCutchen, Buster Posey, Carlos Santana, Mike Stanton, Stephen Strasburg and Matt Wieters.)
These players, in spite of the oft-mentioned-on-these-pages prospect failure rate, were surprisingly productive players following those promotions. Take a look:
Time span

AVG

OBP

SLG

HR
(per 162 G)

SB
(per 162 G)

RBI
(per 162 G)

R
(per 162 G)

1st 30 games
.256
.322
.427
19
8
86
82
Full season
.267
.335
.448
22
8
79
78
A .267-22-79-8 stat line might not overwhelm you -- and remember that Castro's performance adversely affected that -- but in a deep-mixed or AL-/NL-only league, they matter, and certainly justify the expenditure of your high waiver ranking. It's why, if pressed to make a blanket statement about top prospects being promoted, I'd say, "Yes, it's definitely worth spending your No. 1 waiver position for them."
It explains why during Monday's FAAB (Free Agent Acquisition Budget) run of the NL-only version of the League of Alternative Baseball Reality (LABR), I invested 86 of my 96 remaining dollars in Rizzo. That's a huge chunk of change, but for full details, it's a 13-team NL-only league with standard 24-man rosters, a rule that stipulates that you cannot demote any active player from your starting lineup (you can only cut struggling performers), and a six-man bench. Almost everyone is owned. Jerry Sands ($63), Charles Blackmon ($24), Javier Vazquez ($21; he was cut earlier in the year), Ryan Vogelsong ($13) and Vance Worley ($11) have been the five next-most expensive pickups this season. Gordon? Draft-day reserve pick. Domonic Brown? Jeez, I bought him for $9. Even Shelby Miller is owned!
The Rizzo buy was a bold move, eerily similar to my David Wright purchase -- I lack the specifics but believed he was a $90 buy as well during his debut year -- of several seasons ago. The thinking is that three-and-a-half months of potential production beats a possible two from any high-impact player moved into the National League at the trade deadline. Rizzo has the bat to be a .280-plus hitter with double-digit homers in spite of Petco Park's spacious dimensions; the hope here is that he has an impact similar to that of Kyle Blanks, a .250/.355/.514 hitter in 54 games of his debut year of 2009 (scaled to a larger number of remaining games, of course).
As for the other kids? Here's a quick-hitting look at each, whether they have already debuted this season, in the order in which I like them:
Moustakas: He's a third baseman, which has quickly morphed into a thinner position than expected in fantasy, and has comparable offensive potential to Rizzo in a better ballpark; a .280, 12-homer kind of stat line is possible. My worry is that he has occasionally struggled to adapt quickly each time he has stepped up to a higher level of competition, so patience is required.
TOP 125 HITTERS
Note: Tristan H. Cockcroft's top 125 hitters are ranked for their expected performance from this point forward, not for statistics that have already been accrued.
Rnk

Player, Team

Prev
Rnk

1
Albert Pujols, STL
2
2
Jose Bautista, TOR
1
3
Ryan Braun, MIL
3
4
Adrian Gonzalez, BOS
4
5
Matt Kemp, LAD
9
6
Joey Votto, CIN
6
7
Miguel Cabrera, DET
5
8
Robinson Cano, NYY
7
9
Alex Rodriguez, NYY
10
10
Carlos Gonzalez, COL
8
11
Jose Reyes, NYM
12
12
Carl Crawford, BOS
11
13
Troy Tulowitzki, COL
14
14
Jacoby Ellsbury, BOS
15
15
Mark Teixeira, NYY
13
16
Curtis Granderson, NYY
16
17
Hanley Ramirez, FLA
17
18
Prince Fielder, MIL
22
19
Justin Upton, ARI
18
20
Jay Bruce, CIN
19
21
Andrew McCutchen, PIT
21
22
Josh Hamilton, TEX
20
23
Nelson Cruz, TEX
23
24
Evan Longoria, TB
25
25
Drew Stubbs, CIN
29
26
Hunter Pence, HOU
27
27
Ryan Howard, PHI
26
28
Rickie Weeks, MIL
30
29
Kevin Youkilis, BOS
28
30
Mike Stanton, FLA
32
31
David Ortiz, BOS
36
32
Elvis Andrus, TEX
33
33
Dustin Pedroia, BOS
24
34
Paul Konerko, CHW
35
35
Matt Holliday, STL
31
36
Asdrubal Cabrera, CLE
38
37
Michael Bourn, HOU
42
38
Brandon Phillips, CIN
37
39
Ian Kinsler, TEX
40
40
B.J. Upton, TB
34
41
David Wright, NYM
39
42
Shane Victorino, PHI
44
43
Chris Young, ARI
46
44
Alexei Ramirez, CHW
47
45
Victor Martinez, DET
49
46
Adam Lind, TOR
55
47
Adrian Beltre, TEX
45
48
Jimmy Rollins, PHI
50
49
Chase Utley, PHI
57
50
Pablo Sandoval, SF
84
51
Carlos Quentin, CHW
53
52
Ryan Zimmerman, WAS
76
53
Jayson Werth, WAS
43
54
Adam Jones, BAL
54
55
Corey Hart, MIL
51
56
Shin-Soo Choo, CLE
41
57
Stephen Drew, ARI
59
58
Ichiro Suzuki, SEA
52
59
Andre Ethier, LAD
56
60
Neil Walker, PIT
60
61
Ben Zobrist, TB
63
62
Jason Heyward, ATL
66
63
Joe Mauer, MIN
65
64
Rajai Davis, TOR
48
65
Eric Hosmer, KC
68
66
Bobby Abreu, LAA
64
67
Brian McCann, ATL
69
68
Mark Reynolds, BAL
77
69
Michael Morse, WAS
79
70
Michael Young, TEX
58
71
Gaby Sanchez, FLA
75
72
Lance Berkman, STL
82
73
Carlos Beltran, NYM
86
74
Colby Rasmus, STL
67
75
Starlin Castro, CHC
73
76
Adam Dunn, CHW
71
77
Billy Butler, KC
85
78
Coco Crisp, OAK
72
79
Dan Uggla, ATL
78
80
Carlos Santana, CLE
80
81
Brett Gardner, NYY
93
82
Danny Espinosa, WAS
91
83
Martin Prado, ATL
61
84
Howard Kendrick, LAA
74
85
Kelly Johnson, ARI
87
86
Johnny Damon, TB
89
87
Matt Joyce, TB
70
88
Juan Pierre, CHW
90
89
Miguel Montero, ARI
95
90
Aubrey Huff, SF
104
91
Aramis Ramirez, CHC
121
92
Alex Rios, CHW
83
93
Vladimir Guerrero, BAL
81
94
Logan Morrison, FLA
94
95
Erick Aybar, LAA
92
96
Alex Gordon, KC
99
97
Jose Tabata, PIT
107
98
Ian Desmond, WAS
97
99
Denard Span, MIN
88
100
Gordon Beckham, CHW
102
101
Michael Brantley, CLE
106
102
Derek Jeter, NYY
62
103
Nick Markakis, BAL
100
104
Jhonny Peralta, DET
96
105
Ryan Ludwick, SD
108
106
Alfonso Soriano, CHC
111
107
Grady Sizemore, CLE
109
108
Brennan Boesch, DET
125
109
Nick Swisher, NYY
113
110
Michael Cuddyer, MIN
NR
111
Delmon Young, MIN
NR
112
J.J. Hardy, BAL
124
113
Mike Moustakas, KC
NR
114
Alex Avila, DET
NR
115
Justin Smoak, SEA
NR
116
Peter Bourjos, LAA
117
117
J.P. Arencibia, TOR
118
118
Andres Torres, SF
119
119
Domonic Brown, PHI
NR
120
Anthony Rizzo, SD
NR
121
Angel Pagan, NYM
123
122
Mitch Moreland, TEX
122
123
Matt Wieters, BAL
NR
124
Carlos Lee, HOU
120
125
Torii Hunter, LAA
98
Desmond Jennings: People forget that he, unlike the others in this list, accrued service time in the big leagues in 2010 and that the Tampa Bay Rays are notoriously conservative promoting prospects, so that he's not up yet shouldn't be that shocking. But he has earned a shot, with .286/.376/.433 rates and 64 steals in 71 chances in 204 career games in Triple-A, and has the skills to make a quick impact. I think he's up by month's end.
Gordon: No power to speak of, but he's quick, as much so as anyone currently in the majors. His slap-hitting approach might give enough pitchers fits that he'll get on enough to be a top-10 speed source looking forward. Long term, I worry about the potential for lengthy slumps.
Jesus Montero: Now that Jorge Posada is hitting, the New York Yankees don't have a compelling reason to promote Montero. But the instant Posada gets hurt -- if it happens at all -- Montero almost assuredly will get the call. That he's a catcher makes all the difference here.
Lawrie: He's currently injured in Triple-A and plays in one of the most hitter-friendly environments in the minors (Las Vegas of the Pacific Coast League), so don't take those .354/.415/.677 rates too seriously. But he has double-digit power and speed potential and could score second- and third-base eligibility. In addition, the Toronto Blue Jays have a good hitting coach in Dwayne Murphy, who might be able to help Lawrie through any potential adjustment period. I still say Lawrie might not be up before the All-Star break, though.
Ackley: I'm more a fan because of the position he plays -- second base can be tough to fill in fantasy -- than his actual skills. Ackley isn't elite in power or speed but he's sound with the bat, a shouldn't-hurt-you kind of player with his batting average. The problem is the Seattle Mariners' offense is awful, so a player who generates much of his value with his batting average probably won't be helped enough in terms of counting numbers to make a significant impact. Ackley, incidentally, might be recalled within the week.
Three up
Matt Kemp, Los Angeles Dodgers: Not that you need us to tell you Kemp is a fantastic fantasy player, but it's the magnitude of his recent hot streak that has him in this week's "three up." In 13 games in June he's a .422/.536/1.000 hitter with 16 RBIs and 13 runs scored, a performance about as valuable as his April, when he managed .368/.446/.613 rates, 19 RBIs, eight stolen bases and 20 runs in 28 contests. It puts him on an astonishing full-year pace: .332 batting average, 47 home runs, 131 RBIs, 38 stolen bases, 110 runs scored, which would be an all-time-great kind of fantasy campaign. Naturally, Kemp shouldn't be expected to quite attain all of those numbers, but there's reason to believe he'll remain a top-10, and perhaps top-5, player overall the rest of the year. For one thing, his strikeout rate, which was a career-high 28.2 percent during his disappointing 2010, has dropped to 25.2 percent, while his walk rate has soared to a career-best 12.1 percent. He's also performing significantly better against right-handers; he's a .323/.394/.641 hitter against them, after .233/.299/.444 in 2010.
David Ortiz, Boston Red Sox: He keeps on truckin', even at 35 years old. In his past 31 games, Ortiz is a .361/.418/.795 hitter with 27 RBIs and 27 runs scored, and not coincidentally, during that span the Red Sox are 22-9. You can credit the depth of his lineup if you wish -- that obviously has a direct impact on his runs/RBI production -- but let's heap some kudos on him, as he's enjoying a 23.0 percent line-drive rate and .329 well-hit average, meaning he's locked in. This is vintage Ortiz -- and the strength of his supporting cast has helped restore that status -- and there's little indication that's going to change over the next few months.
Mark Reynolds, Baltimore Orioles: Speaking of "vintage" versions of hitters, Reynolds in recent weeks has shaped up as the Reynolds we've come to know and get incredibly frustrated by, an all-or-nothing slugger with the home run potential to tantalize us but the strikeout rate to positively kill our team batting averages. In his past nine games, he has five home runs and 11 RBIs but a 32.4 percent strikeout rate that ranges not far off his 38.0 percent career rate. Reynolds has batted .300 during the hot streak, but much of that was a product of the homers; he has a .286 batting average on balls in play that's closer to his .313 career number (he's a .238 career hitter) than his .257 of 2010 (when he batted .198). Enjoy this while it lasts, as Reynolds might spend his career annually tallying 30-plus homers. But there will also be lengthy spells in which he's tough to have in your lineup.
Three down
Jason Bay, New York Mets: His struggles have reached the point to which he's a legitimate drop candidate in all but the deepest of leagues -- think NL-only formats of 10 or more teams. Through more than a third of the season, he's 273rd on our Player Rater among the 520 hitters to have appeared in a game so far. Bay's struggles in New York have even earned him a seat on the bench to begin four of the Mets' past nine contests; he's a .067/.216/.067 hitter with 13 strikeouts in 30 at-bats in the nine games he has played in June. That brings his Mets career numbers to .243/.333/.363 in 137 games since the beginning of last year. Don't blame Citi Field for all of his problems, either, as he has a 4.7 home run/fly ball percentage in his road games during that span, lower than his 4.9 home number. Bay is swinging at more bat pitches, hitting a few more grounders and struggling with the fastball; that all points to problems that aren't easily fixable.
Rajai Davis, Toronto Blue Jays: I'm a Rajai Davis fan, primarily because I believe he's as productive a stolen bases asset as anyone in the game, but even accounting for that it's difficult to overlook his current cold spell. In his past nine games, he's 2-for-34 (.059 BA) with one walk, his .086 on-base percentage obviously responsible for his single stolen base chance during that time (it was a caught stealing). When Davis is struggling, he's chasing bad pitches; he's 11th among players with 200 or more plate appearances with a 37.7 chase percentage, and that number has risen to 39.3 percent in his past nine contests. Obviously you should remain patient with him, since his 50-steal potential is difficult to replace, but those in shallow-mixed leagues should bench him until he heats up.
Matt Joyce, Tampa Bay Rays: One of the hottest hitters in fantasy the first two months of the season, Joyce has seen his bat cool in June, but at least in his case there's a potential explanation. He has complained of recent shoulder soreness, an injury that cost him games this past Friday and Sunday and one that he claims has bothered him since the beginning of June. Sure enough, Joyce is a .150/.222/.300 hitter in 11 games this month. In situations such as this, fantasy owners can't help but wonder whether a brief disabled-list stint would help; at the same time, the missed games would adversely affect his short-term value.
Tristan H. Cockcroft is a fantasy baseball analyst for ESPN.com and a two-time champion of the League of Alternative Baseball Reality (LABR) experts league. You can e-mail him here, or follow him on Twitter @SultanofStat.
Fantasy
Senior writer for ESPN.com
Co-host of the Fantasy Focus Baseball podcast
Two-time LABR, three-time Tout Wars champion
Member of the FSWA Hall of Fame