Commentary
20 bold hitter predictions
Mauer, Ibanez, Zimmerman will stay hot; Davis, Dunn, Abreu should cool off

I'm at it again.
Last week, I told you to trade Adam Jones, Aaron Hill and Orlando Hudson, among others. Seems a few of you didn't like that so much. Well, this week I'm telling you Chris Davis will be associated with one Mario Mendoza, Lance Berkman is a .270s hitter, Albert Pujols won't win the NL batting title, and Josh Hamilton will miss about half of what's left in the season.
Yup, that just happened. I guess I'm just full of hate, but this week I have some positive thoughts, too.
I took a lot of heat for my Jones and Hill trade recommendations in Conversation, but what y'all didn't know is that I created little voodoo dolls of each player, and I jinxed them in various ways.
I kid, of course, but the first guy on last week's sell-high list (Asdrubal Cabrera) dislocated his shoulder Tuesday (maybe I dropped that doll at one point), and the other six, heading into Wednesday's games, had combined to go 20-for-100 with just seven RBIs since the article appeared. Gulp!
Hey, voodoo dolls or not, I didn't expect a sudden dropoff. After all, I own a handful of these players in leagues, too. But sometimes you just get these gut feelings -- backed by facts, of course -- that overrule what your head says will happen. In the 20 predictions below, I am speaking from the gut. My head has told me these things won't and can't happen, but my gut is telling me they will:
1. Chris Davis will hit .208 this season: Hey, that's actually up almost 20 points over what he's hitting now. But that big turnaround coming soon … not gonna happen. There is nothing in his numbers -- he has struck out 42.9 percent of his plate appearances and hits almost twice as many fly balls as ground balls -- to indicate a turnaround, and it's obvious pitchers know how to pitch him. He hits mistake pitches; that's it.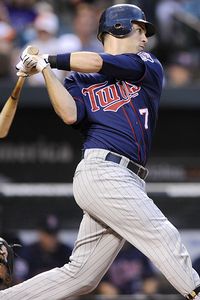 AP Photo/Nick WassJoe Mauer looks to have another batting title in him, based on what he has done since returning from a back injury.
2. Joe Mauer will hit a Wade Boggs-like .357, and he'll get enough at-bats to win another batting title:
It's obviously down from what he's hitting now (.431), so that predicts he'll hit roughly .338 from here on out. Why not? He's only 26, and there are no holes in his swing.
3. Raul Ibanez will finish second in NL MVP balloting: As in, his start is no mirage. The only guy who will get more votes is that pesky Pujols guy in St. Louis. The Phillies eke out a division title over the Mets (who gain a wild-card berth), and Ibanez is heavily recognized for his role in that.
4. And your NL batting title winner is … not Pujols. Rather, it's a fella named Brad Hawpe, who keeps about the same torrid batting average pace he has now and finishes at .343. He finishes with a respectable 26 homers, and also racks up a nifty 119 RBIs. His achievement is downplayed because he hits .403 at Coors Field. But hey, not bad for the 137th draft pick, on average, in ESPN standard leagues.
5. After hitting 33 homers last season, Pat Burrell will finish 2009 with only nine round-trippers: He's in and out of the lineup much of the second half, his batting average sinks all the way to .237, and he has to hit five homers in September just to reach that number.
6. Lance Berkman finishes with a very un-Berkman-like .278 average: That matches his 2007 average. But he does get to 30 homers and just misses 100 RBIs. He'll stay healthy, but in mid-August, he'll admit that he's "pretty sore in a number of areas, and [has] been banged up all season." Those aren't bad numbers, but not the Berkman you paid for.
7. Jose Reyes finishes with 32 steals: That's it, and he has 11 now. His calf injury sidelines him longer than expected, and he is timid on the basepaths when he returns. He also is thrown out 15 times, a sure sign that something is wrong.
8. Brian Roberts leads the major leagues in runs scored: And really, his owners are the only ones who realize it. He crosses the plate 120 times.
9. Ryan Zimmerman hits .322 with 34 homers and 116 RBIs: Hey, wait. What's he on pace for? Yup, .322-34-116.
10. Josh Hamilton finishes with 301 at-bats: And he has 125 at-bats right now, so you do the math. His abdominal injury requires surgery, and he's out till early August, then he strains himself on a big swing shortly after returning and has to miss more time.
11. Mark Teixeira will win the AL MVP Award: Not much more I can say to go with that one. And he'll finish in the top 7 in the Player Rater (he's 37th now).
12. Nick Johnson finishes with a career-high 505 at-bats: He's playing differently now than he used to. It's -- how do I say this? -- low-maintenance. As in, you won't see him running into too many tarps or walls or making risky slides. He's been through enough over the past several years to know that he's not employed to make diving catches or score from first on doubles; he's employed to hit the ball. And that's what he will do, more regularly than any season before.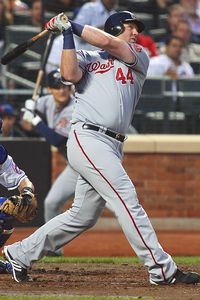 Michael Stobe/US PresswireAdam Dunn's average has already cooled off after a nice start, but how much further down can it go?
13. Not only does Adam Dunn fall back to earth; he actually hits for a worse average than last year:
And last year he hit .236. This year's predicted mark: .233. It was just a hot stretch to begin the season, that's all.
14. The newly called-up Andrew McCutchen struggles mightily and is sent back down: Kinda like Matt LaPorta. McCutchen is only 22, and is still very raw. He's got a good head on his shoulders, but he'll finding himself hitting too many pitcher's pitches, hitting the ball on the ground, and then realizing infield hits are tougher to come by in the bigs.
15. In fact, we won't see another rookie make a true impact in mixed leagues for the rest of the season; that includes recent call-up Gordon Beckham: There are no Ryan Braun or Evan Longoria plug-and-play types left to come up this season. If that guy was good enough to produce right away, he'd have been here by now. Go look at all the impact rookies over the past five or six years and you'll see a great majority of them either started the year with the team or were brought up in April or May. That is not to say some guys could come up and put up big numbers over a two- or three-week stretch, but nothing really sustainable for a long stretch of time. That description could fit Beckham, who has the ability to hit for a high average and drive in runs, but whose free-swinging ways could lead to some frustrating slumps.
16. Nick Markakis will post a .313-30-115 season: And dumb owners everywhere will wonder, "Where'd this come from?" He was always there; he was always improving. He knows how to deal with being walked more. And now he's just coming into his own at 25. He'll get early-second-round draft consideration in mixed leagues next season.
17. Bobby Abreu, currently on pace for 50 steals, doesn't even reach 30: In fact, I think he'll finish with 27. He hasn't stolen a base since May 19.
18. Adrian Gonzalez shatters his single-season homer mark (36) and finishes with 48 homers: This is the season he puts it all together, despite not getting much help from his teammates. Hey, it takes just 48 swings to hit 48 home runs. Surely he'll get enough hittable pitches, right?
19. Dustin Pedroia hits 21 homers: He hit 17 last year, and has only two this year, but he goes on a homer binge in July and August and shows the world he can hit for power, too. In the offseason, sports scientists will study his swing to find out how a guy that little could hit 20-plus homers. They find out two things: (1) the Green Monster helps him; and (2) that he hit 67 percent of his homers on the high and inside fastball.
20. Chipper Jones has another … well, we lose count at 34 minor injuries and then has to call 2010 his "farewell season." And I will cry. Larry Wayne Jones has always been one of my favorites.
Fortunes rising
Top 100 Hitters
Note: Brendan Roberts' top 100 hitters are ranked for their expected performance from this point on, not on the statistics that have already been accrued.
1. Albert Pujols, 1B, STL (1)
2. Hanley Ramirez, SS, FLA (2)
3. Alex Rodriguez, 3B, NYY (3)
4. Miguel Cabrera, 1B, DET (4)
5. Ryan Braun, OF, MIL (5)
6. David Wright, 3B, NYM (7)
7. Mark Teixeira, 1B, NYY (6)
8. Chase Utley, 2B, PHI (9)
9. Carl Crawford, OF, TB (11)
10. Evan Longoria, 3B, TB (10)
11. Ian Kinsler, 2B, TEX (8)
12. Carlos Beltran, OF, NYM (12)
13. Justin Morneau, 1B, MIN (16)
14. Nick Markakis, OF, BAL (19)
15. Joe Mauer, C, MIN (17)
16. Jason Bay, OF, BOS (20)
17. Dustin Pedroia, 2B, BOS (23)
18. Raul Ibanez, OF, PHI (24)
19. Ryan Howard, 1B, PHI (21)
20. Carlos Lee, OF, HOU (22)
21. Adrian Gonzalez, 1B, SD (27)
22. Grady Sizemore, OF, CLE (13)
23. Alfonso Soriano, OF, CHC (14)
24. Kevin Youkilis, 1B/3B, BOS (25)
25. Prince Fielder, 1B, MIL (30)
26. Ichiro Suzuki, OF, SEA (36)
27. Jose Reyes, SS, NYM (18)
28. Brandon Phillips, 2B, CIN (33)
29. Matt Holliday, OF, OAK (29)
30. Jimmy Rollins, SS, PHI (26)
31. Jacoby Ellsbury, OF, BOS (32)
32. Ryan Zimmerman, 3B, WAS (41)
33. Brian Roberts, 2B, BAL (31)
34. Josh Hamilton, OF, TEX (15)
35. Lance Berkman, 1B, HOU (28)
36. Matt Kemp, OF, LAD (35)
37. Victor Martinez, C, CLE (39)
38. Nelson Cruz, OF, TEX (43)
39. Nate McLouth, OF, ATL (38)
40. Joey Votto, 1B, CIN (34)
41. Adam Jones, OF, BAL (48)
42. Robinson Cano, 2B, NYY (47)
43. Brad Hawpe, OF, COL (60)
44. Justin Upton, OF, ARI (55)
45. Curtis Granderson, OF, DET (37)
46. Carlos Pena, 1B, TB (40)
47. Hunter Pence, OF, HOU (49)
48. Alex Rios, OF, TOR (42)
49. Adam Dunn, OF, WAS (45)
50. Brian McCann, C, ATL (51)
51. Torii Hunter, OF, LAA (44)
52. Aaron Hill, 2B, TOR (50)
53. Jermaine Dye, OF, CWS (59)
54. Johnny Damon, OF, NYY (46)
55. Bobby Abreu, OF, LAA (54)
56. Vladimir Guerrero, OF, LAA (58)
57. Derek Jeter, SS, NYY (61)
58. Manny Ramirez, OF, LAD (65)
59. B.J. Upton, OF, TB (52)
60. Michael Young, SS/3B, TEX (63)
61. Carlos Quentin, OF, CWS (53)
62. Alexei Ramirez, 2B, CWS (68)
63. Russell Martin, C, LAD (66)
64. Aubrey Huff, 1B/3B, BAL (56)
65. Jay Bruce, OF, CIN (57)
66. Magglio Ordonez, OF, DET (71)
67. Mark Reynolds, 3B, ARI (76)
68. Shane Victorino, OF, PHI (69)
69. Stephen Drew, SS, ARI (73)
70. Jayson Werth, OF, PHI (67)
71. Vernon Wells, OF, TOR (72)
72. Corey Hart, OF, MIL (62)
73. Chipper Jones, 3B, ATL (70)
74. Chone Figgins, 3B, LAA (78)
75. Shin-Soo Choo, OF, CLE (85)
76. Miguel Tejada, SS, HOU (86)
77. Denard Span, OF, MIN (80)
78. Aramis Ramirez, 3B, ChC (87)
79. Andre Ethier, OF, LAD (64)
80. Ryan Ludwick, OF, STL (79)
81. Jorge Cantu, 1B, FLA (81)
82. Orlando Hudson, 2B, LAD (75)
83. Mike Lowell, 3B, BOS (83)
84. Rafael Furcal, SS, LAD (82)
85. Geovany Soto, C, CHC (84)
86. Michael Bourn, OF, HOU (NR)
87. Matt Wieters, C, BAL (NR)
88. Dan Uggla, 2B, FLA (94)
89. Chris Davis, 1B/3B, TEX (77)
90. Willy Taveras, OF, CIN (74)
91. Pablo Sandoval, 1B, SF (88)
92. Adam Lind, OF, TOR (89)
93. Nick Johnson, 1B, WAS (99)
94. Ben Zobrist, OF, TB (NR)
95. Derrek Lee, 1B, CHC (92)
96. Todd Helton, 1B, COL (NR)
97. Mark DeRosa, 2B/3B, CLE (100)
98. Chris Iannetta, C, COL (96)
99. Brandon Inge, 3B/C, DET (95)
100. J.J. Hardy, SS, MIL (93)

Luke Scott, OF, Orioles: I'm kicking myself for not seeing it earlier. Scott's homers jumped from 10 in his first full season in 2006, to 18, to 23 … and now he's on pace for (gulp!) 47. And the one concern managers and fantasy owners have about him, his ability to hit lefties, has been addressed this season. He's mashing lefties to the tune of a 1.262 OPS this season. Just looking at his progression, he'll probably settle down for about 30 homers and 90 RBIs, but how could we let this guy stay a free agent for so long? His ownership percentage has jumped an astounding 40-plus percent in the past seven days, and he's still unowned in almost half of ESPN leagues.
Miguel Tejada, SS, Astros: And your top hitter in the National League is … OK, we kinda gave that one away. Nevertheless, Tejada's resurgence this season has been welcome, but surprising. His batting average had been on a two-year decline, and he just turned 35. There's some concern that an inordinate number of batted balls are dropping in for hits for him, and his average is an unsustainable .396 at home, but enjoy the ride while it lasts.
Andy LaRoche, 3B, Pirates: It has gone largely unnoticed, but LaRoche hit .330 with 14 RBIs in May, putting his season average at .297 and his RBI pace at 80. Remember, this guy was quite a prospect with the Dodgers before injuries and sporadic at-bats wiped him off our radar. But he's showing good patience at the plate, and should move to a more prominent spot in the lineup following the team's trade of Nate McLouth. Consider him a spot starter until he shows more power, but once he does, he's mixed-league-worthy.
Fortunes falling
Taking a different tack here this week. Not all of these guys are struggling, and thus their fortunes aren't falling, yet. But they could. Like I've lamented before, few things bother me more than when a stud plays through an injury and is a shadow of himself. Let's just say I think the red flags are waving for the players below. It might be nothing, but they should be tracked regardless:
Alfonso Soriano, knee: Vows to continue playing through it even though he says he still feels pain during certain swings and has been struggling mightily.
Mike Cameron, knee/shoulder: He was right back in the lineup Wednesday, but admits he has dealt with knee irritation before. He already has cooled off considerably after a hot start, and this could make things worse.
Gary Sheffield, knee: I love me the Sheff, but I even had to wonder how his body would respond to every-day play in the outfield. Sure enough, just weeks after becoming a regular, he is already battling discomfort behind his right knee, and this could be the thing that returns him to a fantasy afterthought.
Felipe Lopez, hamstring: Even the D-backs are doubting whether he's at full strength, even though he is back to playing every day.
Evan Longoria, hamstring/arm: It sounds the Rays are taking a cautious approach with him, but the temptation to start a less-than-100-percent Longoria might be too strong.
Hanley Ramirez, groin: I have my highest-powered microscope trained on him.
Pickups of the week
Mixed: Travis Hafner, DH, Indians. Did I just go there? Yes I did. Hafner is due back Friday.
AL-only: Luis Valbuena, 2B, Indians. He's young and unproven, but should get plenty of starts at second base with Asdrubal Cabrera out, and has hit .321 in Triple-A this season.
NL-only: Emil Brown, OF, Mets. Given the Mets' spate of injuries, Brown should be able to get enough at-bats to warrant NL-only value. Honorable mention: teammate Wilson Valdez.
Stats talk
Aubrey Huff, 1B, Orioles: It's no secret that Huff hits righties better than lefties, but I'm starting to get concerned that he's truly a one-sided hitter. He's hitting just .183 against lefties this season. If he keeps this up, he could wind up in a platoon with Ty Wigginton.
Josh Willingham, OF, Nationals: I just can't help chuckling every time I look at his numbers. He has nine homers and only 12 RBIs, meaning he's on pace for 34 homers and 46 RBIs. All nine of his homers have been solo homers, he has more extra-base hits than singles this season, and he's hitting just .069 with runners in scoring position. Pass.
Ballpark watch
Miami's Land Shark Stadium has traditionally been a pitchers' park -- it ranked 20th in runs scored index in 2008, according to our Ballpark Factors page -- but it currently ranks third in runs scored this season. Don't look for that to continue. Once the dank, steamy summer months arrive in force in South Florida, the offensive numbers drop. Last year alone, the park played to a combined .244 average and 8.7 runs per game over the course of June, July and August. In all other months: a .260 average and 9.9 runs per game. Take that into account when evaluating your Marlins hitters.
Lineup card
Jacoby Ellsbury, OF, Red Sox: Now just relax, Ellsbury owners. Yes, he's hitting eighth in the lineup against lefties, and maybe even some righties, but he's hitting just .232 against lefties this season, with a .274 OBP. Yes, he'd take a hit in runs, but at the rate he was at, he was getting on base only once a game against them anyway, and that's not a lot of runs. Even better, without the big sluggers behind him, he should be given more freedom to run out of that No. 8 hole. And finally, since he's getting fewer at-bats versus his weaker side, his batting average should take a slight uptick, helping your aggregate numbers. This is one case in which a part-time drop in the lineup doesn't affect his value.
On the farm
Jordan Brown, 1B, Indians: The Tribe don't need another first baseman right now, but I can't help keeping an eye on this slugger. The 25-year-old lefty hitter is batting .333 in Triple-A, and was a high-average prospect before having a down 2008. If the Indians commit to the future, or even include Brown in a trade later this season, he's one of those guys who should hit for average in the bigs right away.
Sean Rodriguez, 2B, Angels: The rumblings are getting louder and louder … According to the LA Times, the Angels are considering bringing up Rodriguez, who has 18 homers and 55 RBIs in just 50 games in Triple-A this season. At the very least, he'd platoon with Howie Kendrick, and there's even talk that the struggling Kendrick could be sent down. Rodriguez also can play third base and the outfield, increasing the likelihood that he'd stick once he's brought up.
Final thoughts
I welcome your Conversation thoughts regarding my hitter rankings. I put a lot of work into those each week, and I'm not one who thinks he's all-knowing. A researched and respectful post in Conversation might not change my mind, but I do read them, and at least it makes me think about where I've ranked a player. And sometimes I do re-think rankings based on posts. I'll detail how I rank players in a future Hit Parade, but in the meantime, keep those opinions, good or bad, coming. Criticism is part of this job, and I do respect the thoughts of those who take the time to read my columns.
Brendan Roberts is a contributing writer/editor for ESPN Fantasy.
Fantasy
Brendan Roberts is a contributing writer/editor for ESPN Fantasy. He has been covering fantasy sports as an editor and writer for more than eight years and was awarded the Fantasy Baseball Writer of the Year award in 2006 from the Fantasy Sports Writers Association. Roberts can be read in both the fantasy baseball and football areas at ESPN.com.
SPONSORED HEADLINES
FANTASY TOP HEADLINES
MOST SENT STORIES ON ESPN.COM