Commentary
Cano can improve; Cruz may slide
Using 'momentum' to figure out potential second-half risers, fallers
Updated:
July 9, 2009, 2:08 PM ET
By
AJ Mass
| ESPN.com

Hey there, gang! Brendan Roberts is away on a special assignment to parts unknown, but before he left, he asked me to once again take over the lead float for another trip down the Canyon of Heroes. Following my last turn as Grandmaster of the Hit Parade, I received many comments and questions about my concept of momentum, so I thought I'd take this opportunity to revisit the concept and try to explain it a bit more clearly.
The essence of the concept is this: Whenever a player scores a run in a major league baseball game, it has the same value to his team each and every time. A run is a run. It's always worth "one full point" to his team, and yet, intuitively, we all know that not all runs are created equal. Scoring a run for your team when they're already up 10-0 is not nearly as valuable as scoring a run in the bottom of the ninth when they trail 3-2, even though they both technically count the same.
Let's translate the concept "not all stats are created equal" to fantasy baseball. Even though in a standard 5X5 rotisserie league each of the five offensive categories counts the same (you get the same number of points for finishing first in home runs as you do for finishing first in batting average or in RBIs, and so on) that doesn't mean each stolen base is worth the same as each home run. If there are fewer stolen bases in the baseball universe than there are home runs by a factor of 1.6, then each individual stolen base will be worth 1.6 more than each home run to a fantasy owner. Weighting all the stats appropriately in this manner, we total their values up for each player, and rank them in comparison to each other. That's Part 1.
Part 2 is to then adjust these values to what the average player with similar skills historically should have produced. Statistics that go into this complex adjustment are those that measure patience at the plate, the ability to put the ball in play, power potential and speed. Basically, if a player who hits .300 on the season with 22 home runs also drives in, on average, 95 runs, and a player currently on pace to meet those first two milestones (Hunter Pence, for example) is also only on pace to have 68 RBIs, then he is currently underachieving in regard to this expectation.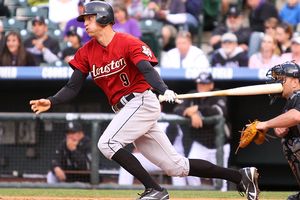 Ron Chenoy/US PresswireHunter Pence's RBI total is out of whack with the rest of his numbers despite some decent hitters around him in the Astros lineup.
This difference in expected value and actual value is what momentum is trying to measure. A player with a high positive momentum is likely displaying a stat line in which at least one of the categories is out of whack with what his true numbers should be, either as a result of his being unlucky or perhaps having an unusually low number of opportunities to hit with runners on base. Whatever the reason, this anomaly in his stat line should correct itself over the course of a season, and as such, an increase in value from this point forward should be expected.
Similarly, a player with an extremely high negative momentum is also out of whack with what his true numbers should be, but in a way that is more likely to be unsustainable. Examples would be a .215 hitter who just happens to be 10-for-10 with the bases loaded, resulting in an unexpectedly high number of RBIs, or a hefty home run hitter with no career steals to his name who suddenly swipes three bases in a single game. These are flukes, and momentum is there to try to identify where they exist.
What's important to understand is that momentum is incredibly fluid. When Paul Konerko hits three home runs in one night, he lowers the value of each home run in the league, since there are now more of them in the statistical universe. However, at the same time, he now has a bigger piece of the "home run pie," and it's where these two opposing forces meet that his actual value lies. Momentum is an attempt to determine if this was just a lucky night or if it's the start of a hot streak.
In addition, momentum is a relative stat. Albert Pujols, who is currently at the top of the pyramid, can't have positive momentum, since he can't be any better than No. 1 overall. So what I've done with Brendan's Top 100 hitters for this week is to apply my momentum stat to his list from last week and adjusted it accordingly. Players I've ranked a little bit higher than he did a week ago have positive momentum, and those with negative momentum I've lowered accordingly.
Obviously, there's no guarantee that those hitters with positive momentums will suddenly go 5-for-5 with three home runs tomorrow, just as a player with negative momentum is not destined for an 0-for-15 series starting tonight. It's not an "instant" measure. But as we head to the All-Star break, we expect the following players to have second halves that match up well to their momentum values earned so far in 2009, for better or for worse.
Fortunes rising
Top 100 hitters
Note: AJ Mass' top 100 hitters are ranked for their expected performance from this point on, not on the statistics that have already been accrued.
1. Albert Pujols, 1B, STL (1)
2. Hanley Ramirez, SS, FLA (2)
3. Carl Crawford, OF, TB (4)
4. Ryan Braun, OF, MIL (5)
5. David Wright, 3B, NYM (3)
6. Ian Kinsler, 2B, TEX (10)
7. Chase Utley, 2B, PHI (8)
8. Mark Teixeira, 1B, NYY (6)
9. Justin Morneau, 1B, MIN (13)
10. Prince Fielder, 1B, MIL (12)
11. Alex Rodriguez, 3B, NYY (7)
12. Miguel Cabrera, 1B, DET (9)
13. Jason Bay, OF, BOS (16)
14. Manny Ramirez, OF, LAD (17)
15. Evan Longoria, 3B, TB (14)
16. Ryan Howard, 1B, PHI (18)
17. Brian Roberts, 2B, BAL (29)
18. B.J. Upton, OF, TB (26)
19. Justin Upton, OF, ARI (25)
20. Aaron Hill, 2B, TOR (33)
21. Raul Ibanez, OF, PHI (20)
22. Adrian Gonzalez, 1B, SD (21)
23. Ichiro Suzuki, OF, SEA (31)
24. Matt Kemp, OF, LAD (28)
25. Jacoby Ellsbury, OF, BOS (39)
26. Curtis Granderson, OF, DET (36)
27. Nick Markakis, OF, BAL (22)
28. Nelson Cruz, OF, TEX (32)
29. Torii Hunter, OF, LAA (40)
30. Joe Mauer, C, MIN (11)
31. Dustin Pedroia, 2B, BOS (34)
32. Victor Martinez, C, CLE (30)
33. Brad Hawpe, OF, COL (24)
34. Lance Berkman, 1B, HOU (27)
35. Carlos Lee, OF, HOU (23)
36. Kevin Youkilis, 1B/3B, BOS (19)
37. Mark Reynolds, 3B, ARI (51)
38. Robinson Cano, 2B, NYY (41)
39. Derek Jeter, SS, NYY (49)
40. Brandon Phillips, 2B, CIN (35)
41. Chone Figgins, 3B, LAA (50)
42. Ryan Zimmerman, 3B, WAS (43)
43. Grady Sizemore, OF, CLE (15)
44. Carlos Pena, 1B, TB (45)
45. Alfonso Soriano, OF, CHC (37)
46. Shane Victorino, OF, PHI (58)
47. Shin-Soo Choo, OF, CLE (54)
48. Matt Holliday, OF, OAK (38)
49. Adam Jones, OF, BAL (48)
50. Carlos Beltran, OF, NYM (42)
51. Bobby Abreu, OF, LAA (52)
52. Johnny Damon, OF, NYY (62)
53. Michael Young, SS/3B, TEX (55)
54. Josh Hamilton, OF, TEX (47)
55. Alex Rios, OF, TOR (64)
56. Alexei Ramirez, 2B, CWS (46)
57. Hunter Pence, OF, HOU (57)
58. Adam Lind, OF, TOR (72)
59. Adam Dunn, OF, WAS (60)
60. Michael Bourn, OF, HOU (71)
61. Pablo Sandoval, 1B, SF (68)
62. Jimmy Rollins, SS, PHI (56)
63. Jayson Werth, OF, PHI (75)
64. Nate McLouth, OF, ATL (67)
65. Vernon Wells, OF, TOR (78)
66. Andre Ethier, OF, LAD (69)
67. Stephen Drew, SS, ARI (59)
68. Jermaine Dye, OF, CWS (70)
69. Aramis Ramirez, 3B, CHC (63)
70. Miguel Tejada, SS, HOU (76)
71. Ben Zobrist, OF, TB (66)
72. Derrek Lee, 1B, CHC (65)
73. Joey Votto, 1B, CIN (44)
74. Russell Branyan, 1B, SEA (83)
75. Brandon Inge, 3B/C, DET (86)
76. Brian McCann, C, ATL (53)
77. Jason Bartlett, SS, TB (85)
78. Orlando Hudson, 2B, LAD (87)
79. Jorge Cantu, 1B, FLA (74)
80. Aubrey Huff, 1B/3B, BAL (80)
81. Chipper Jones, 3B, ATL (73)
82. Todd Helton, 1B, COL (89)
83. Jay Bruce, OF, CIN (82)
84. Dan Uggla, 2B, FLA (79)
85. Mark DeRosa, 2B/3B, CLE (84)
86. Denard Span, OF, MIN (81)
87. Vladimir Guerrero, OF, LAA (77)
88. Adam LaRoche, 1B, PIT (94)
89. David Ortiz, DH, BOS (88)
90. Marco Scutaro, 2B/SS, TOR (NR)
91. Corey Hart, OF, MIL (93)
92. Troy Tulowitzki, SS, COL (96)
93. Jose Reyes, SS, NYM (61)
94. Chris Iannetta, C, COL (91)
95. Luke Scott, OF, BAL (92)
96. Jim Thome, DH, CHW (97)
97. Jorge Posada, C, NYY (90)
98. Cody Ross, OF, FLA (NR)
99. Magglio Ordonez, OF, DET (95)
100. Michael Cuddyer, OF, MIN (NR)

Robinson Cano, 2B, Yankees (Momentum of 19): How can we expect a hitter who has gone .345 with three home runs over the past three weeks to do any better? Check out Cano's average with runners in scoring position. It's only .202 on the year. If he improves that to just .240 over the second half of the season you can expect Cano to easily top his career-high 97-RBI season of 2007.
Miguel Tejada, SS, Astros (Momentum of 40): Do you know how many shortstops have an OPS over .800? Just three: Hanley Ramirez, Derek Jeter and Tejada. So imagine what his offensive production would be if the Astros weren't ranked 25th in runs scored.
Freddy Sanchez, 2B, Pirates (Momentum of 31): Sure, his batting average took a hit in June, dropping from .333 to .315. However, that's not too great a drop, and he countered the loss in batting average value by driving in 16 runs, only one short of his total entering the month. That's what the best fantasy options do. So far the only thing that's been keeping his value from reaching its full potential is his injured back.
Fortunes falling
Nelson Cruz, OF, Rangers (Momentum of -18): Cruz is a perfect example of how stats often lie. In his past 14 games, Cruz reached base safely in nine of them. He also hit two home runs and had six RBIs. So why is his momentum so bad? How about the fact that his batting average over that stretch was only .196 and he struck out 11 times?
Juan Pierre, OF, Dodgers (Momentum of -36): Everybody said he would lose an incredible amount of value when Manny Ramirez came back from his suspension. The fact is that Pierre's batting average dropped 30 points in the three weeks before Manny returned. In fact, if not for his 5-for-10 since Manny came back, his momentum would likely be far worse.
Troy Tulowitzki, SS, Rockies (Momentum of -41): You look at the horrific April numbers (.200, 3 HR, 5 RBI, 1 SB) and compare them to his overall numbers now (.244, 13 HR, 33 RBI, 11 SB) and you might wonder how his momentum could possibly be negative. I look at his past 14 games and see these numbers: .159. 1 HR, 3 RBI, 2 SB. I wonder how he's managed to stay ranked so high.
Pickups of the week
Mixed: Cristian Guzman, SS, Nationals (Momentum of 41, ESPN ownership of 40.0 percent): We understand the reason he's not owned in more leagues: He rarely walks (only seven so far in 2009) and has been thrown out attempting to steal three of four times. Yet there's a reason he's one of the five finalists in the National League for the All-Star Game final vote. A.318 batting average and 41 runs scored from the shortstop position are hard to bypass.
AL-only: Nick Green, SS, Red Sox (Momentum of 25, ESPN ownership of 2.1 percent): In a deeper league, you need to take a few chances. Start Green when he's playing in front of the Monster, as his batting average is .297 at home. Away from Boston, he's hitting only .226.
NL-only: Jake Fox, 3B/OF, Cubs (Momentum of 33, ESPN ownership of 3.1 percent): With Aramis Ramirez back in the lineup, there was a fear that Fox would be sent back to Triple-A. However, he survived that purge, and Lou Piniella simply has to find a way to get his .310 average into the lineup on a regular basis, even if that means benching Alfonso Soriano and/or Milton Bradley a few times a week.
Splits watch
Ian Kinsler, 2B, Rangers: Kinsler is in the midst of 2-for-26 slump since the calendar page flipped over from June to July, and really, we're not all that surprised. He's always seen a significant drop-off in production around this time of the season over the course of his career. His first-half slugging percentage is .512, while it falls to .413 for the second half of year. But don't lose hope. His September numbers are better than July and August, so at some point the switch will flip back to the "on" position.
Position watch
Several players have reached the 10-game mark at secondary positions, thus adding to their value as they become eligible to be placed in more positions in your fantasy lineup. Reaching that milestone Wednesday were Florida's Emilio Bonifacio, who added shortstop to a résumé that already included eligibility at second and third base, and Oakland's Adam Kennedy, who is now third-base-eligible after playing plenty at the hot corner with Mark Ellis returning from injury and taking over at second. Outfielder Adam Dunn is also now only one game away from first-base eligibility with Washington after a start there Wednesday afternoon.
On the farm
Justin Smoak, 1B, Rangers: After blowing through Double-A with a .930 OPS, Smoak was recently promoted to Triple-A Oklahoma City. Although he's off to just a 1-for-13 start, if he can settle in at this level in the next month, it might be Smoak the team signals for if anything happens to injury-prone Hank Blalock, rather than Chris Davis.
Brandon Allen, 1B, Diamondbacks: Allen, who came over from the White Sox organization this week in the trade for reliever Tony Pena, has a .285 average and 43 RBIs in 77 games over two levels so far this season. With Josh Whitesell only managing to hit .214 in his brief audition at first base for Arizona earlier this season, it wouldn't be a surprise to see Allen up with the team in September to make an early bid for a 2010 starting job.
Final thoughts
People get caught up in hitting streaks, and they're absolutely fun to follow once they get close to 30 games long and the mainstream media starts to pay attention. But from a fantasy standpoint, they really should be ignored. Certainly Scott Rolen's current streak of 25 games and the .380 average he's compiled over that time is impressive, as was Ryan Zimmerman's 30-game stretch earlier this season, during which he hit .382. No question. However, just because a player has a long hitting streak, don't be fooled into thinking that corresponds to a huge increase in value. After all, not all hitting streaks are created equal. Lance Berkman (in 2008) and Adam Kennedy (in 2006) each had 17-game streaks. Berkman's average in those games was .545. Kennedy's was only .297. So don't get tricked into overpaying for a three-week-long stretch of 1-for-4 nights just because a "21-game hitting streak" sounds sexy. Judge the player on the whole body of work and nothing more.
AJ Mass is a fantasy baseball, football and college basketball analyst for ESPN.com. You can e-mail him here.
MOST SENT STORIES ON ESPN.COM