Commentary
Jones, Gonzalez wasting their power
Which players get the best, worst run production from their home runs?
Updated:
August 6, 2009, 1:13 PM ET
By
AJ Mass
| ESPN.com

Brendan Roberts is off again on a secret mission to save the world from near-certain destruction, but he managed to send me a text message before he left, asking if I once again could hold down the Hit Parade fort for him while he was gone. How could I possibly refuse?
This time around, I'd like to discuss another new stat I've been toying around with this season. It's called "Wasted Power," and the best example of it right now is Pirates outfielder Garrett Jones. When he first got into the Pittsburgh lineup in July, he did so in explosive fashion, hitting seven home runs in his first 12 games. Many people rushed to the waiver wire, hoping to quickly grab this newfound source of power, and they were rewarded with three home runs over Jones' next seven games.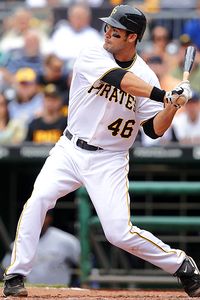 Joe Robbins/Getty ImagesGarrett Jones has 11 homers this season, but 10 of them have been solo shots.
However, since then, the well has run a bit dry. Jones had a 10-game homerless streak dating to July 24 before finally going yard again Wednesday. In fact, he had only two doubles and two RBIs during that power drought. Anyone who arrived late to the party was disappointed, and even those who latched on to Jones from day one have managed to get only 18 RBIs to go along with those 11 homers. That's not exactly the greatest ratio in the world -- in fact, there were (as of games played through Wednesday) 190 players with more RBIs than Jones who had 11 or fewer home runs on the season. What a waste!
That got me to thinking about Adrian Gonzalez, who has been a source of much lamentation among fantasy owners so far this season for hitting so many home runs (28) and yet driving in only 61 runs, the smallest total of any of the 11 players who have at least 26 home runs so far in 2009. While he hasn't been a complete bust, certainly Gonzalez's run production has been disappointing, given the number of times he's "hit the ball over the wall and touched them all."
Let's face it. A player you drafted for speed is supposed to steal bases. A player you drafted for power is supposed to contribute in three fantasy categories: home runs, runs scored and RBIs. If he's not helping you in two of those categories, he's not pulling his weight. Similarly, a player like David Wright might indeed be causing you to pull out your hair when it comes to his lack of home runs this season (only eight), but considering that he is tied for 21st in the majors in runs scored, perhaps it's not as bad as you think.
That's where Wasted Power comes in. By taking the run production of each hitter and dividing by the number of home runs hit, we're able to come up with a raw number that tells us exactly how much a player's production has been affected by both his inability to drive in runners without the longball and his teammates' ability to get on base ahead of him in the lineup so he's not constantly settling for solo shots. Among the top culprits on this list (minimum five home runs) are a few familiar names:
The lower the number, the lower a player's production in the three power categories and the more wasted power. However, this is only half the story. After all, if Jones continues to hit home runs at a pace of one per 11.3 at-bats, you still are going to get a lot more out of him in terms of power going forward than Jay Bruce (assuming he is able to return at all this season), who hits a home run only once every 16.6 at-bats. We need to adjust our numbers to factor in the frequency of power by multiplying our raw Wasted Power by each individual's HR-AB ratio. When we do this, we get a more accurate picture of exactly where we should look for our power needs.
For example, of the 244 hitters with five or more home runs in 2009 (through Tuesday's games), Albert Pujols is tops in our adjusted Wasted Power rankings. In other words, Pujols has wasted less power than any other hitter. Certainly, no surprise there. Jones checks in at No. 181, but he'll have more wasted power as he continues to struggle to keep up his torrid home run pace. Gonzalez is at No. 112, just above the middle of the pack despite his gaudy home run total. Compare that to David Wright, who finds himself just inside the top 50, at No. 49, meaning he's been far more help than harm in terms of your overall power numbers, even if he isn't anywhere near the 30-30 club this season.
As for some names you might want to pay closer attention to going forward if you're looking to get the most bang for your buck in terms of the three power categories, check out the names below. (All Wasted Power rankings through Tuesday's games)
Fortunes Rising
Top 100 Hitters
Note: AJ Mass' top 100 hitters are ranked for their expected performance from this point on, not on the statistics that have already been accrued. Last week's ranking in parentheses (NR = not ranked).
1. Albert Pujols, 1B, STL (1)
2. Ryan Braun, OF, MIL (3)
3. Carl Crawford, OF, TB (8)
4. Hanley Ramirez, SS, FLA (2)
5. Chase Utley, 2B, PHI (7)
6. Mark Teixeira, 1B, NYY (5)
7. Mark Reynolds, 3B, ARI (31)
8. Justin Morneau, 1B, MIN (11)
9. David Wright, 3B, NYM (6)
10. Prince Fielder, 1B, MIL (13)
11. Ichiro Suzuki, OF, SEA (17)
12. Jacoby Ellsbury, OF, BOS (22)
13. Miguel Cabrera, 1B, DET (10)
14. Alex Rodriguez, 3B, NYY (4)
15. Joe Mauer, C, MIN (12)
16. Aaron Hill, 2B, TOR (29)
17. Evan Longoria, 3B, TB (9)
18. Ryan Howard, 1B, PHI (20)
19. Matt Holliday, OF, OAK (21)
20. Derek Jeter, SS, NYY (28)
21. B.J. Upton, OF, TB (23)
22. Brian Roberts, 2B, BAL (30)
23. Nick Markakis, OF, BAL (18)
24. Carlos Lee, OF, HOU (19)
25. Raul Ibanez, OF, PHI (14)
26. Manny Ramirez, OF, LAD (16)
27. Jimmy Rollins, SS, PHI (27)
28. Matt Kemp, OF, LAD (34)
29. Chone Figgins, 3B, LAA (36)
30. Ian Kinsler, 2B, TEX (15)
31. Brandon Phillips, 2B, CIN (24)
32. Curtis Granderson, OF, DET (37)
33. Alfonso Soriano, OF, CHC (25)
34. Justin Upton, OF, ARI (26)
35. Nelson Cruz, OF, TEX (33)
36. Dustin Pedroia, 2B, BOS (41)
37. Shane Victorino, OF, PHI (43)
38. Michael Young, SS/3B, TEX (46)
39. Bobby Abreu, OF, LAA (44)
40. Kevin Youkilis, 1B/3B, BOS (35)
41. Jason Bay, OF, BOS (40)
42. Adam Jones, OF, BAL (47)
43. Robinson Cano, 2B, NYY (49)
44. Pablo Sandoval, 1B, SF (45)
45. Shin-Soo Choo, OF, CLE (48)
46. Joey Votto, 1B, CIN (32)
47. Adrian Gonzalez, 1B, SD (50)
48. Miguel Tejada, SS, HOU (51)
49. Brad Hawpe, OF, COL (42)
50. Jayson Werth, OF, PHI (61)
51. Adam Dunn, OF, WAS (55)
52. Lance Berkman, 1B, HOU (39)
53. Adam Lind, OF, TOR (64)
54. Victor Martinez, C, CLE (53)
55. Michael Bourn, OF, HOU (73)
56. Ryan Zimmerman, 3B, WAS (65)
57. Grady Sizemore, OF, CLE (38)
58. Alex Rios, OF, TOR (67)
59. Jermaine Dye, OF, CWS (57)
60. Johnny Damon, OF, NYY (63)
61. Andre Ethier, OF, LAD (69)
62. Carlos Pena, 1B, TB (62)
63. Derrek Lee, 1B, CHC (60)
64. Torii Hunter, OF, LAA (58)
65. Aramis Ramirez, 3B, CHC (56)
66. Hunter Pence, OF, HOU (68)
67. Troy Tulowitzki, SS, COL (72)
68. Nate McLouth, OF, ATL (74)
69. Kendry Morales, 1B, LAA (80)
70. Jason Kubel, OF, MIN (66)
71. Brian McCann, C, ATL (54)
72. Ben Zobrist, OF, TB (79)
73. Josh Hamilton, OF, TEX (52)
74. Nyjer Morgan, OF, WAS (94)
75. Alexei Ramirez, 2B, CWS (59)
76. Todd Helton, 1B, COL (81)
77. Paul Konerko, 1B, CHW (83)
78. Chipper Jones, 3B, ATL (71)
79. Orlando Hudson, 2B, LAD (84)
80. Vernon Wells, OF, TOR (92)
81. Marco Scutaro, 2B, TOR (NR)
82. Andrew McCutchen, OF, PIT (82)
83. Jason Bartlett, SS, TB (89)
84. Aubrey Huff, 1B/3B, BAL (78)
85. Gordon Beckham, 3B, CHW (87)
86. David Ortiz, DH, BOS (70)
87. Michael Cuddyer, OF, MIN (93)
88. Denard Span, OF, MIN (90)
89. Jorge Cantu, 1B, FLA (88)
90. Orlando Cabrera, SS, MIN (NR)
91. Carlos Quentin, OF, CHW (91)
92. Ryan Ludwick, OF, STL (76)
93. Luke Scott, OF, BAL (75)
94. Jose Lopez, 2B, SEA (NR)
95. Stephen Drew, SS, ARI (77)
96. Russell Branyan, 1B, SEA (99)
97. Carlos Beltran, OF, NYM (98)
98. Yunel Escobar, SS, ATL (96)
99. Jorge Posada, C, NYY (86)
100. Rafael Furcal, SS, LAD (95)

• Torii Hunter, OF, Angels (Wasted Power rank: 2): Yes, he is on the wrong side of 30 and is testing out his strained muscle down in Double-A after having been on the disabled list since July 10. So what? In the week before his injury, he had six runs scored and eight RBIs without the benefit of a home run. His .558 slugging percentage is the highest of his career, and once he returns to the Angels' lineup, he should get right back on his horse, leading the charge toward your fantasy title.
• Brad Hawpe, OF, Rockies (Wasted Power rank: 15): Hawpe suffered a severe home run outage in July with only two blasts to his name, but the Rockies as a team scored only 4.46 runs per game for the month, as opposed to 5.50 for June. Hawpe currently has matched his career high in slugging percentage (.539), and as the Rockies start scoring some more runs in August, expect Hawpe's production to increase as well.
• Nick Markakis, OF, Orioles (Wasted Power rank: 32): Since July 1, Markakis has 26 RBIs and 19 runs scored, so don't be concerned by the fact that he went nine game between his last two home runs. Markakis is producing more than his fair share of runs for the Orioles, and as long as Nolan Reimold can get on base ahead of him, he should continue to do so.
Fortunes Falling
• Edwin Encarnacion, 3B, Blue Jays (Wasted Power rank: 244): Not only will Encarnacion have to get used to a whole new set of stadiums after his trade to Toronto, but he also goes from the No. 15 ballpark in terms of runs scored (Great American in Cincinnati) to the No. 22 ballpark (Rogers Centre). Plus, he'll be batting seventh in the Blue Jays' lineup, which doesn't exactly bode well for getting first crack at RBIs.
• Mike Jacobs, 1B, Royals (Wasted Power rank: 241): Since May 25, he's had just one game in which he had an RBI but did not hit a home run. He's also hit only five home runs over that stretch of games. His slugging percentage is a lowly .410, the worst of his career, and he's playing barely half the time for Kansas City.
• A.J. Pierzynski, C, White Sox (Wasted Power rank: 237): He is in a tie for ninth in home runs by catchers, yet ranks only 18th in RBIs among backstops, with only three more than Omir Santos of the Mets. This is despite being one of only six catchers with more than 325 at-bats (and that's if you include Victor Martinez as a catcher). We'd much rather have Chris Iannetta (Wasted Power rank: 62) or even John Baker (Wasted Power rank: 86) going forward.
Pickups of the Week
Mixed: Casey McGehee, 2B, Brewers (Wasted Power rank: 17; ESPN ownership: 13.5 percent): Power from a guy with only nine home runs? First of all, check out his .671 slugging percentage for June, followed by a .500 for July. He's had two home runs in his past eight starts, and when the possible alternatives in Milwaukee are the likes of Frank Catalanotto and Jody Gerut, we'll go with the guy hitting .316.
AL-only: Maicer Izturis, 2B, Angels (Wasted Power rank: 7; ESPN ownership: 7.0 percent): Izturis has RBIs in only four of his past dozen games, but when he gets them, they come in bunches. Izturis compiled 13 RBIs and three home runs in that stretch. Not bad, considering he had only 44 at-bats. He's scored just as many runs as Kendry Morales in 22 fewer games, so if you've got holes to fill, let Maicer be your spackle.
NL-only: Jake Fox, 1B, Cubs (Wasted Power rank: 25; ESPN ownership: 2.3 percent): Fox has four home runs and nine RBIs in his past five starts. Sure, it's frustrating that those five starts came over the course of 16 Cubs games, but results are results, no matter how long you need to wait for them. In an NL-only league, why wouldn't you want the option to turn to a player slugging .586 on the season when his manager does see fit to give him more than a single at-bat on a given day?
Stats Watch
Josh Willingham, OF, Nationals:
Since July 25, Willingham has four home runs, eight runs scored and 13 RBIs. Of course, take away the two grand slams against the Brewers on July 27, and those numbers aren't nearly as impressive. However, earlier this season, Willingham had a stretch of nine straight games with a run scored without the benefit of the longball. There have been only three longer streaks since 2000, and of the 15 nine-game streaks in the past decade, Willingham accomplished his in the fewest at-bats and nobody had more RBIs (six) than the Washington outfielder.
Lineup Card
Change is in the air in the Sunshine State. First off, the Rays have decided to drop B.J. Upton to the seventh spot in the lineup, allowing the outfielder to avoid pressing as much. Upton's on-base percentage had dropped to .317 on the season from the leadoff spot. He told the St. Petersburg Times that he would do whatever the team wanted him to do -- "Obviously I haven't been producing up there so maybe it's time for a change." Jason Bartlett and his career .356 OBP from the top of the order will lead things off for Tampa Bay until it is time to change back. ... Meanwhile, the Marlins also have shaken things up a bit, with Emilio Bonifacio moving to center field. That might continue in order to get him at-bats against left-handed pitching, against which he's hitting .305 for the season. Cody Ross moves to right, Chris Coghlan mans left and Jeremy Hermida sits in this new outfield alignment, which was made necessary by the acquisition of first baseman Nick Johnson and subsequent move of Jorge Cantu back to third base.
Position Watch
For what it's worth, Omar Vizquel led off and played second base for the Rangers on Wednesday night, giving him 10-game eligibility at the position. ... St. Louis' Mark DeRosa continues to be just a late-inning, "let's give Albert Pujols the rest of the night off" blowout away from getting his 1B gold star. ... And for those of you in hard-core leagues in which outfielders need to qualify at each individual position, although Ken Griffey Jr. is only two away from reaching the 10-game milestone in left field, it appears Seattle's Michael Saunders is here to stay, having just played his 10th game there since being called up to the show July 25. Don't hold your breath.
On the Farm
• Drew Stubbs, OF, Reds: Enough about power. What about some speed that might be coming your way come September, if not sooner? Stubbs has 42 stolen bases in 49 attempts at Triple-A, and certainly, that has not gone unnoticed by Reds management. "He'll be here before the end of the year," general manager Walt Jocketty told the Cincinnati Enquirer. He should be able to help a team that has only a 70 percent success rate when it comes to the art of the steal.
• Alcides Escobar, SS, Brewers: No matter how poorly J.J. Hardy is hitting, don't expect to see Escobar up with the Brewers before the rosters expand, especially as the team continues to remain in the playoff race. However, once he does get the call, he'll almost assuredly be used as a pinch runner nearly every day. With 38 steals for Triple-A Nashville, he's sure to get the green light, and in a non-keeper league, he will be a steal for whatever owner nabs him off waivers in the hopes of jumping a few spots in the SB standings.
Final Thoughts
Pop quiz time, gang. Would you trade the No. 11 hitter on the ESPN Player Rater even up for the No. 153 hitter? Under the right circumstances, you should. We're entering the home stretch for roto-style leagues, and we don't play with names, we play with stats. If you need only a few steals to gain several points in that category and your placement in the other categories is pretty much set in stone, why would you even hesitate in trading away Justin Morneau (zero steals) for Rajai Davis (18 steals, including five since July 28)? We're not suggesting that from a baseball standpoint, this comes anywhere near the neighborhood of a fair deal. But from a fantasy standpoint, if you need stolen bases, Davis is far more valuable to you than Morneau. Period. Don't get hung up on the letters on the jersey; worry only about the numbers in the box score.
AJ Mass is a fantasy baseball, football and college basketball analyst for ESPN.com. You can e-mail him here.
SPONSORED HEADLINES
FANTASY TOP HEADLINES
MOST SENT STORIES ON ESPN.COM