Commentary
Morgan, Bourn better than you think
Perception of speedsters doesn't match actual fantasy value on Player Rater

Chicks (and many fantasy owners) dig the long ball, but steals win fantasy leagues.
You might not like that, but it's the reality of the situation. Not that homers aren't important, because they are. Homers, and the subsequent RBIs and runs that come with them, are the main course of any winning fantasy team. But whereas homers are the meat, steals are the potatoes, and their value shouldn't be overlooked.
Never is it more apparent than when I glance at our Player Rater. Only two of the top 10 home run hitters in the majors rank in the top 12 among batters on the Rater, and it's only because Albert Pujols and Mark Reynolds also can steal bases. Four of those top-10 sluggers don't even reach the top 35 among hitters.
And yet we love our sluggers. It's because the ratio of homers to steals in a 60-second highlight package for a game is probably about 115 to 1 (unofficially, of course). (Heck, the caught-stealing versus successful-stealing ratio in highlight packages is probably 3 to 1.) We don't have a Skills Challenge or Steals Derby just before the All-Star Game; we have a Home Run Derby.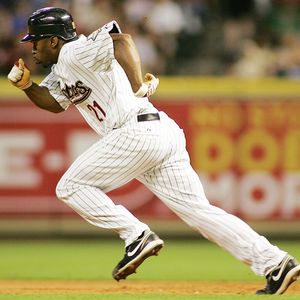 Rob Leiter/MLB Photos/Getty ImagesMichael Bourn has become a big fantasy star this season because he has stolen a career-best 46 bases and is hitting in the .290 range.
It's just the way it is, and this bleeds into fantasy owners' perception of value, no doubt. But that's precisely why we have the Player Rater, so you can determine a player's true value. And there you have it, eight of the top 10 base stealers are among the Player Rater's top 20 hitters (versus just three of the sluggers). Nyjer Morgan and Michael Bourn -- and their combined six homers and 69 RBIs -- each rank higher than Ryan Howard, who has 34 homers and 104 RBIs by himself.
Scoff all you want, and consider Howard a top-10 guy, but that Player Rater is a tried-and-true method of determining 5x5 value (after many tweaks, I can tell ya). We have the numbers and standings from our standard games to help us prove it.
Anyhow, baseball, perhaps more than any fantasy sport, has the biggest disparities between public opinion (perception) and actual value (reality). Many of us still look at the names and not the numbers. That's why we want to veto trades, or scoff at a deal that has just been proposed to us, or take sluggers early in drafts or, even worse, not even take Bourn among the 260 players taken in an average ESPN.com standard league draft (it's true), even though at his very worst (in 2008, his first full season in the majors), he ranked in the top 250.
Which is why I'm here today, using the Player Rater to debunk the public perception. Here are a handful of players who are far better than their billing, and a handful who are much worse, again according to our Player Rater (as of Wednesday evening). Granted, some players who deservedly rank highly among the public perception won't be up there because they have missed considerable time this season (and the Rater is heavy on cumulative statistics) or they play a scarce position. I tried to avoid scarce-position-related discrepancies and injured players except in extreme cases. But as you'll see, homers and steals do seem to cause discrepancies:
Better than the public perception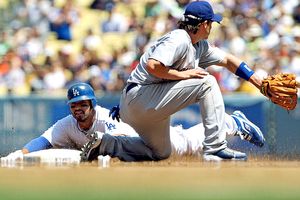 Gary A. Vasquez/US PresswireMatt Kemp can do a lot of everything, but his stolen bases are what make him such a fantasy star.
Jacoby Ellsbury, OF, Red Sox (Perception: No. 25-30 overall; Player Rater rank: eighth): What can we say? He leads the majors in steals, and the .295 average doesn't hurt.
Matt Kemp, OF, Dodgers (Perception: No. 30-35; Player Rater: 11th): Eleventh? Yeah, he can do it all, but the only category in which he ranks among the top 10 is steals.
Bobby Abreu, OF, Angels (Perception: No. 50 or so; Player Rater: 20th): That's some "down" season; he ranked 28th on the Rater last season.
Jason Bartlett, SS, Rays (Perception: No. 120-130; Player Rater: 28th): Twenty-three steals? Sure. But 11 homers and a .346 average? No way we could see that coming.
Nyjer Morgan, OF, Nationals (Perception: No. 140-150; Player Rater: 32nd): Has hit .351 since being traded to the Nats.
Michael Bourn, OF, Astros (Perception: No. 105-115; Player Rater: 33rd): Third in the majors in steals, but here's the shocker: He actually ranks a respectable 58th among qualified candidates in on-base percentage, higher than guys such as Johnny Damon and Nick Markakis.
Jayson Werth, OF, Phillies (Perception: 80-90; Player Rater: 46th): Proving this season that 2008 was certainly no fluke.
Kendry Morales, OF/1B, Angels (Perception: No. 135-145; Player Rater: 67th): Lost in the first-baseman shuffle.
Denard Span, OF, Twins (Perception: No. 140-150; Player Rater: 90th): Yes, he has been far more valuable than teammate Jason Kubel.
Marco Scutaro, 2B/3B/SS (Perception: No. 170-180; Player Rater: 100th): Great first half, yes, but he has hit 17 points better in the second half.
Juan Rivera, OF, Angels (Perception: No. 160-170; Player Rater: 110th): He makes this list even without stealing a single base.
Josh Willingham, OF, Nationals (Perception: No. 200-210; Player Rater: 126th): Granted, he surged to this spot a little quickly.
Scott Podsednik, OF, White Sox (Perception: No. 210-220; Player Rater: 136th): And he didn't even play at all in April.
Worse than the public perception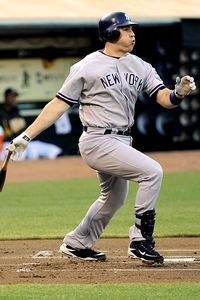 Bob Stanton/Icon SMIMark Teixeira may be in the AL MVP hunt because of his homers and RBIs, but an average worse than .300 and just two steals this season drop his fantasy value.
Ryan Howard, 1B, Phillies (Perception: No. 15-20; Player Rater: 37th): This includes a career-high five steals and a "respectable" .267 average.
Justin Morneau, 1B, Twins (Perception: No. 15-22; Player Rater: 43rd): He's just so solid, but he also hasn't stolen a base since 2007.
Mark Teixeira, 1B, Yankees (Perception: No. 10-15; Player Rater: 47th): I'm calling myself out on this one because I do love him so. But unless he's hitting .300, those homers don't have as much clout as a ton of steals.
Dustin Pedroia, 2B, Red Sox (Perception: No. 37-42; Player Rater: 65th): Believe it or not, the homers and steals might wind up close to what he finished with last season, but his batting average and RBIs are down.
Nick Markakis, OF, Orioles (Perception: No. 20-25; Player Rater: 71st): Better in true big league terms than fantasy terms, I guess.
Carlos Lee, OF, Astros (Perception: No. 45-50; Player Rater: 80th): Doesn't help that he's on pace for only 71 runs.
Evan Longoria, 3B, Rays (Perception: No. 10-15; Player Rater: 87th): Now here's a biggie. Love him or not, a .272 average is nothing to write home about.
Brandon Phillips, 2B, Reds (Perception: No. 25-35; Player Rater: 94th): Does it all ... except he's hitting .262.
Carlos Pena, 1B, Rays (Perception: No. 50-60; Player Rater: 101st): Has more homers than singles this season.
B.J. Upton, OF, Rays (Perception: No. 35-45; Player Rater: 117th): One of the rare steal guys who is overrated.
Alex Rios, OF, White Sox (Perception: No. 60-70; Player Rater: 123rd): I'm sure Rios' owners would be the first to admit they're disappointed.
Jermaine Dye, OF, White Sox (Perception: No. 85-95; Player Rater: 139th): His batting average has dropped 28 points this season.
Alexei Ramirez, 2B/SS, White Sox (Perception: No. 50-60; Player Rater: 154th): So far, the pundits have been right; he can't be so impatient and still hit .290-plus.
Chipper Jones, 3B, Braves (No. 85-95; Player Rater: 175th): Take that, Chipper lovers! This despite quietly being on pace for 147 games, his most since 2003.
Alfonso Soriano, OF, Cubs (No. 65-75; Player Rater: 216th): Good one to end on. Hurt or not, this is just awful.
Fortunes rising
Top 100 Hitters
Note: Brendan Roberts' top 100 hitters are ranked for their expected performance from this point on, not on the statistics that have already been accrued. Last week's ranking in parentheses (NR = not ranked).
1. Albert Pujols, 1B, STL (1)
2. Hanley Ramirez, SS, FLA (2)
3. Ryan Braun, OF, MIL (3)
4. Chase Utley, 2B, PHI (7)
5. Miguel Cabrera, 1B, DET (9)
6. Joe Mauer, C, MIN (8)
7. Jacoby Ellsbury, OF, BOS (12)
8. Carl Crawford, OF, TB (5)
9. Alex Rodriguez, 3B, NYY (6)
10. Mark Teixeira, 1B, NYY (4)
11. Prince Fielder, 1B, MIL (10)
12. Matt Holliday, OF, STL (13)
13. Derek Jeter, SS, NYY (16)
14. Matt Kemp, OF, LAD (27)
15. Ian Kinsler, 2B, TEX (14)
16. Chone Figgins, 3B, LAA (22)
17. Mark Reynolds, 3B, ARI (19)
18. Jimmy Rollins, SS, PHI (23)
19. Ryan Howard, 1B, PHI (21)
20. Ichiro Suzuki, OF, SEA (20)
21. Evan Longoria, 3B, TB (11)
22. Justin Morneau, 1B, MIN (15)
23. Brian Roberts, 2B, BAL (28)
24. Aaron Hill, 2B, TOR (24)
25. Justin Upton, OF, ARI (29)
26. David Wright, 3B, NYM (30)
27. Bobby Abreu, OF, LAA (31)
28. Grady Sizemore, OF, CLE (25)
29. Manny Ramirez, OF, LAD (18)
30. Michael Young, SS/3B, TEX (38)
31. Nick Markakis, OF, BAL (17)
32. Brandon Phillips, 2B, CIN (26)
33. Nelson Cruz, OF, TEX (39)
34. Carlos Lee, OF, HOU (32)
35. Kevin Youkilis, 1B/3B, BOS (36)
36. Robinson Cano, 2B, NYY (37)
37. Shane Victorino, OF, PHI (42)
38. Ryan Zimmerman, 3B, WAS (53)
39. Curtis Granderson, OF, DET (33)
40. Troy Tulowitzki, SS, COL (52)
41. Adam Jones, OF, BAL (35)
42. Lance Berkman, 1B, HOU (46)
43. Jason Bay, OF, BOS (40)
44. Josh Hamilton, OF, TEX (47)
45. Michael Bourn, OF, HOU (67)
46. Pablo Sandoval, 1B, SF (45)
47. Shin-Soo Choo, OF, CLE (48)
48. Raul Ibanez, OF, PHI (34)
49. Jayson Werth, OF, PHI (68)
50. Victor Martinez, C, BOS (49)
51. Alexei Ramirez, 2B, CWS (41)
52. Jason Bartlett, SS, TB (83)
53. Andre Ethier, OF, LAD (59)
54. Nyjer Morgan, OF, WAS (74)
55. B.J. Upton, OF, TB (43)
56. Adrian Gonzalez, 1B, SD (44)
57. Joey Votto, 1B, CIN (50)
58. Torii Hunter, OF, LAA (62)
59. Brian McCann, C, ATL (61)
60. Carlos Pena, 1B, TB (65)
61. Derrek Lee, 1B, CHC (54)
62. Adam Dunn, OF, WAS (55)
63. Kendry Morales, 1B, LAA (77)
64. Dustin Pedroia, 2B, BOS (60)
65. Vladimir Guerrero, DH, LAA (64)
66. Johnny Damon, OF, NYY (58)
67. Hunter Pence, OF, HOU (71)
68. Andrew McCutchen, OF, PIT (79)
69. Miguel Tejada, SS, HOU (56)
70. Brad Hawpe, OF, COL (57)
71. Aramis Ramirez, 3B, CHC (69)
72. Adam Lind, OF, TOR (66)
73. Ben Zobrist, OF, TB (90)
74. Gordon Beckham, 3B, CHW (78)
75. Jorge Posada, C, NYY (80)
76. David Ortiz, DH, BOS (75)
77. Jason Kubel, OF, MIN (73)
78. Alex Rios, OF, CHW (70)
79. Carlos Quentin, OF, CHW (76)
80. Denard Span, OF, MIN (99)
81. Michael Cuddyer, OF, MIN (87)
82. Chipper Jones, 3B, ATL (72)
83. Carlos Beltran, OF, NYM (85)
84. Nate McLouth, OF, ATL (92)
85. Dan Uggla, 2B, FLA (94)
86. Asdrubal Cabrera, 2B/SS, CLE (NR)
87. Todd Helton, 1B, COL (84)
88. Josh Willingham, OF, WAS (NR)
89. Adam LaRoche, 1B, ATL (98)
90. Jermaine Dye, OF, CWS (63)
91. Stephen Drew, SS, ARI (81)
92. Marco Scutaro, SS, TOR (NR)
93. Elvis Andrus, SS, TEX (93)
94. Erick Aybar, SS, LAA (97)
95. Hideki Matsui, OF, NYY (NR)
96. Milton Bradley, OF, CHC (95)
97. Juan Rivera, OF, LAA (NR)
98. Paul Konerko, 1B, CHW (86)
99. Aubrey Huff, 1B/3B, DET (88)
100. Billy Butler, 1B, KC (NR)

• Travis Hafner, DH, Indians: Hey, you know what we haven't read lately? "Travis Hafner, out indefinitely." After seeing plenty of that in recent years, Hafner actually has stayed somewhat healthy since returning from the DL on June 5. And I'm starting to like what I'm seeing from him. Whereas I felt he spent the first two months after his return almost too patient, feeling things out, I like the aggressive approach he has taken in the past couple weeks. He's not being pitched around anymore, and I think when he returns to form, which I still think is possible, he'll make pitchers pay for that. As it is, he has 13 homers in 70 games. He's owned in just 45 percent of leagues, and I think he'll help this season, but I consider him an early sleeper for next season if he can stay healthy.
• Ryan Roberts, 2B/3B/OF, D-backs: Say hello to hot-hitting Ryan Roberts. Sure, ride the hot hand, but I'm probably not the first guy to tell you not to expect this hot streak to continue. Nothing in his minor league track record suggested power or speed potential, and players rarely step out of the woodwork to break out at almost 29 years old. Can he hit .290? Sure, but don't expect much more.
• Josh Willingham, OF, Nationals: Can you believe this guy? I don't understand how he's owned in only 32.7 percent of ESPN.com standard leagues (as of Wednesday), down 5 percent from seven days ago. I mean, he's hitting .301 with 21 homers and 57 RBIs in just 102 games. Nevertheless, I like what I'm seeing, namely three splits: He's hitting righties much better than in recent years; he's hitting much better on the road than at home, meaning he's more than just a matchups play; and he's hitting almost .330 against fastballs this season, meaning pitchers haven't been able to sneak the most common pitch in baseball by him.
Fortunes falling
• Carl Crawford, OF, Rays: I know this FieldTurf is good stuff, but I'm telling you, I'm concerned about Crawford's long-term status. He has played a lot of games on the artificial turf now (601 of his 1,048 games, to be exact), and at a young age. He has done a lot of running on that stuff, and I think it will catch up to him someday, just as it has for Vladimir Guerrero. In fact, to me, Crawford's "minor" back injury this week was predictable. He played 18 of 24 games on his home turf, then played another game on the turf at Rogers Centre and left with the injury. Don't get me wrong: great player, great season. But I think he will develop problems down the line.
• Jeff Francoeur, OF, Mets: I'm always concerned about hitters playing hurt, and Francoeur is trying to play through a torn ligament in his thumb. I just can't see him doing much under the circumstances.
• Hank Blalock, 1B, Rangers: With Chris Davis back in the fold, Blalock has lost his starting job. And with Justin Smoak getting closer, Davis might never earn it back. And because he has hit 89 of his 150 career homers at Rangers Ballpark while hitting just .246 on the road, he's about to be dead to me.
Pickups of the week
Mixed: Eric Young Jr., OF, Rockies. Should get a lot of playing time with Dexter Fowler out and has that big-time speed many of you are looking for.
AL-only: Michael Aubrey, 1B, Orioles. Looks as though the team is giving him a shot to grab the first-base job. If he's taken, check again on the Red Sox's Rocco Baldelli.
NL-only: Nick Evans, OF, Mets. Matt Murton also interests me, but I think Evans has a better shot to get playing time long-term, considering the Mets' injury woes. Also, have a look at Chris Carter, who reportedly is one of the "players to be named later" going to the Mets from the Red Sox in this week's Billy Wagner deal.
Stat talk
Jhonny Peralta, SS, Indians: Until going hitless his past two games, Peralta was on pace to post his best average and OBP in a season since 2005. The problem is, now everything else has gone in the tank. Well, not his RBIs, because he is doing damage out of the No. 5 hole. But he's on pace for just 13 homers, which would tie him for his fewest in a full season. He hasn't stolen a base in two tries. And the biggie: He's on pace for just 64 runs, 18 fewer than his career low and 40 fewer than last year. Why? Because the Indians' No. 6 hitters are 19th in the majors in OPS, and it doesn't help that, according to Baseball Reference, Peralta hasn't scored from first base on a double all season.
Position watch
Marlins' first base: And your regular starter at first base with Nick Johnson out is … Ross Gload? The Marlins are still in the hunt, and they feel Gload, a veteran, gives them the better shot to win now. But if Gload can't pull his weight, or the team goes in a different direction, I think it would turn back to Emilio Bonifacio (at third base, moving Jorge Cantu across the diamond to first) or Gaby Sanchez, in that order. But for now, neither Bonifacio nor Sanchez has much value. Or Gload, for that matter.
On the docket
Detroit Tigers: Records don't mean much to fantasy owners, but when a team is 40-20 at home and 27-38 on the road, it jumps out at you. The Tigers have scored 5.22 runs per game at home and hit 32 percentage points better than on the road, where they've averaged 4.06 runs per game. Fortunately for fantasy owners, the Tigers play 13 of their next 19 games at home.
On the farm
Chris Young, OF, D-backs: He's still striking out too much, but Young has hit .333 with five extra-base hits in his first 10 games at Triple-A Reno. Look for Young to return in September, and because he still has to be considered a key piece to the future of the team, I wouldn't be surprised if Arizona throws him right back into the starting lineup shortly after his return.
Brett Lawrie, 2B, Brewers: The Brew Crew still aren't sure where the young Canadian will play because of poor defense. (Hmm, sounds an awful lot like Ryan Braun and Mat Gamel.) But Lawrie can hit, and he's moving up the organizational ladder rapidly. He was jumped to Double-A recently despite being just 19 (and he won't turn 20 until January), and he's off to a .300-average start there. He'll enter our fantasy consciousness sometime late in 2010.
Final thoughts
If you play in a keeper league and are out of the race, look to trade players who lose position qualification for next season. Players such as Michael Young, Brandon Inge and Mark DeRosa have a lot more value to the teams who could play them at more scarce positions this year than they would for you next year. I'll address position-qualification losses in the Hit Parade as the end of the season nears.
Brendan Roberts is a contributing writer/editor for ESPN Fantasy.
Fantasy
Brendan Roberts is a contributing writer/editor for ESPN Fantasy. He has been covering fantasy sports as an editor and writer for more than eight years and was awarded the Fantasy Baseball Writer of the Year award in 2006 from the Fantasy Sports Writers Association. Roberts can be read in both the fantasy baseball and football areas at ESPN.com.
SPONSORED HEADLINES
FANTASY TOP HEADLINES
MOST SENT STORIES ON ESPN.COM