Commentary
Keeper ranks: What of Jimmy Rollins?
The clock is ticking to trade deadline time.
For some, that means a last-ditch effort to get that final needed piece, that "straw that stirs the drink," in your championship quest. But for those who have struggled through frustrating 2010 campaigns, it means a time to begin -- or continue -- efforts to retool for next season.
For those of you who missed it, I presented my top 200 keepers on Monday, projecting player values for 2011-13 (60 percent 2011 value, 25 percent 2012 and 15 percent 2013). Today, and throughout the week, I'll take a closer look at the rationale behind some of the rankings.
Here we go, in quick-hitting form:
Ryan Braun (No. 10): I'm a bit concerned about his diminishing power and increasing ground-ball rate, but even in a down year he's on pace for 23 homers and 19 steals and ranks 27th on our Player Rater. Plus, he'll be 27 next year. I'm not telling you, "Boy, Braun's that magical age 27," I'm telling you that Braun is still in his prime and every bit as likely to rebound as further regress.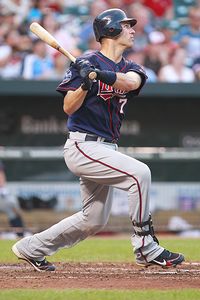 Mitch Stringer/Icon SMIIt seems like Joe Mauer has been around forever, but he's still 27.
Joe Mauer (No. 20): Batting title-contending catchers are scarce, and he's another player who's squarely in his prime, 28 years old next season. Who cares if he's not a 25-homer hitter? He's as safe a bet to bat .320 as there is in the game.
Chase Utley (No. 25): If he was younger, he'd have ranked even higher.
Carlos Gonzalez (No. 27): I still think he'll be more of a power/speed than batting-average guy, but is it worth complaining if a guy's more likely to bat .280 with 35/20 numbers than .300 with 25/20?
Alex Rodriguez (No. 28): He'll turn 36 midway through next season, and at that age one must wonder whether his diminishing production is the beginning of a career decline rather than an aberration. It's the drop-off in steals that's most bothersome; he's on pace for four stolen bases all season, which is fewer than he had in the month of September alone in 2009.
Alex Rios (No. 31): I'm not even that much of a fan, but power/speed guys are all the rage in fantasy, and he's looking like a pretty safe 25/25 candidate in Chicago. Besides, he's 30, so he has plenty of prime years remaining.
Josh Hamilton (No. 36): He's the one player I've either ranked clearly too low, or clearly too high. Hamilton looks very much the part of fantasy stud this year, just as he did in the first half of 2008, but the injury risk -- speaking long-term -- is significant. His risk is about as high as anyone's in the top 50.
Jason Heyward (No. 53): This is awfully high for a player who hasn't proved he can reach this status yet, but like Justin Upton (No. 21), I'm impressed by what Heyward has accomplished at such a young age. Fact: Heyward's OPS is .827, and he just turned 21 on Monday (so this is effectively his age-20 season). Only 13 players in big league history have managed a better OPS in a season played mostly before their 21st birthdays. Nine of them are in the Hall of Fame, one of them will be there soon (Ken Griffey Jr.), and another might eventually join him (Alex Rodriguez).
Derek Jeter (No. 56): His advancing age is a concern, as it's coinciding with what has been a rather disappointing year for the Yankees captain. It's possible that, as with A-Rod, Jeter's career is now in decline, though in his defense, the last time we said that he roared back with a monster year (in 2009).
Ian Kinsler (No. 63): He's actually a bit overrated in fantasy, having missed 168 of 759 Texas Rangers games in his big league career, or 22.1 percent, not to mention having been wildly inconsistent in terms of batting average over the years. It's great that he has 30/30 potential, but he needs to be healthy enough to actually get there consistently before I'd rank him much higher.
Jacoby Ellsbury (No. 65): I still believe in his base-stealing ability, but please note that I traditionally shy away from speedsters when making keeper rankings.
Delmon Young (No. 73): My gut says I've underrated this guy.
Rickie Weeks (No. 76): How fitting that the No. 2 overall pick in the 2003 amateur draft is only a few spots behind the No. 1 overall pick from that draft (Delmon Young). The difference between them: Weeks is the one whose ceiling is 50 spots higher, while Young ranks pretty close to where he should. If we only knew his newfound health was here to stay, Weeks would be a serious contender for No. 2 second baseman in fantasy (behind Robinson Cano, battling Chase Utley). The problem is that Weeks still has yet to play 130 games in any big league season.
Vladimir Guerrero (No. 81): He has a mutual option with the Rangers for 2011, and even if he declines his half, chances are he's staying with the team, reaping the same advantages there that he has this season. Of course, all bets are off once 2012 arrives, barring a long-term deal in the winter.
Jayson Werth (No. 98): I'm terrified by the prospect of what might happen to him if he departs hitter-friendly Citizens Bank Park this winter. He's only a .269/.370/.428 (AVG/OBP/SLG) hitter in road games this season, and those aren't numbers befitting a fantasy superstar.
Pedro Alvarez (No. 114): Another player my gut says I might have ranked too low, as I think his power is legit. I could completely see an Adrian Gonzalez-caliber career in his future, except without the quiet early seasons.
Jose Bautista (No. 117): I'm not sure why nobody seems to believe in this guy's staying power. After four months of production, you think he'd have convinced somebody. Bautista has a higher walk rate than he ever has in his career (14.4 percent of his plate appearances), his contact rate has improved (78.9 percent) and he's hitting a mountainous pile of fly balls (52.1 percent of his batted balls). He's also 29 years old, so a few more productive years are possible.
Nick Markakis (No. 119): A serious contender for the throne of most overrated player in fantasy, Markakis might still have believers that he's a future MVP in the making because he's still only 26 years old. He'll probably be an overhyped "magical age-27 breakout" guy next spring -- amazing how people still cling to that silly notion -- but the fact remains that Markakis is on pace for just .294-12-58-6 numbers this season. Sure, his strikeout rate has declined in each of the past two seasons, but so has his power and, most disturbingly, his isolated power. That's not the direction a player's career should be headed at this stage.
Jimmy Rollins (No. 124): I'm just not a believer, and part of it is that he's shaping up as an aging, injury-prone player, and the rest is that his offensive numbers have taken a bit of a tumble the past two seasons. Maybe he has one more top-five-shortstop-caliber season left in him, but I worry about whether he'll be an albatross of a keeper come 2012-13. It's a chance worth taking if the price is right, but not while locking him in for a significant price or length of time.
Matt Wieters (No. 125): I still believe, partly because a kid with this much talent deserves many chances, but also because it's understandable that catchers warrant a couple years' patience due to the difficult adaptation to the big leagues.
Mike Stanton (No. 126): It's time to hop this bandwagon, or at least it'll be time come next spring. (Barring a 4-for-50, 25-K spring that earns him a demotion, of course.) Stanton's power is elite, and if he's a 30-homer hitter as early as 2011, albeit with a .250 batting average, I won't be surprised.
Kurt Suzuki (No. 158): One of the most underappreciated assets in fantasy baseball, though part of that is his status as a catcher, playing that thin position. Suzuki always pleases, and could crack the top five at catcher in 2011.
Adam Lind (No. 170): One of the toughest players to rank, because I want to believe he has a comeback year in his bat, but nothing he has shown me this season hints it's coming. A good way to play it: If he's a cheap grab, it's well worth it. If he'd be a pricey keeper, let him go and try to grab him in the draft.
Domonic Brown (No. 182): Even if his 2011 isn't impressive, his 2012-13 potential is well worth stashing him at the back end of a keeper list. He has legitimate five-category fantasy superstar potential.
Interesting just-missed names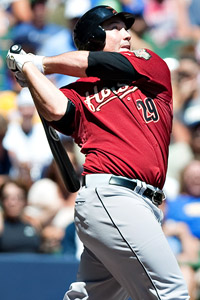 Damen Jackson/Icon SMIThe move to first base doesn't do Brett Wallace's value any favors.
Brett Wallace: So what exactly is he, the next Adrian Gonzalez, the next Adam LaRoche or the next Brad Fullmer? LaRoche might be a little shy of the answer, but considering that it might take Wallace time to fully develop as a big league slugger, it makes sense to rank him behind LaRoche for now. After all, Wallace will qualify at first base only in 2011, and that's a deep position.
Daniel Bard: If only we knew for sure that the Boston Red Sox would let Jonathan Papelbon walk following the season, Bard might deserve as generous a ranking as Papelbon's current No. 89. About the only disadvantage Bard has to Papelbon is a lack of experience as a closer, because almost every peripheral number of Bard's bests Papelbon's this season.
Travis Snider: It's about time the Toronto Blue Jays let him sink or swim at the big league level, as he has nothing left to prove in Triple-A ball, where he has .339/.420/.623 numbers in 66 career games. Snider is also swinging at fewer bad pitches and making better contact, so perhaps he's about to figure things out? With a hot finish to this season, he'd surely rise into the top 200.
Mike Moustakas: The No. 2 pick in the 2007 amateur draft, Moustakas has finally made good on his promise, tearing up Double-A ball to the tune of .347/.413/.687 numbers to begin this season, then holding his own in Triple-A ball the past month. He'll almost assuredly make his debut in 2011, if not this year, with the primary question whether he'll be in the lineup come Opening Day.
Omitted players I've been asked about
Starlin Castro: He's only 20 years old, has yet to show any sustainable power as a pro and hasn't stolen bases with the frequency he did in the minors. Here's the other concern: He has a .349 BABIP despite hitting ground balls nearly 50 percent of the time, which suggests his batting average (.308), his most valuable fantasy asset, might be a fluke. Castro could very well be a top-150 player as early as 2011, but it's just as possible he'll be a candidate for sophomore-year struggles.
Bryce Harper: He hasn't even signed yet -- the deadline arriving next Monday night -- and he's 17 years old. To think he might be in the majors next season borders upon the absurd; there's a chance he might not even be in the majors until 2013, the third of the three seasons in the keeper-rankings formula. Harper's talent is undeniable, but it's too early to go gaga over him.
Grady Sizemore: The fact that he's still 28 and has a 30/30 campaign on his résumé probably has some optimistic fantasy owners assuming, "Hey, he has to bounce back, right?" Certainly a healthy Sizemore is capable of top-50 status overall, but he has had surgery on his wrist and his knee in the past calendar year. That potentially affects his hitting (the wrist, as might have been the case with his sluggish start) and his base stealing (the knee). I want to see a healthy, productive spring from him before I trust him with a valuable keeper spot.
TOP 100 HITTERS
Note: Tristan H. Cockcroft's top 100 hitters are ranked for their expected performance from this point forward this season only, and are not to be confused with the keeper rankings for 2011-13.
Rnk

Player, Team

Prev
Rnk

1
Albert Pujols, STL
1
2
Miguel Cabrera, DET
2
3
Carl Crawford, TB
3
4
Hanley Ramirez, FLA
5
5
Mark Teixeira, NYY
9
6
David Wright, NYM
4
7
Josh Hamilton, TEX
8
8
Robinson Cano, NYY
7
9
Evan Longoria, TB
6
10
Joey Votto, CIN
10
11
Matt Holliday, STL
13
12
Ryan Braun, MIL
11
13
Justin Upton, ARI
16
14
Carlos Gonzalez, COL
23
15
Prince Fielder, MIL
14
16
Alex Rodriguez, NYY
12
17
Adrian Gonzalez, SD
18
18
Ryan Zimmerman, WAS
21
19
Alex Rios, CHW
15
20
Joe Mauer, MIN
28
21
Matt Kemp, LAD
17
22
Adam Dunn, WAS
26
23
Jose Reyes, NYM
24
24
Nelson Cruz, TEX
32
25
Chris Young, ARI
30
26
Brandon Phillips, CIN
25
27
Vladimir Guerrero, TEX
22
28
Adrian Beltre, BOS
37
29
Derek Jeter, NYY
31
30
Corey Hart, MIL
34
31
Ryan Howard, PHI
19
32
Troy Tulowitzki, COL
75
33
Michael Young, TEX
36
34
Andre Ethier, LAD
29
35
Ian Kinsler, TEX
27
36
Ben Zobrist, TB
35
37
Ichiro Suzuki, SEA
39
38
Carlos Quentin, CHW
42
39
Jimmy Rollins, PHI
38
40
Torii Hunter, LAA
33
41
Jayson Werth, PHI
44
42
Paul Konerko, CHW
49
43
Shin-Soo Choo, CLE
43
44
Rafael Furcal, LAD
40
45
Bobby Abreu, LAA
46
46
Andrew McCutchen, PIT
41
47
Nick Swisher, NYY
48
48
David Ortiz, BOS
50
49
Hunter Pence, HOU
53
50
Delmon Young, MIN
57
51
Rickie Weeks, MIL
64
52
Mark Reynolds, ARI
47
53
Dan Uggla, FLA
52
54
Brian McCann, ATL
56
55
Juan Pierre, CHW
60
56
Aramis Ramirez, CHC
65
57
Aubrey Huff, SF
55
58
James Loney, LAD
51
59
Michael Bourn, HOU
59
60
Colby Rasmus, STL
54
61
Curtis Granderson, NYY
72
62
Jose Bautista, TOR
77
63
Brett Gardner, NYY
61
64
Adam Jones, BAL
63
65
Victor Martinez, BOS
66
66
Jason Heyward, ATL
67
67
Elvis Andrus, TEX
62
68
Chone Figgins, SEA
80
69
Nick Markakis, BAL
70
70
Howard Kendrick, LAA
74
71
Dustin Pedroia, BOS
76
72
Gordon Beckham, CHW
90
73
Billy Butler, KC
69
74
Adam LaRoche, ARI
84
75
Denard Span, MIN
68
76
Mike Napoli, LAA
78
77
Alfonso Soriano, CHC
71
78
Jason Kubel, MIN
83
79
Pedro Alvarez, PIT
92
80
Jacoby Ellsbury, BOS
NR
81
Buster Posey, SF
82
82
Shane Victorino, PHI
79
83
Vernon Wells, TOR
81
84
Martin Prado, ATL
45
85
Andres Torres, SF
88
86
Carlos Lee, HOU
87
87
B.J. Upton, TB
93
88
Chase Utley, PHI
94
89
Justin Morneau, MIN
98
90
Kelly Johnson, ARI
NR
91
Scott Podsednik, LAD
NR
92
Carlos Pena, TB
58
93
Pablo Sandoval, SF
96
94
Lance Berkman, NYY
91
95
Aaron Hill, TOR
NR
96
Brian Roberts, BAL
NR
97
Kurt Suzuki, OAK
NR
98
Brennan Boesch, DET
85
99
Jay Bruce, CIN
97
100
Jorge Cantu, TEX
95
Four up
Chone Figgins, 2B/3B, Seattle Mariners: It's about time he started hitting. After posting a .235 batting average and .332 on-base percentage the first half of the season, both numbers noticeably beneath his career numbers in the categories entering the season (.291 and .363), Figgins has roared back with 10 multihit efforts in his past 19 games, and .319/.385/.404 (AVG/OBP/SLG) rates in 24 contests since the All-Star break. Whatever your opinion is on his first-half struggles -- be it adapting to new surroundings and a new position or the team's poor performance having an adverse effect on him -- Figgins seems to finally be turning things around. Maybe he's fully acclimated to life in Seattle and at second base, and perhaps the team's managerial switch might pump some energy into this team. Figgins' owners should expect him to perform at much closer to his recent level of performance than the one we saw in the first three months.
Carlos Gonzalez, OF, Colorado Rockies: Maybe he was offended by the July 20 edition of "Hit Parade," which questioned his ability to maintain such a high batting average with the kind of plate discipline he has displayed this season? OK, OK, I kid, but Gonzalez is in the midst of an MVP-caliber tear in his past 11 games, batting .500 (24-for-48) with eight home runs, 15 RBIs, four stolen bases and 16 runs scored. Since that column mention, Gonzalez has been a .417/.429/.861 hitter, albeit with 16 K's compared to three walks, which, by the way, still projects to 144 and 27 in a 162-game season, well within the danger zones. I maintain that he's still much more projectable long-term in terms of homers, RBIs and steals than batting average, but it sure looks like he's going to become the second player in history to bat .300 in a season with 150-plus K's and 30 or fewer walks (Alfonso Soriano was the other man to do it). And if you saw my keeper rankings, you know that even if I could see a .280-40 line coming from him in 2011 instead of .320-30, that's still going to make him a surefire top-25 player overall.
Mark Teixeira, 1B, New York Yankees: What offensive issues? With Monday's homer, Teixeira has gone deep in six of his past nine games, and since July 1 he's a .323/.422/.708 hitter with 13 homers and 37 RBIs in 34 contests. Incidentally, that projects to 62 homers and 176 RBIs over a full season, which shows just how much he has turned around his "bad year." Teixeira is on pace for 38 homers and 124 RBIs, in fact, right in line with his 2009 numbers. If there's anything to complain about, it's his .259 batting average to date, but in response, be aware that his BABIP is .263, which is by far a career low. Can you say "unlucky?"
B.J. Upton, OF, Tampa Bay Rays: It's about time he contributed something, disappointing as he has been the past year and a half. Food for thought: His offensive rates since Opening Day 2009 are .238/.315/.387, and to put that into perspective, American League hitters combined have .265/.333/.420 rates during that same time span. That's why it's pleasing to see that in the month of August, Upton is a .303 hitter (10-for-33) with two homers and four stolen bases in nine games. Of course, even with his hot streak, there are negatives: He has 13 strikeouts during that time, and only .243/.305/.459 numbers since the All-Star break. Enjoy this while it lasts, but don't count on All-Star-caliber stats from him the rest of the year.
Four down
Brennan Boesch, OF, Detroit Tigers: This hotshot rookie is quickly earning a reputation as a maddeningly streaky performer. Let's just toss out some of the numbers, based upon small chunks of his season. First 18 games: .388/.400/.701 rates. Next 13 games: .217/.294/.348 rates. Next 32 games: .369/.442/.639 rates. Most recent 27 games: .131/.202/.212 rates. Put it all together and Boesch's 2010 statistics when prorated to a 162-game season -- .281 batting average, 25 homers, 99 RBIs -- don't seem unrealistic accounting for his skills. After all, this was a .275-28-93 hitter in Double-A ball last season. Still, players like this can be frustrating to own, and many owners, particularly those in shallow mixed formats, often can't afford to be patient through the dry spells.
Jacoby Ellsbury, OF, Boston Red Sox: If there's any positive about Ellsbury's first five games fresh off the disabled list, it's that he swiped four bases during Monday's matinee versus the Yankees, because everything else about his performance in the past week has been awful. Even the steals can be taken with a grain of salt; it's not tough to swipe bags against Jorge Posada, or reliever Kerry Wood, who has allowed 15 of them (compared to zero caught) in 82 games between this and last season. Ellsbury is 1-for-18 (.056 avg) since his activation, a concern in that his fantasy value is largely tied to his ability to steal bases, and he can't possibly be expected to steal second and third base every time he reaches base. It's possible that he's merely shaking off the rust, but as much time as he has missed, it's not unthinkable that he won't fully be right again until 2011.
Cristian Guzman, 2B/SS, Texas Rangers: A 3-for-26 (.115 avg), two-walk, zero-extra base hit performance in your first seven games isn't going to endear you to a new team, especially not when you're typically a light hitter whose sole purpose in the short term is to serve as a temporary fill-in for an injured All-Star (Ian Kinsler). That's Guzman's role; he's supposed to man second base until Kinsler returns in the next week or two, then he'll be dropped to a utility role. The problem with that: Guzman has hit so poorly thus far for the Rangers, he might have a hard time scoring the at-bats he'd need to re-establish himself as a viable temporary starter once returned to the bench. This isn't what AL-only owners were hoping for when they tossed a few FAAB (free-agent acquisition budget) dollars his way.
Jorge Posada, C, New York Yankees: Manager Joe Girardi made it official this week that he has a catching rotation to go along with his pitching rotation; Posada catches the CC Sabathia, Andy Pettitte and Phil Hughes starts, while Francisco Cervelli gets the A.J. Burnett and Javier Vazquez outings. Unfortunately, that means just 60 percent of the catching at-bats belong to Posada, and if you account for the fact that the Yankees might soon begin reining in Hughes' innings, it's perhaps fewer than that. That forces the veteran backstop to fight for at-bats elsewhere, be it as a pinch hitter -- a role in which he has .225/.333/.367 career numbers and is 0-for-6 this season -- or at designated hitter, where Lance Berkman seems likely to get the bulk of the playing time versus right-handers. The other issue with Posada: Since his most recent home run July 24, he's batting just .171 (7-for-41) with only one extra-base hit, a double. He might be more likely to drop from his current No. 10 standing among catchers on our Player Rater than rise.
Upgrade your roster
Add: J.P. Arencibia, C, Toronto Blue Jays.
Drop: John Buck, C, Toronto Blue Jays.

For this week, let's first talk about the drop candidate, because this sure seemed like a bad week in the health department to be a catcher, didn't it? Carlos Santana and Russell Martin were lost for the season, while Buck landed on the disabled list for at least the next two weeks. Each of the first two can be safely dropped (except for Santana in keeper leagues); Martin's most promising prognosis has him needing three months of rehabilitation if he avoids surgery (heads-up to his owners in the 43.9 percent of ESPN leagues in which he remains on a roster).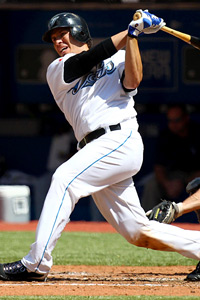 Tom Szczerbowski/US PresswireJ.P. Arencibia made his mark right away with a pair of homers in his first big league game.
Buck, meanwhile, expects to return from his thumb injury when first eligible on Aug. 20, but unless you play in a league in which it doesn't cost you anything in terms of bench/DL spots to keep him around, feel free to let him go. This Blue Jays team is now 10 games out in the division and 8½ back in the wild-card race, meaning that by the time Buck returns to action, the team will surely be looking ahead to 2011. After all, he's playing on a mere one-year deal.
That's where Arencibia comes in. You might already be familiar with the name of the Blue Jays' top catching prospect; he did, after all, homer on the first pitch he saw in the big leagues this past Saturday, not to mention went deep and totaled four hits in his debut on that day. That came on the heels of a fantastic season for Triple-A Las Vegas, during which he managed .303/.360/.639 rates and 31 home runs in 95 games. Arencibia's power is legitimate: He has averaged one homer per 18.9 at-bats since being tabbed in the first round of the 2007 draft.
Some might question Arencibia's ability to adapt quickly to big league pitching, and his standout debut aside, they might have a point. Still, the fact that he boosted his walk and contact rates in Triple-A ball is a promising sign, as his 8.1 percent walk rate and 79.7 percent contact rate each represent a noticeable uptick from his 4.5/77.5 numbers in his first three professional seasons.
As for those who wonder how likely Arencibia is to secure regular at-bats for the remainder of the year, be aware that Jose Molina's presence behind the plate Sunday was due to his being Brandon Morrow's personal catcher. Arencibia should receive the bulk of the at-bats behind the plate for at least the next two weeks, and it'd be wise for this team to give him the same in September.
Also consider adding …
Chris Carter, 1B, Oakland Athletics: Another big-time power hitter from the Triple-A Pacific Coast League, Carter has hit at least 25 home runs in each of his past four minor league seasons, and has .262/.368/.531 rates plus 27 bombs this year for Sacramento. He'll play regularly with the A's, and as a bit of a three-true-outcomes guy might range in value anywhere from Jack Cust to Adam Dunn.
Peter Bourjos, OF, Los Angeles Angels: Though he's only 4-for-25 in his first seven big league games, Bourjos is a .293 career minor league hitter who should soon begin getting himself on base to flash his impressive speed. It's not often you'll find a guy with 40-steal potential (over a full season) available on the waiver wire.
Mike Lowell, 1B/3B, Boston Red Sox: At the bare minimum he'll settle in as the right-handed portion of a first-base platoon in the wake of Kevin Youkilis' season-ending injury. In the best-case scenario, he'll step up as the regular at the position, providing decent punch in what's still a deep lineup.
Carlos Ruiz, C, Philadelphia Phillies: Those hurting for catching help could take a look at Ruiz, who historically finishes strong. He's a .400 hitter (20-for-50) with three homers and 14 RBIs in his past 12 games, and has OPS of .800 or greater for his career in both the months of August and September.
New position qualifiers
Twenty games: Eric Hinske (1B), Jayson Nix (3B) and Rusty Ryal (OF).
Ten games: Miguel Cairo (1B), Alex Gordon (OF), Howard Kendrick (1B), Mike Lowell (1B) and Jed Lowrie (2B).
Five games: Allen Craig (3B), Brent Lillibridge (OF), Logan Morrison (OF), Rusty Ryal (3B), Mike Sweeney (1B), Brett Wallace (1B)
One game: Everth Cabrera (2B), Miguel Cairo (SS), Chris Carter (OF), Andre Ethier (1B), Wes Helms (1B), Carlos Lee (1B), Jed Lowrie (1B), Trevor Plouffe (2B), Landon Powell (1B), Sean Rodriguez (3B)
Tristan H. Cockcroft is a fantasy baseball analyst for ESPN.com and a two-time champion of the League of Alternative Baseball Reality (LABR) experts league. You can e-mail him here, or follow him on Twitter @SultanofStat.
Fantasy
Senior writer for ESPN.com
Co-host of the Fantasy Focus Baseball podcast
Two-time LABR, two-time Tout Wars champion
Member of the FSWA Hall of Fame
SPONSORED HEADLINES
FANTASY TOP HEADLINES
MOST SENT STORIES ON ESPN.COM