Commentary
One-year wonders?
Have we already seen the best from Hamilton, Quentin, Liriano?

It doesn't take a genius to figure out that the amazing statistics Adrian Beltre produced in 2004 are extremely unlikely to occur again. The Dodgers, Beltre and his fantasy owners really enjoyed the 48 home runs, 121 RBIs and .334 batting average the third baseman shockingly delivered that season. However, when he reverted to the norm in 2005 and ever since, it was clear that Beltre had delivered a career year, or what many would call his outlier season. Most veteran baseball players revert to their statistical mean, so when something out of the ordinary happens, such as Beltre's explosion or Brady Anderson's 50-homer season in 1996, fantasy owners should realize what has happened for future implications.
I'm starting to wonder whether Josh Hamilton has reached that point. He has looked dreadful at the plate recently to the point where one has to wonder whether another injury is affecting the swing that was so perfect for much of last season. There's nobody like Hamilton, nobody who took his path to the majors, so comparing him to others is meaningless. We do know that last season, he arguably was baseball's best player before the All-Star break, with 21 homers, 95 RBIs and a .310 batting average. He cooled off after that and this season has been one of fantasy's biggest busts, as he's not hitting for power and is now hitting seventh in the Rangers' lineup. Could 2008 have been Hamilton's outlier season, and should all expectations be lowered from here on out?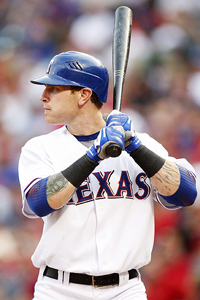 Ronald Martinez/Getty ImagesJosh Hamilton had a great comeback story in 2008, but he has fallen back to Earth this year.
Nobody knows, including Hamilton. Ultimately, I think Hamilton's problem this season has been health. Then again, health is a skill, and for all we know, it's a skill Hamilton can't conquer. You know how we marvel at Raul Ibanez putting up his best numbers at age 37? It's not his outlier season, not with that swing, not in this home ballpark. Most of all, he appears to have a young body, one he has kept in shape all his years and hasn't abused. Plus, Ibanez wasn't a regular player until he was past 30, and he always has been able to avoid slumps that can persist for months.
Lord only knows what Hamilton actually did to himself for the years he wasn't playing baseball, but he seems an old 28. I hope this isn't the case. I hitched a number of my keeper wagons to this guy back in March, and his performance is disappointing. I thought there was a chance he was injury-prone and would have a season like 2007, productive but DL-filled. Now I think it's more than a chance. Currently he's hitting .220 and isn't walking or hitting for power. I do think it's reasonable to ask whether this guy will ever stay healthy long enough to hit 32 home runs, knock in 130 and, most of all, play 156 games in a season again. We just don't know, and that is enough to make me scared to draft or trade for the guy.
So it got me to thinking, who else might already have had his career year, but whom fantasy owners keep drafting and trading for thinking he can reprise it? Beltre is so obvious that we need to leave him out, and the jury remains out on Hamilton, I believe, but here are some other names for you. Can't be someone like Alfonso Soriano, either. Sure, he's slowing down, but he has had multiple strong seasons. Can't be Dontrelle Willis or Darin Erstad, either. Too obvious. As always, the opinions are mine and do not represent those of the ESPN Fantasy staff, and you're more than welcome to chime in.
Hitters
Carlos Quentin, OF, White Sox: If Hamilton makes this list thanks to durability concerns, Quentin certainly has to be mentioned. He has battled plantar fasciitis this season and couldn't hit or stay healthy in his Arizona days, and even under ideal circumstances, he gets hit by so many pitches that many wonder whether he will ever play a 150-game season. I liked Quentin for this year and have been burned. Remember, he hit those 36 home runs last season in only 130 games before breaking his wrist. He's very talented. I think he'll remain productive when healthy, but I don't expect another 36-home run season from him. Like Hamilton, Quentin is someone I probably won't draft before next season, because I'll treat both as brittle players. I wish I had done that back in March.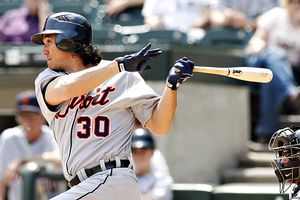 Jerry Lai/US PresswireMagglio Ordonez was considered on the decline before his 2007 outburst. The decline is back on.
Magglio Ordonez, OF, Tigers: Definitely time to move on, people. Ordonez seemed finished before coming through with that unbelievable 2007 season, when he hit .363 with 139 RBIs. This year, the power has just about completely gone away, to the point where he's in a platoon with Clete Thomas. Just to make it clear, Thomas doesn't exactly have a ton of power, either. Ordonez resurrected his career once, but now the Tigers realize there's not much left. Fantasy owners need to do the same.
Chris Young, OF, Diamondbacks: Yep, I fell for this one as well. Young has power and speed and showed it in a terrific rookie season, when he hit 32 homers and swiped 27 bases. It didn't matter to me in this case that he seemed allergic to taking walks. Even the next season, when both of those numbers fell, there were indications Young had a bright future, despite pitiful plate discipline. He's only 25, but the Diamondbacks can't even play him every day anymore. He hasn't been unlucky, either, which is tough to do when hitting .197. Young remains toolsy, and if he were hitting .250, I think we could deal with it as long as he was a 20/20 guy. I don't think he'll ever hit .250.
Eugenio Velez, 2B, Giants: Why does that big season always have to be in the majors? When Velez came up late in 2007, I was intrigued because of his speed and middle-infield eligibility and couldn't help but notice a noteworthy season in the minors, way down in Class A ball: Velez rocked in the South Atlantic League in 2006 with 14 home runs, 20 triples, 90 RBIs, 64 stolen bases and a .315 batting average. I'm always careful to research whether it was a hitters' league (for instance, the Pacific Coast League surely is, and we see plenty of Dodgers offensive prospects enjoy it), but looking at Velez's teammates that season, he really stood out. Those are serious numbers in any league. Pablo Sandoval, 19 at the time, hit .265 with one home run in 117 games for that same team. Velez hit one-quarter of the team's home runs. He ran wild. It looked legit. He looked like a switch-hitting version of a young Juan Samuel. Sadly, what Velez has in common with the great Samuel -- check out his stats early in his career! -- is a knack for strikeouts and poor defense. Velez has hit well for the Giants recently, but forget about the power. The ceiling for Velez might be 10 home runs and 25 steals, but he also might be out of baseball by the time he's 30.
Pitchers
Daisuke Matsuzaka, Red Sox: This obviously is a lost season for him, as it doesn't look as though the Red Sox really want him around, but there were warning flags that he wouldn't be able to go 18-3 again any time soon anyway. Matsuzaka walked five hitters per nine innings last season, one of the worst rates of any starting pitcher with regular work. The Red Sox bailed out this guy so many times when he failed to pitch six innings, so the record was misleading. Matsuzaka should pitch in 2010, somewhere, but with his walk rate, I don't see him ever compiling a 2.90 ERA again, unless he makes major adjustments.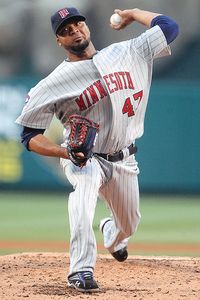 Kirby Lee/Image of Sport/US PresswireFrancisco Liriano might never be as good as he was before Tommy John surgery.
Francisco Liriano, Twins: You might have to give this lefty a bit more time, as not everyone comes off Tommy John surgery and just dominates as he had before, but Liriano was so good in 2006, when for a time he was fantasy's top pitcher, that asking for that again seems overly optimistic. Liriano hasn't regained his command, and in 2006, he was untouchable for long periods of time. This season, Liriano is only hurting fantasy teams. Even with some inevitable improvement next season, I don't see another 2.16 ERA over 100-plus innings in his future. His best already has happened.
Fausto Carmona, Indians: Obvious to some, but Carmona remains owned in more than half of ESPN.com's 10-team leagues, which has to be based solely on what he did in 2007 (19 wins, 3.06 ERA). Bad news, folks, that's not happening again. Carmona has pitched 186 1/3 major league innings since that season and has issued 115 walks against 95 strikeouts. Now that is hard to do! I have little patience for wild pitchers like this unless they are someone like Ubaldo Jimenez, who also brings excellent strikeout potential. Carmona most certainly does not. I watched a bit of his Saturday outing, now that the Indians have called him up again, and he's all over the place. It was more of the same and painful to observe. Forget about this guy.
Justin Duchscherer, Athletics: Good for the Athletics for getting what they did out of this right-hander in 2008, but will anyone trust he can stay healthy for 20 starts again? Should he even be starting in the first place? Duchscherer was having trouble staying on the mound before last season, when he fashioned a 2.54 ERA and 0.995 WHIP pretty much out of nowhere. I mean, he wasn't a starting pitcher until then. In retrospect, I'm surprised Oakland didn't trade him before it was too late. Fantasy owners always should take it seriously when a team feels that a good middle reliever can adapt to starting and not assume it will go poorly, but at the same time, this magic tends to run out quickly. Duchscherer still hasn't pitched in the bigs this season, yet he's owned in 48.7 percent of ESPN.com leagues. Yes, that's right, until this past weekend, Duchscherer was owned in more leagues than Jarrod Washburn.
Whatever happened to ... the punchless Angels craving offense?
The Angels lead the major leagues in runs scored. Let that sink in for a second. Everyone complained that this team needed offense when Mark Teixeira walked away in the winter. Vladimir Guerrero was nearing the end, which has proved out. Bobby Abreu doesn't have power, so such complaints also were prescient. The Angels batted .316 in July, their second-highest batting average in one month in franchise history, and there doesn't seem to be any end in sight.
Who knew Kendry Morales and Juan Rivera would be this good? Well, fantasy owners continue to be a bit slow in realizing that the Angels are this good, because Morales and Rivera, who have hit a combined 41 home runs, both are available in more than 30 percent of ESPN standard leagues. Don't have a corner-infield spot open for Morales? Well, he's still eligible in the outfield based on where he played there last season. I understand why Guerrero is still owned in more leagues than the guys who actually lead the Angels in home runs, but that doesn't make it right.
It sure would be nice if ... Brandon Webb weren't owned in 79 percent of ESPN leagues
OK, so maybe that's not fair. Until recently, there was a chance the Diamondbacks' stud pitcher would return this season. But the problem is that Webb's ownership figure probably will remain in the 70 range the rest of the season. B.J. Ryan is owned in 64 percent of leagues. I could go on and on. Way too many owners, even in some of my leagues, just don't pay attention after they realize they can't win the league, and one would think that quite a few owners who drafted Webb and Ryan are in that boat. Sure, it stinks when the first pitcher you drafted makes only one start, or your main closer gets two saves, but do fantasy owners have an obligation to others in their league to keep their teams active? Yes and no.
It bothers me more when I see owners affecting the league standings with moves they either do or do not make. I do think that if someone leaves Webb active all season, it muddles the integrity of a league. In one of my head-to-head leagues, I got caught in the standings because an owner allowed another team to sweep him; Adrian Beltre, Matt LaPorta and Lance Berkman were three of the active hitters in this guy's lineup. That's weak. It shouldn't be too difficult to make sure your roster has active players on it. We're not asking you to make trades, and if Webb is on your bench, that's OK, too, I suppose. What makes it worse is when an owner drops a player he shouldn't -- thus the need for an undroppable list -- or trades with a contending team, buoying that team's chances when he shouldn't. If you're in last place and going nowhere, you should make sure your team is appropriately run, but you shouldn't decide who wins the championship, either.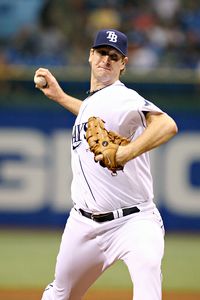 Douglas Jones/US PresswireJeff Niemann hasn't had the same hype as many other Rays pitchers, but he just keeps getting the job done.
Stat of the week: 10
Think about all the top rookie pitchers out there. Now think about who was the first one to win 10 games this season. I'll wait. No, David Price certainly hasn't done it. Tommy Hanson hasn't been up long enough. Ricky Romero did it Sunday, but he wasn't the first one. Tampa Bay's Jeff Niemann beat the Royals this past weekend, becoming only the third Rays first-year pitcher to win at least 10 games in a season. (Rolando Arrojo Scott Kazmir are the others.) Niemann is 8-2 in his past 15 starts, and his overall ERA is actually better than that of any starter on his team, including Matt Garza and James Shields, and especially Kazmir. I don't need to point out how many leagues Niemann is available in, do I? Let's put it this way: Andy Sonnanstine is owned in five times as many leagues, and he has been in the minors for months. Niemann doesn't strike out too many batters, which is probably why many of his ilk tend to get ignored, but the wins and ERA certainly are legit.
For the record, here is how I see the top five rookie pitchers in fantasy ending up this season. Sorry, Jeff, you didn't make it, but you'll notice your much-higher-profile lefty-throwing teammate didn't, either.
1. Andrew Bailey, Athletics: Will get 20 saves
2. Tommy Hanson, Braves: Wins and strikeouts
3. J.A. Happ, Phillies: Being pushed out for Pedro?
4. Randy Wells, Cubs: Best Cubs pitcher this season
5. Ricky Romero, Blue Jays: Definitely not a fluke

Final word
The major league trading period did not end Friday, just in case you were wondering. Most teams place most of their players through the waivers process these final two months just to see who's out there watching, claiming, willing to take a chance. Last season, some big names were moved after the July 31 deadline, including Greg Maddux, Eddie Guardado, Mark Kotsay, Matt Stairs, David Eckstein and, oh yeah, some guy who hits 40 home runs every season named Adam Dunn. Don't forget to pay attention to transactions this month. Sure, you might not care that Stairs got dealt, but it did open up playing time for someone, didn't it?
In fantasy leagues, this is a very wise time to check out when your trade deadline is. I think every league should have one, but if you don't have one yet, it's too late. Rules must be announced before the season starts. It's never a good idea to make rule changes on the fly, especially one as important as this. In one of my leagues, the trade deadline will pass today (Monday), and owners are scrambling, but at least they had been made well aware by a good commissioner, who makes it a fun night by getting everyone together in a chat room as well.
For another league, the deadline is later in the week, and a few owners have been complaining they weren't made aware. The deadline was posted all season long. I've seen this happen in even the most veteran of leagues, with the best owners. In our ESPN office league, which generally supports between 16 and 20 owners per season, the deadline is Friday, Aug. 14 at noon ET. Maybe that's your deadline as well. I write this as much for the readers as I do the editors: I'm sure someone will forget. Two seasons ago, one of the owners we won't name threw a fit when he realized the deadline was just days away and during working hours at noon, and he aimed for a final-day league vote through e-mail, drumming up support. I was on vacation. Luckily, other owners stepped in to nix the situation. "The deadline should be at midnight, and at least a week later," he whined. Well, maybe so, but this is what was posted when we set the league up in March. Rules don't get changed in August.
Eric Karabell is a senior writer for ESPN.com who covers fantasy baseball, football and basketball. Check out his daily Baseball Today podcast at ESPN Podcenter. He has twice been honored as fantasy sports writer of the year by the Fantasy Sports Writers Association. His book, "The Best Philadelphia Sports Arguments," was published by Source Books and is available in bookstores. Contact Eric by e-mailing him here.
ESPN.com Senior Writer
ESPN contributor on TV, radio, podcasts, blogs, Magazine
Charter member of FSWA Hall of Fame
Author of "The Best Philadelphia Sports Arguments"
SPONSORED HEADLINES
FANTASY TOP HEADLINES
MOST SENT STORIES ON ESPN.COM