Commentary
30 Questions: Milwaukee Brewers
Is Yovani Gallardo a fantasy ace?
For Yovani Gallardo, it's never been a question of "if" he would become a fantasy ace. It's been a question of "when." The time is now. Yovani Gallardo will be a top-10 fantasy pitcher in 2010, and thankfully for you, you won't need to draft him as one to enjoy the fruits of his labor.
The first "must have" for an elite fantasy pitcher? Strikeouts. No matter how good your ERA or WHIP is, if you're not getting bushels of K's, you're not to be considered among the elite. Gallardo was the only pitcher in the majors who managed more than 200 strikeouts in fewer than 200 innings. His 204 punchouts were 10th in the league, and the 9.89 strikeouts-per-nine rate was lower than only that of Rich Harden, Tim Lincecum, Justin Verlander and Jon Lester among pitchers who threw at least 100 innings. A simple bump to, say, 210 innings in 2010, and even allowing a regression to 9.5 strikeouts-per-9, would yield a 220-strikeout season, which would have ranked anywhere from seventh-most to second-most in every season for the past decade.

The second "must have" is a solid WHIP. It's wise to give more weight to WHIP than to ERA because a pitcher controls a lot more of the first statistic than the latter; whereas his fielders can give or take away hits, WHIP takes into account the three true pitching outcomes of walks, strikeouts and home runs allowed (they count as hits) as components of the "Walks+Hits/Innings Pitched" formula. That said, Gallardo did not have a particularly good WHIP in 2008: His 1.31 mark was worse than the ESPN standard league average of 1.29. It certainly wasn't because he was hit hard; he limited hitters to a .219 average, in no small part thanks to his ability to get the strikeout and his improving ability to keep the ball on the ground (45 percent, a career best). The culprit? The dreaded base on balls. All of Gallardo's success last season came despite issuing 94 free passes, the third-worst total in the majors. So clearly, some improvement in Gallardo's control is necessary if he is to bring his WHIP into the 1.10 range of the fantasy elite. More on that in a bit.
ERA is our next stop. Despite the free passes, Gallardo managed an ERA of 3.73, nothing spectacular but still 0.10 points better than the ESPN standard league average of 3.83. Nonetheless, the weight (innings) of and quality (3.73) of his ERA would have resulted in a mere 0.005 improvement in fantasy team ERA, so we can call the impact, at best, negligible, which in ERA parlance is still more positive than negative; he didn't hurt you, and by adding 185 2/3 innings of weight to a league-average ERA, he made it harder for other pitchers to hurt you. But to be elite, he needs to do more to bring down your team's ERA from average to good. It stands to reason that fewer baserunners would help Gallardo improve on the quality of his ERA, whereas more innings would lend it greater weight. Every 0.30 of ERA improvement over the 210 innings theorized in the strikeout calculation would result in a lowering of a fantasy team's ERA by 0.02 (starting from league average).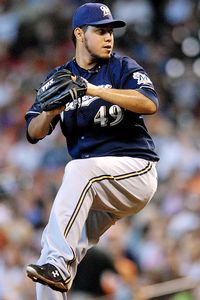 John Rivera/Icon SMIYovani Gallardo has been on the cusp of greatness for a couple of seasons. Is this the year he breaks through?
Last stop, wins, the most fickle and volatile of fantasy stats. While it's not wise to chase wins, we do know what puts a pitcher in the best possible situation to get them: delivering leads to the bullpen as deep in the game as possible, as often as possible. In order to go deeper into games, Gallardo is going to need to increase his average of 6.19 innings per start, which he can do by pitching more efficiently.
Gallardo threw 17.2 pitches per inning in 2009, behind only Max Scherzer, Clayton Kershaw and Jonathan Sanchez among pitchers who also threw at least 160 innings. Almost a quarter (24 percent) of hitters he faced ended up with at least three balls in the count, as opposed to the league average of 19 percent. Only 39 percent of hitters he faced lasted three pitches or fewer, as opposed to the league average of 47 percent. You get the picture. However, when Gallardo got two strikes on a hitter? It was curtains, with a strikeout 76 percent of the time. Still, the high pitch count had the Brewers concerned enough that they protected him in September, once giving him eight days off between starts and then shutting him out for good on Sept. 20, costing Gallardo at least three starts.
So Gallardo needs to pitch more innings and he needs to issue fewer free passes in order to become an elite pitcher. Thankfully, the two go hand-in-hand. What Gallardo needs to learn is to get ahead in the count, get the batter to two strikes quickly and then put him away. One way to do this is to get his off-speed pitches over the plate; they were called for strikes only 56 percent of the time (the league average is 61 percent). Now I'm not saying he should throw the curveball less and stick to his fastball; his curve, slider and changeup not only set up the heater, but they do a good job of fooling hitters as well. Batters had a well-hit average of just .046 against his off-speed strikes, ranking as an A-plus in Inside Edge's grading system.
The fact is that Gallardo's favorite place to pitch, both to lefties and righties, is the outside-middle and low-outside corners of the plate, When he missed, it was overwhelmingly low and away against righties and both low-and-away and high-and-away against lefties, a sign that he's nibbling at the corners. If he brings his pitches in a bit and gets them put in play or called for strike, then everything else falls into place: more innings, more strikeouts, better ERA, better WHIP, better chance at a win.
ESPN Fantasy Baseball
Sign up today for the most customizable free fantasy baseball game out there. You set the rules, scoring, everything. Remember, you lose 100 percent of the leagues you don't sign up for. Sign up now!
So here we have a 24-year-old pitcher with the talent to break into the majors as a 21-year-old. He has elite strikeout ability thanks to a fantastic fastball-curve combo, the latter of which he must simply fine-tune his control of in what is essentially going to be his second full season in the majors. He doesn't need to learn a new pitch, keep the ball lower or pick up velocity on his fastball. He just needs to make the adjustments you expect from a young pitcher who made his major league debut without ever spending a full season at Double- or Triple-A.
Sounds like a guy worth taking a chance on. Gallardo is ranked as the 13th starting pitcher you want off the board, approximately midway through the seventh round. Be willing to pass on the first 12 pitchers, load up on offense and then use your sixth-round pick to "reach" for this fantasy ace, even bypassing health-risk elite pitchers such as Johan Santana and Chris Carpenter in the process. When the season ends and the contributions are tallied, expect to see Gallardo somewhere in the top 10, yielding staff-ace value for the price of a No. 2 starter while allowing you to go offense-heavy with your first five picks. It would also make sense to team him up with one of the top pitching options for a truly dominant fantasy one-two punch and then bypassing pitching until the teen rounds. Whichever way you choose to go, make sure you're taking Gallardo along for the ride.
Pierre Becquey is a fantasy editor and Fantasy Sports Writers Association award-winning contributor to ESPN.com.
Fantasy Sports
Pierre Becquey is a senior editor for ESPN.com fantasy games.
2010 Fantasy Baseball Draft Kit
ESPN.com's fantasy experts offer all the information you need to succeed in your draft.
Draft Kit Home
2010 Projections and Profiles
• All players | Sortable statistics
• More: C | 1B | 2B | 3B | SS | OF | P
2010 Rankings
• Top 300 | AL-only | NL-only | Cheat sheets
• Catcher: Rankings | Preview
• First Base: Rankings | Preview
• Second Base: Rankings | Preview
• Third Base: Rankings | Preview
• Shortstop: Rankings | Preview
• Outfield: Rankings | Preview
• Designated Hitter: Rankings
• Starting Pitcher: Rankings | Preview
• Relief Pitcher: Rankings | Preview
• Jason Grey's Top 100 prospects


• Tristan H. Cockcroft's Top 200 keepers

Talented Mr. Roto
• Matthew Berry: Draft-Day Manifesto
• Matthew Berry: Love/Hate '10
• Matthew Berry: 50 Facts
• Matthew Berry: "You Heard Me!"
• Matthew Berry: Top 250 rankings
• Matthew Berry: The perfect draft
Stephania Bell
• 10 injury issues to watch this spring
• Braves take risk with injured veterans
• Updates on Webb, Dbacks, Cubs, Dodgers
Mock Drafts
• March 25: Head-to-head points draft
• March 12: Standard mixed league draft 2.0
• March 3: NL-only draft
• March 2: AL-only draft
• Jan. 21: Albert Pujols goes No. 1
• Mock Draft Lobby
• Live Draft Results
Analysis
• Ranking ballparks for fantasy purposes
• 2010 sleepers and busts
• Jason Grey's must-have players


• Sleeper options for saves
• Debunking the second-half surge myth
• First and second-half all-stars
• Kings of Command: Pitching sleepers
• BABIP Busting: Lucky hitters/pitchers
• Mulligans: Starters minus worst starts
• Notable offseason moves | All moves

Strategy/Primers
• What is FAAB, and how to use it
• Ins and outs of position flexibility
• Learn all the new advanced stats
• How best to apply the BABIP stat

Diamond Debates
• Prince Fielders versus Mark Teixeira
• Dustin Pedroia versus Robinson Cano
• Josh Beckett versus Tommy Hanson
• Troy Tulowitzki versus Derek Jeter


• David Wright versus Evan Longoria


• Carlos Marmol versus Bobby Jenks


• Brian McCann versus Victor Martinez

30 Questions
MOST SENT STORIES ON ESPN.COM