Commentary
Baseball terminology primer
BABIP, OPS, range factor ... tracking baseball stats has reached a whole new level
Editor's note: This story was originally published in the 2010 ESPN Fantasy Baseball Draft Kit. It is being republished unaltered here for your convenience.
Baseball is an ever-advancing statistical game, and as we proceed further into the 21st century, it seems more metrics are being introduced every season. As you'll read in many of our columns, in our player profiles and on our pages, we've included many of these new, sabermetric concepts into our player analysis.

To help familiarize fantasy owners with these new metrics, we're providing this handy reference guide to explain the meaning and calculations behind each:
Batting average on balls in play: This metric is discussed extensively in my BABIP primer and 2009 analysis columns in our draft kit. BABIP, invented by Voros McCracken in 1999, typically is used to measure luck's impact on a hitter's or pitcher's balls in play. Specifically, it calculates a hitter's batting average or pitcher's batting average allowed on any non-walk, strikeout or home run outcome. If we're talking about BABIP, most likely we're doing so as a way of demonstrating how a certain player was either extremely lucky or unlucky during a given period. The major league average for BABIP is generally about .300; in 2009, for example, it was .299. The formula: Hits minus home runs, divided by at-bats minus home runs minus strikeouts plus sacrifice flies -- or (H - HR)/(AB - HR - K + SF).
Command rates: These statistics measure a pitcher's numbers in the "three true outcome" categories of walks, strikeouts and home runs, and help identify those who have strong command of their pitches. Common categories include: strikeouts per nine innings (K/9), walks per nine innings (BB/9), strikeout-to-walk ratio (K/BB) and home runs allowed per nine innings (HR/9). The best fantasy pitchers tend to rank among the leaders in these four categories, so they're every bit as meaningful as examining wins, ERA and WHIP.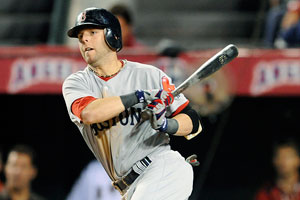 Matt A. Brown/Icon SMIDustin Pedroia led all (qualified) major leaguer hitters in contact percentage in 2009. He struck out just 45 times in 626 at-bats.
Contact rate: Somewhat self-explanatory, it's the percentage of at-bats in which a hitter makes contact. This statistic is most useful for determining a hitter's batting-average potential, as those with higher contact rates typically hit for higher averages. The major league average in the category can fluctuate, especially across different eras, but in 2009 it was 79.7 percent. The formula: At-bats minus strikeouts divided by at-bats, or (AB - K)/AB.
Isolated power: ISO measures a hitter's raw power, as it rewards only extra bases earned on extra-base hits; as in, the extra base for a double, two extras for a triple and three for a home run. Hitters who excel in this category tend to fare well in the power-based rotisserie categories such as home runs and RBIs. The major league average for ISO in 2009 was .155. The formula: Doubles plus triples multiplied by two plus home runs multiplied by three, divided by at-bats, or (2B + (3B * 2) + (HR * 3))/AB. ISO also can be calculated by subtracting batting average (BA) from slugging percentage (SLG).
Offensive statistics: Fantasy owners should familiarize themselves with players' numbers in on-base percentage and slugging percentage, as those categories and not batting average generally paint a better picture of a hitter's natural ability. In many of our profiles we list a hitter's stats in all three categories -- sometimes called "triple slash" -- as AVG/OBP/SLG.
OPS: A popular statistical tool of the past decade-plus, OPS is a player's on-base plus slugging percentage, or the combined total of his numbers in those two categories. Typically, the best hitters in baseball tend to rank among the leaders in OPS. It can, however, be somewhat misleading, as a player who had an especially high on-base percentage or slugging percentage, but not both, might look as equally skilled as the one whose strength was the opposite. It's for that reason that many of our player profiles list the aforementioned AVG/OBP/SLG, instead of straight OPS, to give you a greater sense of skill sets.
Steals rate: It's not a readily available statistic, but it can be calculated using numbers available on Baseball-Reference.com. This is the percentage of a player's stolen-base attempts compared to his total number of opportunities. Steals rates can help identify players who might have lost a step, players who have improved their ability to read opposing pitchers on the base paths or managers who like to employ the steal more than others. The formula: Stolen bases plus times caught stealing, divided by stolen-base opportunities (can be found on Baseball-Reference.com, which defines them as "plate appearances through which a runner was on first or second with the next base open"), or (SB + CS)/SBO.

Range factor: This calculates the number of defensive plays a player made per nine innings in the field at a certain position. More helpful than fielding percentage, range factor identifies players who have the ability to cover more ground in the field. The problem: Range factor doesn't account for a player's number of opportunities at his position; for example, a team with a pitching staff that generates more ground balls than the league average might have a shortstop with a higher-than-usual number in the category. The formula: Putouts and assists multiplied by nine, divided by innings played at the position, or (PO + A)*9/INN.


Strand rate: Also known as left-on-base percentage, this measures a pitcher's ability to prevent runners he has allowed to reach base from scoring. Extreme variances from the major league average can be interpreted as luck taking effect, but it's just as likely that bullpen support, defense or a pitcher's natural tendency is responsible. To the latter point, Luke Hochevar is one pitcher who historically has had trouble stranding men on base (61.8 percent strand rate from 2007 to '09), while Scott Kazmir has been exceptional at it (74.8 the past three years).

A pitcher's comfort level with the windup versus the stretch can impact his strand rate. The major league average for strand rate is generally about 72 percent; in 2009, it was 71.9. The formula: Hits plus walks plus hit batsmen minus runs, divided by hits plus walks plus hit batsmen minus home runs multiplied by 1.4, or (H + BB + HB - R)/(H + BB + HB - (HR * 1.4)).

Ultimate zone rating (UZR): This stat is easily found on FanGraphs.com, which describes it as "the number of runs above or below average a fielder is in both range runs, outfield arm runs, double play runs and error runs combined." Ultimate zone rating also can be calculated per 150 games, called UZR/150. Although this defensive metric shouldn't be considered the source for evaluating players, it's certainly helpful in combination with other statistics or when compared with the player's past performance in the category. Fantasy owners might find it especially useful in identifying which pitchers have the strongest defenses.

Tristan H. Cockcroft is a fantasy baseball analyst for ESPN.com and a two-time champion of the League of Alternative Baseball Reality (LABR) experts league. You can e-mail him here, or follow him on Twitter @SultanofStat.
Fantasy
Senior writer for ESPN.com
Co-host of the Fantasy Focus Baseball podcast
Two-time LABR, two-time Tout Wars champion
Member of the FSWA Hall of Fame
SPONSORED HEADLINES
FANTASY TOP HEADLINES
MOST SENT STORIES ON ESPN.COM
2012 Fantasy Baseball Draft Kit
ESPN.com's experts have all the information you need to succeed in your fantasy draft.
Draft Kit home
Play for free
2012 Projections and Profiles
• All players | Sortable statistics
• More: C | 1B | 2B | 3B | SS | OF | SP | RP
2012 Rankings
• Top 300 | AL-only | NL-only
• Points Leagues | Cheat sheets
• Custom roto dollar value generator


• Fantasy Draft Engine


• Catcher: Rankings | Preview
• First Base: Rankings | Preview
• Second Base: Rankings | Preview
• Third Base: Rankings | Preview
• Shortstop: Rankings | Preview
• Outfield: Rankings | Preview
• Designated Hitter: Rankings
• Starting Pitcher: Rankings | Preview
• Relief Pitcher: Rankings | Preview
• Tristan H. Cockcroft's Top 250 keepers
Talented Mr. Roto
• Bold predictions for the season
• Berry's Guys I Love, Guys I Hate
• Matthew Berry's Top 250 Rankings
• Matthew Berry's Draft-Day Manifesto
• Berry's "100 Facts to know" for 2012
• Mock Draft with 11 Average Joes

Mock Drafts
• Mock 4.0: 5x5 roto leagues
• Berry versus 11 Average Joes
• Head-to-head points leagues
• 5x5 Rotisserie leagues
• Mock Draft Lobby
• Live Draft Results
Analysis
• Position battle winners, losers
• ADP reveals drafting trends
• Staff sleeper and bust picks
• Tristan's Twenty: Cockcroft's 2012 targets
• Bleagh! The guys Tristan doesn't like for 2012
• Cockcroft's 'perfect' draft
• The components of ERA
• Understanding the BABIP statistic
• Cockcroft's "Kings of Command"
• Which teams got worse defensively?
• Spring watch list
• 2013 free agents to be, by position
• 'Mulligan' ERAs: The impact of awful starts
• Dissecting wins for pitchers
• Why negative BA can be overrated
• Notable offseason moves | All moves
• 30 Questions archive
Strategy
• Taking advantage of position flexibility
• Points leagues primers: Pitchers | Hitters
• Fantasy 101: Intro to fantasy baseball
Stephania Bell
• Injury updates: Hitters | Pitchers
• Injuries: C | 1B | 2B | SS | 3B | OF | SP | RP
• Who's recovering from Tommy John surgery?
Insider
• Goldstein: Top 50 prospects

| 51-100


• Eric Karabell: Top 100

| Five prospects


• Karabell: My 2012 "Do Not Draft" list


• Karabell: Bold stat predictions


• Karabell: Steals sleepers


• Karabell: Bounce-back sleepers for 2012


• Keith Law: Top 100 prospects for 2012


• Dan Szymborski: MLB's best sophomores


• Szymborski: Nine make-or-break players


• Szymborski: Breakout hitters | Pitchers


• Dave Cameron: Spring stats that matter


• Todd Zola: Players with new home parks


• Todd Zola: 10 surprising park factors


• Todd Zola: Advanced auction strategy

• Todd Zola: Head-to-head points strategy

Rankings Roundtable
• Matt Wieters could be the No. 1 catcher


• Dee Gordon's steals upside


• Is Alex Rodriguez "washed up?"


• When should you draft your first closer?


• Is Derek Jeter still a top-10 shortstop?


• Can you trust Brian Wilson?


• What to expect from Dan Uggla in 2012


• Just how good is Desmond Jennings?


• Will Jason Motte be a reliable closer?


• What is Starlin Castro's upside?