2012 Position Preview: First base
Some things never change: This position is loaded ... at least in the AL
Updated:
March 28, 2012, 11:59 AM ET
By
AJ Mass
| ESPN.com
The first base position in 2012 is a tale of two leagues.
Last year, there were 16 players with first base eligibility who finished in the top 100 of the ESPN Player Rater. Only six of those players were from the National League. We say "were" because with the free-agent defections of Albert Pujols and Prince Fielder to the land of the designated hitter, we're down to only four left in the senior circuit.
Throw in offseason surgery for Ryan Howard and a questionable return date, and you can easily see the seesaw not only leaning toward the American League, but it has catapulted NL-only league owners clear out of the first base playground. Those owners will definitely be in a draft-day race to say the name "Joey Votto."
Still, from a mixed-league standpoint, there's no issue with which stadium or league the talent calls home, and there is indeed plenty of talent to be found at this position. There should be no shortage of 20-homer hitters, and if you throw designated hitters into the mix, there are tons of utility options that you'll be able to dig up in the late rounds of your draft or on the waiver wire when all is said and done.
Cream of the Crop
First Base Rankings
1. Miguel Cabrera, Det, 1B (1)
2. Albert Pujols, LAA, 1B (2)
3. Joey Votto, Cin, 1B (10)
4. Adrian Gonzalez, Bos, 1B (14)
5. Prince Fielder, Det, 1B (18)
6. Mark Teixeira, NYY, 1B (24)
7. Paul Konerko, CWS, 1B (36)
8. Eric Hosmer, KC, 1B (45)
9. Mike Napoli, Tex, C, 1B (47)
10. Carlos Santana, Cle, C, 1B (52)
11. Lance Berkman, StL, 1B, OF (59)
12. Michael Morse, Was, 1B, OF (83)
13. Michael Cuddyer, Col, 1B, OF (90)
14. Michael Young, Tex, 1B, 3B (93)
15. Freddie Freeman, Atl, 1B (116)
16. Adam Lind, Tor, 1B (132)
17. Carlos Lee, Hou, 1B, OF (152)
18. Mark Reynolds, Bal, 3B, 1B (153)
19. Gaby Sanchez, Mia, 1B (159)
20. Paul Goldschmidt, Ari, 1B (179)
21. Carlos Pena, TB, 1B (190)
22. Ryan Howard, Phi, 1B (194)
23. Edwin Encarnacion, Tor, 3B, 1B (202)
24. Ike Davis, NYM, 1B (206)
25. Lucas Duda, NYM, 1B, OF (209)
26. Adam Dunn, CWS, 1B (215)
27. Mark Trumbo, LAA, 1B (223)
28. Mitch Moreland, Tex, 1B, OF (224)
29. Mike Carp, Sea, 1B, OF (226)
30. Brandon Belt, SF, 1B, OF (232)
31. Daniel Murphy, NYM, 2B, 3B, 1B (234)
32. Kendrys Morales, LAA, 1B (247)
33. James Loney, LAD, 1B (253)
34. Justin Morneau, Min, 1B (268)
35. Chris Davis, Bal, 3B, 1B (269)
36. Aubrey Huff, SF, 1B, OF (298)
37. Justin Smoak, Sea, 1B (314)
38. Todd Helton, Col, 1B (316)
39. Adam LaRoche, Was, 1B (317)
40. Jesus Guzman, SD, 1B (334)
Players listed at positions at which they are eligible in ESPN standard leagues. Rankings based on 2012 projections in mixed 5x5 rotisserie leagues. Overall position ranking is indicated in parentheses.
Although Miguel Cabrera is set to return to third base now that the Detroit Tigers have Prince Fielder in the fold, he won't qualify there right out of the gate. For now, this is where you have to play him. Luckily, defense does not count, so even if he returns to the form (or lack thereof) that saw him commit 48 errors in five seasons at third base in Florida, so what? You're still looking at one of the only legitimate candidates for a run at the Triple Crown.
The other legit Triple Crown threat is Pujols, who makes the move from St. Louis to Anaheim. Lest you think the change in leagues is going to cause him a ton of difficulty, let us point out that "The Machine" hit .348 in interleague play in 2011, which happens to match his career average against American League pitching. Maybe he won't be hitting .300 at the end of his new 10-year deal, but for year one? We'll take our chances.
Joey Votto simply knows how to get on base. He led the National League in doubles last season with 40, as well as in walks with 110. Over the past three seasons, his OBP has been .414, .424 and last year's .416. Perhaps the best news for the 2010 NL MVP is that he's signed through the 2013 season, so he doesn't have to worry about being sold off for parts halfway through the year if things go south for the Reds.
The surgically repaired shoulder of Adrian Gonzalez reportedly suffered from fatigue at the end of 2011, which is why the first baseman's power numbers started to sag. Still, despite only 10 second-half home runs, Gonzalez was finished the season with a .338 average and a major league-leading 213 hits. Maybe it's unrealistic to think he'll match his .376 batting average at Fenway through Aug. 14 (before the shoulder started to bother him), but even a 50-point drop could still mean an MVP-caliber season.
The next best thing
Prince Fielder doesn't miss games, and that was without the luxury of getting frequent "days off" by being used regularly as a DH in Milwaukee. Even if Detroit doesn't choose to go that route, expecting a full slate of games from a slugger such as Fielder should produce solid results, though the optimism is somewhat tempered by the "changing leagues" adjustment period (Fielder has a career .269 average against American League pitching), along with his .272 road batting average in 2011 (compared to his .326 mark in Milwaukee.)
Mark Teixeira's power is as consistent as ever. He's one of only eight hitters with more than 100 home runs since 2009. Even though his batting average has been on a steady decline since 2008, that can at least be partially attributed to the defensive shift that is used against the pull hitter. With the slugger having lost some weight and hinting that he may drop a few bunts down to keep that shift in check, perhaps a batting average rebound might accompany the expected 35 home runs.
[+] Enlarge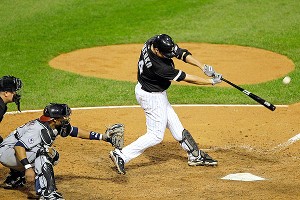 AP Photo/Nam Y. HuhPaul Konerko just keeps clickin' right along as he approaches 36 years old.
Somehow, ageless wonder Paul Konerko is still doing it. Consider this stat line: .283 average, 32 homers, 99 RBIs. That was Konerko in 2001. Last season, a full decade later, he managed the following season: .300, 31 homers, 105 RBIs. His BB/K rate is almost twice the league average, making him a solid points-league selection as well. In short, the only thing that may stop Konerko is Father Time -- he'll be 36 in March -- because opposing pitchers still haven't figured out how to.
Adam Lind is not quite ready for inclusion in this category, in part because few players are as impatient at the plate as the Toronto first baseman. However, if he can somehow manage to improve on his career .223 average against left-handed pitching by working the count more, he could well break into this neighborhood. After all, over the past three seasons, the lefty slugger has hit .311 against southpaws when ahead in the count as opposed to .133 when behind.
Youth Being Served
There's plenty of reason for optimism surrounding Eric Hosmer following his fine rookie campaign. Like many youngsters, he hit for a better average at home than on the road (.318 versus .270). He also got more comfortable as the year went on, with a .313 batting average after the All-Star break, up from .268 in the first half. The only noticeable downside is his lack of home runs at home (three homers in 245 home at-bats, 16 long balls in 278 at-bats on the road), thanks in part to Kauffman Stadium ranking next to last in terms of power production last season.
Freddie Freeman was also better at home and better in the second half, but there's a little more concern with him than with Hosmer. Freeman hit just .148 over his final 15 games of the season, all against divisional foes who had faced him many times before. Freeman must choose his spots more wisely, and if his 34 percent chase rate doesn't drop, then his batting average surely will.
Gaby Sanchez's second season was a near carbon copy of his rookie one. That kind of consistency makes the projection process a lot simpler, as there's not much to try and "figure out" about what he may or may not have done differently. Assuming the new ballpark in Miami isn't much of a factor going forward, you can pretty much rely on Sanchez getting you about 20 home runs and 80 RBIs. That's not spectacular, but it's serviceable.
After he belted 30 homers at the Double-A level, Arizona jumped Paul Goldschmidt to the big leagues in August, and he proved the power was no fluke. With eight homers in 156 at-bats, we're looking at 25 home runs, easy, over the course of a full season. Of course, we're also probably looking at about 175 strikeouts, which pretty much makes him Jack Cust or Mark Reynolds. Perhaps this is the reason to avoid putting too much weight into small sample sizes.
Hitters from elsewhere
Multipositional eligibility runs rampant at first base, and catchers such as Mike Napoli and Carlos Santana may well rank in the top 10 among first baseman, but they have far more value if used by fantasy owners behind the plate.
In terms of three names who also qualify in the outfield and can give you in the neighborhood of a .285 average, 25 homers and 85 RBIs, you're looking at Lance Berkman, Michael Morse and Michael Cuddyer. Cuddyer's numbers should get an extra boost by moving from Target Field (No. 20 on ESPN's Park Factors list for home runs) to the high altitude in Denver.
By the way, these three, along with the trio of youngsters (Freeman, Sanchez, Goldschmidt) listed in the prior section, are the best players available in NL-only leagues after Joey Votto goes off the board. We weren't kidding about the lack of depth here, folks.
DH-only
While not exactly first basemen by trade, the following players who qualify only at the DH spot are most likely to see action at first base, should they take the field at all this season.
[+] Enlarge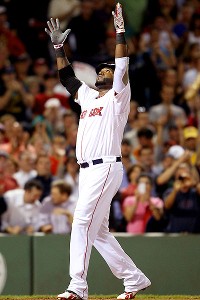 Elsa/Getty ImagesDavid Ortiz finished ahead of such players as Paul Konerko and Andrew McCutchen on the Player Rater in 2011.
David Ortiz suddenly developed an eye at the plate, swinging and missing at only 17.5 percent of pitches, down from 26.1 percent in 2010. As a result, his BB/K rate rose all the way to 0.94, and without any loss of power production. No wonder his batting average jumped nearly 40 points last season.
Going in the opposite direction is Billy Butler, who saw a rise in strikeouts along with a 27-point drop in batting average. With so much power expected from the first base slot, where Butler ended up playing just 11 times last season, you probably need someone in mixed leagues who is going to give you more pop than this Royal will provide.
Travis Hafner's injury risk is great, considering he has been unable to surpass the 120-game plateau since 2007. Then there's Jim Thome, who goes to Philadelphia and likely will be used primarily as a pinch hitter once Ryan Howard is able to return to the lineup.
Coming with baggage
Ryan Howard is but one of many injured players who has tons of question marks hanging over his head for the 2012 season. Although the Phillies are hoping for a May return, that's far from a guarantee after offseason Achilles' surgery.
Ike Davis played in only 36 games in 2011 because of a severe ankle injury, but he has been calling himself ready to play again since October. His health will have some impact on the playing time of Lucas Duda, who likely will rotate around the outfield if Davis can play full-time.
Another timeshare that needs to play out is in Anaheim, where Kendrys Morales hasn't seen the field since his ill-fated post-homer celebration in May 2010. Both he and Mark Trumbo will be battling for at-bats now that Albert Pujols will be settled in at first base.
Then there's Justin Morneau, who went under the knife four times last season in addition to experiencing the recurrence of post-concussion symptoms that kept him out of the lineup for all but 69 games. At the very least, we're pretty sure things can't get any worse in 2012. If he can play in 100 games and hit 15 home runs, fantasy owners who gamble on him late in drafts should be thrilled.
Big risk involved
Carlos Pena has been a batting-average anchor for several seasons now, and a return to Tampa Bay likely won't change that fact. After all, last year's journey to Wrigley Field didn't alter his typical bottom line. Expect a .220 batting average to come along with his near-30 homers.
Play Fantasy Baseball

You lose 100 percent of the leagues you don't join.

Play For Free on ESPN.com »
When it comes to Adam Dunn's precipitous drop of almost 100 points in batting average, it's a little bit more alarming. Dunn simply couldn't catch up to the fastball, hitting just .160 against pitches he used to clobber at a .300 clip. Bat speed isn't something that typically improves with age. Consider us concerned.
Mitch Moreland had surgery on his right wrist in November, and the recovery time is expected to be two to three months, but could well linger longer. Texas has signed Conor Jackson and Brad Hawpe to minor league deals, and while that might simply be seen as covering itself just in case, there's still a chance that one of them impresses enough in Moreland's absence to cut into the expected starter's 2012 playing time.
James Loney had a rough offseason stemming from a November traffic accident, but while no charges were filed against him in that incident, he is definitely guilty of being a below-average fantasy option at first base. With just a .213 batting average against lefties last season, along with little pop and only so-so speed, he doesn't do enough to help you in any one category.
Future snapshot
Yonder Alonso was traded to San Diego, so he's no longer stuck in the Cincinnati system behind Joey Votto. Though a potential arrival in Petco Park won't exactly cause his power numbers to explode, he could still manage to hit around 12-15 homers and drive in 70-75 runs if all goes well. Keep in mind, though, that at the start of the season, Alonso will qualify only in the outfield.
[+] Enlarge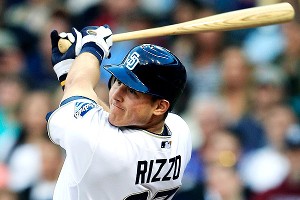 AP Photo/Lenny IgnelziWhen will Anthony Rizzo make his Cubs debut?
Anthony Rizzo was acquired from San Diego and is expected to start the season at Triple-A, a level where he hit .331 with 26 home runs and 101 RBIs last season. Jed Hoyer, part of the new Chicago regime, admits he rushed Rizzo to the majors last season while still with the Padres, and he won't make that mistake again. Still, with Pacific Coast League MVP Bryan LaHair as the probable Opening Day starter at first base for the Cubs, if he falters, Rizzo could get a call sooner rather than later.
Points versus Roto
In points leagues, it's all about getting on base, regardless of how it happens. That's why a high OBP has more of an impact than a high batting average does. Thanks to that fact, you should look a bit more favorably at players such as Lance Berkman, Carlos Pena and Brandon Belt. On the flipside, players like Eric Hosmer and Michael Young, who rarely draw walks, should get a few demerits.
The other key stat to target is a low BB/K rate. Because strikeouts cost you points, players like Michael Morse, Adam Lind and Mark Reynolds all hurt you greatly in that department. Contrast those names with hitters such as Lance Berkman, Carlos Lee and Todd Helton, all of whom have the plate discipline to counter any whiff deductions with the walk.
The Bottom Line
Last season, 14 of the 31 players who had 28 or more home runs qualified at first base. You're going to want to get your power here. If you're in a mixed league or an AL-only format, you're probably going to want to come back for seconds and possibly even thirds. However, if you're playing in an NL-only league, there's a tier of one (Joey Votto) and then a huge drop-off to the next half-dozen names. So make sure you get in line early, or don't bother showing up till late.
AJ Mass is a fantasy baseball, football and college basketball analyst for ESPN.com. His book, "How Fantasy Sports Explains the World" is available for purchase here.You can e-mail him here.
Follow AJ Mass on Twitter: @AJMass
2012 Fantasy Baseball Draft Kit
ESPN.com's experts have all the information you need to succeed in your fantasy draft.
Draft Kit home
Play for free
2012 Projections and Profiles
• All players | Sortable statistics
• More: C | 1B | 2B | 3B | SS | OF | SP | RP
2012 Rankings
• Top 300 | AL-only | NL-only
• Points Leagues | Cheat sheets
• Custom roto dollar value generator


• Fantasy Draft Engine


• Catcher: Rankings | Preview
• First Base: Rankings | Preview
• Second Base: Rankings | Preview
• Third Base: Rankings | Preview
• Shortstop: Rankings | Preview
• Outfield: Rankings | Preview
• Designated Hitter: Rankings
• Starting Pitcher: Rankings | Preview
• Relief Pitcher: Rankings | Preview
• Tristan H. Cockcroft's Top 250 keepers
Talented Mr. Roto
• Bold predictions for the season
• Berry's Guys I Love, Guys I Hate
• Matthew Berry's Top 250 Rankings
• Matthew Berry's Draft-Day Manifesto
• Berry's "100 Facts to know" for 2012
• Mock Draft with 11 Average Joes

Mock Drafts
• Mock 4.0: 5x5 roto leagues
• Berry versus 11 Average Joes
• Head-to-head points leagues
• 5x5 Rotisserie leagues
• Mock Draft Lobby
• Live Draft Results
Analysis
• Position battle winners, losers
• ADP reveals drafting trends
• Staff sleeper and bust picks
• Tristan's Twenty: Cockcroft's 2012 targets
• Bleagh! The guys Tristan doesn't like for 2012
• Cockcroft's 'perfect' draft
• The components of ERA
• Understanding the BABIP statistic
• Cockcroft's "Kings of Command"
• Which teams got worse defensively?
• Spring watch list
• 2013 free agents to be, by position
• 'Mulligan' ERAs: The impact of awful starts
• Dissecting wins for pitchers
• Why negative BA can be overrated
• Notable offseason moves | All moves
• 30 Questions archive
Strategy
• Taking advantage of position flexibility
• Points leagues primers: Pitchers | Hitters
• Fantasy 101: Intro to fantasy baseball
Stephania Bell
• Injury updates: Hitters | Pitchers
• Injuries: C | 1B | 2B | SS | 3B | OF | SP | RP
• Who's recovering from Tommy John surgery?
Insider
• Goldstein: Top 50 prospects

| 51-100


• Eric Karabell: Top 100

| Five prospects


• Karabell: My 2012 "Do Not Draft" list


• Karabell: Bold stat predictions


• Karabell: Steals sleepers


• Karabell: Bounce-back sleepers for 2012


• Keith Law: Top 100 prospects for 2012


• Dan Szymborski: MLB's best sophomores


• Szymborski: Nine make-or-break players


• Szymborski: Breakout hitters | Pitchers


• Dave Cameron: Spring stats that matter


• Todd Zola: Players with new home parks


• Todd Zola: 10 surprising park factors


• Todd Zola: Advanced auction strategy

• Todd Zola: Head-to-head points strategy

Rankings Roundtable
• Matt Wieters could be the No. 1 catcher


• Dee Gordon's steals upside


• Is Alex Rodriguez "washed up?"


• When should you draft your first closer?


• Is Derek Jeter still a top-10 shortstop?


• Can you trust Brian Wilson?


• What to expect from Dan Uggla in 2012


• Just how good is Desmond Jennings?


• Will Jason Motte be a reliable closer?


• What is Starlin Castro's upside?

MOST SENT STORIES ON ESPN.COM