Commentary
30 Questions: Los Angeles Angels
Updated:
March 27, 2012, 4:37 PM ET
By
AJ Mass
| ESPN.com

Who loses at-bats following the offseason signing of Albert Pujols?
I recently took a flight home from Florida, and when I got to the airport gate, the agent behind the counter announced that the plane had been overbooked. They were looking for volunteers to give up their seat on the plane in exchange for an upgrade to first class on a later flight.
This is not an uncommon occurrence in the airline industry, but when it comes to major league franchises setting their rosters for the upcoming season, you don't often see teams with a glut of players for so few open spots in the lineup as the Angels do in 2012.
Yet after the Los Angeles Angels signed free-agent first baseman Albert Pujols to a 10-year deal worth more than owner Arte Moreno paid for the entire team back in 2003, that's exactly the situation this franchise faces. Obviously, the Angels aren't going to sit Pujols, a three-time MVP. Even though he is coming off arguably the worst season of his career, his .299 batting average, 37 home runs and 99 RBIs were still better than all Angels hitters (in all three categories) in 2011.
Though Pujols could get starts as the team's designated hitter from time to time, there's no doubt his presence in the lineup will be an everyday occurrence, and those expected 580 or so at-bats will eat into the playing time of a regular option (or three) from last season.
The Angels have overbooked their roster for 2012, so who must give up his proverbial seat? Let's take a quick look at last year's playing time breakdown and then determine who loses the most PT as a result of the Pujols signing.
Now, the easy route here would be to simply push two of the above players into some sort of platoon and call it a day. However, Pujols is not the only extra name in the mix for regular playing time. The Angels also have highly touted prospect Mike Trout waiting in the wings. He was likely a long shot to make the roster this spring, especially after hitting a disappointing .220 in 40 games with the big league club last year. And those chances likely dropped close to zero after Trout endured a viral infection and then, after his return to spring action, faced a bout of shoulder tendinitis. Still, even if he does start the season at Triple-A, odds are he'll be called up at some point in 2012 to further diminish the available outfield at-bats.
[+] Enlarge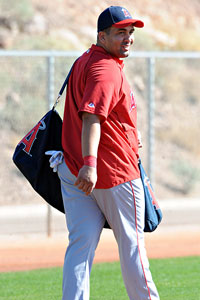 Kirby Lee/US PresswireKendrys Morales, returning from a May 2010 injury, is the biggest wild card of the bunch.
Lastly, there's Kendrys Morales, who has not played in a major league game since fracturing his left ankle in a freak injury on May 29, 2010. It remains to be seen whether Morales will be able to patrol the outfield on a regular basis or not. For the time being, it's more likely that he will be inserted into the lineup as the DH to keep the wear and tear on the first baseman/outfielder down.
Manager Mike Scioscia is not one for juggling his defensive lineup on a regular basis. He'll likely rely primarily on the trio of Torii Hunter, Peter Bourjos and Vernon Wells on most days, which leaves Mark Trumbo and Bobby Abreu as the probable odd men out.
However, in an attempt to keep Trumbo (who hit a team-high 29 home runs in 2011) in the mix, the team began toying around with the idea of playing him at third base. Originally, the plan was to have him slot in at the hot corner for around 30-40 games this season, but after a spring tryout, Scioscia has reportedly been impressed with Trumbo's progress.
"We feel he has the potential to be a terrific third baseman, but he's not there yet. It's going to take a little time," Scioscia told the Los Angeles Times. "But he's making the routine plays. … If he plays well enough, he'll not only make the plays we need, but get his at-bats."
That probably keeps Trumbo's value up, at the expense of Alberto Callaspo, whose already-limited fantasy value likely slips down the rankings list into the "undraftable" territory. But it still leaves one player without a boarding pass in Anaheim, and that's veteran Bobby Abreu.
Abreu has seen the writing on the wall and has already had closed-door meetings this spring with Scioscia and general manager Jerry Dipoto. Abreu wants to be a full-time player and will not be content with just the occasional start. He has fully endorsed a trade to another team where he can be guaranteed everyday at-bats, but the Angels have reportedly assured him he'll get plenty of playing time in Los Angeles.
Then again, it's hard to get someone to accept a deal for a 38-year-old with a $9 million contract who is hitting about .100 in Cactus League play. So the Angels likely have to tell Abreu what he wants to hear, as the only other alternative is simply to cut him outright. That may well be the end result here, but it would make sense for the team to make sure Morales' foot is going to hold up before taking such a decisive action.
So let's ask the question again: Who loses at-bats as a result of Pujols taking over at first base? Surprisingly, it's only "innocent bystander" Alberto Callaspo. Bobby Abreu only loses his at-bats because Kendrys Morales is returning to the team and won't be able to steal his swings from anybody else. Neither of that pair is worth drafting in mixed leagues anyway.
Apart from that, the only reason any of the Angels would find their playing time diminished is due to either injury or their own offensive struggles as the season goes on. A repeat of a .218 batting average from Vernon Wells, for instance, is not going to be tolerated, but that would have been the case whether or not Mr. Pujols had joined the team.
If anything, Pujols' arrival only adds value to the fantasy-worthy players with whom he now shares a locker room. Perhaps some of them might be standing in different spots on the field than they had planned, but they all should be able to enjoy the ride.
SPONSORED HEADLINES
FANTASY TOP HEADLINES
MOST SENT STORIES ON ESPN.COM
2012 Fantasy Baseball Draft Kit
ESPN.com's experts have all the information you need to succeed in your fantasy draft.
Draft Kit home
Play for free
2012 Projections and Profiles
• All players | Sortable statistics
• More: C | 1B | 2B | 3B | SS | OF | SP | RP
2012 Rankings
• Top 300 | AL-only | NL-only
• Points Leagues | Cheat sheets
• Custom roto dollar value generator


• Fantasy Draft Engine


• Catcher: Rankings | Preview
• First Base: Rankings | Preview
• Second Base: Rankings | Preview
• Third Base: Rankings | Preview
• Shortstop: Rankings | Preview
• Outfield: Rankings | Preview
• Designated Hitter: Rankings
• Starting Pitcher: Rankings | Preview
• Relief Pitcher: Rankings | Preview
• Tristan H. Cockcroft's Top 250 keepers
Talented Mr. Roto
• Bold predictions for the season
• Berry's Guys I Love, Guys I Hate
• Matthew Berry's Top 250 Rankings
• Matthew Berry's Draft-Day Manifesto
• Berry's "100 Facts to know" for 2012
• Mock Draft with 11 Average Joes

Mock Drafts
• Mock 4.0: 5x5 roto leagues
• Berry versus 11 Average Joes
• Head-to-head points leagues
• 5x5 Rotisserie leagues
• Mock Draft Lobby
• Live Draft Results
Analysis
• Position battle winners, losers
• ADP reveals drafting trends
• Staff sleeper and bust picks
• Tristan's Twenty: Cockcroft's 2012 targets
• Bleagh! The guys Tristan doesn't like for 2012
• Cockcroft's 'perfect' draft
• The components of ERA
• Understanding the BABIP statistic
• Cockcroft's "Kings of Command"
• Which teams got worse defensively?
• Spring watch list
• 2013 free agents to be, by position
• 'Mulligan' ERAs: The impact of awful starts
• Dissecting wins for pitchers
• Why negative BA can be overrated
• Notable offseason moves | All moves
• 30 Questions archive
Strategy
• Taking advantage of position flexibility
• Points leagues primers: Pitchers | Hitters
• Fantasy 101: Intro to fantasy baseball
Stephania Bell
• Injury updates: Hitters | Pitchers
• Injuries: C | 1B | 2B | SS | 3B | OF | SP | RP
• Who's recovering from Tommy John surgery?
Insider
• Goldstein: Top 50 prospects

| 51-100


• Eric Karabell: Top 100

| Five prospects


• Karabell: My 2012 "Do Not Draft" list


• Karabell: Bold stat predictions


• Karabell: Steals sleepers


• Karabell: Bounce-back sleepers for 2012


• Keith Law: Top 100 prospects for 2012


• Dan Szymborski: MLB's best sophomores


• Szymborski: Nine make-or-break players


• Szymborski: Breakout hitters | Pitchers


• Dave Cameron: Spring stats that matter


• Todd Zola: Players with new home parks


• Todd Zola: 10 surprising park factors


• Todd Zola: Advanced auction strategy

• Todd Zola: Head-to-head points strategy

Rankings Roundtable
• Matt Wieters could be the No. 1 catcher


• Dee Gordon's steals upside


• Is Alex Rodriguez "washed up?"


• When should you draft your first closer?


• Is Derek Jeter still a top-10 shortstop?


• Can you trust Brian Wilson?


• What to expect from Dan Uggla in 2012


• Just how good is Desmond Jennings?


• Will Jason Motte be a reliable closer?


• What is Starlin Castro's upside?