Commentary
30 Questions: Atlanta Braves
Updated:
March 21, 2012, 4:51 PM ET
By
Mike Sheets
| Special to ESPN.com

Which Jason Heyward will we get in 2012?
In the "Seinfeld" episode "The Strike," Jerry dates a girl named Gwen who is labeled a "two-face" by George. Depending on the lighting, she's either a complete knockout or borderline repulsive, so Jerry finds himself in a predicament because he doesn't know which version of Gwen he'll get on a given night. Likewise, Jason Heyward has been in the big leagues for two seasons now, and fantasy owners have seen two very different versions of the Atlanta Braves outfielder. One was a blossoming young slugger with superstar potential; the other barely managed to finish the year as a top-400 fantasy player. Unfortunately, we can't blame the "ugly" version of Heyward on a dimly lit clubhouse.
Heading into draft day last season, Heyward was the No. 13 outfielder in ESPN's rankings and ranked No. 41 overall. He was coming off a rookie campaign in which he batted .277 with 18 home runs, 72 RBIs and 11 stolen bases in 142 games, a performance that ranked him as a top-40 outfielder on the ESPN Player Rater and led to a second-place finish behind Buster Posey in the NL Rookie of the Year voting.
While those numbers may seem solid but unspectacular, it's important to keep Heyward's age in perspective. For the majority of his rookie campaign, he was only 20 years old. Most players are still playing at Class A at that age. Ryan Braun, for example, produced numbers during his rookie season -- .324-34-97 in 451 at-bats -- that dwarfed Heyward's, but the Milwaukee Brewers slugger was 24 at the time. That Heyward had that level of success at the big league level at such a young age is really quite remarkable, especially considering he spent virtually no time at Triple-A (just 11 at-bats).
[+] Enlarge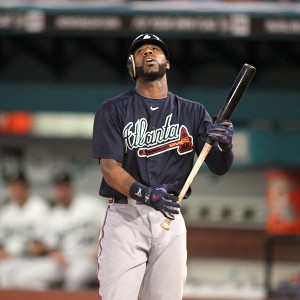 Marc Serota/Getty ImagesHow much of Jason Heyward's 2011 woes can be attributed to his shoulder?
The patience Heyward displayed at the plate during his rookie year was particularly noteworthy, as his .393 OBP ranked eighth in baseball, and his 14.6 percent walk rate tied Jose Bautista for the game's fifth-highest mark. More important, those numbers lined up with what he produced in the minors -- a .390 OBP in 240 minor league games and a 14.4 percent walk rate between Double-A and Triple-A -- which is a good indication that his rookie season was an accurate reflection of his skill level.
Heyward producing right out of the gate wasn't particularly surprising, either. After all, the former first-round pick batted .317/.390/.507 during his minor league career and was regarded by Baseball America as the No. 5 overall prospect in 2009 and the No. 1 overall prospect in 2010, so expectations were already lofty. In his Top 100 prospects list from 2010, our own Keith Law acknowledged that while Heyward's swing isn't perfect, "… he's so strong and has such bat speed that the minor flaw has been irrelevant at every stop of his pro career. Everything else here points to stardom." Needless to say, Heyward's rookie season was thought to be the first step toward just that.
Everything came crumbling down in 2011, however, as Heyward hit .227 with 14 homers and 42 RBIs in 396 at-bats. His .260 batting average on balls in play didn't help matters, but too much went wrong last year to simply blame it all on bad luck. His 14.6 percent walk rate from 2010 dipped to 11.2 percent. His 17.8 percent line-drive rate from 2010 fell to 13.1 percent. He also swung at 28.8 percent of pitches outside the strike zone, an increase over his 24.2 percent mark from 2010. On top of that, 21.8 percent of the fly balls he hit were infield popups, which would've been the highest percentage in baseball had he received enough at-bats to qualify, a clear indication he wasn't right at the plate.
For all that went wrong in 2011, an injury was the biggest culprit for his struggles. Heyward spent time on the disabled list in May and June with a right shoulder injury that had reportedly bothered him since spring training. He underwent an MRI on the shoulder once the season ended in October (which came back negative), so it was likely an issue that he, to some extent, dealt with all season. Heyward also spent time on the DL in 2010 with a thumb injury, so it's fair to wonder if durability will continue to be an issue for the outfielder. However, to help him stay on the field this year, he spent the offseason on a "maintenance and stretching" program and reported to spring training 20 pounds lighter than he did in 2011 (he said the extra weight last season made him sluggish). He also worked with Chipper Jones and new hitting coach Greg Walker two or three times per week in January to get his swing back to where it was in 2010, before he altered it to compensate for his ailing shoulder. In early February, Chipper told the Atlanta Journal-Constitution that Heyward's swing was "90 percent back," an encouraging sign.
Heyward has looked good at times this spring and does have two home runs, including one off Stephen Strasburg, but he entered Tuesday with a .217/.250/.391 slash line and has struck out in nearly one-third of his at-bats (14 whiffs in 46 at-bats). Spring stats mean little, and there's still nearly two weeks of spring action left for him to get into a groove, but what we've seen thus far leaves something to be desired. A strong Grapefruit League performance would, at the very least, provide some optimism that he's set to rebound from last year's struggles.
According to ESPN's Live Draft Results, Heyward is being drafted 107th overall and 26th among outfielders. On one hand, that looks to be a potential buying opportunity given the sky-high upside and where he was being drafted last year. However, that's still a pretty high spot for a guy who didn't even crack the top 350 on the Player Rater last year and barely squeaked in as a top-40 outfielder in 2010. The group of outfielders being drafted immediately after Heyward includes Carlos Beltran, Drew Stubbs and Chris Young. All three of those guys have flaws, but Beltran was a top-25 outfielder last year, Stubbs is coming off a season in which he belted 15 homers and swiped 40 bases, and Young has gone 20/20 each of the last two years, so you're likely going to have to pass on some quality production to take a gamble on Heyward on draft day.
Play Fantasy Baseball

You lose 100 percent of the leagues you don't join.

Play For Free on ESPN.com »
It's also important to realize that had Heyward stayed healthy last year there's no guarantee he would have necessarily taken another step toward superstardom. While he actually sported an improved 77 percent contact rate last season, he still boasts just a 76 percent contact rate over his two-year big league career, which doesn't match his 84 percent contact rate in the minors, or the 88 percent mark he posted between Double-A and Triple-A. He also holds just a .227 career batting average in 277 at-bats against left-handers. Plus, his 54.6 percent ground ball rate over the last two seasons is the eighth-highest mark in baseball, which obviously keeps his power potential limited as long as that trend continues. In short, the upside may be immense, but he's still got plenty of growing to do.
Given the long-term potential, Heyward isn't a guy I want to bet against. I certainly wouldn't be surprised if he took a sizable step forward from his 2010 production and established himself as a top-20 outfielder this season. However, a true breakout isn't necessarily imminent. In fact, it may not come for another few years. Remember, he's still only 22, which is at least a few years away from when he'll enter his peak hitting years, anyway.
Pay for what Heyward did in 2010, and maybe a little more, but don't go overboard by banking on an MVP-type season just yet. Someday soon, perhaps. But not yet.
2012 Fantasy Baseball Draft Kit
ESPN.com's experts have all the information you need to succeed in your fantasy draft.
Draft Kit home
Play for free
2012 Projections and Profiles
• All players | Sortable statistics
• More: C | 1B | 2B | 3B | SS | OF | SP | RP
2012 Rankings
• Top 300 | AL-only | NL-only
• Points Leagues | Cheat sheets
• Custom roto dollar value generator


• Fantasy Draft Engine


• Catcher: Rankings | Preview
• First Base: Rankings | Preview
• Second Base: Rankings | Preview
• Third Base: Rankings | Preview
• Shortstop: Rankings | Preview
• Outfield: Rankings | Preview
• Designated Hitter: Rankings
• Starting Pitcher: Rankings | Preview
• Relief Pitcher: Rankings | Preview
• Tristan H. Cockcroft's Top 250 keepers
Talented Mr. Roto
• Bold predictions for the season
• Berry's Guys I Love, Guys I Hate
• Matthew Berry's Top 250 Rankings
• Matthew Berry's Draft-Day Manifesto
• Berry's "100 Facts to know" for 2012
• Mock Draft with 11 Average Joes

Mock Drafts
• Mock 4.0: 5x5 roto leagues
• Berry versus 11 Average Joes
• Head-to-head points leagues
• 5x5 Rotisserie leagues
• Mock Draft Lobby
• Live Draft Results
Analysis
• Position battle winners, losers
• ADP reveals drafting trends
• Staff sleeper and bust picks
• Tristan's Twenty: Cockcroft's 2012 targets
• Bleagh! The guys Tristan doesn't like for 2012
• Cockcroft's 'perfect' draft
• The components of ERA
• Understanding the BABIP statistic
• Cockcroft's "Kings of Command"
• Which teams got worse defensively?
• Spring watch list
• 2013 free agents to be, by position
• 'Mulligan' ERAs: The impact of awful starts
• Dissecting wins for pitchers
• Why negative BA can be overrated
• Notable offseason moves | All moves
• 30 Questions archive
Strategy
• Taking advantage of position flexibility
• Points leagues primers: Pitchers | Hitters
• Fantasy 101: Intro to fantasy baseball
Stephania Bell
• Injury updates: Hitters | Pitchers
• Injuries: C | 1B | 2B | SS | 3B | OF | SP | RP
• Who's recovering from Tommy John surgery?
Insider
• Goldstein: Top 50 prospects

| 51-100


• Eric Karabell: Top 100

| Five prospects


• Karabell: My 2012 "Do Not Draft" list


• Karabell: Bold stat predictions


• Karabell: Steals sleepers


• Karabell: Bounce-back sleepers for 2012


• Keith Law: Top 100 prospects for 2012


• Dan Szymborski: MLB's best sophomores


• Szymborski: Nine make-or-break players


• Szymborski: Breakout hitters | Pitchers


• Dave Cameron: Spring stats that matter


• Todd Zola: Players with new home parks


• Todd Zola: 10 surprising park factors


• Todd Zola: Advanced auction strategy

• Todd Zola: Head-to-head points strategy

Rankings Roundtable
• Matt Wieters could be the No. 1 catcher


• Dee Gordon's steals upside


• Is Alex Rodriguez "washed up?"


• When should you draft your first closer?


• Is Derek Jeter still a top-10 shortstop?


• Can you trust Brian Wilson?


• What to expect from Dan Uggla in 2012


• Just how good is Desmond Jennings?


• Will Jason Motte be a reliable closer?


• What is Starlin Castro's upside?

MOST SENT STORIES ON ESPN.COM