Commentary
30 Questions: Los Angeles Dodgers
Updated:
March 26, 2012, 12:05 PM ET
By
Mike Sheets
| Special to ESPN.com

Can Matt Kemp repeat his 2011 performance?
Matt Kemp was the best player in fantasy baseball last season, falling just one home run short of being the fifth player in baseball history to go 40/40. In 2012, he's setting his sights even higher: he's going 50/50.
At least that's what Kemp told reporters back in November: "I'm going to go 50-50 next year," he said. "I'm telling you, y'all created a monster. I'm about to get back in the weight room super tough so I can be as strong as I was last year."
As fantasy owners, we love when players set lofty projections for themselves (hey, why not 60/60?!), however unrealistic they might be. In Kemp's case, not only has no player ever gone 50/50, but only two players -- Barry Bonds and Brady Anderson -- have ever hit 50 homers and stolen 50 bases in separate seasons, much less in the same one. It may not be impossible, but it's certainly a long shot, to say the least.
So if a 50/50 season in 2012 is probably wishful thinking, what, then, should we expect?
[+] Enlarge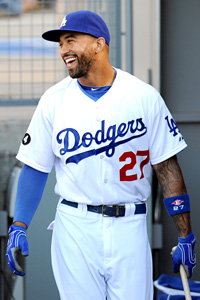 Jayne Kamin-Oncea/US PresswireEven if Matt Kemp doesn't match his 2011 numbers, he's still in a solid position to repeat as No. 1 on the Player Rater.
In 2011, the Los Angeles Dodgers center fielder batted .324 with 39 home runs, 126 RBIs, 40 stolen bases and 115 runs on his way to finishing second to Ryan Braun in the NL MVP race. Putting those numbers in perspective, Kemp finished seventh in baseball in batting average, third in homers, first in RBIs, fourth in stolen bases and fourth in runs. He even had a legitimate shot with a couple of weeks to go in the regular season at being the first Triple Crown winner since Carl Yastrzemski accomplished the feat back in 1967. Not surprisingly, Kemp also finished the season as the clear No. 1 player on the ESPN Player Rater, accumulating 17.34 Player Rater "points." To compare, neither Albert Pujols nor Carlos Gonzalez, the top fantasy players in 2009 and 2010, respectively, racked up more than 15.03 points.
It was a monster season by all accounts, and the Dodgers rewarded Kemp with an eight-year, $160 million contract extension over the offseason. Needless to say, repeating that type of outstanding production in 2012 would be no small feat. The good news, though, is that in addition to setting career bests across the standard 5x5 fantasy categories last year, he set career bests in many of his underlying stats, as well.
After sporting walk rates between 7.0 and 7.9 percent the past three seasons, Kemp posted a 10.7 percent walk rate last year. He knocked his 25.4 percent strikeout rate from 2010 down to 23.1 percent. He also produced his highest line-drive rate in a full season at 23.2 percent and boasted a fly ball rate north of 40 percent for the first time in his career. These are all good signs that Kemp made real strides at the plate last year and wasn't simply the beneficiary of lucky bounces.
That said, virtually everything did go right for Kemp in 2011, so there was some good luck involved. Kemp's .380 batting average on balls in play last year tied Adrian Gonzalez for the highest mark in baseball. He sports a .352 career BABIP, so he may not necessarily see a huge BABIP swing in 2012, but he could experience at least some regression, regardless. Plus, Kemp has never held a contact rate above 76 percent in his big league career, and his 73.3 career contact rate (the same rate he posted last year) is significantly lower than what you'd normally expect from a high-average hitter. Consider Dan Uggla, Drew Stubbs and Cameron Maybin, the three active players with career contact rates closest to Kemp's:
• Dan Uggla holds a 73.3 percent contact rate and is a .258 career hitter.
• Drew Stubbs holds a 73.1 percent contact rate and is a .251 career hitter.
• Cameron Maybin holds a 73.0 percent contact rate and is a .255 career hitter.
That's not to say Kemp is in the same class as these three or that his batting average is in danger of regressing to the .250 range (though that's exactly what happened in 2010). After all, Kemp sports a career line-drive rate of 21.5 percent, which is significantly higher than the rates posted by Uggla (16.4), Stubbs (18.2) and Maybin (15.6). Still, Kemp is a safer bet to hit in the .290 to .300 range in 2012 than top .320 again.
Play Fantasy Baseball
You lose 100 percent of the leagues you don't join.

Play For Free on ESPN.com »
As for the power production, last year's 39 homers may have been Kemp's peak, or at least close to it. His HR/FB rate has been steadily trending upward over the past five seasons, going from 11.8 in 2007 to 21.4 in 2011. It's possible his HR/FB rate could remain at or above 20.0 this season, though it could just as easily creep closer to his 15.9 career average, which would affect his home run output, to some extent. That said, 30-plus dingers are still a good bet.
If there's an overarching concern surrounding Kemp, it's that he doesn't have a track record of consistent elite production. While he was a borderline top-10 fantasy player in 2009, his production took a step backward the following year. He still hit 28 homers with 89 RBIs, but he batted just .249 and swiped only 19 bases on 34 attempts (56 percent success rate). Most fantasy owners don't care about defense, but his play in center field took a turn for the worse, as he was publicly called out by GM Ned Colletti in April for playing "below-average" defense (defensive metrics confirm that 2010 was by far Kemp's worst defensive season). And he was even briefly benched by then-manager Joe Torre in late June.
Truth be told, there are a variety of things we can blame for the lackluster performance, whether it was a lack of focus, clashing with Joe Torre or something else entirely. Then again, we can always just blame it all on Rihanna. That works, too. Kemp finished 83rd overall on the Player Rater in 2010, which was a huge disappointment considering he was widely considered a first-round pick heading into the season. On the bright side, a "down" season that includes nearly 30 homers, nearly 20 steals and 80-plus runs and RBIs is still a very good fantasy season. If anything, this tells us that in addition to having a high ceiling, Kemp also has a relatively high floor, and that counts for a lot.
Expecting Kemp to replicate his 2011 numbers may be asking too much, as last year was likely the best-case scenario for the All-Star outfielder. However, as strange as it may sound, Kemp regressing in every 5x5 category this season won't necessarily be detrimental. In short, he is as good a bet as any player to compete for the No. 1 spot on the Player Rater yet again in 2012. And that's true whether his numbers slip across the board, or he, you know, goes 50/50.
SPONSORED HEADLINES
FANTASY TOP HEADLINES
MOST SENT STORIES ON ESPN.COM
2012 Fantasy Baseball Draft Kit
ESPN.com's experts have all the information you need to succeed in your fantasy draft.
Draft Kit home
Play for free
2012 Projections and Profiles
• All players | Sortable statistics
• More: C | 1B | 2B | 3B | SS | OF | SP | RP
2012 Rankings
• Top 300 | AL-only | NL-only
• Points Leagues | Cheat sheets
• Custom roto dollar value generator


• Fantasy Draft Engine


• Catcher: Rankings | Preview
• First Base: Rankings | Preview
• Second Base: Rankings | Preview
• Third Base: Rankings | Preview
• Shortstop: Rankings | Preview
• Outfield: Rankings | Preview
• Designated Hitter: Rankings
• Starting Pitcher: Rankings | Preview
• Relief Pitcher: Rankings | Preview
• Tristan H. Cockcroft's Top 250 keepers
Talented Mr. Roto
• Bold predictions for the season
• Berry's Guys I Love, Guys I Hate
• Matthew Berry's Top 250 Rankings
• Matthew Berry's Draft-Day Manifesto
• Berry's "100 Facts to know" for 2012
• Mock Draft with 11 Average Joes

Mock Drafts
• Mock 4.0: 5x5 roto leagues
• Berry versus 11 Average Joes
• Head-to-head points leagues
• 5x5 Rotisserie leagues
• Mock Draft Lobby
• Live Draft Results
Analysis
• Position battle winners, losers
• ADP reveals drafting trends
• Staff sleeper and bust picks
• Tristan's Twenty: Cockcroft's 2012 targets
• Bleagh! The guys Tristan doesn't like for 2012
• Cockcroft's 'perfect' draft
• The components of ERA
• Understanding the BABIP statistic
• Cockcroft's "Kings of Command"
• Which teams got worse defensively?
• Spring watch list
• 2013 free agents to be, by position
• 'Mulligan' ERAs: The impact of awful starts
• Dissecting wins for pitchers
• Why negative BA can be overrated
• Notable offseason moves | All moves
• 30 Questions archive
Strategy
• Taking advantage of position flexibility
• Points leagues primers: Pitchers | Hitters
• Fantasy 101: Intro to fantasy baseball
Stephania Bell
• Injury updates: Hitters | Pitchers
• Injuries: C | 1B | 2B | SS | 3B | OF | SP | RP
• Who's recovering from Tommy John surgery?
Insider
• Goldstein: Top 50 prospects

| 51-100


• Eric Karabell: Top 100

| Five prospects


• Karabell: My 2012 "Do Not Draft" list


• Karabell: Bold stat predictions


• Karabell: Steals sleepers


• Karabell: Bounce-back sleepers for 2012


• Keith Law: Top 100 prospects for 2012


• Dan Szymborski: MLB's best sophomores


• Szymborski: Nine make-or-break players


• Szymborski: Breakout hitters | Pitchers


• Dave Cameron: Spring stats that matter


• Todd Zola: Players with new home parks


• Todd Zola: 10 surprising park factors


• Todd Zola: Advanced auction strategy

• Todd Zola: Head-to-head points strategy

Rankings Roundtable
• Matt Wieters could be the No. 1 catcher


• Dee Gordon's steals upside


• Is Alex Rodriguez "washed up?"


• When should you draft your first closer?


• Is Derek Jeter still a top-10 shortstop?


• Can you trust Brian Wilson?


• What to expect from Dan Uggla in 2012


• Just how good is Desmond Jennings?


• Will Jason Motte be a reliable closer?


• What is Starlin Castro's upside?