Commentary
30 Questions: New York Mets
Updated:
March 14, 2012, 2:48 PM ET
By
AJ Mass
| ESPN.com

Will offseason changes make everything "Wright" for the Mets?
Remember Shea Stadium? In 1969, it was where Ron Swoboda made his Amazin' diving catch that helped win the World Series. In 1986, it was where Mookie Wilson's groundball went through Bill Buckner's legs and entered the annals of baseball history. And in 2006, it was where Endy Chavez leaped high over the left-field wall in Game 7 of the NLCS to rob Scott Rolen of a home run.
Yes, when the New York Mets closed Shea Stadium for good at the end of the 2008 season, they left behind a ballpark with tons of memories. They also apparently left behind their ability to hit home runs as well.
Since Citi Field opened in 2009, the numbers seem to speak for themselves:
Mets HRs at home
Last three years at Shea
First three years at Citi Field
2006
96
2009
49
2007
83
2010
63
2008
95
2011
50
Total
274
Total
162
To rectify the situation, the Mets underwent an extreme home makeover in the offseason. They've made Citi Field smaller, cutting back on the in-play surface area by 2 percent overall and 5 percent from 300 feet away from home plate and beyond. Most notably, the 16-foot wall in left field has been cut in size by half to a more "Endy Chavez-friendly" eight feet.
The question that has to be asked, though, is whether the change will do any good? After all, couldn't one easily come to the conclusion that this dip in power might simply have been the result of the Mets not being nearly as good a team over the last three seasons as they had been from 2006-08? A look at the Mets' power away from home would certainly lead you in that direction.
Mets HRs on the road
| Year | Homers | Year | Homers |
| --- | --- | --- | --- |
| 2006 | 104 | 2009 | 46 |
| 2007 | 94 | 2010 | 65 |
| 2008 | 78 | 2011 | 58 |
| Total | 276 | Total | 169 |
However, if it were truly the case that the dip in power was to be blamed on the Mets themselves and not the dimensions of their new stadium, then the amount of home runs hit by visiting teams would have remained constant over that time. Let's take a look:
Opposition HR splits
| Year | At Shea | All Other Parks | Year | At Citi Field | All Other Parks |
| --- | --- | --- | --- | --- | --- |
| 2006 | 82 | 98 | 2009 | 81 | 77 |
| 2007 | 79 | 86 | 2010 | 47 | 88 |
| 2008 | 79 | 84 | 2011 | 58 | 89 |
| Total | 240 | 268 | Total | 186 | 254 |
Although the Mets' pitching staff was so horrifically bad in 2009 that visiting teams actually hit more home runs at Citi Field than they had in the two prior seasons at Shea, the stats over the past two seasons do seem to indicate that the new park is -- at least in part -- to blame for the huge dip in the number of home runs hit in Flushing since it opened. In fact, in 2011 Citi Field ranked 14th of 16 National League ballparks in the number of home runs that were hit, ahead of only San Francisco's AT&T Park and San Diego's Petco Park.
General manager Sandy Alderson has speculated that if these new dimensions had been in place since 2009, the Mets would have hit an additional 81 home runs, and opponents 70 more home runs in that time. More to the point, an ESPNNewYork.com study determined that David Wright would have had 13 more homers over the past three seasons had the Citi Field changes been the original dimensions of the park. And that's before we factor in any adjustments Wright was making to his swing because those balls weren't leaving the park.
In truth, whether or not the park's old dimensions precluded the hitting of home runs is not the real issue. The fact is that Mets hitters believed it was harder to hit home runs at home, and the psychological impact of that belief may well have become a self-fulfilling prophecy. Manager Terry Collins has said he thinks his hitters were altering their approach at the plate as a result of frustration.
[+] Enlarge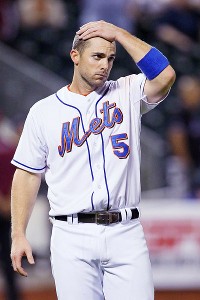 Jim McIsaac/Getty ImagesHopefully, the new Citi Field dimensions won't frustrate David Wright as much.
Wright echoed that assessment in an interview with ESPN New York, saying "I don't think we ever looked at the field and it intimidated us. But obviously it's frustrating at times when you hit a ball good and you don't see the results that you want to see."
In an effort to change the mental state of his lineup, Collins is performing a psychological experiment of his own this spring. The Mets have set up a practice field at their Florida facility with both the new and old Citi Field dimensions marked by a wire fence. After batting practice, Collins makes sure his hitters take a walk to the outfield to see how many balls have landed between the two fences, an indication of balls that will be home runs in 2012 that would not have been in 2011. "I just think this is going to ease some minds," Collins told reporters.
Of course, while there is plenty of optimism about these changes and the impact they will have on the Mets' power hitters like Wright, Jason Bay and Ike Davis, there were other changes in the offseason that temper that positive feeling. Jose Reyes is no longer at the top of the lineup and his absence might well undo any increase in the team's overall run production that comes as a result of their "new" ballpark.
Last season, in 535 at-bats as a leadoff hitter, Jose Reyes batted .336 with seven home runs, 39 steals and 100 runs scored. Those are big shoes to fill, and Andres Torres is the man tasked to do just that. Since 2009 Torres, in 798 at-bats at the top of the order, hit just .244 with 22 home runs, 130 runs scored and 42 steals.
Remember, those Torres numbers were compiled over three seasons. Reyes achieved his in only one. Now add to the discussion the fact that Torres is coming off a season in which he hit just .221 overall, and that he turned 34 in January. Can he truly be a catalyst for this lineup? Color us skeptical.
So what is the upshot for fantasy owners when drafting David Wright this season, who is clearly the best of the available options from Queens? Let's give the third baseman the benefit of the doubt. Let's assume he stays healthy all season -- something that may be a bit of a stretch, given that he's already missing time this spring due to an oblique injury that required him to fly back to New York for a cortisone shot.
Play Fantasy Baseball

You lose 100 percent of the leagues you don't join.

Play For Free on ESPN.com »
Let's assume the new-look Citi Field returns Wright's HR/AB rate closer to the one homer every 18.3 AB he achieved at Shea than his one per 32.4 of the last three seasons. If so, then a 30-home run season is not out of the question by any means. However, many of those may well be of the solo variety, given the chances that the top of the order (Torres and Daniel Murphy) fails to get on base with any regularity.
If that's the case, he could well become just the 18th player since 2000 to hit that many home runs with 80 or fewer RBIs. Even so, that still puts him, at worst, as the No. 4 third baseman off the board after only Jose Bautista, Evan Longoria and Adrian Beltre.
So with the new configuration at Citi Field, Wright's head should be back in the game all season long. The only risk here seems to be whether his body will allow him to take full advantage of that. Given the upside, I think it's a risk worth taking.
AJ Mass is a fantasy baseball, football and college basketball analyst for ESPN.com. His book, "How Fantasy Sports Explains the World" is available for purchase here. You can email him here.
2012 Fantasy Baseball Draft Kit
ESPN.com's experts have all the information you need to succeed in your fantasy draft.
Draft Kit home
Play for free
2012 Projections and Profiles
• All players | Sortable statistics
• More: C | 1B | 2B | 3B | SS | OF | SP | RP
2012 Rankings
• Top 300 | AL-only | NL-only
• Points Leagues | Cheat sheets
• Custom roto dollar value generator


• Fantasy Draft Engine


• Catcher: Rankings | Preview
• First Base: Rankings | Preview
• Second Base: Rankings | Preview
• Third Base: Rankings | Preview
• Shortstop: Rankings | Preview
• Outfield: Rankings | Preview
• Designated Hitter: Rankings
• Starting Pitcher: Rankings | Preview
• Relief Pitcher: Rankings | Preview
• Tristan H. Cockcroft's Top 250 keepers
Talented Mr. Roto
• Bold predictions for the season
• Berry's Guys I Love, Guys I Hate
• Matthew Berry's Top 250 Rankings
• Matthew Berry's Draft-Day Manifesto
• Berry's "100 Facts to know" for 2012
• Mock Draft with 11 Average Joes

Mock Drafts
• Mock 4.0: 5x5 roto leagues
• Berry versus 11 Average Joes
• Head-to-head points leagues
• 5x5 Rotisserie leagues
• Mock Draft Lobby
• Live Draft Results
Analysis
• Position battle winners, losers
• ADP reveals drafting trends
• Staff sleeper and bust picks
• Tristan's Twenty: Cockcroft's 2012 targets
• Bleagh! The guys Tristan doesn't like for 2012
• Cockcroft's 'perfect' draft
• The components of ERA
• Understanding the BABIP statistic
• Cockcroft's "Kings of Command"
• Which teams got worse defensively?
• Spring watch list
• 2013 free agents to be, by position
• 'Mulligan' ERAs: The impact of awful starts
• Dissecting wins for pitchers
• Why negative BA can be overrated
• Notable offseason moves | All moves
• 30 Questions archive
Strategy
• Taking advantage of position flexibility
• Points leagues primers: Pitchers | Hitters
• Fantasy 101: Intro to fantasy baseball
Stephania Bell
• Injury updates: Hitters | Pitchers
• Injuries: C | 1B | 2B | SS | 3B | OF | SP | RP
• Who's recovering from Tommy John surgery?
Insider
• Goldstein: Top 50 prospects

| 51-100


• Eric Karabell: Top 100

| Five prospects


• Karabell: My 2012 "Do Not Draft" list


• Karabell: Bold stat predictions


• Karabell: Steals sleepers


• Karabell: Bounce-back sleepers for 2012


• Keith Law: Top 100 prospects for 2012


• Dan Szymborski: MLB's best sophomores


• Szymborski: Nine make-or-break players


• Szymborski: Breakout hitters | Pitchers


• Dave Cameron: Spring stats that matter


• Todd Zola: Players with new home parks


• Todd Zola: 10 surprising park factors


• Todd Zola: Advanced auction strategy

• Todd Zola: Head-to-head points strategy

Rankings Roundtable
• Matt Wieters could be the No. 1 catcher


• Dee Gordon's steals upside


• Is Alex Rodriguez "washed up?"


• When should you draft your first closer?


• Is Derek Jeter still a top-10 shortstop?


• Can you trust Brian Wilson?


• What to expect from Dan Uggla in 2012


• Just how good is Desmond Jennings?


• Will Jason Motte be a reliable closer?


• What is Starlin Castro's upside?

MOST SENT STORIES ON ESPN.COM