Commentary
30 Questions: Washington Nationals
Updated:
March 9, 2012, 5:25 PM ET
By
Mike Sheets
| Special to ESPN.com

What can we reasonably expect from Stephen Strasburg this season?
Stephen Strasburg isn't the highest-ranked starting pitcher in fantasy baseball as we approach the 2012 season. He could, however, be the most important.
That may sound like hyperbole on the surface, but rest assured it isn't. You probably don't need reminding that the right-hander was the No. 1 overall pick in the 2009 draft and was regarded by many as the best pitching prospect of the past decade, and possibly even the past few decades.
To this point, we've essentially seen an extended trailer of the hard-throwing phenom's potential, with the majority of the feature presentation still behind the curtain. However, early indications are that the hype, as overwhelming as it was, was well-deserved.
Here's a quick rundown of some of the numbers Strasburg has produced in his 17 big league starts over the past two years and how he'd rank had he pitched enough innings to qualify.
[+] Enlarge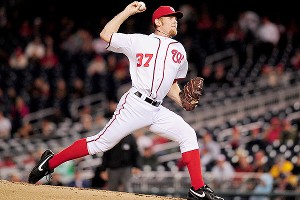 Evan Habeeb/US PresswireFantasy owners are hoping to get close to a full season of great stats from Stephen Strasburg this year.
• His 11.4 strikeouts-per-nine-innings rate is the best in baseball and nearly a full strikeout better than Brandon Morrow, who's posted a 10.5 K/9 over the past two seasons. No other starting pitcher who qualified posted a K/9 above 9.5.
• His 6.1 strikeout-to-walk ratio ranks third in baseball, behind Roy Halladay and Cliff Lee. No other starter posted a 5.0 K/BB ratio over the past two years.
• His 2.54 ERA ranks second behind Halladay, who holds a 2.40 ERA over the last two seasons.
• His 0.98 WHIP ranks first, and he's the only starter to post a mark under 1.00. Lee was next with a WHIP of 1.02.
• Hitters made contact with just 74.2 percent of Strasburg's pitches that they swung at, the second-lowest percentage in baseball, according to Fangraphs.com. Francisco Liriano made batters swing-and-miss the most (73.1 percent).
• Hitters swung at 36.2 percent of Strasburg's pitches outside the strike zone, the highest percentage in the game. Dan Haren is next at 35.5 percent.
• His .207 batting average against is tied with Clayton Kershaw and Justin Verlander for the best mark in baseball over the last two campaigns.
• His average fastball velocity over the last two years sits at 96.9 mph, which is more than 1.5 mph better than Verlander, who is second with a 95.2 mph average.
Small sample size or not, it's not difficult to see that this kid is special.
One of the stories surrounding Strasburg this spring is that he's pitched relatively few innings (44.1, to be exact) since undergoing Tommy John surgery in August 2010. He made just five starts for the Washington Nationals last season in September and six minor league starts spanning four levels before that, so there's at least a small amount of uncertainty here from a health standpoint. That said, all offseason health reports were positive, and the fact he was able to return and pitch as well as he did last year -- 1.50 ERA, 0.71 WHIP and 12.0 K/BB ratio in 24 innings -- is a huge plus and an encouraging sign for Strasburg going forward. Yes, it's true it takes most hurlers recovering from that surgery some time to regain their pre-surgery command, and it's worth noting that Strasburg's average fastball velocity was down last year (96 mph) compared to 2010 (97.6 mph) and he didn't induce the same number of ground balls in 2011 (37.7 percent) compared to 2010 (47.8 percent). But those aren't major concerns at this point. Almost all pitchers carry at least some degree of health risk, and Strasburg is no different. However, because he'll be roughly 20 months removed from surgery when the season starts and has already overcome a big mental hurdle by returning successfully last year, there's little reason he should still be viewed on draft day as a significant health liability.
The real concern with Strasburg -- and the reason he's not ranked higher than No. 20 on ESPN's starting pitcher rankings -- is that the Nationals are expected to keep him on an innings limit in 2012. During the Nationals' spring training telecast on MLB Network on Monday, GM Mike Rizzo said that Strasburg could pitch as few as 140 innings or as many as 170 this year, depending on what he sees from the 23-year-old. Rizzo also noted that the team will "err on the side of caution" with the young right-hander.
The common thought, though, is that Strasburg's inning count will be around the 160 mark. Fellow Nats right-hander Jordan Zimmermann, who underwent Tommy John surgery in August 2009, was on a similar innings limit last season and was shut down in late August after reaching 161 1/3 innings. It stands to reason that the Nationals will handle Strasburg in a similar fashion in 2012. Rizzo also recently told the Washington Post that the team won't be adjusting the right-hander's schedule so he can pitch later in the season. Assuming the Nationals don't waver from this plan, they'll be without their ace if they reach the playoffs, which isn't at all inconceivable, especially with the expanded postseason.
Play Fantasy Baseball
You lose 100 percent of the leagues you don't join.

Play For Free on ESPN.com »
How fantasy owners should handle this innings limit largely depends on the league format. For those who play in standard 10- or 12-team mixed leagues, Strasburg probably deserves to be drafted even higher than his ranking as the 20th starting pitcher. Strasburg possesses arguably more upside than any other pitcher in baseball (it says something that we still have him ranked as a top-20 starting pitcher knowing he won't pitch the entire season), so there's nothing wrong with drafting him as your No. 2 starter and grabbing a serviceable starter or middle reliever off the waiver wire to plug the gap over the season's final month.
Head-to-head formats and leagues that incorporate playoffs of some sort are a different story. It's fair to knock Strasburg down in your rankings if your league falls into this category. Sure, you have to get to the playoffs before you can win the playoffs, and Strasburg can certainly help you get there, but how far can you realistically get without your No. 1 or 2 starter? Grabbing a waiver-wire fill-in doesn't have the same appeal when the fantasy playoffs are looming as it does in standard rotisserie leagues.
As for keeper and dynasty formats, well, let's just say there's probably no such thing as "reaching" when it comes to Strasburg. This is as cheap as he's going to get for many, many years, so don't be afraid to go above his average draft slot to secure his services if he's not already owned.
Our current 2012 projection for Strasburg looks like this: 27 starts, 13 wins, 182 strikeouts, 2.78 ERA and 1.10 WHIP. If anything, that projection probably falls on the safe side. It's not a stretch to think he could better every single one of those numbers this season -- to a small degree, at least -- if everything goes his way. According to ESPN's Live Draft Results, Strasburg is currently being selected as the 17th starting pitcher and 66th overall. Of the starting pitchers being drafted immediately after Strasburg -- guys like C.J. Wilson, Ian Kennedy, Matt Moore, Chris Carpenter, Madison Bumgarner and Michael Pineda -- Wilson is the only guy I might consider a "safer" option, and none of the others, including Moore, can match Strasburg's upside.
While the innings cap may scare some away, and that's certainly understandable, I can't see passing over Strasburg and his best-pitcher-in-baseball-type potential for the hurlers being taken behind him. Innings limit or not, this is the type of player who can be a true difference-maker in fantasy leagues this season. Draft him accordingly.
SPONSORED HEADLINES
FANTASY TOP HEADLINES
MOST SENT STORIES ON ESPN.COM
2012 Fantasy Baseball Draft Kit
ESPN.com's experts have all the information you need to succeed in your fantasy draft.
Draft Kit home
Play for free
2012 Projections and Profiles
• All players | Sortable statistics
• More: C | 1B | 2B | 3B | SS | OF | SP | RP
2012 Rankings
• Top 300 | AL-only | NL-only
• Points Leagues | Cheat sheets
• Custom roto dollar value generator


• Fantasy Draft Engine


• Catcher: Rankings | Preview
• First Base: Rankings | Preview
• Second Base: Rankings | Preview
• Third Base: Rankings | Preview
• Shortstop: Rankings | Preview
• Outfield: Rankings | Preview
• Designated Hitter: Rankings
• Starting Pitcher: Rankings | Preview
• Relief Pitcher: Rankings | Preview
• Tristan H. Cockcroft's Top 250 keepers
Talented Mr. Roto
• Bold predictions for the season
• Berry's Guys I Love, Guys I Hate
• Matthew Berry's Top 250 Rankings
• Matthew Berry's Draft-Day Manifesto
• Berry's "100 Facts to know" for 2012
• Mock Draft with 11 Average Joes

Mock Drafts
• Mock 4.0: 5x5 roto leagues
• Berry versus 11 Average Joes
• Head-to-head points leagues
• 5x5 Rotisserie leagues
• Mock Draft Lobby
• Live Draft Results
Analysis
• Position battle winners, losers
• ADP reveals drafting trends
• Staff sleeper and bust picks
• Tristan's Twenty: Cockcroft's 2012 targets
• Bleagh! The guys Tristan doesn't like for 2012
• Cockcroft's 'perfect' draft
• The components of ERA
• Understanding the BABIP statistic
• Cockcroft's "Kings of Command"
• Which teams got worse defensively?
• Spring watch list
• 2013 free agents to be, by position
• 'Mulligan' ERAs: The impact of awful starts
• Dissecting wins for pitchers
• Why negative BA can be overrated
• Notable offseason moves | All moves
• 30 Questions archive
Strategy
• Taking advantage of position flexibility
• Points leagues primers: Pitchers | Hitters
• Fantasy 101: Intro to fantasy baseball
Stephania Bell
• Injury updates: Hitters | Pitchers
• Injuries: C | 1B | 2B | SS | 3B | OF | SP | RP
• Who's recovering from Tommy John surgery?
Insider
• Goldstein: Top 50 prospects

| 51-100


• Eric Karabell: Top 100

| Five prospects


• Karabell: My 2012 "Do Not Draft" list


• Karabell: Bold stat predictions


• Karabell: Steals sleepers


• Karabell: Bounce-back sleepers for 2012


• Keith Law: Top 100 prospects for 2012


• Dan Szymborski: MLB's best sophomores


• Szymborski: Nine make-or-break players


• Szymborski: Breakout hitters | Pitchers


• Dave Cameron: Spring stats that matter


• Todd Zola: Players with new home parks


• Todd Zola: 10 surprising park factors


• Todd Zola: Advanced auction strategy

• Todd Zola: Head-to-head points strategy

Rankings Roundtable
• Matt Wieters could be the No. 1 catcher


• Dee Gordon's steals upside


• Is Alex Rodriguez "washed up?"


• When should you draft your first closer?


• Is Derek Jeter still a top-10 shortstop?


• Can you trust Brian Wilson?


• What to expect from Dan Uggla in 2012


• Just how good is Desmond Jennings?


• Will Jason Motte be a reliable closer?


• What is Starlin Castro's upside?