Commentary
30 Questions: San Diego Padres

What is Cameron Maybin's upside?
There is a concept, a phrase, in fantasy baseball that cannot be found in the dictionary, but if it could, it might read something like this:
Post-hype sleeper
noun
A player who, once considered a future star, has undeservedly had his career written off as a bust due to past instances of falling short of expectations.
Cameron Maybin of the San Diego Padres was a post-hype sleeper entering 2011.
Ask anyone to pick a "post-hype sleeper" success story of the past season, and the most likely answer you'd receive is Alex Gordon, the onetime top prospect in baseball who took five major league seasons before finally exploding with a campaign worthy of the No. 24 spot overall on our Player Rater.
But despite being overshadowed by Gordon and largely ignored due to his status as a Padres hitter with only a .260 batting average and 11 home runs, Maybin made nearly as compelling a success story. Thanks to his speed -- his 40 stolen bases ranked second in the National League and fourth in the majors -- Maybin managed to crack the top 100 players of 2011, scoring the Player Rater's 81st spot.
[+] Enlarge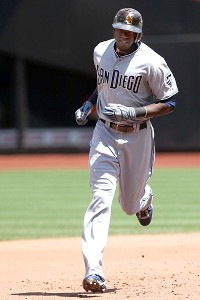 Debby Wong/US PresswireCameron Maybin's speed will do wonders to his fantasy value, but there's also a chance he'll finally live up to expecations as one of baseball's top prospects.
The Padres recognize Maybin's contributions; they signed him to a five-year, $25 million contract this past Saturday. Part of that rewards him for his defensive ability, as Maybin's UZR (ultimate zone rating, per FanGraphs) of 9.5 ranked him third among qualified center fielders. But for the Padres to make such a hefty investment in a player with exactly one big league season of greater than 1.0 WAR (wins above replacement), they must see additional potential in his bat.
The question -- specifically as it pertains to fantasy -- is whether Maybin will achieve it this season, and if he does, to what extent.
There are two mountainous obstacles standing in Maybin's path, and any discussion of his long-term fantasy future must begin with them: The first is, once again, his status as a Padres hitter; the spacious dimensions of Petco Park suppress his offensive numbers. The other is Maybin's tendency to generate a high rate of ground balls; his 56.5 percent rate in 2011 was sixth-highest among qualified hitters.
Combine the two and you have a player for whom it's hard to see substantial power potential, at least in the short term. Simply put, it's as difficult to hit one out of Petco as any ballpark, and you cannot hit a ball out that you hit on the ground.
That said, so long as you realize how long Maybin's odds are of an imminent, huge power breakout -- we're talking 30-plus-homer upside for 2012 alone -- there are plenty of reasons to be excited about him.
The first is, once again, his speed. Besides the impact upon his stolen bases, Maybin's speed has another important influence upon his statistics: It helps him be one of the stronger BABIP (batting average on balls in play) performers in baseball, by virtue of his ability to leg out more of the many ground balls he hits than a player with average speed would. Sure enough, his BABIP last season was .331; in his major league career, it's .332, and during his minor league career it was .388. Maybin also had the second-most infield hits (30) -- and the most among right-handed hitters -- and his .308 BABIP on ground balls ranked third-highest.
The second is Maybin's improving contact rate which, coupled with the above, could result in an increase in batting average. Check out the direction his strikeout rate -- percentage of plate appearances that ended in a whiff -- has gone in his six professional seasons by year, working forward: 26.1 percent (2006), 25.6, 26.7, 20.1, 24.2, 21.9 (2011, his first season with at least 100 games at the major league level). Maybin also cut his strikeout rate to 20.5 percent after the All-Star break last season, and his 26.2 percent miss rate on all swings in his 61 second-half games represented a substantial improvement upon his 29.1 percent rate in 208 games from Opening Day 2009 through the 2011 All-Star break.
The bottom line is that if Maybin's contact rate continues to improve, his batting average should follow suit. Consider that he whiffed nearly 3 percent more often before the All-Star break than after it, yet his BABIP was almost identical in either half (.332 before, .330 after); that alone explains how he was able to tally nearly as many hits after the All-Star break (67) as before it (69), despite playing in 13 fewer games and earning 22 fewer plate appearances.
To put that in raw fantasy terms, if Maybin lowers his strikeout rate to, say, 19.0 percent in 2012, yet accrues exactly the same number of plate appearances, he'd put the ball in play an additional 17 times. Assuming an identical rate of success on balls in play, that would result in an extra six hits for Maybin, which, while sounding small, represents the difference between a .264 and .275 batting average. Don't underestimate what additional contact might do for him in the category.
As for Maybin's power potential, that he'll be just 25 years plus one day old when the Padres play their first regular-season game of 2012 provides him plenty of time to adapt his stroke toward additional power. Petco suppressed his power in a major way last season, but if you seek hints of optimism, his .164 isolated power and 11.7 home run/fly ball percentage in his road games last season show there might yet be untapped power potential in his bat.
Play Fantasy Baseball
You lose 100 percent of the leagues you don't join.

Play For Free on ESPN.com »
After all, in his road games, Maybin had a line of .294 AVG/.349 OBP/.457 SLG. You might have been rooting for the Padres to trade him, perhaps sending him to a more hitting-friendly environment, but even in San Diego he might be able to make the adjustments that could get him into the high teens in home runs this season ... or, in a future year, perhaps the 30-homer territory scouts predicted of him when he was a 20-year-old soaring up the Detroit Tigers' minor league ranks.
At the bare minimum, Maybin should be a brilliant matchups consideration for those who can afford the luxury in a shallow mixed league.
At the maximum, Maybin might be the kind of 20-homer, 40-steal performer who shoots up the Player Rater, cracking the top 25 overall. (Think Drew Stubbs' 2010 with a slightly higher batting average.)
But if Maybin's eventual result is a mere "spinning-his-wheels" season, do we as fantasy owners have any right to complain? Since he was already a top-100 player a year ago who was ranked as a 15th-rounder and who went in Round 16 in early live drafts, the answer to that is a clear "no."
Fantasy
Senior writer for ESPN.com
Co-host of the Fantasy Focus Baseball podcast
Two-time LABR, two-time Tout Wars champion
Member of the FSWA Hall of Fame
2012 Fantasy Baseball Draft Kit
ESPN.com's experts have all the information you need to succeed in your fantasy draft.
Draft Kit home
Play for free
2012 Projections and Profiles
• All players | Sortable statistics
• More: C | 1B | 2B | 3B | SS | OF | SP | RP
2012 Rankings
• Top 300 | AL-only | NL-only
• Points Leagues | Cheat sheets
• Custom roto dollar value generator


• Fantasy Draft Engine


• Catcher: Rankings | Preview
• First Base: Rankings | Preview
• Second Base: Rankings | Preview
• Third Base: Rankings | Preview
• Shortstop: Rankings | Preview
• Outfield: Rankings | Preview
• Designated Hitter: Rankings
• Starting Pitcher: Rankings | Preview
• Relief Pitcher: Rankings | Preview
• Tristan H. Cockcroft's Top 250 keepers
Talented Mr. Roto
• Bold predictions for the season
• Berry's Guys I Love, Guys I Hate
• Matthew Berry's Top 250 Rankings
• Matthew Berry's Draft-Day Manifesto
• Berry's "100 Facts to know" for 2012
• Mock Draft with 11 Average Joes

Mock Drafts
• Mock 4.0: 5x5 roto leagues
• Berry versus 11 Average Joes
• Head-to-head points leagues
• 5x5 Rotisserie leagues
• Mock Draft Lobby
• Live Draft Results
Analysis
• Position battle winners, losers
• ADP reveals drafting trends
• Staff sleeper and bust picks
• Tristan's Twenty: Cockcroft's 2012 targets
• Bleagh! The guys Tristan doesn't like for 2012
• Cockcroft's 'perfect' draft
• The components of ERA
• Understanding the BABIP statistic
• Cockcroft's "Kings of Command"
• Which teams got worse defensively?
• Spring watch list
• 2013 free agents to be, by position
• 'Mulligan' ERAs: The impact of awful starts
• Dissecting wins for pitchers
• Why negative BA can be overrated
• Notable offseason moves | All moves
• 30 Questions archive
Strategy
• Taking advantage of position flexibility
• Points leagues primers: Pitchers | Hitters
• Fantasy 101: Intro to fantasy baseball
Stephania Bell
• Injury updates: Hitters | Pitchers
• Injuries: C | 1B | 2B | SS | 3B | OF | SP | RP
• Who's recovering from Tommy John surgery?
Insider
• Goldstein: Top 50 prospects

| 51-100


• Eric Karabell: Top 100

| Five prospects


• Karabell: My 2012 "Do Not Draft" list


• Karabell: Bold stat predictions


• Karabell: Steals sleepers


• Karabell: Bounce-back sleepers for 2012


• Keith Law: Top 100 prospects for 2012


• Dan Szymborski: MLB's best sophomores


• Szymborski: Nine make-or-break players


• Szymborski: Breakout hitters | Pitchers


• Dave Cameron: Spring stats that matter


• Todd Zola: Players with new home parks


• Todd Zola: 10 surprising park factors


• Todd Zola: Advanced auction strategy

• Todd Zola: Head-to-head points strategy

Rankings Roundtable
• Matt Wieters could be the No. 1 catcher


• Dee Gordon's steals upside


• Is Alex Rodriguez "washed up?"


• When should you draft your first closer?


• Is Derek Jeter still a top-10 shortstop?


• Can you trust Brian Wilson?


• What to expect from Dan Uggla in 2012


• Just how good is Desmond Jennings?


• Will Jason Motte be a reliable closer?


• What is Starlin Castro's upside?