Commentary
30 Questions: Colorado Rockies

What happened to Jhoulys Chacin last season?
One year ago, coming off a season in which the Colorado Rockies posted a franchise-record 4.14 team ERA in 2010, hopes were high in the Mile High City.
[+] Enlarge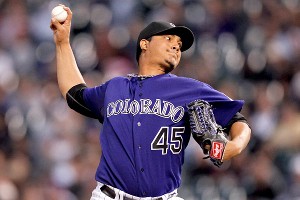 Justin Edmonds/Getty ImagesJhoulys Chacin was just 3-7 with a 4.31 ERA after the All-Star break last season.
The 2010 Rockies had their ace, Ubaldo Jimenez, place third in the National League Cy Young balloting. Their bullpen managed a 3.99 ERA and had two older, surprise standouts: Matt Belisle and Rafael Betancourt. Perhaps most importantly, a rookie named Jhoulys Chacin burst onto the scene, earning a healthy No. 58 ranking among starting pitchers on our Player Rater and registering a 2.13 ERA in a nine-start stretch to conclude the year.
It was that performance, coupled with Chacin's promising prospect reports -- he was Baseball America's No. 4 Rockies prospect entering 2010 -- that earned the right-hander a No. 45 ranking among starters, and No. 179 overall, in terms of average draft position (in ESPN Live Drafts) entering 2011. He was widely regarded a breakout candidate, including by this columnist; he was my No. 37 starting pitcher and No. 133 player overall in my final preseason rankings.
For a period of time, Chacin rewarded his owners and was right on track to meet expectations. Consider that in 18 starts before the All-Star break, Chacin had eight wins, 12 quality starts, a 3.16 ERA and 1.16 WHIP. At the same time, he had a 7.79 strikeouts-per-nine innings ratio, a somewhat disconcerting drop from the 9.04 he averaged in 2010, which among Rockies pitchers to have amassed 100 or more innings in a season ranked second in franchise history.
Little did we know that Chacin's diminished K rate would provide a window into what was a disappointing second half.
In 13 starts after the All-Star break, Chacin managed three wins, six quality starts, a 4.31 ERA, 1.55 WHIP and a 5.70 K's-per-nine ratio. By year's end he had earned the National League's lead in one statistical category. Unfortunately, it was a bad one: His 87 walks paced the Senior Circuit.
Besides the walks, what precisely ailed Chacin? Were his problems fixable, restoring hope of a rebound season in 2012?
A closer look at Chacin's statistics, particularly pitch selection, thanks to some help from our pitch-performance evaluation tool, hints at a pitcher who has yet to fully get comfortable with his arsenal. What has made him a successful strikeout artist at times at this level has been his slider; opponents have .125/.168/.243 lifetime triple-slash rates against that pitch (340 plate appearance-enders), and he has generated misses on 43 percent of swings with it. Of Chacin's 301 career strikeouts, 152 have come on the slider alone. It's his most dominant pitch.
But Chacin's fastball has been ordinary so far at the big-league level. He has averaged 90.9 mph with the pitch in his career and afforded hitters .289/.391/.436 rates with it (782 PA-enders).
Meanwhile, Chacin hasn't leaned quite as heavily as expected on his changeup, particularly against left-handers; he has thrown it 14.6 percent of the time against them. Considering lefties have .253/.317/.369 lifetime rates against the pitch (104 PA-enders), you'd think he'd rely on it more often.
What makes Chacin's pitch-selection statistics so perplexing are his scouting reports at the time of his big-league debut. Keith Law, who ranked Chacin his No. 48 prospect overall entering 2010, had this to say back then: "[Chacin's] fastball is solid-average at 89-93 mph with a little sinking tail, but his changeup is the plus pitch, about 8-9 mph off the fastball, with good arm speed. His main area for improvement is the curveball, which is in the mid-70s with a soft break, but I have seen him throw an average curveball, so there's reason to believe it's in the arm."
Play Fantasy Baseball
You lose 100 percent of the leagues you don't join.

Play For Free on ESPN.com »
If Chacin's changeup is indeed his plus pitch, and his slider has developed as quickly as it has, it stands to reason that his poor 2011 second half might have been a mere adjustment period and that better things lie ahead. The seeds are there for him to pair a dominant pitch versus right-handers (slider) with a similarly dominant one versus left-handers (changeup). Considering he has a two-seam fastball mostly responsible for a 52.6 percent career ground-ball rate, he's not quite as susceptible to the perils of Coors Field as a typical Rockies pitcher. This is a pitcher capable of -- at his peak -- posting balanced splits with a better-than-50-percent ground-ball rate and a healthy strikeout rate, a package fantasy owners love.
That's not to say that this flower is imminently budding. Adjustment periods for young pitchers can be lengthy, and at 24 years old, Chacin might not yet have escaped his. He could find his groove come the first week of the regular season … or once he has about 70-75 career starts by July or August.
But isn't that still a pitcher worth taking as a back-of-your-staff type in an NL-only league or as a speculative bench selection in a shallow mixed league? At worst, he's the kind of pitcher who, if you let him slip by at the draft, you should track all season for a potential buy-low, in-season trade.
The Rockies might have been right to have high hopes for Chacin. They merely might have been a year too early in expecting his true breakout to arrive.
Tristan H. Cockcroft is a fantasy baseball analyst for ESPN.com, a two-time champion of the League of Alternative Baseball Reality experts league and a 2011 FSWA award winner for Best Baseball Article on the Web. You can email him here or follow him on Twitter @SultanofStat.
Fantasy
Senior writer for ESPN.com
Co-host of the Fantasy Focus Baseball podcast
Two-time LABR, two-time Tout Wars champion
Member of the FSWA Hall of Fame
2012 Fantasy Baseball Draft Kit
ESPN.com's experts have all the information you need to succeed in your fantasy draft.
Draft Kit home
Play for free
2012 Projections and Profiles
• All players | Sortable statistics
• More: C | 1B | 2B | 3B | SS | OF | SP | RP
2012 Rankings
• Top 300 | AL-only | NL-only
• Points Leagues | Cheat sheets
• Custom roto dollar value generator


• Fantasy Draft Engine


• Catcher: Rankings | Preview
• First Base: Rankings | Preview
• Second Base: Rankings | Preview
• Third Base: Rankings | Preview
• Shortstop: Rankings | Preview
• Outfield: Rankings | Preview
• Designated Hitter: Rankings
• Starting Pitcher: Rankings | Preview
• Relief Pitcher: Rankings | Preview
• Tristan H. Cockcroft's Top 250 keepers
Talented Mr. Roto
• Bold predictions for the season
• Berry's Guys I Love, Guys I Hate
• Matthew Berry's Top 250 Rankings
• Matthew Berry's Draft-Day Manifesto
• Berry's "100 Facts to know" for 2012
• Mock Draft with 11 Average Joes

Mock Drafts
• Mock 4.0: 5x5 roto leagues
• Berry versus 11 Average Joes
• Head-to-head points leagues
• 5x5 Rotisserie leagues
• Mock Draft Lobby
• Live Draft Results
Analysis
• Position battle winners, losers
• ADP reveals drafting trends
• Staff sleeper and bust picks
• Tristan's Twenty: Cockcroft's 2012 targets
• Bleagh! The guys Tristan doesn't like for 2012
• Cockcroft's 'perfect' draft
• The components of ERA
• Understanding the BABIP statistic
• Cockcroft's "Kings of Command"
• Which teams got worse defensively?
• Spring watch list
• 2013 free agents to be, by position
• 'Mulligan' ERAs: The impact of awful starts
• Dissecting wins for pitchers
• Why negative BA can be overrated
• Notable offseason moves | All moves
• 30 Questions archive
Strategy
• Taking advantage of position flexibility
• Points leagues primers: Pitchers | Hitters
• Fantasy 101: Intro to fantasy baseball
Stephania Bell
• Injury updates: Hitters | Pitchers
• Injuries: C | 1B | 2B | SS | 3B | OF | SP | RP
• Who's recovering from Tommy John surgery?
Insider
• Goldstein: Top 50 prospects

| 51-100


• Eric Karabell: Top 100

| Five prospects


• Karabell: My 2012 "Do Not Draft" list


• Karabell: Bold stat predictions


• Karabell: Steals sleepers


• Karabell: Bounce-back sleepers for 2012


• Keith Law: Top 100 prospects for 2012


• Dan Szymborski: MLB's best sophomores


• Szymborski: Nine make-or-break players


• Szymborski: Breakout hitters | Pitchers


• Dave Cameron: Spring stats that matter


• Todd Zola: Players with new home parks


• Todd Zola: 10 surprising park factors


• Todd Zola: Advanced auction strategy

• Todd Zola: Head-to-head points strategy

Rankings Roundtable
• Matt Wieters could be the No. 1 catcher


• Dee Gordon's steals upside


• Is Alex Rodriguez "washed up?"


• When should you draft your first closer?


• Is Derek Jeter still a top-10 shortstop?


• Can you trust Brian Wilson?


• What to expect from Dan Uggla in 2012


• Just how good is Desmond Jennings?


• Will Jason Motte be a reliable closer?


• What is Starlin Castro's upside?