Commentary
30 Questions: Detroit Tigers

Does Detroit's downgraded D doom Doug?
Much has been made the past seven-plus months about what key transactions made by the Detroit Tigers have done to their overall team defense: The August trade for left fielder Delmon Young, the January signing of free-agent first baseman Prince Fielder and the subsequent decision to shift former first baseman Miguel Cabrera to third base.
The reason such criticisms ring true is the potentially adverse impact upon Tigers pitchers; they're going to have an even greater prospect of negative results when they put the ball in play than they did a year ago. And in 2011, they finished 23rd in terms of defensive runs saved (minus-18) and 15th in ultimate zone rating (minus-3.7), two advanced defensive metrics.
[+] Enlarge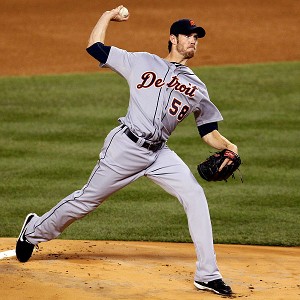 Anthony Gruppuso/US PresswireDoug Fister was 8-1 with a 1.79 ERA and 0.84 WHIP after being traded to the Tigers in 2011.
That's where we come to the curious case of Doug Fister, one of the most exciting breakout stories of 2011, but also a pitcher whose stock has suffered this spring as a direct result of the Tigers' defensive questions. The No. 16 starting pitcher on our Player Rater a year ago, Fister's average draft position so far this preseason ranks only 42nd at the position (152.8, 150th overall).
But have our fears perhaps gone too far?
The negatives surrounding Fister have been oft cited, but they bear repeating:
• Last season Fister afforded 680 balls in play, 15th most in the majors, and his 77.7 percent of total batters faced that ended with a ball in play ranked 18th highest among ERA qualifiers. Fister is one of the most apt pitchers to put the ball in play, which is no surprise considering his career K/9 rate is just 5.52.
• His BABIP was .274, 19th best among qualified starters, and his home run/fly ball percentage was 4.9, third lowest among qualifiers. As noted in this year's "Understanding BABIP" column, Fister's BABIP probably should have been quite a bit higher, considering his breakdown of balls in play, accounting hard and soft contact. In fact, his peripheral numbers suggest it should be much higher, more like .314. Had his BABIP actually been .314, it would have meant his having allowed 27 additional hits.
• Returning to that 5.52 K/9 ratio, Fister's modest strikeout rate -- he also had a 6.64 career rate in the minors -- puts him at ERA risk, considering the statistic's tendency to regress to the mean over extended periods for pitchers who whiff batters at that rate. Consider this: Among pitchers with 1,000-plus total innings pitched since 2000, only nine have a cumulative ERA beneath four during that period despite a K/9 rate of 7.00 or less: Roy Halladay (3.20), Tim Hudson (3.41), Chris Carpenter (3.59), Greg Maddux (3.70), Tom Glavine (3.77), Mark Buehrle (3.83), Andy Pettitte (3.86), Barry Zito (3.91) and Derek Lowe (3.93).
Accounting for those factors, Fister is highly unlikely to repeat his 2.83 ERA in 2011. Certainly he has no chance at repeating his 1.79 mark during his 11 games (10 starts) following his July 30 trade to the Tigers.
But the extent to which fantasy owners lean on the "regression" crutch is too extreme; there's a burgeoning disrespect for Fister that extends too far.
Here is the most common misconception about Fister: "He's an extreme ground baller." Not so: He had a 47.1 percent ground ball rate last season, 46th out of 94 qualified starters (502-plus batters faced), and a 46.7 percent rate in 2010, 39th of 92 qualifiers. In fact, both of those rates fell within range of the major league averages: 45.6 percent in 2011, and 44.8 percent in 2010.
That's not to say that having Cabrera and Fielder manning the corners won't adversely impact Fister's numbers, because he still generates a healthy share of ground balls. But the truth is that Fister isn't at extreme risk simply because of grounders; that's a more compelling case when talking about fellow Tigers right-hander Rick Porcello, whose 52.1 percent ground ball rate ranked 19th, and whose 79.8 percent of plate appearances that ended with a ball in play ranked 10th.
Simply put, Fister also has a skill set that's better than that of a typical pitch-to-contact right-hander.
• Only four qualified starters had a lower walks-per-nine innings ratio than Fister's 1.54 last season, and his 1.68 walks-per-nine in 2010 ranked fourth best.
• He's one of the most skilled artists with his two-seam fastball, which is the pitch primarily responsible for his healthy rate of ground balls, bringing both deception and the ability to spot it wherever he wants. Fister's 70 percent strike rate with all fastballs last season ranked seventh best. And here's the stunner: He generated a 37 percent chase rate -- percentage of swings at pitches outside the strike zone -- on his fastball, which paced all major leaguers. It is perhaps that fact which most explains the small, yet noticeable, advances he has made with his K rate so far in his career.
• Fister's changeup is also outstanding, and an elite weapon against left-handers that helps assure balanced splits: He limited lefties to .170/.192/.298 rates in 99 plate appearances that ended with one last season.
It's facts like that which support Fister's case to advance his skills in 2012, even as his fortunes on balls in play is likely to regress. Those who owned him last season will be quick to cite his 7.29 K's-per-nine ratio during his time with the Tigers, and the above numbers support the case of a pitcher whose skills are only improving with experience. If Fister can whiff, say, seven per nine instead of six, he'll be in far better shape in his quest for a repeat.
But here's the No. 1 reason Fister's 2012 fantasy performance might not fall substantially short of his 2011: Wins, wins, wins. Fister won but three of his 21 starts for the Seattle Mariners to begin the year, but eight of 10 for the Tigers. Even if his ERA soars to 3.70, as we project, he should be good for at least 15 wins with a potent Tigers lineup supporting him.
In other words, don't expect any miracles with Fister, but consider fantasy owners' fears of the Tigers' defense a buying opportunity. At his current ADP, he might be a smart addition comparative to cost.
Tristan H. Cockcroft is a fantasy baseball analyst for ESPN.com, a two-time champion of the League of Alternative Baseball Reality (LABR) experts league, and a 2011 FSWA award winner for Best Baseball Article on the Web. You can e-mail him here, or follow him on Twitter @SultanofStat.
Fantasy
Senior writer for ESPN.com
Co-host of the Fantasy Focus Baseball podcast
Two-time LABR, two-time Tout Wars champion
Member of the FSWA Hall of Fame
SPONSORED HEADLINES
FANTASY TOP HEADLINES
MOST SENT STORIES ON ESPN.COM
2012 Fantasy Baseball Draft Kit
ESPN.com's experts have all the information you need to succeed in your fantasy draft.
Draft Kit home
Play for free
2012 Projections and Profiles
• All players | Sortable statistics
• More: C | 1B | 2B | 3B | SS | OF | SP | RP
2012 Rankings
• Top 300 | AL-only | NL-only
• Points Leagues | Cheat sheets
• Custom roto dollar value generator


• Fantasy Draft Engine


• Catcher: Rankings | Preview
• First Base: Rankings | Preview
• Second Base: Rankings | Preview
• Third Base: Rankings | Preview
• Shortstop: Rankings | Preview
• Outfield: Rankings | Preview
• Designated Hitter: Rankings
• Starting Pitcher: Rankings | Preview
• Relief Pitcher: Rankings | Preview
• Tristan H. Cockcroft's Top 250 keepers
Talented Mr. Roto
• Bold predictions for the season
• Berry's Guys I Love, Guys I Hate
• Matthew Berry's Top 250 Rankings
• Matthew Berry's Draft-Day Manifesto
• Berry's "100 Facts to know" for 2012
• Mock Draft with 11 Average Joes

Mock Drafts
• Mock 4.0: 5x5 roto leagues
• Berry versus 11 Average Joes
• Head-to-head points leagues
• 5x5 Rotisserie leagues
• Mock Draft Lobby
• Live Draft Results
Analysis
• Position battle winners, losers
• ADP reveals drafting trends
• Staff sleeper and bust picks
• Tristan's Twenty: Cockcroft's 2012 targets
• Bleagh! The guys Tristan doesn't like for 2012
• Cockcroft's 'perfect' draft
• The components of ERA
• Understanding the BABIP statistic
• Cockcroft's "Kings of Command"
• Which teams got worse defensively?
• Spring watch list
• 2013 free agents to be, by position
• 'Mulligan' ERAs: The impact of awful starts
• Dissecting wins for pitchers
• Why negative BA can be overrated
• Notable offseason moves | All moves
• 30 Questions archive
Strategy
• Taking advantage of position flexibility
• Points leagues primers: Pitchers | Hitters
• Fantasy 101: Intro to fantasy baseball
Stephania Bell
• Injury updates: Hitters | Pitchers
• Injuries: C | 1B | 2B | SS | 3B | OF | SP | RP
• Who's recovering from Tommy John surgery?
Insider
• Goldstein: Top 50 prospects

| 51-100


• Eric Karabell: Top 100

| Five prospects


• Karabell: My 2012 "Do Not Draft" list


• Karabell: Bold stat predictions


• Karabell: Steals sleepers


• Karabell: Bounce-back sleepers for 2012


• Keith Law: Top 100 prospects for 2012


• Dan Szymborski: MLB's best sophomores


• Szymborski: Nine make-or-break players


• Szymborski: Breakout hitters | Pitchers


• Dave Cameron: Spring stats that matter


• Todd Zola: Players with new home parks


• Todd Zola: 10 surprising park factors


• Todd Zola: Advanced auction strategy

• Todd Zola: Head-to-head points strategy

Rankings Roundtable
• Matt Wieters could be the No. 1 catcher


• Dee Gordon's steals upside


• Is Alex Rodriguez "washed up?"


• When should you draft your first closer?


• Is Derek Jeter still a top-10 shortstop?


• Can you trust Brian Wilson?


• What to expect from Dan Uggla in 2012


• Just how good is Desmond Jennings?


• Will Jason Motte be a reliable closer?


• What is Starlin Castro's upside?