Commentary
Wisdom of the crowds
Updated:
March 21, 2012, 4:51 PM ET
By
AJ Mass
| ESPN.com
There's a philosophy that the collective opinion of a large group of people is more accurate than that of any one individual. This is commonly referred to as "the wisdom of the crowd."
You've probably seen an attempt at a practical application of this on the game show "Who Wants to Be a Millionaire." On that program, a contestant who doesn't know the answer to a multiple-choice question can poll the audience to see which answer they believe to be correct. It seems to makes sense that if you ask enough people, the majority of them will tend to agree on the correct response, but of course, there are no guarantees.
Play Fantasy Baseball
You lose 100 percent of the leagues you don't join.

Play For Free on ESPN.com »
We here in the ESPN Fantasy department take it upon ourselves to debate the merits of players every spring and afterward, present to you our own mini-version of the "wisdom of the crowd" in the form of our Top 300. Each one of us who takes part in the construction of this list might not agree with each and every player's relative ranking, but the hope is that collectively, we've come up with a solid pecking order.
Of course, when it comes time to draft, nobody expects fantasy baseball owners to blindly follow our list. It's a solid starting point, but your own personal preferences are surely going to allow you to adjust our list to fit your own player evaluations. Additionally, when your league's draft day arrives, one "unexpected" pick is likely to cause a chain reaction that ultimately causes our Top 300 to bear no resemblance whatsoever to the order in which players landed on your league's rosters.
However, if you take the results from enough leagues that have already drafted and put them all together, you can certainly use this information to help better inform your own draft strategy. The Average Draft Position (ADP) compiled from all ESPN Live Drafts, when used in conjunction with the Top 300, can be a crucial tool that lets you know which sleepers you can probably keep in your back pocket for a few extra rounds and which ones you need to act on quickly, lest you miss out.
Again, it's by no means perfect, and each individual draft ends up having its own quirks and idiosyncrasies. But knowing in advance what the "crowds" have tended to do might well be enough insight to allow you to always be acting one step ahead of the competition, instead of always getting scooped for the guy you really wanted to take.
Let's take a position by position look at where the ADPs diverge from the starting point we've provided for you to see what wisdom can be learned.
Catchers: When it comes to players coming off of an injury, of all the offensive positions, it's hardest to hide those bumps and bruises at catcher. Now, we've factored last season's setbacks to Joe Mauer (ADP of 101.2, ESPN Top 300 Rank of 131) and Buster Posey (106.6, 127) into our projections, but apparently most people feel the risk is worth it.
This pair is being selected several rounds ahead of the ESPN rankings and even ahead of two guys we like better: Miguel Montero (122.4, 116) and Alex Avila (128.8, 121). It makes sense, given that if things do go wrong, there will still be plenty of backstops likely available on the waiver wire in one-catcher leagues, including Wilson Ramos (223.2, 216) who is in our top 10, but is being taken off the board 12th by the crowd.
First basemen: We've got six first basemen in our top 25, and the general consensus seems to agree with us. However, it is a little bit surprising that Adrian Gonzalez (11.2, 14) has surged past Joey Votto (11.3, 10) to become the No. 3 man at the position. If you're in the middle of the draft order, it's looking less likely that Gonzalez will be there on the return of the snake in Round 2.
Michael Young (80.6, 95), perhaps because of his positional flexibility, is getting snatched up a good round and a half earlier than expected, so if you're undecided between the Texas infielder and another player who might well last a bit, make your move now or be prepared to miss out.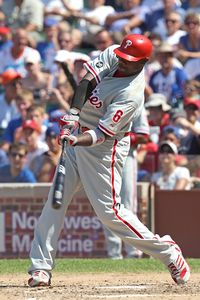 Jonathan Daniel/Getty ImagesRyan Howard is a risk-versus-reward proposition for which prospective owners are likely to have very different tolerance levels.
Most leagues have seen veterans with injury risks like Ryan Howard (159.6, 196) and Justin Morneau (212.8, 270) go off the board well earlier than the Top 300 list would recommend, so if you were thinking about taking a flier on either bat, be aware you're going to have to strike sooner rather than later. You're clearly not the only one interested in that plan.
Second basemen: It probably speaks to the overall weakness of the position that for the most part, the ADP at second base sticks fairly close to the Top 300. It's chalk at the top and all the way through the top dozen names. When it comes to filling out that MI position in the fantasy lineup, most owners are perfectly fine waiting a bit to do so. Jason Kipnis (185.1, 174) is going a full round later than expected and Kelly Johnson's rank takes close to a two-round hit (192.8, 175).
Jemile Weeks (192.3, 202) is gaining some traction as a sleeper pick, having clearly passed Johnson and Danny Espinosa (196.2, 189) in the pecking order. That surge in popularity likely stems from Weeks having hit home runs from both sides of the plate on March 15, and just goes to show that if a player you are targeting makes the highlight reel just before you draft, you probably need to reach for him a round earlier than if he hadn't been featured on "SportsCenter."
Shortstops: Overall, people are still waiting a bit on Hanley Ramirez (16.2, 13) perhaps because his teammate Jose Reyes (22.0, 21) is the other option in the top tier. As long as they're both on the board, people seem to be content to try to play a game of chicken to see if one won't drop to them in Round 3.
Once the top six shortstops are off the board, it's clear that owners are waiting a bit longer to fill that spot in the lineup. Asdrubal Cabrera (73.3, 63) and Alexei Ramirez (98.7, 86) are still the next off the board, but they're still there a good round later than expected.
Perhaps owners aren't upset to "get stuck" with J.J. Hardy (112.0, 110) or Derek Jeter (111.0, 112). In fact, when making the coin toss call, more people are opting for the New York Yankees' captain than the 25-home run potential in the Baltimore shortstop. Apparently, name value still means a lot to the majority of drafters when under the gun on draft day.
Sleeper candidate Emilio Bonifacio (170.8, 213) has been flying off the boards; with his multi-positional eligibility (SS, 3B, OF) and his place in a lineup with Ramirez, Reyes and Giancarlo Stanton, people are optimistic that he'll score a ton of runs to go along with a high number of steals.
Third basemen: This is a very strong position, with 10 guys with an ADP in the top 100 (11, if you include Young). Once again, the Yankees uniform trumps our projections as Alex Rodriguez (58.2, 67) is being selected sooner than our preferred man at the hot corner in Aramis Ramirez (64.5, 58).
After that initial feeding frenzy abates, the bottom drops out of the third base ADP. Generally speaking, until someone finally bites on Mark Reynolds (140.7, 156) and opens the position up again, you can probably sit tight and fill needs elsewhere. If you've been enamored by Mat Gamel (224.7, 264), who will be replacing Prince Fielder at first base in Milwaukee but qualifies at third, then you'd better raise him up on your personal draft list. You're clearly not alone.
Outfielders: Apparently Justin Upton (13.6, 9) is not a first-rounder after all. At least that's what ADP is telling us. I don't think that's really a comment on Upton himself, but rather the perception that you need to strike quickly at first base (five of them are going before Upton in most drafts) and can wait in the outfield. Still, it does mean that if you get to choose your draft spot, gambling with No. 7 in a 10-team league might yield a huge advantage out of the gate.
Drafters clearly have a ton of faith in Josh Hamilton (37.2, 40). Offseason issues aside, he's already gotten hurt once this spring, so it's a tad surprising that he's going before both Hunter Pence (41.9, 37) and Jay Bruce (43.8, 38).
The crowds don't have as much faith when it comes to Kansas City's Alex Gordon (61.6, 50) after his breakout 2011 campaign and Shane Victorino (65.9, 55), who is seemingly surrounded by the Walking Dead in Philadelphia. But clearly, the Detroit Tigers are a highly coveted offense in fantasy circles this season. How else do you explain the ADP surges from teammates Austin Jackson (216.8, 257) and Brennan Boesch (217.0, 261)?
Designated hitters: Only three DHs of note in fantasy for 2012, and the fact that they have to fill your utility spot is the likely reason that both David Ortiz (75.6, 66) and Billy Butler (111.9, 102) are lasting about a round longer than their estimated value. What is more telling, though, is that a similar delay is not in place for Seattle's Jesus Montero (186.5, 188). Whether it's the afterglow from his time with the Yankees or it's the hope that he'll soon be getting catcher eligibility, don't expect him to fall past this point in too many drafts.
[+] Enlarge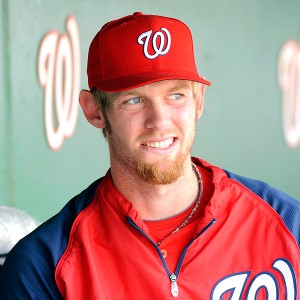 Brad Mills/US PresswireThe appeal of rostering the still-untapped full potential of Stephen Strasburg will prove too much for some owners to wait for the "appropriate" round to take him in.
Starting pitchers: Roy Halladay (11.8, 12) is a borderline first-round selection, and once he goes off the board, it seems to set off a chain reaction where Justin Verlander (12.9, 17) and Clayton Kershaw (17.4, 20) follow soon after. It seems a good rule of thumb is to try to grab one pitcher every four rounds, with No. 10 Dan Haren (40.7, 41), No. 20 Matt Moore (75.6, 74) and No. 30 Josh Johnson (109.2, 128) marking the typical rate of pitchers being taken off the board.
Clearly sexy names like Moore and Stephen Strasburg (67.4, 75) are going to go earlier than those of a less-than-household variety like Madison Bumgarner (85.5, 79) and Daniel Hudson (97.8, 85). However, it does show that you do have the option of waiting a bit to round out your staff if you grab a big gun early.
Once again, it seems that those pinstripes have hastened the selection of a player. In this case, the beneficiary is Michael Pineda (101.6, 118), who is going sooner than higher-valued Top 300 pitchers like Mat Latos (101.8, 94) and Jeremy Hellickson (102.8, 91). The hoopla surrounding Yu Darvish (112.8, 124), though, seems to be leveling off, as his ADP is ever-so-slowly dropping to match his projected rank. If the trend continues, he may once again become a bargain pick rather than a reach.
Relief pitchers: Don't pay for saves! You all know the ESPN Fantasy mantra by now. However, with Craig Kimbrel (58.0, 62), you're paying for both saves and a ton of strikeouts. That makes him all the more alluring to fantasy owners, and they're grabbing him earlier and earlier.
When it comes to closers, many owners are simply looking for a name they're familiar with. That's probably why Brian Wilson (96.6, 105) and his famous beard are being selected ahead of Ryan Madson (109.9, 98) despite the reversal in our rankings list.
The Colorado stigma might well be to blame for Rafael Betancourt's (127.9, 113) drop to 10th closer off the board from our rank of eighth. Notice Huston Street's (158.0, 176) incredible surge in popularity now that he's in Petco as opposed to Coors, and that idea is only reinforced.
Remember that whether or not the "wisdom of the crowd" proves to be more accurate in evaluating talent is irrelevant on draft day. We won't know that one way or the other until the season is over. But what you can be fairly certain of is that once that player you want is off the board, you'll have to do without. So while the "wisdom" itself may end up being wrong, what it is saying in terms of when to pull the trigger should be ignored at your own risk.
SPONSORED HEADLINES
FANTASY TOP HEADLINES
MOST SENT STORIES ON ESPN.COM
2012 Fantasy Baseball Draft Kit
ESPN.com's experts have all the information you need to succeed in your fantasy draft.
Draft Kit home
Play for free
2012 Projections and Profiles
• All players | Sortable statistics
• More: C | 1B | 2B | 3B | SS | OF | SP | RP
2012 Rankings
• Top 300 | AL-only | NL-only
• Points Leagues | Cheat sheets
• Custom roto dollar value generator


• Fantasy Draft Engine


• Catcher: Rankings | Preview
• First Base: Rankings | Preview
• Second Base: Rankings | Preview
• Third Base: Rankings | Preview
• Shortstop: Rankings | Preview
• Outfield: Rankings | Preview
• Designated Hitter: Rankings
• Starting Pitcher: Rankings | Preview
• Relief Pitcher: Rankings | Preview
• Tristan H. Cockcroft's Top 250 keepers
Talented Mr. Roto
• Bold predictions for the season
• Berry's Guys I Love, Guys I Hate
• Matthew Berry's Top 250 Rankings
• Matthew Berry's Draft-Day Manifesto
• Berry's "100 Facts to know" for 2012
• Mock Draft with 11 Average Joes

Mock Drafts
• Mock 4.0: 5x5 roto leagues
• Berry versus 11 Average Joes
• Head-to-head points leagues
• 5x5 Rotisserie leagues
• Mock Draft Lobby
• Live Draft Results
Analysis
• Position battle winners, losers
• ADP reveals drafting trends
• Staff sleeper and bust picks
• Tristan's Twenty: Cockcroft's 2012 targets
• Bleagh! The guys Tristan doesn't like for 2012
• Cockcroft's 'perfect' draft
• The components of ERA
• Understanding the BABIP statistic
• Cockcroft's "Kings of Command"
• Which teams got worse defensively?
• Spring watch list
• 2013 free agents to be, by position
• 'Mulligan' ERAs: The impact of awful starts
• Dissecting wins for pitchers
• Why negative BA can be overrated
• Notable offseason moves | All moves
• 30 Questions archive
Strategy
• Taking advantage of position flexibility
• Points leagues primers: Pitchers | Hitters
• Fantasy 101: Intro to fantasy baseball
Stephania Bell
• Injury updates: Hitters | Pitchers
• Injuries: C | 1B | 2B | SS | 3B | OF | SP | RP
• Who's recovering from Tommy John surgery?
Insider
• Goldstein: Top 50 prospects

| 51-100


• Eric Karabell: Top 100

| Five prospects


• Karabell: My 2012 "Do Not Draft" list


• Karabell: Bold stat predictions


• Karabell: Steals sleepers


• Karabell: Bounce-back sleepers for 2012


• Keith Law: Top 100 prospects for 2012


• Dan Szymborski: MLB's best sophomores


• Szymborski: Nine make-or-break players


• Szymborski: Breakout hitters | Pitchers


• Dave Cameron: Spring stats that matter


• Todd Zola: Players with new home parks


• Todd Zola: 10 surprising park factors


• Todd Zola: Advanced auction strategy

• Todd Zola: Head-to-head points strategy

Rankings Roundtable
• Matt Wieters could be the No. 1 catcher


• Dee Gordon's steals upside


• Is Alex Rodriguez "washed up?"


• When should you draft your first closer?


• Is Derek Jeter still a top-10 shortstop?


• Can you trust Brian Wilson?


• What to expect from Dan Uggla in 2012


• Just how good is Desmond Jennings?


• Will Jason Motte be a reliable closer?


• What is Starlin Castro's upside?