Commentary
2012 preseason injury watch: 1st base
As you prepare for your 2012 fantasy baseball season, injury stories from last season are undoubtedly a factor. A number of players either had their seasons end prematurely due to injury or limped into the offseason with health concerns. Now spring is around the corner, and you need to know how concerned you should be. Since the top predictor of injury in one year is injury the year before, it's hard to feel confident about anyone who lost significant time in 2011. That said, some athletes appear to be on the verge of bursting back on the scene this spring while others cast shadows of uncertainty all around them. Here's what we're hearing about some of the players with major injury concerns surrounding their names.
We'll be splitting up the injury reports by position to make it a little easier to find information about the players drawing the most attention.
First Base
[+] Enlarge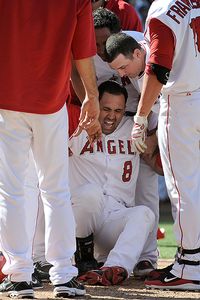 Harry How/Getty ImagesKendrys Morales is still a big question mark after injuring his ankle on this home run celebration in May 2010.
Kendrys Morales, Los Angeles Angels: Morales is coming off a second ankle surgery last May, a surgery that became necessary when Morales failed to progress to the point of returning to run this past season. Morales' original injury was in May 2010, the now-infamous celebratory walk-off grand slam that resulted in a severe left ankle fracture when Morales landed awkwardly at home plate.
Angels team physician and noted orthopedist Dr. Lewis Yocum offered this quote in the Los Angeles Times last May when it was announced Morales would have a second surgery: "The doctor will address any of the pathological changes he sees," Yocum said. "This will help him get range of motion as well as diminish the amount of arthritic change in the joint."
The recovery time for the procedure was estimated to be a minimum of six months.
Morales has been progressing with his rehab efforts in Arizona, and in January, he was cleared to begin light baseball activities and running "on his own power," according to MLB.com. Morales has been taking batting practice and certainly appears to be ahead of where he was at the same time last year. That said, there are still hurdles to cross, including running sprints and turning corners, to prove the ankle will endure the load. And there's this other guy the Angels brought in to cover first base, Albert Pujols. But Morales could serve as a DH, presuming he can hit with power (which requires transferring load and torsion through that left ankle, especially when hitting from the right) and navigate the bases without hesitation. How Morales is able to increase his workload through spring training will give a better idea of how the Angels might be able to use him. It looks encouraging at first glance, but the bigger test for the recovering ankle joint will come in the form of repeated work over a period of time.
Justin Morneau, Minnesota Twins: Maybe it's something in the air in Minnesota. Like his teammate Joe Mauer, Morneau was plagued by injury issues in 2011. He entered the season somewhat tentatively, returning from a concussion injury that cost him the bulk of 2010. Morneau was on the field on Opening Day and seemed to be on an upward trajectory. By May, however, he was experiencing pain and numbness related to a pinched nerve in his neck. A wrist sprain landed him on the DL in mid-June, and shortly thereafter, Morneau underwent neck surgery. He would follow that up in September with a procedure to remove a bone spur from his right foot and a cyst from his left knee, along with a surgery on his ailing left wrist. Perhaps more importantly, in late August, Morneau dove for a ball while playing first base and his concussion symptoms returned. In December, the St. Paul Pioneer Press reported that Morneau was still experiencing symptoms such as headaches after exertion. While Morneau acknowledged being way ahead of where he was last year at the same time, he knows from experience that this is a day-to-day measure. As of late January, Morneau noted continued improvement, telling MLB.com that he is not sure whether any residual headaches are concussion-related. He continues to progress as far as his wrist and is gradually increasing his baseball-related activities. Morneau seems to be more confident about his health heading into 2011, but given his reduced playing time the past two seasons and the nature of the injuries that have most limited him, his prognosis remains uncertain.
Ryan Howard, Philadelphia Phillies: Howard's season -- and that of his Philly teammates -- ended in dramatic fashion during the National League Division Series when he collapsed to the ground on his way to first base after his leg gave out. The culprit was a ruptured left Achilles tendon, an injury more commonly seen in basketball and football. Howard underwent surgery to repair the tendon in October and has been working his way through the rehab process since. Howard has been jogging in the pool and doing light strengthening.
In January, during an interview on Comcast SportsNet, Phillies assistant general manager Scott Proefrock suggested Howard could be ready sometime in May, but he also noted the team would err on the side of caution. Working in Howard's favor is the fact that he plays a position that does not require the agility of a shortstop or the full-speed running of an outfielder. Perhaps most challenging for Howard will be powering out of the batter's box, pushing off from his left foot (which, as a left-handed batter, he does routinely) and running full speed to first base.
Play Fantasy Baseball
You lose 100 percent of the leagues you don't join.

Play For Free on ESPN.com »
Ike Davis, New York Mets: Davis injured his left ankle on May 10 last year, when he collided with teammate David Wright. Initially thought to be a fairly minor incident, the injury ultimately ended Davis' season. The final diagnosis was a bone bruise and an ankle sprain. Davis opted to forego surgery, and, as of early January, he had resumed full baseball workouts, according to Newsday. Davis says he is ready to play and emphasizes the injury is in his past. Naturally, it will be important to see Davis going all out at spring training to see how his ankle is responding, but so far, his outlook appears promising.
Stephania Bell is a physical therapist who is a board-certified orthopedic clinical specialist and a certified strength and conditioning specialist. She is a clinician, author and teacher with extensive experience in the area of orthopedic manual therapy and sports medicine.
Fantasy Sports
Senior writer for ESPN.com
Certified orthopedic clinical specialist and strength and conditioning specialist
Clinician, author and teacher
2012 Fantasy Baseball Draft Kit
ESPN.com's experts have all the information you need to succeed in your fantasy draft.
Draft Kit home
Play for free
2012 Projections and Profiles
• All players | Sortable statistics
• More: C | 1B | 2B | 3B | SS | OF | SP | RP
2012 Rankings
• Top 300 | AL-only | NL-only
• Points Leagues | Cheat sheets
• Custom roto dollar value generator


• Fantasy Draft Engine


• Catcher: Rankings | Preview
• First Base: Rankings | Preview
• Second Base: Rankings | Preview
• Third Base: Rankings | Preview
• Shortstop: Rankings | Preview
• Outfield: Rankings | Preview
• Designated Hitter: Rankings
• Starting Pitcher: Rankings | Preview
• Relief Pitcher: Rankings | Preview
• Tristan H. Cockcroft's Top 250 keepers
Talented Mr. Roto
• Bold predictions for the season
• Berry's Guys I Love, Guys I Hate
• Matthew Berry's Top 250 Rankings
• Matthew Berry's Draft-Day Manifesto
• Berry's "100 Facts to know" for 2012
• Mock Draft with 11 Average Joes

Mock Drafts
• Mock 4.0: 5x5 roto leagues
• Berry versus 11 Average Joes
• Head-to-head points leagues
• 5x5 Rotisserie leagues
• Mock Draft Lobby
• Live Draft Results
Analysis
• Position battle winners, losers
• ADP reveals drafting trends
• Staff sleeper and bust picks
• Tristan's Twenty: Cockcroft's 2012 targets
• Bleagh! The guys Tristan doesn't like for 2012
• Cockcroft's 'perfect' draft
• The components of ERA
• Understanding the BABIP statistic
• Cockcroft's "Kings of Command"
• Which teams got worse defensively?
• Spring watch list
• 2013 free agents to be, by position
• 'Mulligan' ERAs: The impact of awful starts
• Dissecting wins for pitchers
• Why negative BA can be overrated
• Notable offseason moves | All moves
• 30 Questions archive
Strategy
• Taking advantage of position flexibility
• Points leagues primers: Pitchers | Hitters
• Fantasy 101: Intro to fantasy baseball
Stephania Bell
• Injury updates: Hitters | Pitchers
• Injuries: C | 1B | 2B | SS | 3B | OF | SP | RP
• Who's recovering from Tommy John surgery?
Insider
• Goldstein: Top 50 prospects

| 51-100


• Eric Karabell: Top 100

| Five prospects


• Karabell: My 2012 "Do Not Draft" list


• Karabell: Bold stat predictions


• Karabell: Steals sleepers


• Karabell: Bounce-back sleepers for 2012


• Keith Law: Top 100 prospects for 2012


• Dan Szymborski: MLB's best sophomores


• Szymborski: Nine make-or-break players


• Szymborski: Breakout hitters | Pitchers


• Dave Cameron: Spring stats that matter


• Todd Zola: Players with new home parks


• Todd Zola: 10 surprising park factors


• Todd Zola: Advanced auction strategy

• Todd Zola: Head-to-head points strategy

Rankings Roundtable
• Matt Wieters could be the No. 1 catcher


• Dee Gordon's steals upside


• Is Alex Rodriguez "washed up?"


• When should you draft your first closer?


• Is Derek Jeter still a top-10 shortstop?


• Can you trust Brian Wilson?


• What to expect from Dan Uggla in 2012


• Just how good is Desmond Jennings?


• Will Jason Motte be a reliable closer?


• What is Starlin Castro's upside?