Commentary
2012 preseason injury watch: 2nd base
As you prepare for your 2012 fantasy baseball season, injury stories from last season are undoubtedly a factor. A number of players either had their seasons end prematurely due to injury or limped into the offseason with health concerns. Now spring is around the corner, and you need to know how concerned you should be. Since the top predictor of injury in one year is injury the year before, it's hard to feel confident about anyone who lost significant time in 2011. That said, some athletes appear to be on the verge of bursting back on the scene this spring while others cast shadows of uncertainty all around them. Here's what we're hearing about some of the players with major injury concerns surrounding their names.
We'll be splitting up the injury reports by position to make it a little easier to find information about the players drawing the most attention.
Second Base
[+] Enlarge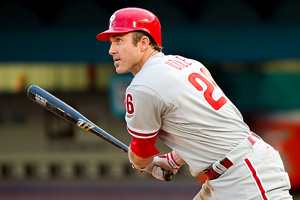 Steve Mitchell/US PresswireChase Utley's knee could continue to be an issue for the rest of his career.
Chase Utley, Philadelphia Phillies: Utley's 2011 season didn't begin until June. Even then, it was uncertain whether he would last the season. Impressively, Utley held up for the remainder of the year, leading many to think he was "over" the knee injury which delayed his start.
Not quite.
Utley has degenerative changes in his patellofemoral joint and those changes are not reversible. During the time Utley was not able to play last spring, he dedicated himself to a rehabilitation program designed to offload that area under the kneecap as much as possible. He was eventually able to return to running the bases and playing defense (swinging the bat was never an issue), but at times he appeared slightly uncomfortable and he certainly wasn't snagging any extra bases.
One key to Utley staying healthy will be ensuring that he gets enough rest during the season. The trick with this condition is avoiding an inflammatory episode that could trigger debilitating pain and again bring Utley's play to a halt. Utley has such a strong work ethic that there is no doubt he will remain vigilant about his exercises, but will he pull back to avoid a flare-up? The other issue will be what to expect from Utley offensively. His power was noticeably down last year, a not unexpected side effect of his knee condition. As Phillies general manager Ruben Amaro Jr. told the Philadelphia Daily News, Utley was not able to train his legs the traditional way, which affected his power. But those strengthening restrictions likely still remain in place, which leads to the question of whether Utley can reasonably be expected to regain that power, a concern that Amaro openly acknowledges. We know Utley will work exceptionally hard. We don't know if his body will fully cooperate.
Play Fantasy Baseball

You lose 100 percent of the leagues you don't join.

Play For Free on ESPN.com »
Brian Roberts, Baltimore Orioles: In August, I talked with Roberts during one of his visits to the Sports Medicine Concussion Program at the University of Pittsburgh Medical Center, where he is being evaluated for his post-concussion symptoms. Roberts provided extremely personal insight into the challenges an athlete faces when dealing with an injury that leaves no visible scar, yet is exceptionally debilitating both physically and emotionally.
The good news is that Roberts has slowly but steadily made significant progress in his recovery. As of September, both he and the medical staff caring for him were already convinced it was just a matter of time before he would be able to return to baseball. The timeline with these injuries, however, runs at its own pace. While Roberts has a goal of being ready for Opening Day, whether he meets it will ultimately depend on if he proceeds uneventfully through spring training. Roberts, now 33, has played in only 98 games in the past two seasons combined due to a myriad of injuries, including a bulging disk in his back and two subsequent concussions. One might argue that the time off to rest his head has perhaps allowed the rest of his body some additional recovery time. One could also argue, however, that extended time away from the game challenges a veteran player to keep his skills sharp enough to perform well when he returns. Either way, Roberts' history makes for uncertainty heading into 2012.
Stephania Bell is a physical therapist who is a board-certified orthopedic clinical specialist and a certified strength and conditioning specialist. She is a clinician, author and teacher with extensive experience in the area of orthopedic manual therapy and sports medicine.
Fantasy Sports
Senior writer for ESPN.com
Certified orthopedic clinical specialist and strength and conditioning specialist
Clinician, author and teacher
2012 Fantasy Baseball Draft Kit
ESPN.com's experts have all the information you need to succeed in your fantasy draft.
Draft Kit home
Play for free
2012 Projections and Profiles
• All players | Sortable statistics
• More: C | 1B | 2B | 3B | SS | OF | SP | RP
2012 Rankings
• Top 300 | AL-only | NL-only
• Points Leagues | Cheat sheets
• Custom roto dollar value generator


• Fantasy Draft Engine


• Catcher: Rankings | Preview
• First Base: Rankings | Preview
• Second Base: Rankings | Preview
• Third Base: Rankings | Preview
• Shortstop: Rankings | Preview
• Outfield: Rankings | Preview
• Designated Hitter: Rankings
• Starting Pitcher: Rankings | Preview
• Relief Pitcher: Rankings | Preview
• Tristan H. Cockcroft's Top 250 keepers
Talented Mr. Roto
• Bold predictions for the season
• Berry's Guys I Love, Guys I Hate
• Matthew Berry's Top 250 Rankings
• Matthew Berry's Draft-Day Manifesto
• Berry's "100 Facts to know" for 2012
• Mock Draft with 11 Average Joes

Mock Drafts
• Mock 4.0: 5x5 roto leagues
• Berry versus 11 Average Joes
• Head-to-head points leagues
• 5x5 Rotisserie leagues
• Mock Draft Lobby
• Live Draft Results
Analysis
• Position battle winners, losers
• ADP reveals drafting trends
• Staff sleeper and bust picks
• Tristan's Twenty: Cockcroft's 2012 targets
• Bleagh! The guys Tristan doesn't like for 2012
• Cockcroft's 'perfect' draft
• The components of ERA
• Understanding the BABIP statistic
• Cockcroft's "Kings of Command"
• Which teams got worse defensively?
• Spring watch list
• 2013 free agents to be, by position
• 'Mulligan' ERAs: The impact of awful starts
• Dissecting wins for pitchers
• Why negative BA can be overrated
• Notable offseason moves | All moves
• 30 Questions archive
Strategy
• Taking advantage of position flexibility
• Points leagues primers: Pitchers | Hitters
• Fantasy 101: Intro to fantasy baseball
Stephania Bell
• Injury updates: Hitters | Pitchers
• Injuries: C | 1B | 2B | SS | 3B | OF | SP | RP
• Who's recovering from Tommy John surgery?
Insider
• Goldstein: Top 50 prospects

| 51-100


• Eric Karabell: Top 100

| Five prospects


• Karabell: My 2012 "Do Not Draft" list


• Karabell: Bold stat predictions


• Karabell: Steals sleepers


• Karabell: Bounce-back sleepers for 2012


• Keith Law: Top 100 prospects for 2012


• Dan Szymborski: MLB's best sophomores


• Szymborski: Nine make-or-break players


• Szymborski: Breakout hitters | Pitchers


• Dave Cameron: Spring stats that matter


• Todd Zola: Players with new home parks


• Todd Zola: 10 surprising park factors


• Todd Zola: Advanced auction strategy

• Todd Zola: Head-to-head points strategy

Rankings Roundtable
• Matt Wieters could be the No. 1 catcher


• Dee Gordon's steals upside


• Is Alex Rodriguez "washed up?"


• When should you draft your first closer?


• Is Derek Jeter still a top-10 shortstop?


• Can you trust Brian Wilson?


• What to expect from Dan Uggla in 2012


• Just how good is Desmond Jennings?


• Will Jason Motte be a reliable closer?


• What is Starlin Castro's upside?

MOST SENT STORIES ON ESPN.COM