Commentary
Understanding the BABIP statistic
How to use this effective but misunderstood stat to analyze player performance
We live in an age of information, an era in which countless statistical measures are available with which to evaluate players.
The danger during this age, however, is that when presented with an abundance of information, sometimes we become so supersaturated that we rush to judgment without a thorough understanding of said information.
An example: A friend recently raised a question about Matt Kemp's BABIP, which at .380 was second-highest among qualified hitters in baseball last season. His contention was that Kemp is due to regress, because players whose BABIPs vary so wildly from the established league averages in one season are bound to revert to traditional league norms in the next.
"Kemp is due to regress" was a rational hypothesis. But his conclusion was flawed.
[+] Enlarge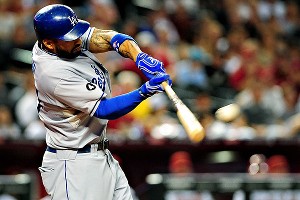 Jennifer Stewart/US PresswireMatt Kemp's consistently hard contact helps him produce a high BABIP.
Perhaps more than any other statistic, BABIP is misinterpreted, and in fact overused, in the fantasy baseball community. Too many bright minds make flippant judgments based upon the simple number, this surface ".380," failing to recognize its underlying influences. The result, unfortunately, is a statistic as likely to present pitfalls as benefits in your player evaluations.
As baseball statistics, pitch tracking and play-charting continues to advance and gain greater detail, so advances the lessons of BABIP. This is the third year for which we've published a "BABIP Primer" in our Draft Kit, and in each of those seasons the metrics we use to evaluate the category have advanced. You are never too seasoned for a refresher course on the category.
Welcome to the 2012 edition of Understanding BABIP, designed to provide you with everything from a beginner's to advanced owner's knowledge of its use.
What, precisely, is BABIP?
Developed more than a decade ago and widely attributed to Voros McCracken, BABIP, or Batting Average on Balls In Play, measures both a hitter's success producing hits or a pitcher's success preventing them only on batted balls put into the field of play. It's effectively a calculation of a hitter's batting average, or a pitcher's batting average allowed, only on balls in play. Walks and strikeouts do not count in the calculation; those are not batted balls. Home runs do not count either; those might be batted balls, but they do not land within the field of play.
The formula: Hits minus home runs, divided by at-bats minus home runs minus strikeouts plus sacrifice flies (H - HR)/(AB - HR - K + SF).
What purpose does BABIP serve?
Here is where we reach that aforementioned pitfall. Too many fantasy owners equate BABIP with "luck," as if the category itself is the consummate measure of how lucky the player was. It's that assumption that fuels conclusions like the one in the Kemp example; many feel that he was as "lucky" as about any hitter in baseball because of his .380 BABIP, just as they might feel that Justin Verlander, the reigning American League MVP and Cy Young award winner, was as "lucky" as any pitcher in the game because of his .236 BABIP allowed, second lowest among ERA qualifiers.
While it's true that BABIP can represent to a certain degree a player's fortunes, it should never be regarded the authority on the matter, a one-size-fits-all measure of luck. The reason is that there are several factors that influence a hitter's BABIP or pitcher's BABIP allowed which must be considered, because each might provide a more reasonable explanation for the player's performance in the category than mere "luck."
You must first understand how the player got to a certain BABIP and why he might or might not repeat his result, before simply deciding that he will or will not repeat his results. But with a proper understanding, yes, the lessons of BABIP can help you identify hidden fantasy values.
What is the major league average for BABIP?
In 2011, the major league average for BABIP was .295, the lowest number in six seasons. At times during the 21st century it has ranged as high as .303 and as low as .293, and before the "Steroid Era," it was commonplace for it to slip beneath .290. For example, exactly 20 years ago the league BABIP was .285.
It is widely assumed that a typical league-average BABIP is .300; this is not true, as it can vary by several points in either direction.
What are these factors that influence BABIP?
Among the most notable are the innate ability of both hitter and pitcher involved in the at-bat, quality of contact, speed of the hitter, quality of the defense on the field (most relevant to pitchers' BABIPs allowed), ballpark dimensions and weather factors, to name a few.
Let's take a closer look at each.
Raw hitting skills: There isn't a person out there who is going to tell you that Joey Votto and Darwin Barney are equals as hitters, as Votto slugged .531 and generated hard contact on 39.7 percent of his batted balls in 2011, while Barney slugged a mere .353 and made hard contact on only 20.1 percent. Votto makes solid, consistent contact (36.6 percent hard contact on batted balls from 2009-11), drives the ball with authority (.246 isolated power from 2009-11) and lacks any significant platoon split (.319/.423/.583 triple-slash rates versus righties, .310/.401/.516 versus lefties, from 2009-11), while Barney possesses none of those skills (19.8 percent hard contact on batted balls, .074 isolated power, .267/.304/.333 versus righties, .288/.336/.392 versus lefties, from 2009-11). And in what should come as no surprise, Votto's BABIP (.349) was a full 39 points higher than Barney's (.310).
Simply put, the better the hitter, the greater the prospect of success in BABIP.
To that point, six of the top 10 hitters in terms of batting average (minimum 1,500 plate appearances) the past three seasons combined also ranked among the top 10 in BABIP during that time. Only one of the 19 players who have batted .300 in 1,500-plus PAs in the past three seasons combined, meanwhile, had a BABIP beneath .315 during that period: Albert Pujols, who batted .314 with a .294 BABIP.
The upshot is that you should never look at a player's single-year BABIP and make flash judgments. If the player has an established track record of success in the category, he's more likely to continue that success into the future.
[+] Enlarge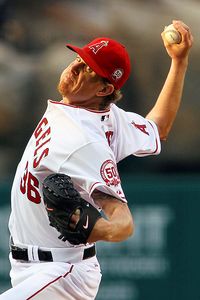 Jeff Gross/Getty ImagesOpposing batters hit just .212 versus Jered Weaver in 2011.
Raw pitching skills: The similar lessons to hitters also apply to pitchers -- Roy Halladay and Livan Hernandez hardly can be termed equals -- but in the case of pitchers, the type of pitcher also has a bearing on his eventual BABIP. For example, Jered Weaver had a .252 BABIP allowed last season and Josh Tomlin a .254, but that doesn't necessarily mean the two were "equally lucky." Weaver generated fly balls (50.1 percent of his balls in play) at the highest rate of any qualified pitcher, and line drives 20th-least frequently (16.6 percent). Fly balls -- at least fly balls that remain within the field of play (i.e. non-home runs) -- are the batted-ball type most likely to be converted into outs, so Weaver's BABIP should be below the major league average.
Tomlin, meanwhile, allowed the ninth-highest line drive rate (20.8 percent) among qualified starters, and a fly ball rate (39.9 percent) more than 10 percent below Weaver's. Tomlin also afforded hard contact on 26.4 percent of his balls in play, significantly higher than Weaver's 19.3 percent rate.
Always consider the type of pitcher -- ground baller, fly baller -- as well as the major league average BABIPs on specific types of batted balls:
Ground balls (45.6 percent of all balls in play last season): .233 BABIP
Fly balls (35.9 percent): .152 BABIP
Line drives (18.5 percent): .707 BABIP
Quality of contact: This is where those "hard contact" numbers, as in the Votto/Barney example, come into play. The harder the contact, the greater the potential results for the hitter. Sure enough, the league average BABIP on batted balls judged as "hard contact" in 2011 was .600. On every other ball in play, the league average BABIP was .195. In other words, hard-contact batted balls are more than three times as likely to result in hits than soft contact.
The following chart lists the top 15 qualified hitters in terms of BABIP in 2011 and where they ranked in terms of percentage of balls in play judged hard contact:
Now take a look at where the bottom 15 in BABIP finished:
Speed of the hitter: The faster the runner, the more likely he'll leg out ground balls for infield hits, boosting his BABIP. Seven of the 12 batting-average qualifiers to manage a BABIP north of .350 stole bases in the double digits in 2011; the Nos. 1 (Matt Kemp, .380), 3 (Emilio Bonifacio, .372) and 4 (Michael Bourn, .369) in the category all stole at least 40. And if you look at the charts above, Bonifacio and Bourn are two players who ranked highly in BABIP but low in terms of rate of hard contact, with their speed helping explain the disparity.
Breaking down BABIP to only the number on ground balls, of the nine batting-average qualifiers to manage a .300 BABIP or greater only on grounders, six managed at least 20 stolen bases: Drew Stubbs, who was 2nd with .314, 40 SB; Cameron Maybin, 3rd with .308, 40 SB; Chris Young, 4th with .306, 22 SB; Jose Reyes, 6th with .301, 39 SB; Dustin Pedroia, 7th with .301, 26 SB; and Emilio Bonifacio, 9th with .300, 40 SB.
Conversely, of the 11 qualified hitters who had a sub-.180 BABIP on ground balls, eight ranked among the least efficient base stealers: Carlos Santana, who had the worst at .144; Adam Lind, 2nd-worst with .152; Logan Morrison, 3rd-worst with .157; Ryan Howard, 4th-worst with .159; Alfonso Soriano, 5th-worst with .168; Raul Ibanez, 8th-worst with .176; Carlos Pena, 9th-worst with .176; and Evan Longoria, 10th-worst with .179.
[+] Enlarge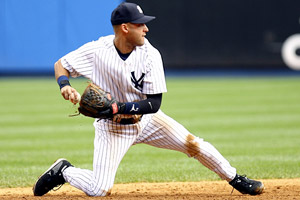 Al Bello/Getty ImagesDefense does matter in fantasy. As in, Derek Jeter's lack of range can affect his pitchers' numbers.
Quality of the defense: Here's where careful examination of a pitcher's BABIP allowed is critical; that number might be as likely -- and perhaps more likely -- to demonstrate the quality of the defense behind him than it will how lucky he was. For instance, a pitcher wasn't necessarily "unlucky" to have surrendered a hit because the opposing hitter managed to hit the ball just far enough outside of Derek Jeter's limited range at shortstop for it to sneak through; he was only "unlucky" in that his shortstop at the time was Jeter, rather than a shortstop with the range to get to that ball, like J.J. Hardy.
To illustrate this point, seven of the top 10 teams in terms of lowest pitching BABIP allowed last season allowed also ranked among the 10 best in FanGraphs' Ultimate Zone Rating, which measures a defense's performance converting batted balls into outs. Those 10 teams featured, among ERA qualifiers, the No. 1 pitcher in BABIP (Jeremy Hellickson, .223), No. 4 (Josh Beckett, .245), No. 5 (Jered Weaver, .250) and No. 8 (James Shields, .258) … and all of those four pitchers in fact played for teams ranked among the top five in the game in UZR.
Ballpark dimensions: Ballparks can influence BABIP, which makes sense considering no two are the same; in terms of area, the field of play varies depending upon the measurement of the outfield fences and four territory.
For example, San Diego's Petco Park has an expansive right and right-center field, while Oakland-Alameda County Coliseum has the most spacious foul territory in baseball. Sure enough, the collective BABIP of all players at Petco Park last season was .277, at the Coliseum it was .283, and those numbers ranked third- and fifth-lowest, respectively, among the 30 venues in baseball.
These were the BABIPs at all 30 major league ballparks in 2011:
| Venue | BABIP | | Venue | BABIP |
| --- | --- | --- | --- | --- |
| Fenway Park (Bos) | .322 | | Turner Field (Atl) | .294 |
| Coors Field (Col) | .312 | | Progressive Field (Cle) | .294 |
| Comerica Park (Det) | .309 | | Nationals Park (Wsh) | .293 |
| Minute Maid Park (Hou) | .309 | | U.S. Cellular Field (CWS) | .290 |
| Kauffman Stadium (KC) | .307 | | Busch Stadium (StL) | .290 |
| Wrigley Field (ChC) | .304 | | Camden Yards (Bal) | .289 |
| Citi Field (NYM) | .304 | | Great American Ball Park (Cin) | .289 |
| Miller Park (Mil) | .302 | | Dodger Stadium (LAD) | .289 |
| Target Field (Min) | .301 | | AT&T Park (SF) | .286 |
| Sun Life Stadium (Fla) | .299 | | Citizens Bank Park (Phi) | .285 |
| Rangers Ballpark (Tex) | .298 | | Oakland Coliseum (Oak) | .283 |
| PNC Park (Pit) | .298 | | Angel Stadium (LAA) | .282 |
| Yankee Stadium (NYY) | .297 | | Petco Park (SD) | .277 |
| Chase Field (Ari) | .297 | | Safeco Field (Sea) | .276 |
| Rogers Centre (Tor) | .297 | | Tropicana Field (TB) | .264 |
Is BABIP a more valuable evaluation tool for either hitters or pitchers, or is it about as relevant a statistic for each?
BABIP is a more valuable evaluation tool for pitchers than it is for hitters, primarily because pitchers have less control over the outcomes of individual plays than hitters -- at least the ones that end in a batted ball being placed into the field of play. Once the ball leaves a pitcher's hands, its fate can be influenced by any of the above. A hitter, meanwhile, has control over the placement of the ball with his swing, no matter by how small a degree, slightly increasing his chances for success.
These numbers help illustrate the difference: The highest recorded BABIP by a qualified hitter in 2011 was .380 (Adrian Gonzalez), and 12 hitters managed a BABIP of .350 or greater. The lowest hitter BABIP was .214 (Vernon Wells), and seven finished beneath .250.
The highest recorded BABIP by a qualified pitcher, however, was a mere .331 (Ricky Nolasco). The lowest was .223 (Jeremy Hellickson), and only four finished with a BABIP beneath .250.
So what conclusions can we can draw from BABIP?
The way to avoid BABIP pitfalls is to put a player's number in the category into perspective. What kind of hitter or pitcher is he? How did his 2011 BABIP compare to his career performance in the category? If it has changed, was there some other aspect of his game that changed which might serve an explanation, say, a noticeable shift in his batted-ball rates?
Play Fantasy Baseball
You lose 100 percent of the leagues you don't join.

Play For Free on ESPN.com »
Evan Longoria might be the ideal example of such a hitter from last season. He had a .239 BABIP in 2011, nearly 100 points below his 2010 number (.336) and 61 beneath his career number in the category (.301), despite his line-drive, ground-ball and fly-ball rates scarcely having changed during the course of his major league career. Longoria also made hard contact on greater than 30 percent of his balls in play for the third consecutive season. If you're looking for any example of unexpected, inexplicable shifting in BABIP performance, he's the guy to look at.
Another consideration is to break down a player's BABIP by batted ball type, then compare the number to the averages listed above. In Longoria's case, his BABIP solely on line drives dipped from .737 in 2010 to .639 in 2011, effectively a six-hit swing only on line drives. That further supports the case that Longoria was particularly unfortunate, and a bounce-back candidate in 2012.
In order to help fantasy owners better identify such candidates, consider calculating a player's expected BABIP, then compare it to his actual number. This is no new concept -- it has been discussed in this space each year -- but is one that helps put the player's actual number in the category into perspective. Opinions on the proper formula for expected BABIP vary -- some argue you can just add 10 percent to a player's line-drive rate, which seems awfully arbitrary -- but I've found that the most effective ones calculate the major league average BABIPs by batted ball type, multiplied by the player's batted-ball percentages.
This season, however, I've added a new wrinkle: I now use BABIPs on both hard and soft contact on each batted-ball type.
For example, my "expected BABIP" formula: Hard contact ground balls times .562, plus soft contact ground balls times .178, plus hard contact fly balls/pop-ups times .391, plus soft contact fly balls/pop-ups times .100, plus hard contact line drives times .722, plus soft contact line drives times .677, plus bunts times .410.
Remember that this formula does not account for a player's speed; there isn't any clear way to include that in the calculation … yet.
These were the hitters who had the most significant differential between actual and expected BABIP last season (minimum 400 plate appearances):
Higher Expected (Exp.)
than Actual (Act'l) BABIP

Higher Actual (Act'l)
than Expected (Exp.) BABIP

Player

Team(s)

Diff.

Exp.

Act'l

Player

Team(s)

Diff.

Exp.

Act'l

Adam Lind
Tor
.068
.333
.265
Adrian Gonzalez
Bos
-.051
.329
.380
Adam Dunn
CWS
.056
.296
.240
Hunter Pence
Hou-Phi
-.049
.312
.361
Jeff Keppinger
Hou-SF
.055
.335
.280
Emilio Bonifacio
Fla
-.049
.323
.372
Ryan Roberts
Ari
.052
.327
.275
Peter Bourjos
LAA
-.048
.290
.338
Evan Longoria
TB
.052
.291
.239
Alex Gordon
KC
-.048
.310
.358
Russell Martin
NYY
.052
.304
.252
Jose Reyes
NYM
-.045
.308
.353
Alex Rios
CWS
.051
.288
.237
Austin Jackson
Det
-.040
.300
.340
Ian Kinsler
Tex
.048
.291
.243
Matt Kemp
LAD
-.038
.342
.380
Brent Morel
CWS
.048
.310
.262
Alex Avila
Det
-.035
.331
.366
Logan Morrison
Fla
.046
.311
.265
Alex Rodriguez
NYY
-.035
.276
.311
Kurt Suzuki
Oak
.046
.290
.244
Daniel Murphy
NYM
-.032
.313
.345
Colby Rasmus
StL-Tor
.042
.309
.267
Yunel Escobar
Tor
-.032
.284
.316
Casey McGehee
Mil
.041
.290
.249
Ryan Zimmerman
Was
-.032
.294
.326
Chris Young
Ari
.041
.316
.275
Jemile Weeks
Oak
-.031
.319
.350
Mark Teixeira
NYY
.041
.280
.239
Andre Ethier
LAD
-.029
.319
.348
Lyle Overbay
Pit-Ari
.039
.318
.279
Jamey Carroll
LAD
-.029
.303
.332
Chris Iannetta
Col
.039
.315
.276
Alberto Callaspo
LAA
-.028
.282
.310
Orlando Cabrera
Cle-SF
.038
.297
.259
Michael Young
Tex
-.027
.340
.367
Carlos Pena
ChC
.038
.305
.267
Melky Cabrera
KC
-.027
.305
.332
Kelly Johnson
Ari-Tor
.037
.314
.277
Drew Stubbs
Cin
-.026
.317
.343
And these were the pitchers whose differentials were greatest (minimum 100 innings pitched):
Before we close, I'll reiterate one important rule, one I constantly make in this space: BABIP can never, and should never, be regarded as the driving force behind your draft-day preparations. As with many peripheral statistics, it's merely another tool designed to help unearth hidden value, but it's not the perfect tool, much the way you should never draft a fantasy team solely off a list of players in contract years, players aged exactly 27 years old, players in their third major league season or players who like oatmeal. These are all factors for your consideration, but should not be the sole decision-makers.
BABIP is just another tool -- a valuable, underrated and often misunderstood tool -- to help you make your decision. Hopefully, with this column's -- as well as its predecessors' -- help, you've now mastered it.
Tristan H. Cockcroft is a fantasy baseball analyst for ESPN.com, a two-time champion of the League of Alternative Baseball Reality (LABR) experts league, and a 2011 FSWA award winner for Best Baseball Article on the Web. You can e-mail him here, or follow him on Twitter @SultanofStat.
Fantasy
Senior writer for ESPN.com
Co-host of the Fantasy Focus Baseball podcast
Two-time LABR, two-time Tout Wars champion
Member of the FSWA Hall of Fame
SPONSORED HEADLINES
FANTASY TOP HEADLINES
MOST SENT STORIES ON ESPN.COM
2012 Fantasy Baseball Draft Kit
ESPN.com's experts have all the information you need to succeed in your fantasy draft.
Draft Kit home
Play for free
2012 Projections and Profiles
• All players | Sortable statistics
• More: C | 1B | 2B | 3B | SS | OF | SP | RP
2012 Rankings
• Top 300 | AL-only | NL-only
• Points Leagues | Cheat sheets
• Custom roto dollar value generator


• Fantasy Draft Engine


• Catcher: Rankings | Preview
• First Base: Rankings | Preview
• Second Base: Rankings | Preview
• Third Base: Rankings | Preview
• Shortstop: Rankings | Preview
• Outfield: Rankings | Preview
• Designated Hitter: Rankings
• Starting Pitcher: Rankings | Preview
• Relief Pitcher: Rankings | Preview
• Tristan H. Cockcroft's Top 250 keepers
Talented Mr. Roto
• Bold predictions for the season
• Berry's Guys I Love, Guys I Hate
• Matthew Berry's Top 250 Rankings
• Matthew Berry's Draft-Day Manifesto
• Berry's "100 Facts to know" for 2012
• Mock Draft with 11 Average Joes

Mock Drafts
• Mock 4.0: 5x5 roto leagues
• Berry versus 11 Average Joes
• Head-to-head points leagues
• 5x5 Rotisserie leagues
• Mock Draft Lobby
• Live Draft Results
Analysis
• Position battle winners, losers
• ADP reveals drafting trends
• Staff sleeper and bust picks
• Tristan's Twenty: Cockcroft's 2012 targets
• Bleagh! The guys Tristan doesn't like for 2012
• Cockcroft's 'perfect' draft
• The components of ERA
• Understanding the BABIP statistic
• Cockcroft's "Kings of Command"
• Which teams got worse defensively?
• Spring watch list
• 2013 free agents to be, by position
• 'Mulligan' ERAs: The impact of awful starts
• Dissecting wins for pitchers
• Why negative BA can be overrated
• Notable offseason moves | All moves
• 30 Questions archive
Strategy
• Taking advantage of position flexibility
• Points leagues primers: Pitchers | Hitters
• Fantasy 101: Intro to fantasy baseball
Stephania Bell
• Injury updates: Hitters | Pitchers
• Injuries: C | 1B | 2B | SS | 3B | OF | SP | RP
• Who's recovering from Tommy John surgery?
Insider
• Goldstein: Top 50 prospects

| 51-100


• Eric Karabell: Top 100

| Five prospects


• Karabell: My 2012 "Do Not Draft" list


• Karabell: Bold stat predictions


• Karabell: Steals sleepers


• Karabell: Bounce-back sleepers for 2012


• Keith Law: Top 100 prospects for 2012


• Dan Szymborski: MLB's best sophomores


• Szymborski: Nine make-or-break players


• Szymborski: Breakout hitters | Pitchers


• Dave Cameron: Spring stats that matter


• Todd Zola: Players with new home parks


• Todd Zola: 10 surprising park factors


• Todd Zola: Advanced auction strategy

• Todd Zola: Head-to-head points strategy

Rankings Roundtable
• Matt Wieters could be the No. 1 catcher


• Dee Gordon's steals upside


• Is Alex Rodriguez "washed up?"


• When should you draft your first closer?


• Is Derek Jeter still a top-10 shortstop?


• Can you trust Brian Wilson?


• What to expect from Dan Uggla in 2012


• Just how good is Desmond Jennings?


• Will Jason Motte be a reliable closer?


• What is Starlin Castro's upside?