Commentary
Sleepers: Names to know for any depth of league
Updated:
March 24, 2008, 3:27 PM ET
By
ESPN.com Fantasy
| ESPN.com
Sleepers for ESPN.com standard and shallow mixed leagues
Rick Ankiel, OF, Cardinals: Ankiel is a special athlete and one who is not yet a finished product. And what makes Ankiel's achievements so hard to believe for many of us -- a former pitcher hitting all these home runs -- is also a reason to worry less about his propensity to strike out. Don't forget, he just started focusing on this whole hitting thing in 2005, and lost all of 2006 to injury. He has had a grand total of 882 at-bats, from Class A to the majors, since the conversion. That's certainly enough at-bats to know the 64 home runs he's hit are legit, but not enough to decide he's never going to improve making contact. Keep an open mind, and in the meantime, give him a spot on your roster. --Pete Becker
Barry Bonds, OF, free agent: Yup, you're readin' that right. Bonds has openly said he said he still wants to play somewhere and that he is in good shape; now it's just a matter of (a) that being true; and (b) some team wants to give him a chance. I could see a scenario in which it could happen. A veteran team gets off to a slow start or has an injury or two … and it's Barry Bonds to the rescue. Even better news: You know you can count on him to still produce if he's given the chance. --Brendan Roberts
It's not too late! You have until April 18 to sign up and draft your own free fantasy baseball team!
Sign Up Today!
Travis Buck, OF, Athletics:
Buck's rookie season was plagued with injuries to his thumb, elbow, forearm and hamstring, which caused two separate stints on the disabled list. However, a healthy Buck could bat leadoff for Oakland and quietly produce double digits in homers and steals with a solid batting average. His upside is well worth taking a chance on late in your draft, because in mixed leagues you can just pluck someone else from the free-agent pool if Buck proves to be injury prone again.
--Jason Grey
Matt Diaz, OF, Braves: Brandon Jones didn't make the Braves' roster, which is terrific news for Diaz. It appears he's set to start every day in left field, rather than just as the right-handed-hitting side of a platoon. His OPS may have been 208 points lower against right-handers in '07, but it was actually 77 points higher in '06. Will he hit .338? Probably not. But around .300 with 20 home runs and 80 RBIs makes him a fine late-round gamble.--Christopher Harris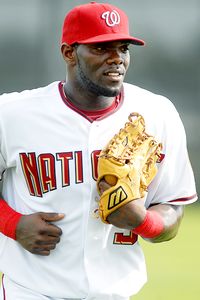 Mitchell Layton/Getty ImagesElijah Dukes will likely start in the outfield while Wily Mo Pena is injured.
Elijah Dukes, OF, Nationals:
We know all about the off-field issues with Dukes, but if he has put those behind him with a fresh start in the nation's capital he could put up some nice numbers. The injury to
Wily Mo Pena
gives Dukes a starting job to begin the year, and it's possible he could hit well enough to keep it. He has excellent power, knows the strike zone, and can swipe a few bags. His potential is undeniable if he can keep himself under control and stay in the lineup.
--Jason Grey
Yunel Escobar, 2B/SS/3B, Braves: The Braves liked what they saw in Escobar last season so much that they traded Edgar Renteria away to allow Yunel to play every day at shortstop. So far this spring, he's done everything right, hitting .455 with 12 RBIs primarily from the leadoff spot in the lineup. He's not Jimmy Rollins or Hanley Ramirez or Jose Reyes, but after those guys are gone, he's a pretty good option with tremendous upside and the ability to be placed at several different positions in your lineup. --AJ Mass
Troy Glaus, 3B, Cardinals: A "Did You Know": Glaus has 277 career homers, which is more than, say, Paul Konerko and David Ortiz. Another "Did You Know": Glaus is actually younger than both of those guys. Because he's had various nagging injuries, has been around a bit and doesn't hit for average, Glaus has been all but forgotten in drafts this year. But he moves back to the National League, where he hit well back in 2005. He leaves the artificial turf of Rogers Centre to play at Busch Stadium, which will help his health. And he hit a homer every 19.25 at-bats in 2007, which shows he still has some pop. --Brendan Roberts
Zack Greinke, SP, Royals: It wasn't that long ago -- four years, in fact -- that Greinke was considered a Cy Young contender in the making, an instant-impact rookie, a guy in 2004 comparable to what Yovani Gallardo and Tim Lincecum were in 2007. The three seasons since represented a rocky path, not at all out of character for a young, learning pitcher, but in a seven-start audition late last year, Greinke seemed to put it all together, with a 1.85 ERA, .238 BAA and 8.31 K/9. It's been a wild ride, but at age 24, Greinke is primed to shine. --Tristan H. Cockcroft
Bill Hall, OF, Brewers: Do we all have such short memories that we don't recall Hall hitting 35 home runs as a shortstop in 2006? Last season, despite being moved to unfamiliar territory in the outfield, Hall still managed a respectable 14 home runs. Although he qualifies only as an outfielder, that will change in a few weeks, as Hall is slated to be the Brewers' starting third baseman, with Ryan Braun moving to the outfield. Positional flexibility, a little bit of speed, and maybe 20-25 home runs … you could do a lot worse with a late-round selection. --AJ Mass
Rich Harden, SP, A's: As recently as 2007, Harden was talked about as a Cy Young candidate. Now he's not even draftable in mixed leagues? Please. There are no shallow leagues in which Harden shouldn't be drafted. After all, you take the late-round risk on him, and if (when?) he gets hurt and doesn't pitch, you just pick up someone else. If by a stroke of luck he stays healthy, a strikeout per inning and an ERA below four seem very likely.--Christopher Harris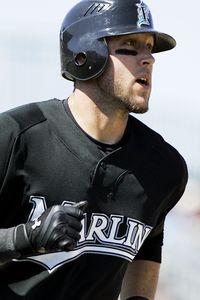 AP Photo/Jeff RobersonJeremy Hermida played 245 major league games before his 24th birthday.
Jeremy Hermida, OF, Marlins:
The very definition of the "post-hype sleeper," Hermida sneaks beneath the radar -- so says his No. 191 average draft position -- thanks to back-to-back years in which he was a popular breakout candidate yet terribly disappointed his owners. Another way to put it: Fool me once, shame on you. Fool me twice, shame on me. Well,
I'll
happily be "fooled" a third time! Consider that from July 1 to the end of last season, Hermida batted .338 with 12 homers in 80 games;
that's
closer to the real thing than his 2006 and first-half-2007 model.
--Tristan H. Cockcroft
Randy Johnson, SP, Diamondbacks: The notion that Johnson will return from this spine surgery to deliver 20-25 starts this season is not unreasonable. The advantages for him this year are several: He has had longer to rehabilitate from this surgery compared to last year, he has a better understanding of what the rehab process entails and what to expect, and frankly, after this third back surgery (1996, 2006, 2007), there is less disk material left to herniate, making a repeat injury unlikely. This spring he is ahead of where he was last year, both in terms of how he is throwing and how his body has responded after each outing. Sure, he's 44, but everyone acknowledges that his arm still looks as good as those of the young guns. --Stephania Bell
Austin Kearns, OF, Nationals: It seems as if Kearns has been around forever, but he's only 27, and 2007 was just his second season of 400-plus at-bats. Kearns made much better contact last year, cutting his strikeout rate to a career low. He still has 30-home run potential, and his prime years are just ahead. Maybe more than any other Nationals hitter, Kearns will benefit greatly from the new ballpark. His road line last year was an encouraging.301/.378/.454, compared with .228/.330/.365 at RFK.--Will Harris
Ted Lilly, P, Cubs: Not everyone's numbers improve upon moving from the AL to the NL, just ask Barry Zito. However, Lilly actually proved he was worth his big contract last season, as his 2007 stats were very similar to teammate Carlos Zambrano, who's definitely being taken far earlier in drafts. Lilly had just three fewer strikeouts than Zambrano in 9 1/3 fewer innings in 2007. --James Quintong
Tim Lincecum, SP, Giants: Fantasy owners shied away from Tiny Tim this spring because he pitches for the lowly Giants, doesn't have the track record, walked too many guys last year … To that I would say: Just watch him pitch. That's right, the game is actually played on the field, and the 23-year-old right-hander has the arm snap of a Francisco Rodriguez, the neck roll (deception) of Orel Hershiser and the explosion from a small frame of Roy Oswalt. Plus, his walks weren't out of hand in what few minor league innings he got. See him pitch once, and you'll see what I mean. --Brendan Roberts
Corey Patterson, OF, Reds: OK, so the on-base percentage likely will be awful, but Dusty Baker will give him every chance to shine in center. Patterson can still run and should steal about 20-25 bases. Even better, he's a threat to hit 20 or so homers in a cozy home ballpark and to frustrate those waiting for Jay Bruce to get his chance. --James Quintong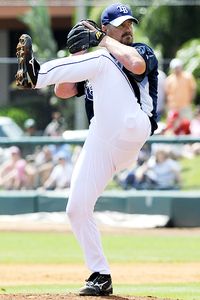 Al Messerschmidt/Getty ImagesTroy Percival hopes to add to his 324 career saves.
Troy Percival, P, Rays:
After missing nearly two full seasons because of a forearm injury, Percival was considered done by some, but Rays manager Joe Maddon, who was with the Angels during Percival's tenure there, has confidence that he can still contribute. In 2005 Percival tore the flexor–pronator muscle mass in the forearm, which is critical to protecting the elbow joint from the torque placed on it during throwing. After extensive rehabilitation, Percival managed to come back to provide some relief work for the Cardinals in 2007. The Rays liked what they saw and were willing to invest. So far this spring, Percival has not disappointed and has been able to throw multiple scoreless innings across several outings, with the exception of a multiple-run aberration. The team has wisely limited his action in the hopes of preserving his health and Percival could be a candidate for surprise player of the year.
--Stephania Bell
Ervin Santana, SP, Angels: This spring, Santana has shown the command of his fastball and the tight slider that abandoned him last season. His mechanics were all out of whack for much of last year, but he's throwing strikes and showing riding life on his mid-90s fastball. He has three straight years of crazy home/road splits, so you may want to begin with spot starting him at home, but there are a lot of signs pointing to a rebound season. --Jason Grey
Gary Sheffield, DH, Tigers: Who says being 39 years old is something to be concerned about? Not Sheffield, that's for sure. Sheffield suffered a shoulder injury in 2007 when he collided with Placido Polanco and had problems with the shoulder throughout the remainder of the season. He underwent cortisone shots and periods of rest, but he never could get his power back in his arm and the Tigers eventually shut him down for the season. During the offseason, Sheffield underwent surgery to repair a minor labral tear, but for a hitter, this is not a big deal as surgeries go. He has been swinging the bat well in spring training and appears ready to play the outfield, although the Tigers will hold off from that initially. As his timing comes back, he should be a power force. --Stephania Bell
Sleepers for NL-only leagues
Johnny Cueto, P, Reds: It's a good news, bad news situation for Cueto. The highly touted prospect has been sharp this spring en route to earning a spot in the middle of the Reds' rotation. He's got the talent to be a topflight pitcher in the big leagues, but he may have to be careful based on Dusty Baker's penchant for overusing his young pitchers, especially given Cueto's slight build. Cueto could be great this year, but his long-term prospects are a tad shadier. --James Quintong
Rajai Davis, OF, Giants: Davis is a great source of cheap speed, as he will at least see platoon at-bats with Dave Roberts to begin the season, with the potential for more if Roberts gets hurt (as he seems to do each year.) Davis should go for $5 or less in NL auctions, or in the late rounds of drafts, and could put up 20 steals. --Jason Grey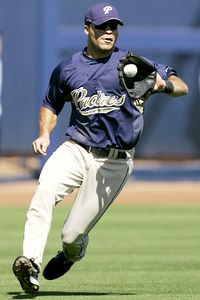 AP Photo/Charlie RiedelScott Hairston should play every day for the Padres.
Scott Hairston, OF, Padres:
To think, this guy would be a hero in the city of San Diego today if not for
Trevor Hoffman
's extra-inning meltdown in Colorado in the one-game playoff. Hairston belted what would have been the game-winning homer on that night, but those weren't his only heroics following his July 27 trade to the Padres. He batted .287 with eight homers in 31 games for them, and today, he's looking like the only "sure thing" among the team's outfielders. That might sound like harsh criticism of the Padres' outfield, true to a point, but it's also testament to Hairston's potential. He's one of the sneakiest 25-homer candidates around this year.
--Tristan H. Cockcroft
Conor Jackson, 1B, Diamondbacks: Jackson is primed for a breakout season. Finally out of the shadow of Tony Clark and given the chance to play first base on a regular basis, we forecast upwards of 20 home runs and a batting average in the top 10 of the National League, especially since Jackson calls Chase Field, one of the more favorable hitters' parks in the majors, his home. --AJ Mass
Clayton Kershaw, P, Dodgers: The best pitching prospect in the National League has shown he could be ready for prime time this spring. He's drawn praise from manager Joe Torre, who won't hesitate to insert him into the rotation should he have a need. The other candidates for the fifth starter's job are all questionable or hurt, so the future could be now for the 20-year-old with the electric high-90s fastball and power curve. He's still going cheap in most NL-only leagues.--Jason Grey

Always looking for that extra piece of fantasy insight? We've got you covered. ESPN Fantasy experts Matthew Berry and Nate Ravitz provide you with all the fantasy strategy you'll need:
Listen to the Fantasy Focus Podcast
Jon Lieber, P, Cubs:
There are two things I love about Lieber. The first is that no one else loves him. The second is his control. In a 13-year major league career, Lieber's
career-worst
walk rate was last year's 2.5 BB/9, a mark that many pitchers -- I'm talking to you, Carlos Zambrano -- would kill for. His control helps keep his pitch count down, which in turn allows him to work deep into games. In the bullpen to start the season, Lieber has a great chance to pitch his way into the rotation and win double-digit games with an ERA/WHIP that shouldn't hurt you.
--Nate Ravitz
Ryan Ludwick, OF, Cardinals: Looking for a cheap outfielder in the endgame? This could be your guy. He hit 14 homers in 303 at-bats last season, and could see a good amount of playing time platooning with Chris Duncan in left or splitting time with Skip Schumaker in right until Colby Rasmus is ready. Ludwick is a fourth outfielder who should cost you no more than a buck or two at the end of the draft. Fifth outfielder Brian Barton may also squeeze out some time, but you really can't go wrong for a bare-minimum investment in Ludwick. --Jason Grey
Andrew Miller, SP, Marlins: They don't make too many of 'em like Miller; he's a 6-6 power lefty. The obvious caveats regarding young players apply here. He has trouble harnessing his amazing stuff, which can lead to excessive walks and high pitch counts. But NL-only owners should see enough K's (one per inning) and a decent enough ERA in Florida to offset a semi-poor WHIP and win rate. He'll be one of Florida's top pitchers to start the year, and he could be there for you by the end of the year. --Brendan Roberts
Justin Miller, RP, Marlins: When you're evaluating middle relievers, it's usually a better idea to look at skills rather than try to project what a flustered manager will do when his closer blows a third save in a row. Miller had a terrific first season in Florida last year, striking out 74 in 61-plus innings. The former Blue Jays starter has completed his conversion to power reliever, and he'd be as good a bet as anyone to get saves for the Marlins if Kevin Gregg can't defy the odds for a second straight season. --Nate Ravitz
Nyjer Morgan, OF, Pirates: Morgan made the highlight reels with minor league defensive gems in center last year, then stole seven bases after getting called up to Pittsburgh in September. He's 27, but has hit .300 regularly in the minors, plus has lightning speed. Even if he doesn't beat out Nate McLouth for the team's starting gig in center field, Morgan will probably stick as the Pirates' fourth outfielder behind Jason Bay and Xavier Nady, who aren't exactly what you'd call durable. Morgan makes a nice late-round steals gamble.--Christopher Harris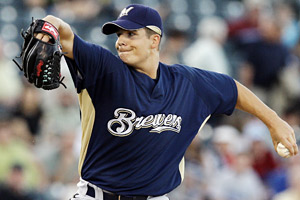 AP Photo/Chris CarlsonManny Parra has 26 Ks in his first 26-1/3 major league innings.

Manny Parra, SP, Brewers: The Brewers' rotation might be loaded, but if they have any intention of making the playoffs, they need this kid in their rotation. Parra does have a bit of a checkered health history, but when he's on the mound, he's outright dominant. In 261 innings' work in Double-A ball and above, he has a 3.21 ERA and 8.86 K/9, not to mention stellar work in the Cactus League this spring. In the best-case scenario, he could be to 2008 what Rich Hill was to 2007. --Tristan H. Cockcroft
Tony Pena, RP, Diamondbacks: Raise your hand if you actually think Brandon Lyon can (a) remain effective in Arizona's closer role; and (b) stay healthy while doing so. Obviously, I have my doubts, and Lyon's subpar career to this point is why. One would have to think Tony Pena, by far the best arm in the D-backs' bullpen, would settle into the role, and the D-backs will give whoever closes plenty of leads to work with. This might be your last chance to get Pena at a bargain. --Brendan Roberts
Cody Ross, OF, Marlins: I love Cameron Maybin's career potential, but he has 69 career at-bats above Class A. I have no inside knowledge on this, but I think Maybin starts the year in the minors, leaving center field to Alejandro De Aza. Only problem is: De Aza can't hit. In the end, Ross has a chance to become a one-year stopgap in center, where he might be defensively challenged, but where he'll show some pop (1.064 OPS in 173 big-league at-bats in '07). And even if Ross doesn't play every day, he'll surely be the fourth outfielder backing up oft-injured Jeremy Hermida and Josh Willingham.--Christopher Harris
Jonathan Sanchez, SP, Giants: Sanchez will be overlooked due to poor numbers last season and a poor team this season. However, his 2007 performance was much better than his surface stats. Bad luck with hit and strand rates in the second half led to a bloated earned run average, but Sanchez actually spiked his strikeout rate into elite territory while improving his control. He's poised to take a big step forward this year. --Will Harris
Carlos Villanueva, RP, Brewers: Villanueva would be mixed-league worthy if he had a permanent spot in the Brewers' rotation, but right now, his lack of a defined role relegates him to the monoleagues. Good. Use that to grab him. Even in relief, he can help your team. Last season, he pitched 114 1/3 innings, making only six starts, and racked up eight wins, 99 strikeouts with a 3.94 ERA and a 1.35 WHIP. His minor league numbers tell us he can improve on that WHIP, and even half a season's worth of starts with the loaded Brewers could put him in the 12-win, 150 strikeout range. --Pete Becker
Sleepers for AL-only leagues
Nick Adenhart, SP, Angels: The 22-year-old could open the season in the Angels' rotation due to the injuries to John Lackey and Kelvim Escobar, thanks to a great spring. If he doesn't make the club out of camp, he likely won't be in the minors for too long. He's one of the best pitching prospects in the American League, with his plus stuff and ability to command it. Best of all, he's generally available in the endgame or in the reserve round. --Jason Grey
Erick Aybar, 2B/SS, Angels: Let's face it: The future of the Angels has Erick Aybar, not Maicer Izturis, playing shortstop every day. And that future will begin at some point this season, even as early as April. And while Aybar won't turn into Vladimir Guerrero, he does have the speed -- as in 30-steal or maybe even 40-steal speed -- to help fantasy owners. And he comes into this season qualifying at second base and shortstop, and that position versatility can be just as helpful in deep leagues. --Brendan Roberts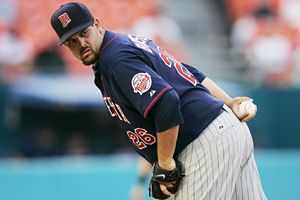 AP Photo/J. Pat CarterBoof Bonser did not cut the most athletic if figures in 2007.

Boof Bonser, P, Twins: Bonser was out of shape last year and had problems with his stamina, performing well in early innings before starting to get hammered as the game went on. However, he dropped 30 pounds in the offseason, without losing the quality of his pitches. Not only is the weight loss going to help him go later into games, it's also helping him repeat his delivery better, which should result in better command. A small draft-day investment could have a solid payoff. --Jason Grey
Dana Eveland, SP, Athletics: Perhaps the fourth time is the charm. After three abbreviated attempts in the past three seasons at carrying his excellent minor league performances to the big league level, Eveland has looked like a different pitcher this spring and will likely grab a spot in the Oakland rotation. He has shown the command and four-pitch repertoire that once drew comparisons to David Wells, and the 24-year old may finally be ready to take that next step. --Jason Grey
Kazuo Fukumori, RP, Rangers: Those of you convinced C.J. Wilson and his magical bag of fluff are rock solid as the Rangers' closer, raise your hand. Nobody? And those of you who believe Eddie Guardado is ready to be the pitcher he was five years ago? No one? Texas likes Joaquin Benoit as a set-up man, which means Fukumori has a chance to earn the closer's role if and when Wilson and/or Guardado flop. As of this writing, Fukumori had pitched seven innings over six games this spring, allowed zero runs, five hits, one walk and struck out seven. He's worth a gamble.--Christopher Harris
Jason Kubel, OF, Twins: Kubel missed the entire 2005 season with knee problems, but he's made steady progress in his 638 at-bats since then. He continues to make gains in power and plate discipline and finished 2007 in his best form yet, hitting .300/.380/.512 during a fine second half. Kubel's minor league résumé presents a complete hitter, and his progress portends a breakout soon. --Will Harris
Shaun Marcum, SP, Blue Jays: He won't win a Cy Young, nor will he get close, and in no way should a fantasy owner look at him as anything close to a top-20 starting pitcher. That said, it's guys like Marcum, plugged into the back spots on your staff, who tend to win you a league. He's a command specialist who registered a remarkably impressive 3.91 ERA in 25 starts after his move to the rotation last May 13; think a "lite" version of James Shields. Marcum, a fly-ball pitcher, might offer up the occasional stinker, but there should be a good share of stretches that'll please you, too. --Tristan H. Cockcroft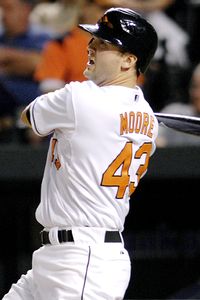 AP Photo/Gail BurtonScott Moore was a first-round pick in 2002.
Scott Moore, 3B, Orioles:
Moore makes a last-round gambit if you believe, as I do, that
Melvin Mora
will wind up someplace else before this summer's trade deadline. Under such a scenario, the high-strikeout, high-power Moore would get a crack at third for Baltimore. And if the Orioles come to their senses sometime around May and realize they're going nowhere, there's also a chance they sit
Kevin Millar
or
Aubrey Huff
, and give Moore some of their at-bats at first or DH. Cheap homers are hard to find in monoleague universes.
--Christopher Harris
Alexei Ramirez, 2B, White Sox: Ramirez might not win the second-base job outright, but he'll certainly get some time there, and if not there, then perhaps at shortstop or even in center field. Certainly the .356 spring average has the organization buzzing. Perhaps the only thing keeping the White Sox from naming him outright as their starting second baseman is some minor defensive concern, but that won't affect our excitement over his offensive potential in the slightest. --AJ Mass
Joe Saunders, SP, Angels: I've never understood Saunders' lack of appeal; no one seems to want to draft the guy. Still, despite his lack of an out pitch against right-handers, he has somehow managed 15 wins and a 4.55 ERA in 31 starts for the Angels the past two seasons, in contenders' circumstances, and for his minor league career he had a 3.70 ERA and 1.29 WHIP. The Angels don't play in a particularly deep division, so if you can dodge his occasional poor matchup, Saunders should be a decent back-end starter for a fantasy staff. --Tristan H. Cockcroft
Luke Scott, OF, Orioles: Adam Jones gets all the press, but the sleeping dog in the O's outfield is the former Astro who hit 51 home runs in 716 at-bats at Triple-A Round Rock from 2005 to 2006, and followed it up with 10 homers in 214 at-bats with the big club in '06. Forget his miserable 2007 season and write it off as a sophomore slump. He struck out way more than is characteristic for him, and if he returns to the core skills he displayed on his way up to the majors, he profiles as a .280 hitter with 30 homer/100 RBI upside. --Pete Becker
Andy Sonnanstine, SP, Rays: He's not in the same category as Scott Kazmir or James Shields, but if he can work his way into the Rays' rotation, there's a pretty good chance that he'll never leave it. His only problem so far in the majors has been a weakness against left-handed hitters, but he seemed to get everyone out this spring, with an ERA of 0.64 in 14 innings, and opposing batters managed to hit only .163 against the young right-hander. He could be a very nice way to fill out your fantasy staff. --AJ Mass
SPONSORED HEADLINES
FANTASY TOP HEADLINES
MOST SENT STORIES ON ESPN.COM