Commentary
30 Questions: Can reworked New York Mets bullpen help starters?
Updated:
March 18, 2009, 11:00 AM ET
By
AJ Mass
| ESPN.com
Thirty teams, 30 burning fantasy questions. Throughout the preseason, we put one of these questions to an ESPN.com analyst for an in-depth look at the most interesting, perplexing or dumbfounding fantasy facet of each major league team.
What impact will the revamped bullpen have on the Mets' rotation?
Here are the facts ...
In 2008, Johan Santana led the National League in innings pitched (234 1/3) and in ERA (2.53). Only Tim Lincecum tallied more strikeouts than Johan's 206. His WHIP was a minuscule 1.15. Yet when the postseason awards were handed out, the best that Santana could do was settle for third place in the Cy Young voting. Why was the pitching ace not given the accolades his performance deserved? Sadly, Santana won only 16 games.
You don't need to hire a top-notch private investigator like the great Emerson Cod to figure out who got saddled with the blame for Santana's inability to reach 20 wins. With 29 blown saves, the Mets' bullpen ranked among the worst in the major leagues. Certainly the season-ending (and possibly career-ending) injury to closer Billy Wagner didn't help matters. In truth, Wagner had been far from perfect with seven blown saves of his own, though he did record 27 saves and was solid enough to earn a spot in the All-Star Game (in which he blew a save) and pitched into August before his elbow gave out. But the five-headed monster that I've dubbed "Pejo Aarscodua" (Pedro Feliciano, Joe Smith, Aaron Heilman, Scott Schoeneweis and Duaner Sanchez) failed miserably in nearly every opportunity to fill the void, recording only six saves while blowing 15 games with a combined ERA of 4.15.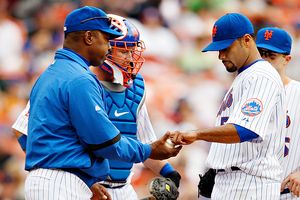 Nick Laham/Getty ImagesThough Mets relievers blew seven of Johan Santana's leads in 2008, in four of those he left with the tying runs in scoring position.
As the 2009 season approaches, only the head of "Pejo Aarscodua" is still around, with the rest of the foul creature having been shipped off to all corners of the country either via trade or outright release. The Mets' bullpen now features the likes of 62-save sensation
Francisco Rodriguez
, former Seattle closer
J.J. Putz
and his teammate there too,
Sean Green
, along with Feliciano and unproven commodities like
Brian Stokes
,
Carlos Muniz
, Rule 5 submariner
Darren O'Day
and
Bobby Parnell
. Just like that, thanks to the magical touch of Omar "The Pie-Maker" Minaya, the Mets' bullpen has been brought back to life. It's a fairy-tale ending, right?
Not so fast ...
Yes, K-Rod is a terrific closer, and while he's not likely to match his record-setting save output of a year ago, he did average 44 saves in the three prior seasons. He'll be fine. But Putz is one year removed from an injury-riddled season that saw him post a 1.60 WHIP. He has to be considered at least a bit of a question mark, but even giving him the benefit of the doubt, all in all, this new 'pen isn't suddenly going to launch Johan Santana to a 25-win campaign.
Consider that:
Santana went 16-7 in 2008. In all seven of his losses, he left the game with the opposition already in the lead. In other words, at no time during the season did he find himself tagged with a loss because the bullpen let inherited runners score. He earned those losses on his own. Additionally, Santana left seven games with a lead that ultimately ended up as a no-decision. In three of those games, Santana was pulled with the tying runs in scoring position, so he has to share at least some of the blame for those results. So, even if we placed the blame for the other four no-decisions entirely on the lack of solid relief, at best we're looking at a record of 20-7 for Johan.
But it should also be noted that only two of those outings came after Wagner's injury. Five of them were at least partially Wagner's fault, and nobody was really saying negative things about the Mets' bullpen until after he got hurt. On top of that, much of the criticism of the Mets' bullpen collapse down the stretch was not aimed at the pitchers themselves, but rather at manager Jerry Manuel and his ineffective micromanagement of said arms, often using four or five relievers in a nine-inning game. With Manuel still at the helm, it's quite conceivable that the history of overuse will repeat itself even if Rodriguez stays healthy all season.
Sign up today for the most customizable free fantasy baseball game out there. You set the rules, scoring, everything. Sign up today!
Ultimately, Santana will still be the same solid ace he has always been, as he pitches deep into ballgames -- in 24 out of 34 starts last season Santana pitched into the seventh inning or later. The effect of the bullpen on the rest of the Mets' starters will probably be far less meaningful.
John Maine
left the game with a lead in only 12 of his 25 starts last season.
Mike Pelfrey
was barely better, leaving with a lead in only 17 of 32 starts.
Oliver Perez
? Seventeen of 34. The fifth starter will likely be a reclamation project, either
Livan Hernandez
or
Freddy Garcia
, who hasn't pitched more than a handful of games since a shoulder injury sidelined him in mid-2007.
So while the changes to the Mets' bullpen could possibly make enough of an impact to bring Santana another Cy Young Award, "The Lonely Tourist" will still be doing 90-95 percent of that work by himself. It's not the makeup of the bullpen that is holding the rest of the Mets' starting pitchers back. They need only look in the mirror to see the real culprits. No amount of magic can help relievers save what is already pushing daisies, and unless the rotation picks up its game, it won't make a lick of difference what reliever is on the mound to clean up the messes it leaves behind.
AJ Mass is a fantasy baseball analyst for ESPN.com. You can e-mail him here.
SPONSORED HEADLINES
FANTASY TOP HEADLINES
MOST SENT STORIES ON ESPN.COM
Fantasy Baseball Draft Kit
ESPN.com's fantasy experts offer all the information you'll need to succeed in your draft.
Draft Kit Home
Complete Rankings and Projections
• Top 600 players | Cheat Sheet | Prospects
• ADP: Live draft results | Heat Index
• Projections: All players | Batters | Pitchers
• More: C | 1B | 2B | 3B | SS | OF | SP | RP

Position Previews
• Catcher: Rankings | Preview
• First Base: Rankings | Preview
• Second Base: Rankings | Preview
• Third Base: Rankings | Preview
• Shortstop: Rankings | Preview
• Outfield: Rankings | Preview
• Designated Hitter: Rankings | Preview
• Starting Pitcher: Rankings | Preview
• Relief Pitcher: Rankings | Preview
Talented Mr. Roto
• Matthew Berry: Love/Hate for 2009
• Matthew Berry: Draft Day Manifesto
• Matthew Berry: Top 250
Mock Draft
• Feb. 18: Pujols goes No. 1
• March 2: Hanley taken first
• AL-Only March 11: Sabathia strategy
• NL-Only March 11: Hanley No. 1
• March 25: Spring training lessons
Experts Drafts
• AL LABR: Christopher Harris
• AL LABR: Jason Grey
• NL LABR: Tristan H. Cockcroft
• NL LABR: Nate Ravitz
• AL Tout Wars : Matthew Berry
• NL Tout Wars : Tristan H. Cockcroft
• Mixed Tout Wars: Brendan Roberts
Analysis
•
Tristan H. Cockcroft: Contract-year players
•
Tristan H. Cockcroft: Steals and lineup spot
•
Eric Karabell: Positional battles
•
Tristan H. Cockcroft: Age trends in post-PED era
•
Pierre Becquey: Position eligibility roundup
•
Eric Karabell: 2008's late bloomers
•
Tristan H. Cockcroft: Kings of Command
•
Eric Karabell: Spring bullpen roundup
•
AJ Mass: The myth of position scarcity
•
AJ Mass: Drafting one-category studs
•
AJ Mass: Universal pitcher values
Strategy
• Jason Grey: Auction strategies
• Jason Grey: Draft strategies
• Jason Grey: General strategies
• Shawn Peters: Drafting to trade
League Matters
• AJ Mass: 12 league personalities
• AJ Mass: Drafting a constitution
30 Questions
• White Sox: Quentin's power
• Phillies: Which Brett Myers will show up?
• Yankees: Joba's role
• Reds: Will Harang bounce back?
• Rockies: Ian Stewart's playing time