Commentary
30 Questions: Is David Ortiz an elite hitter?
Thirty teams, 30 burning fantasy questions. Throughout the preseason, we put one of these questions to an ESPN.com analyst for an in-depth look at the most interesting, perplexing or dumbfounding fantasy facet of each major league team.
Is David Ortiz an elite hitter?
Well, first, define "elite."
Webster's dictionary defines elite -- and pardon the cliché -- as "the best of a class."
Going by that, sure, David Ortiz is the best designated hitter in fantasy baseball. I have a hunch, though, that in this particular instance the class we're talking about is the entire pool of major league hitters. If that's the case, then no, Ortiz is absolutely not the best hitter in fantasy baseball. That's an honor to be bestowed upon Albert Pujols, Hanley Ramirez or Jose Reyes (and if it's my choice, give me that first dude).
OK, so now we're just getting into semantics.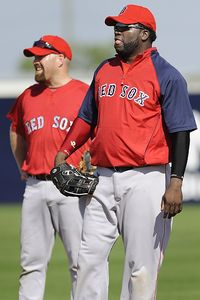 Rhona Wise/Icon SMIBig Papi will look for a bounceback season after an injury-plagued 2008.
The issue at hand, really, is to what degree does the "Big Papi" of 2009 compare to the ones from each of his first five years in Boston? Though he's coming off his worst season as a member of the Red Sox, he might not compare as poorly to those five as you might think.
First off, let's not forget that Ortiz's "miserable" 2008 statistics -- which can only be described as that relative to the expectations for him -- were mostly a result of a wrist injury that bothered him for much of the season. He missed 46 games due to a disabled-list stint in June and July, and appeared in 109 contests overall. Upon his return on July 25, though, Ortiz picked up his pace somewhat through season's end:
55 G, .277 BA, .385 OBP, .529 SLG, 20.6 AB/HR, 46 RBIs (0.836 per game).
Now, compare those to his numbers from 2003 to 2007:
737 G, .302 BA, .402 OBP, .612 SLG, 13.2 AB/HR, 208 HRs, 642 RBIs (0.871/G).
It's a drop off in performance, yes, but ask yourself, was it significant enough to forecast the beginning of the end for Ortiz? He remains one of the most feared players in the game, and that he was able to perform at about 90 percent of his former self -- that's actually calculated directly off the differential in his OPS -- despite constantly experiencing a "clicking" sensation in his wrist is actually pretty remarkable.
Some encouraging news, in case you missed it: The Red Sox's official Web site reported Feb. 16 that Ortiz no longer feels that clicking sensation.
"After the season was over, I started working out right away and made sure my hand was ready to go this year," Ortiz told the Web site. "I'm fine. My hand is feeling good. I don't have that popping that I had all year last year, pretty much, after I got hurt. I'm feeling good."
If Ortiz is truly 100 percent, might he not have another "Papi-like" season left in the tank? Even if it's not the 54-homer, 1.049-OPS megastud campaign he had in 2006, one more like the 31-homer, .961-OPS Red Sox debut year he had in 2003 should be reachable. Really, his numbers from that season weren't all that much better than the ones he had after returning from the DL this past summer.
Another reason to expect a rebound from Ortiz: He's among the most reliable sources of RBIs in baseball. Oh, I know, many argue there's no such thing as "clutch hitting," and I'd tend to agree with those folks. But Ortiz's numbers don't lie. He's like the freak of nature, the exception to the rule, the guy who defies all logic. Take a look at his numbers with runners in scoring position in each year of his Red Sox career:
2003: 163 PAs, .273 BA, .368 OBP, .482 SLG, .850 OPS, 65 RBIs (one per 2.51 PAs)
2004: 197 PAs, .350 BA, .431 OBP, .594 SLG, 1.025 OPS, 90 RBIs (2.19)
2005: 212 PAs, .352 BA, .462 OBP, .580 SLG, 1.043 OPS, 92 RBIs (2.30)
2006: 203 PAs, .288 BA, .429 OBP, .538 SLG, .967 OPS, 79 RBIs (2.57)
2007: 192 PAs, .362 BA, .490 OBP, .658 SLG, 1.147 OPS, 77 RBIs (2.49)
2008: 159 PAs, .332 BA, .447 OBP, .680 SLG, 1.126 OPS, 71 RBIs (2.24)
That's right, Mr. Papi has had a higher batting average with runners in scoring position than he has had overall in each of the past five years, and he has had a greater OPS with runners in scoring position in four of those six seasons. He has also averaged one RBI per 2.38 plate appearances in those situations, whereas for his Red Sox career he has averaged one per 5.11 overall. Still think the idea of a "clutch hitter" is a myth? Tell that to the closer who has to face Ortiz with the tying and winning runs in scoring position in the ninth.
Pitchers still fear this dude, as evidenced by his walk-per-7.01 plate appearances ratio of 2008, which compares favorably to 2005's one-per-6.99. That rate actually improved after Ortiz returned from the DL; he averaged one per 6.62 PAs. Getting on base that often in this lineup means a guaranteed 100 runs scored, and accounting for his clutch hitting, Ortiz's minimum expectation should be 100 RBIs.
Take those post-DL numbers and Ortiz should be a .277 hitter with 27 home runs, assuming a 550-at-bat season, and remember, those are based on rates generated when he wasn't at quite his usual self. I'm of the mind that Ortiz might not bat higher than .275 -- he's 33, after all -- but a 30-homer season isn't entirely out of reach.
Sign up today for the most customizable free fantasy baseball game out there. You set the rules, scoring, everything. Sign up today!
Put those together and you're still talking a .275-30-100-100 campaign, almost exactly the kind of numbers that Prince Fielder, 76th on the Player Rater, had in 2008.
Does that classify Ortiz as "elite"? Well, no, not by the traditional definition. But if you let him slip too far in the draft -- certainly not lower than 76th in a mixed league -- you're making a mistake. He's got (at least) one more very good year left in the tank.
Tristan H. Cockcroft is a fantasy baseball analyst for ESPN.com. You can e-mail him here.
Fantasy
Senior writer for ESPN.com
Co-host of the Fantasy Focus Baseball podcast
Two-time LABR, two-time Tout Wars champion
Member of the FSWA Hall of Fame
SPONSORED HEADLINES
FANTASY TOP HEADLINES
MOST SENT STORIES ON ESPN.COM
Fantasy Baseball Draft Kit
ESPN.com's fantasy experts offer all the information you'll need to succeed in your draft.
Draft Kit Home
Complete Rankings and Projections
• Top 600 players | Cheat Sheet | Prospects
• ADP: Live draft results | Heat Index
• Projections: All players | Batters | Pitchers
• More: C | 1B | 2B | 3B | SS | OF | SP | RP

Position Previews
• Catcher: Rankings | Preview
• First Base: Rankings | Preview
• Second Base: Rankings | Preview
• Third Base: Rankings | Preview
• Shortstop: Rankings | Preview
• Outfield: Rankings | Preview
• Designated Hitter: Rankings | Preview
• Starting Pitcher: Rankings | Preview
• Relief Pitcher: Rankings | Preview
Talented Mr. Roto
• Matthew Berry: Love/Hate for 2009
• Matthew Berry: Draft Day Manifesto
• Matthew Berry: Top 250
Mock Draft
• Feb. 18: Pujols goes No. 1
• March 2: Hanley taken first
• AL-Only March 11: Sabathia strategy
• NL-Only March 11: Hanley No. 1
• March 25: Spring training lessons
Experts Drafts
• AL LABR: Christopher Harris
• AL LABR: Jason Grey
• NL LABR: Tristan H. Cockcroft
• NL LABR: Nate Ravitz
• AL Tout Wars : Matthew Berry
• NL Tout Wars : Tristan H. Cockcroft
• Mixed Tout Wars: Brendan Roberts
Analysis
•
Tristan H. Cockcroft: Contract-year players
•
Tristan H. Cockcroft: Steals and lineup spot
•
Eric Karabell: Positional battles
•
Tristan H. Cockcroft: Age trends in post-PED era
•
Pierre Becquey: Position eligibility roundup
•
Eric Karabell: 2008's late bloomers
•
Tristan H. Cockcroft: Kings of Command
•
Eric Karabell: Spring bullpen roundup
•
AJ Mass: The myth of position scarcity
•
AJ Mass: Drafting one-category studs
•
AJ Mass: Universal pitcher values
Strategy
• Jason Grey: Auction strategies
• Jason Grey: Draft strategies
• Jason Grey: General strategies
• Shawn Peters: Drafting to trade
League Matters
• AJ Mass: 12 league personalities
• AJ Mass: Drafting a constitution
30 Questions
• White Sox: Quentin's power
• Phillies: Which Brett Myers will show up?
• Yankees: Joba's role
• Reds: Will Harang bounce back?
• Rockies: Ian Stewart's playing time