Commentary
Kings of Command: Under-the-radar pitchers
Don't overpay for pitching.
You'll read that countless times on our pages, and I've stressed it for years. Pitching, simply put, is more volatile than hitting. Pitchers are more prone to injury than hitters; their sample sizes are smaller and therefore more susceptible to random variances; and they're so very dependent on the quality of the defense behind them.
For that reason, I've always found it a smarter tactic to invest the bulk of your pitching budget on bargain/breakout candidates and sleepers, pitchers who might not have had on-the-surface numbers to impress, than studs. But how, precisely, does one unearth said bargain/breakout/sleeper types? To me, it's as simple as this:
Sign up today for the most customizable free fantasy baseball game out there. You set the rules, scoring, everything. Sign up today!
Buy skill sets, not past rotisserie numbers.
Using command ratios -- a pitcher's performance in the strikeout, walk and home runs allowed categories -- is an ideal way to identify a strong skill set in a pitcher. Those pitchers who command the strike zone, give up few free bases and make the fewest mistakes, naturally, greatly increase their chances for success. I identify these arms by setting minimum baselines for a pitcher in each category, and I call those who meet all of them my Kings of Command:
Innings pitched: 50 or more
Strikeouts per nine innings: 6.00 or more
Walks per nine innings: 3.00 or fewer
Strikeouts per walk: 2.50 or more
Home runs allowed per nine innings: 1.50 or fewer
Of the 651 pitchers who appeared in a big league game in 2008, a mere 57 met all five criteria. That group included: all four 20-game winners, American League Cy Young award winner Cliff Lee, eight of the top nine and 13 of the top 16 fantasy starting pitchers, and five of the top six and six of the top eight fantasy closers.
Obviously this doesn't mean every valuable fantasy pitcher is going to make the list; again, it just increases their chances of success. For example, two notable fantasy pitchers missed in 2008: National League Cy Young winner Tim Lincecum, whose walks-per-nine was too high (3.33) but whose numbers in the other three performance categories were well within the guidelines; and single-season saves record setter, Francisco Rodriguez, whose walks-per-nine wasn't even close (4.48). (That, incidentally, begs the question how likely is K-Rod to come close to his 2008 level of fantasy production?)
However, the list of qualifiers also included the following 10 names. They had comparable numbers to the aforementioned fantasy standouts, yet their Rotisserie numbers -- especially wins, saves and ERA -- were lackluster. In other words, the talent might have been there, but the results weren't. Perhaps a little luck could align the two in 2009?
Scott Baker, Twins: This one runs deeper than merely that he enjoyed a breakout 2008 campaign. Baker has spent eight seasons as a professional, and he has met all the Kings of Command criteria in each one. That's remarkable consistency, and it's a promising sign for a pitcher set to begin the 2009 season a ripe 27 years of age. The one concern with Baker: He's an extreme fly-ball pitcher, averaging 0.76 ground balls per fly ball for his big league career, making him susceptible to bad luck in the home run department from time to time. That might keep Baker's ceiling beneath the top-10 starting pitcher cutoff, but there's little doubt he can match -- and probably exceed -- last year's numbers.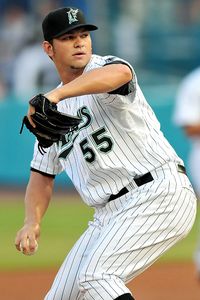 Steve Mitchell/US PresswireJosh Johnson might finally have a full season in which to show off his great stuff.
Josh Johnson, Marlins:
No one realizes how truly impressive his recovery from Tommy John surgery has been. First off, he made it back in less than a calendar year; his surgery was Aug. 3, 2007, and he returned to the Marlins on July 10, 2008. Second, he flashed better command numbers after surgery than before it, including nine quality starts in his final 10 appearances, during which time his ERA was 3.39 and his WHIP 1.29. Pitchers coming off that particular operation typically recapture their full form in their second season after returning to action, so Johnson might have even greater things in store for us in 2009. It's easy to forget the facts of three years ago, but Johnson did make a run at the NL ERA title in 2006, failing to qualify only because he didn't throw enough innings.
Brandon Lyon, Tigers: Don't read too much into talk that Fernando Rodney will mount serious competition to Lyon for the Tigers' closer role; you don't hand a guy such as Lyon $4.25 million, then ask him to toil away in middle relief (barring a disastrous spring, of course). Besides, in the past three seasons combined, Lyon had Rodney beat in ERA (3.69-4.09), strikeout-to-walk ratio (2.28-1.98) and home runs allowed per nine (0.71-0.77), while also outperforming the latter as a closer in 2008 (26 of 31 chances converted, compared with 13 of 19). Lyon might be a more productive save-getter than you'd think, and a decent draft-day value going perhaps after the top 20 at his position.
Kevin Millwood, Rangers: He's the pick in which I have least confidence, probably because he's a 34-year-old Texas pitcher with a 4.06 career ERA coming off back-to-back seasons with an ERA north of 5 and a WHIP higher than 1.50. Plus, this isn't the first time Millwood has met the qualifications; he did so in 2006 and had a 4.52 ERA and 1.31 WHIP. Still, it needs be pointed out how extremely unlucky Millwood was in his miserable 2008; his batting average allowed on balls in play was .366, worst in baseball among qualified starters. He does offer a bit of matchups/streaks value to the fantasy owner, as evidenced by his 16 wins of 2006 or his league-leading 2.86 ERA of 2005. For that reason, he's on my list, even if it's simply so you don't completely forget about him.
The "just-missed" crowd
As I mentioned, narrowly missing the cutoff in one category shouldn't condemn a talented pitcher, especially one who might have had rates significantly better than the baselines in all the others. These five pitchers didn't technically qualify for Kings of Command status, but they were oh-so-close, and therefore deserving of mention:
Heath Bell, Padres: Trevor Hoffman's likely replacement in San Diego made the cut in 2007, and missed it last year only because of an inflated walk rate (3.23 per nine). There are worse offenses for a pitcher who works half his games at Petco Park.
Frank Francisco, Rangers: Texas' most fitting choice to close, statistically speaking, Francisco more than made up for a high walk rate (3.69 per nine) by striking out nearly 12 batters per nine last season. He's yet another reason you shouldn't spend early picks on saves.
Sean Marshall, Cubs: Aaron Heilman might be more likely to begin 2009 as the Cubs' fifth starter, but even in that arrangement, Marshall would be next in line for a job. His 7.99 strikeouts-per-nine ratio bodes extremely well for a pitcher most consider a "finesse" type.
Yusmeiro Petit, Diamondbacks: Max Scherzer, who also narrowly missed the cut, should have a leg up on Petit for Arizona's fifth-starter job, although Scherzer's January shoulder issues do bear watching. Petit's problem is a propensity for home runs, but that flaw aside, he's a fairly underrated swingman who has first dibs on any rotation opening.
Andy Sonnanstine, Rays: A consistent strike thrower like Kevin Slowey, Sonnanstine was the Tampa Bay pitcher who flew under the radar, comparatively speaking, in 2008. He struck out a modest 5.77 batters per nine, but also 3.35 per walk, an astonishingly high rate.
Andy Pettitte, Yankees: Health is the primary question with Pettitte, as reports came out as spring training started that his shoulder plagued him for almost the entire second half of 2008, in which time he registered a miserable 5.35 ERA and 1.53 WHIP. If that's the case, and, more importantly, if he shows that he's back to 100 percent in March, Pettitte could come at a dirt-cheap discount this draft day. He did win 10 of 19 starts with a 3.93 ERA and 1.33 WHIP to start last season, much more indicative of his true talent. Plus, even with his horrible finish, he still managed to fit the command qualifications.
Chad Qualls, Diamondbacks: The more I examine this guy, the more I like him. Qualls' command numbers fell right in the ballpark of those of fellow closers Joe Nathan and Joakim Soria, and he'll come at a considerable discount compared with those two top-shelf finishers. Plus, he showed he could handle the role, with seven saves in as many tries while holding opposing hitters to a .083 batting average in his final eight appearances of 2008. He also lacks a troublesome platoon split, as left-handed hitters have managed a .638 OPS against him for his career. Qualls won't cost you top-tier closer value come draft day, but there's a lot in his numbers to suggest he'll finish 2009 ranked among that group.
Wandy Rodriguez, Astros: One year ago at this time, I'd have recommended you treat him as merely a matchups type and nothing more; he was a start-at-home, sit-on-the-road pitcher, with positively no exceptions. But Rodriguez, in spite of an injury-marred 2008, made some significant gains, including slashing nearly two runs off his road ERA, dropping that mark to 4.34. Other advances: He improved his strikeout rate for the third consecutive season and dropped his walk rate to the point that he qualified for my list for the first time. That helps support Rodriguez as a pitcher easily capable of matching or improving upon his 3.54 ERA and 1.31 WHIP of a year ago, numbers that would make him quite a late-round bargain should he make more than the 25 starts he had in 2008.
Kevin Slowey, Twins: He made huge advances in his home run rate last season, cutting 2007's disastrous 2.16 per nine innings to 1.23. In addition, Slowey made strides in each of the other three performance categories in the study, though not quite to that level. I've long been a fan of Slowey's, perhaps because in 63 career minor league appearances, he averaged 8.86 strikeouts, 1.28 walks and 0.49 home runs allowed per nine innings and 6.94 K's per walk. Those are the kinds of command numbers that would put Greg Maddux to shame, and although I'm not about to forecast a Madduxian career for Slowey, there's a very real chance he'll have the most notable career of any of the Twins' current starting five.
Carlos Villanueva, Brewers: I don't think anyone truly realizes how effective a reliever Villanueva became late last season, once the Brewers figured out just what kind of pitcher they had on their hands. From July 1 on, he made 26 relief appearances and had a 1.80 ERA, a 1.05 WHIP and a .219 batting average allowed, lasting longer than an inning 16 times. His performance wasn't entirely luck-driven, either, as he allowed a .283 BIPA and had a 12.9 home run-to-fly ball percentage in that span, the former number slightly beneath league average and the latter a little above. Villanueva might adopt a Brad Ziegler-like role in the Milwaukee bullpen, and the fact that the closer ahead of him in the pecking order is 41 years old suggests there's even some sleeper saves potential here.
Jered Weaver, Angels: Whereas brother Jeff improved his ERA in each of his first three big league seasons, Jered's numbers in the category have taken a step backward in his sophomore and junior campaigns, which might lead to some skepticism surrounding him in the fantasy community. Still, he has met the Kings of Command criteria in each of the past two seasons, and in 2008, his numbers across the board were stronger than in the year before. Weaver also finished last season with a 3.88 ERA, 1.22 WHIP and .239 BAA in 22 starts, and he's 26 years old, with three years of big league experience. Chances are that things will only get better from here for him.
Tristan H. Cockcroft is a fantasy baseball, football and hockey analyst for ESPN.com. You can e-mail him here.
Fantasy
Senior writer for ESPN.com
Co-host of the Fantasy Focus Baseball podcast
Two-time LABR, three-time Tout Wars champion
Member of the FSWA Hall of Fame
Fantasy Baseball Draft Kit
ESPN.com's fantasy experts offer all the information you'll need to succeed in your draft.
Draft Kit Home
Complete Rankings and Projections
• Top 600 players | Cheat Sheet | Prospects
• ADP: Live draft results | Heat Index
• Projections: All players | Batters | Pitchers
• More: C | 1B | 2B | 3B | SS | OF | SP | RP

Position Previews
• Catcher: Rankings | Preview
• First Base: Rankings | Preview
• Second Base: Rankings | Preview
• Third Base: Rankings | Preview
• Shortstop: Rankings | Preview
• Outfield: Rankings | Preview
• Designated Hitter: Rankings | Preview
• Starting Pitcher: Rankings | Preview
• Relief Pitcher: Rankings | Preview
Talented Mr. Roto
• Matthew Berry: Love/Hate for 2009
• Matthew Berry: Draft Day Manifesto
• Matthew Berry: Top 250
Mock Draft
• Feb. 18: Pujols goes No. 1
• March 2: Hanley taken first
• AL-Only March 11: Sabathia strategy
• NL-Only March 11: Hanley No. 1
• March 25: Spring training lessons
Experts Drafts
• AL LABR: Christopher Harris
• AL LABR: Jason Grey
• NL LABR: Tristan H. Cockcroft
• NL LABR: Nate Ravitz
• AL Tout Wars : Matthew Berry
• NL Tout Wars : Tristan H. Cockcroft
• Mixed Tout Wars: Brendan Roberts
Analysis
•
Tristan H. Cockcroft: Contract-year players
•
Tristan H. Cockcroft: Steals and lineup spot
•
Eric Karabell: Positional battles
•
Tristan H. Cockcroft: Age trends in post-PED era
•
Pierre Becquey: Position eligibility roundup
•
Eric Karabell: 2008's late bloomers
•
Tristan H. Cockcroft: Kings of Command
•
Eric Karabell: Spring bullpen roundup
•
AJ Mass: The myth of position scarcity
•
AJ Mass: Drafting one-category studs
•
AJ Mass: Universal pitcher values
Strategy
• Jason Grey: Auction strategies
• Jason Grey: Draft strategies
• Jason Grey: General strategies
• Shawn Peters: Drafting to trade
League Matters
• AJ Mass: 12 league personalities
• AJ Mass: Drafting a constitution
30 Questions
• White Sox: Quentin's power
• Phillies: Which Brett Myers will show up?
• Yankees: Joba's role
• Reds: Will Harang bounce back?
• Rockies: Ian Stewart's playing time
MOST SENT STORIES ON ESPN.COM