Commentary
Relief Efforts: Closers seem safe from being dealt
What a difference a week makes.
Flash back to one week ago, when we were less than 36 hours away from the July 31 trade deadline, a time of great fear as it pertains to the closer market. The fear of our closers being dealt and demoted into set-up -- i.e. no-more-saves -- roles never seems greater.
Well, folks, the good news is that it's August, and despite the persistent threats of some of the game's most notable save earners changing teams, only one -- Damaso Marte -- actually wound up in a new uniform. And because that deadline is behind us, those of us who are fantasy owners of closers on the trade market can breathe a little more easily and feel a little safer.
Best bullpens

Jerry Crasnick ranks the bullpens of the top teams still contending for the playoffs. Starting 9
Not that I can guarantee your closer won't yet switch teams. After all, that July 31 date represents only one deadline, an end to free-for-all trading, if you will. Aug. 31 is another deadline, the final date for teams to set a playoff roster, and most feel that deadline is more important. Between those dates, trades can still happen, but players first need to clear a special waiver process to do it. It's complicated, so I won't go into detail, but Steve Phillips explained it nicely a few years back.
When it comes to closers who switch teams in August, Randy Myers is the oft-discussed example. Myers, who at the time had 347 career saves to his credit but $13.2 million and more than two years left on his contract, was dangled on the waiver wire by the Blue Jays in August 1998 … and the Padres took the bait (and his remaining contract). He ended up a useless middle reliever for the remainder of the team's 1998 National League championship run, offering zero value to his fantasy owners, then spent the next two seasons on the disabled list earning paychecks.
But there's good news: For all the talk about Myers, not once in the nine seasons that followed 1998 did an incumbent closer get traded during the month of August.
As for less-expensive closers, the chances of their slipping through the cracks becomes less likely the cheaper they are. Which team wouldn't gamble on a low-priced, quality reliever even though it could be forced to assume the contract? These days, even $1 million (approximately the remaining amount owed on a $3.5 million contract, given there just slightly under a third of the season left) is a drop in the bucket for most contending teams. A better question: What team would let an inexpensive, talented reliever slide for the mere price of a waiver claim?
That's why the following four current closers, each of whom reportedly spent the entire month of July on the trading block, seem far safer save earners in the season's final seven-plus weeks. Each gets a slight bump up in value because he squeaked past the July 31 deadline with his role intact, thus removing some of the fear he'd lose his closer's job. I've listed them in the order they appear in my rankings while including each one's affordable salary in parentheses for your reference. After all, we know what August trading is all about. It's just like the song says: Money-money-money-monnnnn-eeey, monnnnn-eeey!
Huston Street, Athletics ($3.3 million): Of all the closers on the market, he'd be most likely to retain his role with a new team. He has a career 2.97 ERA, 1.07 WHIP and .217 batting average allowed and has closed for all but the first two months of his big league career. Still, looking at that salary, that's right around that $1 million-remaining number I quoted above. You can be sure the Tigers, currently sixth in the waiver rankings because they have the sixth-worst record in the AL, could handle that price, if he were to go even that far. The only thing that seems to stand in Street's way to consistent saves is his manager, Bob Geren, who claims he'll share save chances for now. For the record, I don't buy it.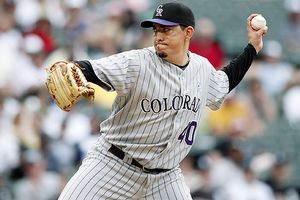 Jerry Lai/US PresswireAfter months of speculation, Brian Fuentes is still closing games for the Rockies.
Brian Fuentes
, Rockies ($5.05 million):
Keith Law
doesn't think Fuentes will clear waivers, and I don't, either. Consider that the Rockies' division rivals, the Dodgers and Diamondbacks, have the ninth and 10th waiver positions among the 16 National League teams (and because Fuentes is in the National League, the entire American League takes second fiddle), so that's as many as six NL playoff rivals (plus six to eight in the AL) either team can block from getting a quality left-handed reliever with closer experience. That doesn't mean Fuentes can't be traded to the claiming team, but it significantly diminishes the chances of it happening. His 0.00 ERA, 0.42 WHIP and .054 BAA in 12 appearances since July 1 provides much of the reason for my bumping Fuentes up two spots in the reliever rankings. The fact that he's way more likely to see consistent save chances through September now that it's past the July 31 non-waiver deadline is every bit as important a factor.
George Sherrill, Orioles ($980,000): One can only wonder whether his 6.62 ERA, 2.21 WHIP and .347 BAA in his past 19 appearances had anything to do with his suitors' choosing not to pony up the shortstop prospect the Orioles reportedly were requesting in a trade. What matters now is that Sherrill, while historically lethal against left-handers yet also adept enough to get right-handers out, remains in Baltimore, and his salary practically guarantees that's where he'll remain until the winter. I'd be a lot more concerned about the Orioles' sporting a 154-245 record (a vile .386 winning percentage) and being outscored by by 430 runs after Aug. 1 the past seven seasons combined hurting Sherrill's value than the threat that he might be squeaked through in a waiver deal.
John Grabow, Pirates ($1.135 million): He'd have been a nice consolation prize for teams that fell short in the Marte sweepstakes or felt the asking price for Fuentes or Sherrill was too steep. Make no mistake, though: Had Grabow been dealt, his days as a closer (or co-closer?) -- all of 12 thus far -- would have been done. That's why it's good for us that he remains in Pittsburgh, where he's one of the Pirates' few proven relievers. He qualifies as an "elite all-around reliever" by that bullpen's standards, thus making him a closer candidate, but he'd merely fit the description of "good left-handed specialist" for a better team. At this stage of the game, a left-handed specialist due less than $400,000 the rest of the year is simply won't slip through waivers unclaimed.
Reliever Rankings

Trade-candidate closers are on the rise this week. Although Huston Street drops a spot, mostly because of the threat he might be sharing saves, Brian Fuentes, George Sherrill and John Grabow all rise in this week's rankings.
(previous ranking in parentheses) p>
1. Francisco Rodriguez, Angels (1) td>
2. Jonathan Papelbon, Red Sox (2)
3. Joe Nathan, Twins (3)
4. Mariano Rivera, Yankees (4)
5. Joakim Soria, Royals (5)
6. Brad Lidge, Phillies (6)
7. Bobby Jenks, White Sox (9)
8. B.J. Ryan, Blue Jays (7)
9. Jose Valverde, Astros (11)
10. Kevin Gregg, Marlins (12)
11. Huston Street, Athletics (10) td>
12. Trevor Hoffman, Padres (14)
13. Billy Wagner, Mets (8)
14. Brandon Lyon, Diamondbacks (15)
15. Francisco Cordero, Reds (13) td>
16. Brian Wilson, Giants (16)
17. Brian Fuentes, Rockies (19)
tr>
18. George Sherrill, Orioles (20)
19. Jonathan Broxton, Dodgers (21) td>
20. Salomon Torres, Brewers (22)
21. Troy Percival, Rays (24)
22. J.J. Putz, Mariners (26)
23. Kerry Wood, Cubs (18)
24. Carlos Marmol, Cubs (27)
25. Mike Gonzalez, Braves (23)
26. Joel Hanrahan, Nationals (28)
27. Eddie Guardado, Rangers (NR) td>
28. Jason Isringhausen, Cardinals (25)
29. John Grabow, Pirates (NR)
30. Ryan Franklin, Cardinals (32)
31. Rafael Perez, Indians (39)
32. C.J. Wilson, Rangers (17)
33. Masa Kobayashi, Indians (31) td>
34. Fernando Rodney, Tigers (29)
35. Joel Zumaya, Tigers (40)
36. Tyler Yates, Pirates (36)
37. Grant Balfour, Rays (NR)
38. Manuel Corpas, Rockies (34)
39. Brad Ziegler, Athletics (37) td>
40. Brandon Morrow, Mariners (30)
Buying low
J.J. Putz, Mariners: The Mariners are at an interesting crossroads at closer. Putz nears full strength, but the man in front of him, Brandon Morrow, has thoroughly dominated in the role. Still, the team regards Morrow the "next Joba Chamberlain," i.e., an exceptional late-inning reliever thus far in his big league career but one whose ultimate future is likely to be in the rotation. As such, Morrow was demoted to the minors on Tuesday to convert to a starter -- no, the Mariners won't do it at this level, as the Yankees did with Chamberlain -- indicating the team still trusts Putz and considers him healthy enough to handle the role right now. Putz might have an underwhelming 3.12 ERA, 1.62 WHIP and .333 BAA in eight games since being activated, and he's blown each of his three save chances during that span. But he'll be thrown into the fire, regardless of whether he's 100 percent.
Selling high
Troy Percival, Rays: Sure, he's a valuable veteran presence to this young, contending team, but as a fantasy performer -- meaning simply from a statistical angle -- I think we already have seen the best of Percival this season. Consider this: In the season's first two months, he converted 14 of 16 save chances, had a 2.95 ERA, 0.66 WHIP and .133 BAA in 22 appearances and spent three days on the DL. In the two-plus months since, he's 10-of-11 in saves but has a 5.27 ERA, 1.68 WHIP and .235 BAA in 14 appearances … and has spent 30 days on the DL. It's understandable; Percival turns 39 on Saturday and has a checkered injury history. He can help a team, but the Rays' success and current standing might have people overrating the closer. He's a must-handcuff type because the Rays have two quality stand-in candidates, Grant Balfour and Dan Wheeler. To mean, that means Percival is not a top-20 closer lock.
Who's next?
Eddie Kunz, Mets: Closer Billy Wagner hasn't been the healthiest fella the past three weeks, as he's battled a sore shoulder that wound up costing him a save in a key July 22 contest, then a strained left forearm that landed him on the DL on Tuesday. It's that July 22 game -- you remember it, it's the one in which four Mets relievers blew a 5-2 ninth-inning lead of Johan Santana -- that helps demonstrate why this long-term Wagner absence might prove devastating. In comes Kunz, who's here right now only to provide bullpen depth, but he's a kid who has the talent and the arsenal to vault into the role quickly if needed. Kunz, the No. 42 pick overall in the 2007 draft, dominated while pitching for Double-A Binghamton, saving 27 games with a 2.79 ERA and 1.32 WHIP in 44 appearances to earn a "closer of the future" label. Whether that future is now is uncertain, but with Aaron Heilman, Duaner Sanchez and Joe Smith no more experienced as ninth-inning options, and with Wagner on the shelf, it could arrive sooner than you'd think. After all, Chad Cordero and the aforementioned Street found themselves closing games at the big league level only a calendar year after they were picked in the amateur draft. Why can't Kunz?
Holding on
Hong-Chih Kuo, Dodgers: For a multi-inning reliever, Kuo has done a pretty nice job scoring holds for his fantasy owners. He has eight in his past 14 appearances dating back to June 18. During that span he has a 1.57 ERA, 0.87 WHIP and .181 BAA, and he's excelled even after being promoted from long man/spot starter to primary set-up man to Jonathan Broxton. Takashi Saito might not see the field again this season, which puts the onus on Kuo to eat up outs in the seventh and eighth innings to bridge the gap to the closer, something we should expect to see the rest of the year. He's throwing enough to contribute in the strikeouts category, looks awfully stable in both ratio departments and should be a top holds man thanks to his expanded role in Saito's absence.
Bullpen to watch
Detroit Tigers: You should watch this bullpen, but what you'll see might not be pretty. Take a look at the closer candidates. "Incumbent" Fernando Rodney has blown each of his past two save chances, and opponents have scored against him in four of his past five outings. Ex-closer Todd Jones is on the disabled list and even doubts his own ability to reclaim the role because he'd been pitching so poorly. Newly acquired Kyle Farnsworth, who seemed rejuvenated with a 2.25 ERA in his final 18 appearances for the Yankees, promptly served up two home runs to blow a late-inning lead against the Rays on Sunday, then did it again by allowing a game-tying home run against the White Sox on Tuesday. "Closer of the future" Joel Zumaya has a 2.95 ERA in 18 games since being activated from the DL but has allowed a troubling 18 walks in 21 1/3 innings. Now he's complaining of tenderness in his shoulder, which could be a reason he blew Tuesday's game by allowing a game-ending, three-run homer. And neither Aquilino Lopez nor Bobby Seay, as things stand, seems to be a serious candidate for the role. It's anyone's guess which of these guys might emerge as the Tigers' saves leader the final two months of the season, but because many still view the Tigers as a playoff contender, consistent save chances will be there. I can't feel comfortable with any of them, but hey, as we always say, saves are saves, so feel free to gamble, especially in AL-only leagues.
Briefly
With C.J. Wilson on the DL, probable new Rangers closer Eddie Guardado becomes an obvious pickup, with his 2.01 ERA, 0.81 WHIP and .178 batting average allowed in his past 24 appearances. But for the sleeper seeker, why not also scoop up Frank Francisco in AL-only formats? He has a 1.71 ERA, 0.71 WHIP and .149 BAA in his past 20 outings, which dates back to the exact same game as the start of Guardado's hot streak (June 18). … Bobby Jenks' back problems no longer seem to be an issue, as he's 4-for-4 in save chances with a 2.57 ERA, 0.86 WHIP and .160 BAA in seven appearances since being activated. Don't forget, he tore off a 2.15/0.58/.157 line in 29 second-half games a year ago, so although it's a slight risk, I wouldn't be too worried about his health looking forward. … Kevin Gregg is 9-for-9 in save chances with a 0.75 ERA, 0.67 WHIP and .159 BAA in 13 games in the past month, and his Marlins don't seem to be going away in the playoffs race. … The Cubs activated Kerry Wood on Tuesday but initially will ease him back into his closer's role by working him in middle relief. His blister issues and past health problems make Carlos Marmol a must-handcuff for Wood's owners looking forward. Even Jeff Samardzija has some handcuff value in NL-only leagues. … I still trust Rafael Perez the most out of the Indians' closer choices, because if you've watched him pitch the past year-plus, it's clear the team trusts him in most late-inning situations. He can come in to face one or two left-handed hitters, and if he retires them, can even hang around for another inning and finish the game, as he did on Aug. 4 when he went the final two frames for his second save. Perez has a 2.01 ERA, 0.72 WHIP and .156 BAA in his past 18 appearances, which makes him the smartest fantasy choice from that Cleveland bullpen. … Brad Ziegler's record-setting scoreless streak to begin his big league career increased to 34 innings Tuesday. If manager Bob Geren is being truthful about his closer plans, Ziegler is as good a choice as anyone to steal a sneaky save or two away from Huston Street. … Brandon Lyon has an 8.10 ERA, 1.68 WHIP and .320 BAA and three blown saves in 13 chances in his past 18 appearances, so don't be so quick to shed the recently traded Jon Rauch. Rauch has pitched the eighth or ninth inning in each of his seven appearances since coming over from the Nationals, suggesting he's Lyon's primary set-up man, and he proved in Washington that he can close if Lyon doesn't hold up. … Another day, another bad outing for Jason Isringhausen, who allowed three runs on four hits in one-third of an inning on Tuesday. Ryan Franklin technically "blew the save" in relief of Izzy, but let's put the blame where it belongs, right? It's all on Isringhausen, owner of an 11.05 ERA and 2.32 WHIP in his past eight appearances. Tony La Russa and Dave Duncan might be painfully loyal to the guy, but that doesn't mean you should be right now.
Tristan H. Cockcroft covers fantasy sports for ESPN.com. You can e-mail him here.
Fantasy
Senior writer for ESPN.com
Co-host of the Fantasy Focus Baseball podcast
Two-time LABR, two-time Tout Wars champion
Member of the FSWA Hall of Fame
SPONSORED HEADLINES
FANTASY TOP HEADLINES
MOST SENT STORIES ON ESPN.COM