Commentary
Reviewing All-Star relievers
Bailey a nice selection but effective non-closers deserve more attention

Since I read everything Christopher Harris writes for ESPN.com -- and you should, too, really, along with every other fantasy writer -- I've decided to copy his theme of discussing pitchers who made their respective leagues' All-Star teams for this week's Relief Efforts. Hey, he gets full credit for the idea, I admit. I have fewer pitchers to cover, but that doesn't mean they are any less important. Remember, this game counts, right, Bud?
The funny thing about these much-maligned All-Star game rosters is that, as Harris points out, there are definitely situations in which the wrong players were chosen, be it starting pitchers, relievers or hitters. Let's take another angle on this: In simulation baseball, saves don't matter. Oh sure, someone has to save your team's wins, but it doesn't need to be someone with actual saves or closer experience.
Want to know who's next in line for saves for each team? Check out Eric Karabell's
bullpen depth chart
.
Carlos Marmol was a dominant relief pitcher in 2008, and fully capable of closing out a regular season Cubs win or pitching an important eighth inning in the All-Star game. He didn't do very much of the former, but I was still glad that he eventually was selected to last year's game, in which he pitched in the 13th inning. When non-closers are chosen for the midsummer classic, as Marmol and others like Jeff Nelson circa 2001 were, it's a good thing. It's not about who has the most saves, but who the top relievers are.
Of course, when managers chose members of their All-Star bullpens, chances are they are going to blindly look at saves, and make their decisions on who has the most. Things like ERA, WHIP, strikeouts per nine innings, ground-ball percentage, holds and even in some cases general effectiveness aren't always critical factors. Plus, sometimes a reliever barely owned in fantasy can end up looking like a real All-Star simply because there was nobody else on his team to nominate. I remember talking to George Sherrill in New York last season -- it seemed I was one of the few who were asking him questions at media day -- and getting the sense he knew he was present for the proceedings because someone from the Orioles had to be there. Sherrill did have a ton of saves (28), but a 4.08 ERA. He'd save only three more games the rest of the season. He's having a far better 2009 than 2008, but Adam Jones is the token Baltimore representative this time around.
Anyway, let's get right to it. Here's whom the managers chose to be All-Stars:
American League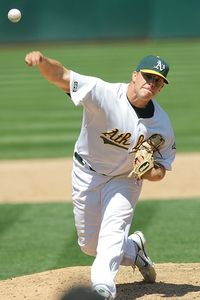 Michael Zagaris/Getty ImagesAndrew Bailey may be the token A's All-Star selection, but he's a most deserving choice even with just a handful of saves.
Andrew Bailey, Athletics: My faith in managers' picking All-Stars was restored a bit when I saw this selection. I didn't think there was a chance Bailey would be headed to St. Louis. Then again, Matt Holliday certainly wasn't going. Turns out Bailey is easily Oakland's top dog on the Player Rater, and second is Dallas Braden. Regardless, Bailey is a deserving choice with his 2.03 ERA, 1.01 WHIP and pace for 114 strikeouts. The save total is low, but don't blame him. He got the job late, and there's rarely a save chance these days. Bailey might even end up Rookie of the Year, for fantasy and the AL.
Brian Fuentes, Angels: Can't argue this one, since the guy is not only leading the majors in saves, but has been critical in the Angels' rejuvenation the past six weeks. Fuentes got off to a slow start, just like his set-up men who are no longer setting him up, but he turned his season around and last allowed a run in May. He's deserving.
Joe Nathan, Twins: I moved him into the No. 3 spot in my rankings last week, and further up this week, so obviously I have no concerns. Nathan doesn't even allow baserunners anymore. In his past nine appearances, covering eight innings, Colby Rasmus connected for the lone hit against him, and Curtis Granderson drew the lone walk. I still remember when the Twins stole Nathan from the Giants during the winter of 2003 and made him a closer, and how few fantasy owners thought much of it.
Jonathan Papelbon, Red Sox: There are 25 pitchers with 10 or more saves this season. The only ones with a higher WHIP than Papelbon's 1.33 are Matt Capps, Brad Lidge, the injured Matt Lindstrom and Kerry Wood. This doesn't mean Papelbon shouldn't be an All-Star; he's not getting pounded by any means. He just seems more vulnerable than, well, ever before. Strip away the saves and there's an argument to be made that teammates Hideki Okajima, Manny Delcarmen and Ramon Ramirez are having seasons just as good.
Mariano Rivera, Yankees: Three walks, 42 strikeouts. That's Eckersley-like. And Mo hasn't had much help in that bullpen. I don't see him ever slowing down.
Others in the AL who were deserving: Well, Harris did a nice job ripping the Tim Wakefield selection, so I won't bother, but I don't think there's any question this bullpen could use another left-hander. J.P. Howell has worthy stats, just not a lot of saves. David Aardsma of the Mariners is the top relief pitcher from the Player Rater (No. 7 for that position) not chosen for St. Louis. Seattle already has Ichiro Suzuki and Felix Hernandez on the team, and Russell Branyan is deserving, but so is Aardsma. Bobby Jenks, Frank Francisco and, believe it or not, Sherrill would be the next three relievers, but none of their numbers cry for inclusion. Francisco, Scott Downs and Joakim Soria might have forced their way on the team had they not been hurt.
National League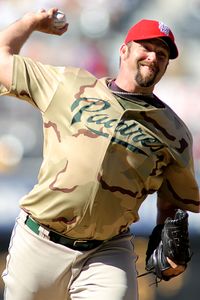 Stan Liu/Icon SMIHeath Bell had big shoes to fill in replacing Trevor Hoffman, but he's done just fine, earning a much-deserved All-Star bid.
Heath Bell, Padres: The NL save leader is having a terrific season, with a 1.49 ERA and 1.05 WHIP. Even if Adrian Gonzalez wasn't an obvious All-Star, I think Bell would have made this team. Jonathan Broxton is the only relief pitcher ranked higher on our Player Rater, and they'd be neck and neck if not for Broxton's fluky win total.
Jonathan Broxton, Dodgers: My only concern is that Joe Torre is using him and his set-up men a bit too much, but that's likely to be a bigger problem for those who select Broxton in 2010. No relief pitcher in baseball has more strikeouts than Broxton.
Francisco Cordero, Reds: At first it seemed like an odd choice, but he is Cincinnati's lone deserving choice now that Johnny Cueto ruined three months of ERA in one first inning. Cordero is a three-time All-Star now, and a deserving one this season. Still, it never seems to land him safely in the top 10 for closers on draft day.
Ryan Franklin, Cardinals: Charlie Manuel managed Franklin in Philly a few seasons back and remarked recently that he always wanted to convert the right-hander to the bullpen, but the pitcher resisted. Guess Tony La Russa and Dave Duncan have more pull. Franklin is having a nice season for a contending team, with a matching ERA and WHIP of 0.83. Some want to ridicule Manuel for this selection, but three earned runs in 32 innings is impressive.
Francisco Rodriguez, Mets: There have been a few hiccups for him over the past 30 days, and some were his fault. Sure, his first blown save came when Luis Castillo flubbed an easy pop-up, but K-Rod has walked multiple hitters four times in his past eight appearances. That's not Castillo's fault. Still, I can't make a strong case against his being an All-Star.
Others in the NL who were deserving: I'm just glad Capps and his 4.88 ERA weren't selected as the token Pirate. Freddy Sanchez made it instead. Huston Street and Brian Wilson are the top NL relievers on the Player Rater who didn't get the call, but I think there are others more deserving, those who don't have the saves. Atlanta's Rafael Soriano has a 1.63 ERA and 0.93 WHIP, with 50 strikeouts in 38 2/3 innings. He and Mike Gonzalez, also deserving, are a terrific one-two punch, and rank 3-4 in all of baseball for relief pitcher strikeouts. It's a shame the Braves can't hit enough to be contenders. Trevor Hoffman still hadn't allowed a run as of June 13, but then interleague play bit him and his ERA is up to 1.93. Still, it wouldn't have been a problem if the all-time saves leader was on the team. Also, did anyone else notice only one lefty reliever was picked for the game? Dan Meyer has been Florida's top reliever this season, and now he's earning saves.
Fortunes Rising
Top 60 Relievers
Note: Eric Karabell's top 60 relievers are ranked for their expected performance from this point on, not on the statistics that have already been accrued.
1. Jonathan Broxton, LAD (1)
2. Joe Nathan, MIN (3)
3. Mariano Rivera, NYY (4)
4. Jonathan Papelbon, BOS (2)
5. Francisco Rodriguez, NYM (5)
6. Brian Fuentes, LAA (6)
7. Bobby Jenks, CHW (8)
8. Heath Bell, SD (9)
9. Trevor Hoffman, MIL (7)
10. Joakim Soria, KC (10)
11. Francisco Cordero, CIN (11)
12. Huston Street, COL (12)
13. Ryan Franklin, STL (13)
14. Jose Valverde, HOU (14)
15. Kevin Gregg, CHC (16)
16. Brian Wilson, SF (15)
17. Andrew Bailey, OAK (20)
18. Chad Qualls, ARI (17)
19. David Aardsma, SEA (26)
20. Kerry Wood, CLE (18)
21. Frank Francisco, TEX (19)
22. J.P. Howell, TB (21)
23. Brad Lidge, PHI (23)
24. George Sherrill, BAL (22)
25. Mike MacDougal, WAS (30)
26. Mike Gonzalez, ATL (24)
27. Rafael Soriano, ATL (31)
28. Matt Capps, PIT (25)
29. Fernando Rodney, DET (27)
30. Dan Meyer, FLA (28)
31. Leo Nunez, FLA (29)
32. Scott Downs, TOR (32)
33. Jason Frasor, TOR (34)
34. C.J. Wilson, TEX (33)
35. Ryan Madson, PHI (35)
36. Dan Wheeler, TB (38)
37. Brad Ziegler, OAK (39)
38. Joel Zumaya, DET (37)
39. LaTroy Hawkins, HOU (40)
40. Kyle Farnsworth, KC (41)
41. Randy Choate, TB (42)
42. Tony Pena, CHW (36)
43. John Grabow, PIT (43)
44. Carlos Marmol, CHC (44)
45. Takashi Saito, BOS (45)
46. Phil Hughes, NYY (NA)
47. Joel Peralta, COL (47)
48. Chris Perez, CLE (48)
49. Luis Ayala, FLA (NA)
50. Justin Speier, LAA (50)
51. Jeremy Accardo, TOR (51)
52. Jason Motte, STL (52)
53. Jim Johnson, BAL (NA)
54. Octavio Dotel, CHW (54)
55. Jon Rauch, ARI (NA)
56. Sergio Romo, SF (NA)
57. Alfredo Aceves, NYY (57)
58. Mark Lowe, SEA (58)
59. Ramon Troncoso, LAD (NA)
60. Mitch Stetter, MIL (60)

• Mike MacDougal, Nationals: Well, he's no Joel Hanrahan, at least not yet. So far so good for Washington's closer, as he's converted all five of his chances in his new home. Let's make the distinction clear, however: MacDougal is not a great closer by any means. In his 17 appearances for the Nationals, he has a misleading 1.15 ERA that can't continue if he keeps walking more hitters than he strikes out. In fact, in his past 10 outings, he's got one strikeout and nine walks, total. That's hard to do, my friends. Stay thirsty for closers.
• David Aardsma, Mariners: He didn't allow any runs in June, striking out 20 in 11 innings. I've been moving him slowly up the rankings, and this week decided that yes, I actually do trust him more moving forward than Brad Lidge, Kerry Wood and Frank Francisco, among others. Aardsma isn't going away, and there's little reason to expect a drop-off in performance at this point, unless he gets hurt.
• Rafael Soriano, Braves: It's pretty obvious that Bobby Cox isn't just fiddling with the closer hierarchy; he's actually made the decision to at least share the closer role between Soriano and Mike Gonzalez. That's the best Gonzalez has at this point, though he's pitched well. Each pitcher saved only two games in June, more a reflection on the Braves than themselves. But so far in July, Soriano has all three of the team's saves, and he's tied with Gonzalez for season total. Look, I don't think either of these guys will get more than 20 saves, but if they both get to that number, Gonzalez has to take some hit in the ranks, and Soriano moves up a bit. It's a time-share, and a really, really good one.
Fortunes Falling
• Fernando Rodney, Tigers: I watched him allow the Mike Jacobs home run the other day to blow a tie game, but Rodney has been below average since May ended. Rodney walked 10 and struck out the same number in June, and he's allowed home runs in three of his past five appearances overall. You might notice Joel Zumaya did not move up in the ranks as Rodney fell, because he's been faring no better. If any contending team could use Huston Street or Jose Valverde, it's Jimmy Leyland's.
• Matt Capps, Pirates: He's allowed runs in four of his past nine appearances, but at no point this season has he really had that closer look to him. Capps never had a great K rate to begin with, but he usually prevents runs better. Can he get 35 saves? Of course he can. Then again, it wouldn't shock me if the Pirates move him while his save total is high. Oh wait, that would make too much sense.
• Trevor Hoffman, Brewers: Although I don't think this is a harbinger of Farnsworth-like performance to come, I feel compelled to point out Hoffman has been a bit more hittable over the past few weeks. The Giants tagged him for four hits and a walk, leading to two runs to break a 4-4 tie last week, but few noticed because Hoffman "earned" the win when Brian Wilson was worse. Hoffman blew his first save at Cleveland 10 days earlier. Bottom line is he's not throwing hard, so in a Jamie Moyer-type of way he must hit his spots, and that hasn't happened as much lately. In April and May, Hoffman allowed six hits in 15 innings. Since then, he's permitted 11 hits in 8 1/3 innings. Heath Bell and Bobby Jenks are better, and at this pace Joakim Soria, Francisco Cordero and Huston Street are as well.
Comings, goings, random thoughts
• The Marlins are enjoying life so far with Dan Meyer and Leo Nunez splitting the saves, and this probably will continue. It is, however, interesting that the Marlins have picked up dumped middle men Luis Ayala and Brendan Donnelly. Don't be at all surprised if Ayala, who saved games for the Mets last season, figures in the save picture soon. He enters the rankings and gets a pretty good spot, as well.
• I moved Jim Johnson into the rankings this week, just in case George Sherrill is headed elsewhere later in July. One guy who won't be closing is Chris Ray, who was placed on the DL by the Orioles with right biceps tendinitis. Ray was replaced by Kam Mickolio. Look, Sherrill might not be dealt, but if he does, it could be Johnson, Danys Baez, Mickolio, who knows?
• Interesting move by the Rockies in calling up Franklin Morales to be the relief lefty instead of ineffective Randy Flores. Morales has done nothing but start in the minors this season and best I can tell for a few years before that, but there's no obvious room in the rotation. Walks remain a problem. Not sure how he'll translate in relief, but it could be a short promotion.

Insiders, have a question about your fantasy team? Get it answered by an ESPN expert! Ask your question

• Two relief pitchers came to San Diego from Oakland in the odd Scott Hairston trade, and one of them is Ryan Webb, a 6-foot-6 right-hander who was starting until this season at Triple-A Sacramento. It's probably nothing, but pretty much every time the Padres get a reliever, I do take a second glance, because so many no-names have risen from Petco Park.
• I understand why the rebuilding Diamondbacks would deal Tony Pena for a minor league first baseman who could be their future at the position, but did the White Sox really need another right-hander? Could another trade be pending? Pena joins the Jenks set-up crew with Scott Linebrink, Octavio Dotel and Matt Thornton, but I don't think the move gets him closer to saves. Pena is hittable against lefties, allowing more hits than innings pitched in the NL and I'd think he's fourth in line, at best, for saves in Chicago. He had a much better chance at fantasy value in Arizona. Jon Rauch moves up in the Arizona pecking order, and could get saves if Chad Qualls is the next to move on.
• So you thought Brad Lidge was fine after his weekend performance against the Mets? How did he look against the Reds on Tuesday? Exactly. Continue to ride the roller coaster to 30 saves and a high ERA.
• Joe Torre is at it again, abusing his relief corps, and now it's Ronald Belisario hitting the DL due to elbow stiffness. Belisario was having a very nice season, but the rookie was also pitching pretty much every other game. Most times that will tend to catch up to a pitcher. Just ask Scott Proctor. The ineffective Cory Wade returns to help set up Jonathan Broxton. Hopefully, Belisario doesn't need another Tommy John surgery. He's already had one.
• Jason Frasor is clearly Toronto's closer with Scott Downs nursing the toe problem, and I do wonder if Downs will fully reclaim the role when he gets off the DL. Frasor is having the best season of his career, including his rookie campaign when he picked up 17 saves.
Eric Karabell is a senior fantasy writer for ESPN.com. Check out his daily Baseball Today podcast at ESPN Podcenter. He twice has been honored as fantasy sports writer of the year by the Fantasy Sports Writers Association. His book, "The Best Philadelphia Sports Arguments," was published by Source Books and is available in bookstores. Contact Karabell by e-mailing him here.
ESPN.com Senior Writer
ESPN contributor on TV, radio, podcasts, blogs, Magazine
Charter member of FSWA Hall of Fame
Author of "The Best Philadelphia Sports Arguments"
SPONSORED HEADLINES
FANTASY TOP HEADLINES
MOST SENT STORIES ON ESPN.COM