Commentary
June's winners, losers among closers
Jenks, Rivera, Wood looking sharp; Capps, Gregg, Lindstrom, Thornton shaky
With closers, it's all about being negative.
Who remembers hot spells at this particular position? It's failure that sticks in our mind most when it comes to closers, and sometimes, we develop irrational opinions about what this or that particular blown save might mean to a closer's future.
At the same time, we tend to forget successes. Unless anyone mounts a serious threat to Eric Gagne's all-time record of 84 consecutive save chances -- which seems highly unlikely -- few people will ever talk in terms of closers being "red hot."
But streaks do matter, and must be closely examined, when it comes to relievers, not only to identify trends in fantasy but also to pinpoint closers who might have either boosted or hurt their job security. Remember, fantasy value at this position is often every bit as much about job security as it is performance.
Keeping up with the theme of this week's columns, let's take a look at the June returns among late-inning relievers, helping break you from your attachment to those year-to-date statistics. As pointed out in both Hit Parade and 60 Feet 6 Inches, full-season stats can be misleading; particularly at closer, ignoring the June trends might cause you to assume your major league-leading save-getter is as rock-solid as they come, when in reality his recent performance might make him about as risky a future bet as there is at the position.
Ah, who might that example be? Let's read on, also looking at seven other relievers whose recent hot or cold spells might make them buy-low or sell-high candidates.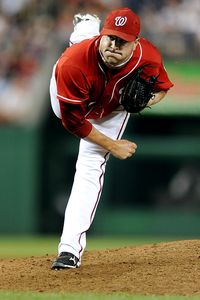 Mark Goldman/Icon SMIMatt Capps has settled back to earth after opening the season with a bang.
Matt Capps, Washington Nationals (12 G, 5 SV, 3 BS, 2 L, 4.35 ERA, 1.74 WHIP): In one of the best examples in 2010 of how quickly things can change at closer, Capps was fantasy's most valuable closer in April (10 SV, 0.68 ERA, 15 K), but by June, job security had become a problem for him. While he did convert each of his past four saves with a 2.45 ERA, that might serve as much to boost his trade stock as it does reaffirm his status as the unquestioned closer in D.C. Consider it an opportunity; there's equal risk that he turns over the job due to poor performance as he does to get traded into a setup role on another team, so his most recent turnaround, plus the Nationals' need to showcase him specifically as a closer supports any sell-high case you might make.
Kevin Gregg, Toronto Blue Jays (7 G, 4 SV, 1 BS, 1 L, 8.10 ERA, 2.25 WHIP): His cold spell actually dates back to May 7, as he has blown three of 13 save opportunities and posted a 7.31 ERA and 2.25 WHIP in 17 appearances since then. But that's not what's most troubling; those would be the 16 walks he has in 16 innings during that time span. Gregg's command has been shaky lately, and he's probably fortunate that setup men Jason Frasor (6.75 ERA in 11 June appearances) and Scott Downs (4.22 ERA in his past 14 outings) haven't pitched significantly better. In cases like this, frequently it's the first man to heat up who steals the future saves. Of course, that could just wind up being Gregg. But if you own him, how safe do you feel? It's worth shopping him, even if it means having to subsequently trade for a safer save-getter.
Trevor Hoffman, Milwaukee Brewers (8G, 3.38 ERA, 1.13 WHIP): I'm no Hoffman fan (not this season, at least), and I've made no secret of it in this space as well as in chats and other columns. Still, these numbers, as well as his 2.45 ERA in 11 appearances overall since his demotion from the closer role, bear watching, because if there's one thing Hoffman has, it's a reputation for greatness in the ninth. Managers tend to cling to experience, which is why you might have heard whispers recently that Ken Macha is considering Hoffman again for the closer's role. Not to take any luster off John Axford's performance, of course; Axford is a perfect 8-for-8 in save opportunities with a 3.38 ERA and 20 K's in 16 innings since taking over the role. A switch isn't necessary now, but it might be in the somewhat near future, especially if you consider how hard Macha has been working Axford so far. To that point: Eight of Axford's past 14 appearances were of 20 pitches or more, and eight were of five batters or more. It never seems easy with him.
Bobby Jenks, Chicago White Sox (13 G, 10 SV, 0.75 ERA, 0.67 WHIP): He's scheduled to return from the bereavement list on Friday, but before he left the team for a few days, Jenks was in one of the hottest streaks of any closer. He was tops in saves in June (10), and ranked third among relievers on our Player Rater in the month. Remember back in mid-May, when manager Ozzie Guillen questioned whether Jenks should still be his closer? Since Guillen made those comments, Jenks actually has a 2.12 ERA and hasn't blown any of his 12 save opportunities, in a true "take that, Ozzie," kind of response. That's the kind of moxie you like to see in a closer, though at the same time let's not forget how streaky Jenks can be. He has competitors for his job, like the red-hot J.J. Putz, so Jenks shouldn't get cozy. In fact, this might be a smart time to peddle him around, while his value is high.
Matt Lindstrom, Houston Astros (11G, 7 SV, 3 BS, 5.23 ERA, 1.94 WHIP): Those ratios sure look terrible, and if you include his numbers from the final week of May, Lindstrom is 8-for-12 in save chances with a 5.54 ERA and 2.08 WHIP in 13 appearances. Bleagh! Most disconcerting are his eight walks in 13 innings, because if Lindstrom has weaknesses, they're all in his command numbers. His owners cannot possibly be happy with his recent performance, nor the fact that setup man Brandon Lyon, who gets paid "closer money," had a 2.08 ERA in June, and for the season has statistics not far from his stellar rates of 2009. If you can convince your trade counterpart to deal for Lindstrom at second-tier closer value, do it.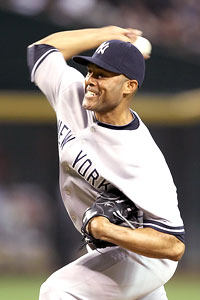 Christian Petersen/Getty ImagesMariano Rivera allowed just four hits and two walks over 13 scoreless innings in June while racking up seven saves.
Mariano Rivera, New York Yankees (11 G, 13 IP, 7 SV, 0.00 ERA, 0.46 WHIP): This just in, Mariano Rivera is pretty good. A shocker, right? Not that any Rivera hot streak comes as a surprise to anyone, but his recent one has been especially impressive, as it's not too often you'll see a 40-year-old closer putting forth a 14-game streak of 16 shutout innings and a .078 batting average allowed. How can anyone argue against Rivera as the safest, most productive closer in all of fantasy? The guy looks like he could pitch until he's 50, and if his owner in your league has any doubts of that, now is the time to rob him or her blind.
Matt Thornton, Chicago White Sox (11 G, 6.30 ERA, 1.80 WHIP): His June performance appears to have dropped him behind the aforementioned Putz in the White Sox's closer pecking order, and might lock him in as a LOOGY/lefty-specialist type for the remainder of the year. Yes, there's always the prospect of the rare matchup-related vulture save, since the division-rival Minnesota Twins have all those lefties in their lineup, but at the same time it's tough to imagine Thornton getting the call when two other relievers appear more fit to close on his team. He can still help you in ERA/WHIP looking forward, as he's a more talented pitcher than this, with a lengthy history of elite performance in those categories, but if you aim to buy low with him right now, don't do it assuming saves are coming.
Kerry Wood, Cleveland Indians (11 G, 6 SV, 3.48 ERA, 0.87 WHIP): His team isn't especially good, and that means save opportunities might be more inconsistent with him than for a closer on a better team, but Wood's cumulative 6.62 ERA and 1.47 WHIP don't do justice to his talent. Looking at those, you might think setup man Chris Perez is a threat to his job security -- especially since Perez got the save on Wednesday -- but it's not the case (barring unexpected injury, of course). Perez, after all, only got that save because Wood had pitched each of the previous three days, and recorded the save in all three. Heck, if you take out Wood's disastrous blown save of May 19 (1/3 IP, 4 H, 5 ER, 2 BB), when he was still working himself back to full strength, he'd have 4.15/1.15 full-season numbers and not look nearly so bad. This is a buy-low opportunity, folks.
TOP 75 RELIEF PITCHERS
Note: Tristan H. Cockcroft's top 75 relief pitchers are ranked for their expected performance from this point forward, not for statistics that have already been accrued.
Rnk

Player, Team

Prev
Rnk

1
Mariano Rivera, NYY
1
2
Jonathan Broxton, LAD
2
3
Francisco Rodriguez, NYM
4
4
Carlos Marmol, CHC
3
5
Jose Valverde, DET
6
6
Heath Bell, SD
5
7
Brian Wilson, SF
7
8
Jonathan Papelbon, BOS
8
9
Billy Wagner, ATL
9
10
Joakim Soria, KC
10
11
Neftali Feliz, TEX
12
12
Andrew Bailey, OAK
11
13
Rafael Soriano, TB
13
14
Francisco Cordero, CIN
14
15
Leo Nunez, FLA
16
16
Ryan Franklin, STL
15
17
Bobby Jenks, CHW
17
18
Jon Rauch, MIN
20
19
Matt Capps, WAS
19
20
David Aardsma, SEA
18
21
Octavio Dotel, PIT
21
22
Huston Street, COL
25
23
Brian Fuentes, LAA
23
24
Brad Lidge, PHI
24
25
Matt Lindstrom, HOU
22
26
Kerry Wood, CLE
26
27
Daniel Bard, BOS
28
28
Tyler Clippard, WAS
27
29
Luke Gregerson, SD
30
30
John Axford, MIL
31
31
Evan Meek, PIT
32
32
Brandon League, SEA
38
33
J.J. Putz, CHW
46
34
Kevin Gregg, TOR
34
35
Mike Adams, SD
36
36
Hong-Chih Kuo, LAD
40
37
Alfredo Simon, BAL
37
38
Jason Motte, STL
35
39
Aaron Heilman, ARI
33
40
Joaquin Benoit, TB
41
41
Jason Frasor, TOR
39
42
Fernando Rodney, LAA
43
43
Frank Francisco, TEX
44
44
Chad Qualls, ARI
42
45
Drew Storen, WAS
47
46
Mike Gonzalez, BAL
45
47
Manuel Corpas, COL
29
48
Matt Guerrier, MIN
48
49
Sergio Romo, SF
51
50
Joel Hanrahan, PIT
58
51
Matt Belisle, COL
56
52
Sean Marshall, CHC
49
53
Matt Thornton, CHW
50
54
Arthur Rhodes, CIN
52
55
Trevor Hoffman, MIL
59
56
Andrew Cashner, CHC
60
57
Grant Balfour, TB
61
58
Jose Contreras, PHI
53
59
Jonny Venters, ATL
64
60
Brandon Lyon, HOU
65
61
Ryan Webb, SD
67
62
Takashi Saito, ATL
57
63
Joba Chamberlain, NYY
54
64
Edward Mujica, SD
63
65
Chris Perez, CLE
66
66
Kameron Loe, MIL
NR
67
Darren Oliver, TEX
68
68
Kyle McClellan, STL
70
69
David Hernandez, BAL
62
70
Jason Berken, BAL
74
71
Santiago Casilla, SF
69
72
Rafael Betancourt, COL
NR
73
Michael Wuertz, OAK
73
74
Shawn Camp, TOR
NR
75
Sergio Santos, CHW
71
Middle reliever spotlight: Kameron Loe, Milwaukee Brewers
You can't find many better examples of the all-too-frequently made comment, "Anyone can develop into a quality major-league reliever," than Kameron Loe. This is a pitcher who, from 2004-08 with the Texas Rangers, posted a 13-19 record, 5.08 ERA and 1.56 WHIP as a starter, and managed 4.77/1.52 ratios overall, and one who performed so poorly in Japan last season that his team actually demoted him to their equivalent of the minor leagues, only to use him scarcely. Loe said it was not uncommon for him to go 10 days between outings. It was a rough year for the right-hander, especially that beforehand, he had to surrender his pet boa constrictor, Angel, to a new owner in order to travel overseas.
Back in the U.S., Loe signed to a minor league contract with the Brewers during the winter, then managed a 3.16 ERA and 1.21 WHIP in 10 starts for their Triple-A affiliate in Nashville. That earned him a place in the Brewers' bullpen, where Loe initially thought he'd be used only as a long/mop-up man.
United with pitching guru Rick Peterson, Loe has since thrived in his new role, though to be fair, he was fairly effective in a previous stint with the Rangers in 2008, when he managed a 3.23 ERA in 14 appearances. It turns out that his arsenal -- fastball/curveball/slider, ditching what was a so-so changeup -- is a better fit in short outings, particularly his fastball, of which manager Ken Macha told the Milwaukee Journal Sentinel, "the movement … has been off the charts."
"I've seen other guys just as tall as him but not have the sink on their pitches that he has," said bullpen coach Stan Kyles. "He's got a sinker from the netherworld. … His sinker stays in the strike zone a long time and still gets out of the strike zone fairly quickly at the end. That's a good thing to have. We've got some guys out there who can throw hard but he's just different."
Sure enough, Loe has generated ground balls on 53.7 percent of his balls in play, and his career-best 3.75 K-to-walk ratio helps diminish his risk of unlucky outings. This isn't an elite relief pitcher on talent alone, but owners in NL-only leagues shouldn't dismiss Loe based upon track record. He might be able to help you in ERA, WHIP and strikeouts, and you never know in that bullpen if he might elevate himself to the point where he might earn a vulture save or two.
Upgrade your roster
Add: Brandon League, Seattle Mariners.
Drop: Manuel Corpas, Colorado Rockies.
League might strike you as merely a short-term saves sleeper, but the fact that he stood in for David Aardsma while the latter was away from the team for the birth of his son only supports his case as the next in line in Seattle. Profiled in last week's "Relief Efforts" about deserving closer candidates, League has a 3.07 ERA and 1.10 WHIP for the season, but also 0.68/0.75 numbers in his past 13 outings.
There have been whispers for much of the season that Aardsma could be a trade candidate leading up to the July 31 deadline for deals that don't require waivers, and that League managed a clean save as recently as June 26 while adding four holds in his past eight appearances should cement his status as the next in line in the event of any deal. Between this and last season, League's ERA is 4.05, but his WHIP is 1.19, not to mention he's an extreme ground-baller (62.2-percent career rate) who shouldn't be at great risk for an ERA north of 4.
Corpas, meanwhile, was especially shaky while filling in for the injured Huston Street the past month-plus. In June alone, he converted just six of eight save opportunities with a 9.95 ERA and 2.05 WHIP in 15 appearances, his .375 BAA proving that he was hardly fooling anyone. Street appears ready to recapture the full-time closer role, having converted the save on Tuesday in what were back-to-back appearances, presumably dropping Corpas back to a middle-relief role. After all, Rafael Betancourt appears locked in as the primary setup man; Betancourt had a 2.53 ERA and 0.84 WHIP in 12 appearances in June.
Tristan H. Cockcroft is a fantasy baseball analyst for ESPN.com and a two-time champion of the League of Alternative Baseball Reality (LABR) experts league. You can e-mail him here, or follow him on Twitter @SultanofStat.
Fantasy
Senior writer for ESPN.com
Co-host of the Fantasy Focus Baseball podcast
Two-time LABR, two-time Tout Wars champion
Member of the FSWA Hall of Fame