Commentary
Street ready to roll in second half
As the Colorado Rockies attempt another second-half surge to reach the postseason, they're probably banking on their closer staying healthy for the long haul.
The way Huston Street has thrown in eight appearances thus far since returning from a shoulder injury, one that cost him the first 11-plus weeks of the season, they have a reason to be confident. Surely you're aware of Street's ratios during those eight games -- 1.93 ERA and 0.54 WHIP if you're not -- but here's a more telling fact: Of the past 22 batters he has faced, he has retired 21 and struck out seven. He has two saves and one win during that time.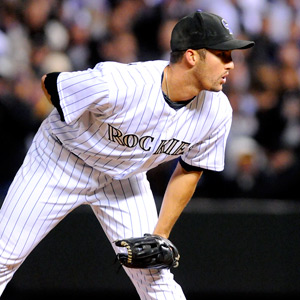 Dustin Bradford/Icon SMIHuston Street has recorded at least 16 saves in every big league season, something he could do in the second half alone.
That's not the only reason Street soars in this week's rankings; you'll notice that he's the one member of the top 25 who made a noticeable leap. There are a few other factors that support his top-15 fantasy potential the rest of the way:
• His command -- albeit in a small sample size -- is every bit as good as in the past: 7.71 K's per nine (10.22 in 2009, 9.24 career); zero walks per nine (1.9 in 2009, 2.41 career); 70 percent fastball strikes, per Inside Edge (70 in 2009).
• His supporting cast in the bullpen is strong, with right-handed setup men Matt Belisle and Rafael Betancourt as well as lefty specialist Randy Flores combining for a 2.66 ERA and 1.01 WHIP since June 1. In addition, the trio has allowed only seven of 24 inherited runners to score (29.2 percent), totaled 15 holds and has only once blown a lead during that span.
• The Rockies' rotation is pretty sound, too, with 30 quality starts in their past 50 games and a 3.82 ERA and 1.31 WHIP during that span. Those are impressive numbers if you consider their home ballpark. Plus, they get Jorge De La Rosa, one of their most talented starters, back this week.
• The Rockies' second-half history is strong. Since 2007, they have a .478 first-half winning percentage but a .586 victory rate in the second half, posting a better number in the category in each season after the All-Star break than before it. Their combined second-half ERA is 4.14, WHIP 1.35 and batting average allowed .258; that compares to 4.68-1.42-.275 first-half numbers.
Add it all up and Street's chances at a strong second half are good, perhaps more so than any of the four names immediately ahead of him on the list. Sure, he's a greater injury risk than most of the 14 pitchers ranked above him, but working upward in this week's rankings, check out Nos. 11 to 14's risk factors:
• Francisco Cordero has a 1.50 WHIP this year, not to mention his WHIPs of 1.53 and 1.72 after the All-Star break in each of the past two seasons.
• Neftali Feliz is in his first season as a full-time closer, and he's on pace for 73 appearances, which would be the 10th-most by any rookie in history and the most since Akinori Otsuka had the same number in 2004.
• Andrew Bailey, perhaps the safest of any non-top-10 ranked closer, has nevertheless dealt with lingering knee issues the past calendar year.
• Finally, speaking of injury risks, Rafael Soriano already has seven disabled-list stints on his résumé, as well as two elbow surgeries. In fact, the only reason anyone calls Soriano "safer" than Street is that his most recent DL stint was a lot longer ago than Street's. What short-term memories we have!
If it makes you feel safer (in a deeper league with the luxury of extra bench space), by all means handcuff Street, not that it's easy to tell whether Manuel Corpas, Belisle, Betancourt or ex-closer-turned-minor-leaguer Franklin Morales is the smartest pick for the role. (Corpas' recent stint in the role makes him your best bet, incidentally.) But accounting for Street's upside and his performance since activation, would it surprise you at all if, one month from today, he resided cozily in the top 10 fantasy relief pitchers?
TOP 75 RELIEF PITCHERS
Note: Tristan H. Cockcroft's top 75 relief pitchers are ranked for their expected performance from this point forward, not for statistics that have already been accrued.
Rnk

Player, Team

Prev
Rnk

1
Mariano Rivera, NYY
1
2
Jonathan Broxton, LAD
2
3
Carlos Marmol, CHC
4
4
Heath Bell, SD
6
5
Jose Valverde, DET
5
6
Francisco Rodriguez, NYM
3
7
Billy Wagner, ATL
9
8
Joakim Soria, KC
10
9
Brian Wilson, SF
7
10
Jonathan Papelbon, BOS
8
11
Rafael Soriano, TB
13
12
Andrew Bailey, OAK
12
13
Neftali Feliz, TEX
11
14
Francisco Cordero, CIN
14
15
Huston Street, COL
22
16
Leo Nunez, FLA
15
17
Ryan Franklin, STL
16
18
Bobby Jenks, CHW
17
19
Jon Rauch, MIN
18
20
Matt Capps, WAS
19
21
Octavio Dotel, PIT
21
22
Brian Fuentes, LAA
23
23
David Aardsma, SEA
20
24
Matt Lindstrom, HOU
25
25
Kerry Wood, CLE
26
26
Brad Lidge, PHI
24
27
Evan Meek, PIT
31
28
Daniel Bard, BOS
27
29
Luke Gregerson, SD
29
30
John Axford, MIL
30
31
J.J. Putz, CHW
33
32
Kevin Gregg, TOR
34
33
Brandon League, SEA
32
34
Tyler Clippard, WAS
28
35
Mike Adams, SD
35
36
Alfredo Simon, BAL
37
37
Hong-Chih Kuo, LAD
36
38
Joaquin Benoit, TB
40
39
Jason Motte, STL
38
40
Aaron Heilman, ARI
39
41
Chad Qualls, ARI
44
42
Drew Storen, WAS
45
43
Frank Francisco, TEX
43
44
Mike Gonzalez, BAL
46
45
Sergio Romo, SF
49
46
Fernando Rodney, LAA
42
47
Jason Frasor, TOR
41
48
Joel Hanrahan, PIT
50
49
Sean Marshall, CHC
52
50
Matt Guerrier, MIN
48
51
Trevor Hoffman, MIL
55
52
Matt Thornton, CHW
53
53
Chris Perez, CLE
65
54
Jonny Venters, ATL
59
55
Ryan Webb, SD
61
56
Brandon Lyon, HOU
60
57
Edward Mujica, SD
64
58
Arthur Rhodes, CIN
54
59
Manuel Corpas, COL
47
60
Matt Belisle, COL
51
61
Grant Balfour, TB
57
62
Andrew Cashner, CHC
56
63
David Hernandez, BAL
69
64
Jose Contreras, PHI
58
65
Takashi Saito, ATL
62
66
Kameron Loe, MIL
66
67
Rafael Betancourt, COL
72
68
Darren Oliver, TEX
67
69
Jason Berken, BAL
70
70
Joba Chamberlain, NYY
63
71
Darren O'Day, TEX
NR
72
Shawn Camp, TOR
74
73
Scott Downs, TOR
NR
74
Brian Duensing, MIN
NR
75
Santiago Casilla, SF
71
Are relievers on the DL worth the roster spot?
As you might have read in Hit Parade and 60 Feet, 6 Inches the past two days, it's prime time to talk players currently on major-league disabled lists. It's not the theme of today's Relief Efforts, however, because of relief pitchers eligible for the DL spot, only one -- Mike Gonzalez -- is owned in more than 5 percent of ESPN leagues. Meanwhile, the most recognizable name, Joe Nathan, is out for the season after Tommy John surgery, while a top-25 fantasy setup man, Joel Zumaya, is also done for the year with a fractured elbow.
So is Gonzalez -- or any other relief pitcher currently on the DL -- worth that precious spot in a standard ESPN league? Probably not, being that Gonzalez is the only one with his sights firmly on the closer's role when healthy and his primary stake to that job is that the Baltimore Orioles are paying him $12 million between this season and next -- effectively a "closer's salary." Gonzalez might be in the midst of a rehabilitation assignment that puts his return date right after the All-Star break, but there have been lingering concerns about his velocity all season, plus stand-in closer Alfredo Simon has converted 10 of 12 save chances with a 3.68 ERA and .259 batting average allowed in 22 appearances. Not to mention that the Orioles, on pace for just 48 wins, won't generate many save chances to begin with.
Setup men Ryan Madson and Alfredo Aceves might be the only other relievers who can even make a case for DL status in a standard format. In either case, having one there means you lacked any of the names profiled in the previous two columns. Madson, who might be back within a week or two, has struggled during his rehab stint and probably wouldn't pose much of a threat to Brad Lidge. Aceves, meanwhile, continues to experience setbacks with his back, and even when healthy, owning him is taking a shot on the ever-unpredictable vulture wins.
Most weeks, this particular section profiles a relief pitcher with whom you might not entirely be familiar. This week, however, we profile a name you probably do know but apparently don't nearly respect enough, at least according to his 2.9-percent ownership in ESPN leagues. That's in spite of his No. 35 ranking among relief pitchers on our Player Rater, seventh-best among clear middle men.
Kuo has been one of the most effective relievers in baseball, not that that's terribly surprising. After all, he had a 2.37 ERA, 1.05 WHIP, .203 BAA and 10.47 strikeouts-per-nine ratio the past two seasons combined. The primary knock against him was his inability to stay healthy. He spent more than 100 days combined on the sidelines due to elbow problems, not to mention he began this season on the DL with a similar ailment. All told, his past three DL stints were elbow-related.
This season, however, Kuo has remained mostly healthy and has stepped up his performance even further. Among pitchers with 25-plus innings pitched, check out his major league rankings: 1.03 ERA and 0.72 WHIP, both fourth-best; 12.3 K's per nine, eighth-best; .122 BAA, second-best. It's his slider that has helped him take that next step. According to Inside Edge, he has limited opponents to .083/.083/.167 rates on the pitch (he has thrown 124 of them), not to mentioned notched strikeouts with it on 44.4 percent of his opponents' plate appearances. That compares favorably to his .286/.324/.600 rates and 29.7-percent K rate with the pitch in 2008, the last time he managed a mostly healthy campaign.
Kuo might not stand much of a chance at saves, not in a bullpen headed by Jonathan Broxton. But the recent demotion of Ramon Troncoso does officially put him next in line for the job in the case of catastrophic injury to the closer. That means the rare save chance on a Broxton off day plus possible vulture wins, but NL-only and deep-mixed owners can still trust Kuo to help with ERA, WHIP and K's … at least so long as he can steer clear of the disabled list.
Upgrade your roster
Add: Evan Meek, Pittsburgh Pirates.
Drop: Joba Chamberlain, New York Yankees.
We're now 23 days -- just over three weeks -- away from the July 31 deadline for trades that don't first require players to clear waivers, meaning that if you've got some extra bench room to play with, it's prime time to handcuff your trade-candidate closers. Even if you don't own a David Aardsma, Matt Capps or Octavio Dotel, it's worth snatching up the next in line to those three in the event one gets dealt.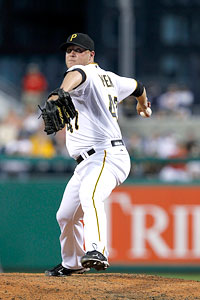 AP Photo/Gene J. PuskarEvan Meek's stellar ERA and WHIP numbers are reasons why he's on the NL All-Star team.
Today, let's focus on Meek, because despite his No. 1 ranking among middle relievers on our Player Rater, he's still available in more than 90 percent of ESPN leagues (90.8, to be exact). Among pitchers with 25-plus innings, he's second in ERA (0.94) and 12th in WHIP (0.90), not to mention opponents have batted just .176 against him. Increased reliance on his fastball, one that has experienced a noticeable boost in velocity, is mostly responsible; he has thrown it 58.9 percent of the time and has averaged 95.1 mph with the pitch, according to FanGraphs.
The Pirates seemed to be grooming Meek for their closer role at the onset of spring training, and since that date the 27-year-old right-hander has done nothing but prove he's ready for his first extended opportunity. Dotel has a $6 million contract this year with a $4.5 million option for 2011, but with the Pirates out of the playoff race, it makes sense for them to see what they might get for the veteran. Expect Dotel to be one of the most highly sought-after relievers on the trade market, especially as he's 16-for-17 in save chances with a 1.85 ERA and .150 BAA in 25 appearances since May 1.
As for Chamberlain, entering the season he had two primary values: As a handcuff to Yankees closer Mariano Rivera and as a possible wins/saves vulture who could help AL-only owners in terms of ERA/WHIP/K's. To the former point, while Rivera could get hurt at any point, does the top closer in the game really require a handcuff? To the latter, in his past 21 appearances, Chamberlain has a 7.32 ERA, 1.78 WHIP and .329 BAA, meaning he hasn't been of any help in any fantasy league for more than a month. Heck, even in the event of catastrophic injury to Rivera, Chamberlain might not even be fit to close in New York right now.
Tristan H. Cockcroft is a fantasy baseball analyst for ESPN.com and a two-time champion of the League of Alternative Baseball Reality (LABR) experts league. You can e-mail him here or follow him on Twitter @SultanofStat.
Fantasy
Senior writer for ESPN.com
Co-host of the Fantasy Focus Baseball podcast
Two-time LABR, two-time Tout Wars champion
Member of the FSWA Hall of Fame
SPONSORED HEADLINES
FANTASY TOP HEADLINES
MOST SENT STORIES ON ESPN.COM