Commentary
Will trade deadline shuffle closer jobs?
At no other position in baseball is there a greater threat of significant shifts in fantasy value at baseball's July 31 trade deadline than at closer.
The reasons are obvious: Closers mostly affect only one of the five primary rotisserie pitching categories (saves), and most frequently, the trades involving closers are often ones in which a closer gets dealt to a team with an even better closer, forcing the newcomer into a role in setup relief, where save opportunities are few and far between, if present at all.
Sifting through the July trades of the past 10 seasons, the history books are littered with such examples (and we'll stick to only examples of clear-cut closers here):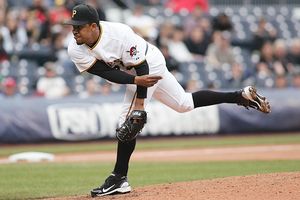 Jason Heffran/Icon SMIOctavio Dotel once lost a closer's job at the trade deadline when he went from the Royals to the Braves in 2007. Could it happen again in 2010?
• In 2001, Ugueth Urbina and Mike Williams suffered trade-related demotions from closer roles (at least initially; Urbina reclaimed the role for his new team).
• In 2003, Urbina, Williams, Armando Benitez and Scott Williamson were trade victims. This was the most difficult year in the decade to own a closer near the deadline; I recall owning one team in which Williams and Williamson were two of my three closers (a "play-cheap" strategy season) at the time they were dealt. Incidentally, Urbina again would reclaim the role with his new team.
• In 2007, Eric Gagne and Octavio Dotel were the deadline-deal losers. And boy, did both of them fall apart with their new teams.
• In 2008, Jon Rauch was the lone man to suffer.
• In 2009, it was only George Sherrill. In his defense, he was extraordinary, and perhaps somewhat helpful in fantasy, in his new setup role.
At the same time, at no other position in baseball is that threat often exaggerated, and come Aug. 1, not a single closer's role will have changed hands as a direct result of a trade. To that point, in 2000, 2002, 2004, 2005 and 2006 there was not a single significant trade of a closer that sent shockwaves throughout the fantasy community; there were a few minor deals not mentioned above, but hardly any that could've devastated fantasy owners.
So while there's indeed a threat that closer values will change -- and with them, the Relief Efforts rankings -- in the next 48-plus hours, don't upend your roster simply in fear that one of your current closers is about to have the rug yanked out from under him or in anticipation of a brand-spanking-new, he's-gonna-be-great closer in waiting. It's smart to prepare for the possibilities of the next two days -- as well as smaller August trades for high-priced closers who sneak through waivers -- and today's column is designed to help you react quickly in the event of possible news.
Here's the rundown of closers potentially affected: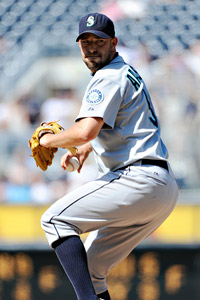 Scott Wachter/Icon SMIDavid Aardsma seems to be well off pace from repeating his 38-save season in 2009.
David Aardsma, Seattle Mariners: He's first alphabetically among all active players, and perhaps he's first in terms of likelihood to be moved, as ESPN.com's Jerry Crasnick noted recently that the "consensus is that Aardsma is going to change addresses." Two problems with a possible deal: There have been as many trade rumors surrounding Aardsma's primary setup man and potential replacement, Brandon League, as the closer himself, and the Mariners are lacking in bullpen depth and might not be able to afford dealing either reliever. In the event of a trade, it's difficult to imagine Aardsma keeping his ninth-inning role for his new team, especially since many of the teams in the hunt for relief help -- the Boston Red Sox, Detroit Tigers, Los Angeles Angels, Los Angeles Dodgers and New York Yankees to name an obvious five -- have stoppers who either are or are regarded as more talented options than him. He's 54th among relief-eligibles on our Player Rater and that's including the impact of his 18 saves, which shows how little he's contributing in the other categories; his ERA is a bloated 4.73. He's also an extreme fly-baller, so departing Safeco Field could result in his being entirely worthless in fantasy.
League, in comparison, is an extreme ground-baller. While he's not the strikeout artist nor has the upside of an Aardsma, he seems like a safe, consistent, 3.50-ERA, 1.20-WHIP reliever. If Aardsma departs, League might be even more effective as the closer, though at the same time, one less experienced reliever in that bullpen might mean fewer save chances.
Matt Capps, Washington Nationals: He has three wins, seven saves and a 1.53 ERA in his past 18 appearances, so a trade into a setup role would once again be a disappointing development for Capps' owners, just as it'd have been when he got off to a scorching hot start. There's always a chance he might still close elsewhere. As the 16th-best reliever on our Player Rater, he could entice a team like the Minnesota Twins to acquire and promote him ahead of Rauch.
But it's who might close in Capps' stead in Washington that captures most fantasy owners' attention, and it sure looks like the future, when tossing around the phrase "closer of the future," is nearly here for Drew Storen. In the month of July, Storen has a 4.50 ERA and 1.30 WHIP, but also a .231 batting average allowed in nine appearances. Meanwhile, Tyler Clippard, the hot-starting setup man, has one loss, two blown saves and an 8.71 ERA in nine appearances in the month. Clippard (17.4 percent) is much more widely owned than Storen (0.9) in ESPN leagues, but that shouldn't be the case for much longer. In fact, even if Capps isn't traded in the coming days, Storen might get a look in the ninth before year's end.
Octavio Dotel, Pittsburgh Pirates: It seems obvious he'd be traded by Saturday, except he has an affordable 2011 option and might scare off potential trade partners with his .317/.436/.619 (AVG/OBP/SLG) numbers against left-handed hitters, not to mention his extreme fly-ball tendencies. Of any of the relievers on the list, Dotel is probably the least likely to remain a closer if dealt. But his own talent is hardly the reason there's so much buzz surrounding his status nearing the deadline; it's the focus on his two right-handed setup men, Joel Hanrahan and Evan Meek. Hanrahan has a 2.35 ERA, .188 BAA and 11.74 K's-per-nine ratio in 38 appearances since May 1, while Meek, an All-Star, ranks among the top 25 relief-eligibles on our Player Rater for the season. They're almost assuredly going to battle for the job if Dotel gets moved, which is why both pitchers need to be stashed in leagues in which you can afford the luxury.
TOP 75 RELIEF PITCHERS
Note: Tristan H. Cockcroft's top 75 relief pitchers are ranked for their expected performance from this point forward, not for statistics that have already been accrued.
Rnk

Player, Team

Prev
Rnk

1
Mariano Rivera, NYY
1
2
Jonathan Broxton, LAD
2
3
Heath Bell, SD
3
4
Billy Wagner, ATL
4
5
Joakim Soria, KC
5
6
Carlos Marmol, CHC
7
7
Brian Wilson, SF
10
8
Jonathan Papelbon, BOS
8
9
Jose Valverde, DET
6
10
Francisco Rodriguez, NYM
9
11
Andrew Bailey, OAK
12
12
Rafael Soriano, TB
13
13
Neftali Feliz, TEX
14
14
Francisco Cordero, CIN
15
15
Huston Street, COL
11
16
Leo Nunez, FLA
16
17
Matt Capps, WAS
17
18
John Axford, MIL
19
19
Ryan Franklin, STL
18
20
Brian Fuentes, LAA
20
21
Octavio Dotel, PIT
21
22
Matt Lindstrom, HOU
23
23
Jon Rauch, MIN
22
24
Brad Lidge, PHI
24
25
David Aardsma, SEA
26
26
Bobby Jenks, CHW
25
27
Daniel Bard, BOS
28
28
J.J. Putz, CHW
27
29
Chris Perez, CLE
32
30
Kevin Gregg, TOR
31
31
Joel Hanrahan, PIT
36
32
Evan Meek, PIT
29
33
Alfredo Simon, BAL
33
34
Joaquin Benoit, TB
35
35
Hong-Chih Kuo, LAD
34
36
Drew Storen, WAS
37
37
Luke Gregerson, SD
30
38
Matt Thornton, CHW
38
39
Sean Marshall, CHC
41
40
Kerry Wood, CLE
40
41
Brandon League, SEA
43
42
Frank Francisco, TEX
42
43
Sergio Romo, SF
45
44
Juan Gutierrez, ARI
47
45
Tyler Clippard, WAS
39
46
Mike Gonzalez, BAL
44
47
Matt Belisle, COL
55
48
Jason Frasor, TOR
46
49
Jonny Venters, ATL
51
50
Mike Adams, SD
48
51
Jason Motte, STL
49
52
Matt Guerrier, MIN
52
53
Fernando Rodney, LAA
54
54
Trevor Hoffman, MIL
56
55
Scott Downs, TOR
66
56
David Hernandez, BAL
59
57
Darren O'Day, TEX
63
58
Rafael Betancourt, COL
70
59
Ryan Perry, DET
68
60
Kameron Loe, MIL
64
61
Chad Qualls, ARI
58
62
Jeremy Affeldt, SF
57
63
Brandon Lyon, HOU
60
64
Grant Balfour, TB
62
65
Peter Moylan, ATL
69
66
Jesse Crain, MIN
NR
67
Bobby Parnell, NYM
NR
68
Arthur Rhodes, CIN
61
69
Edward Mujica, SD
71
70
Kyle McClellan, STL
NR
71
Michael Wuertz, OAK
NR
72
Jose Contreras, PHI
72
73
Takashi Saito, ATL
74
74
Jason Berken, BAL
67
75
Tony Sipp, CLE
NR
Kevin Gregg, Toronto Blue Jays: He's an "experienced closer" -- his 107 saves since 2007 rank him 12th during that span -- and managers seem to love those, but a quick look at his career 4.06 ERA and 1.33 WHIP (3.83 and 1.29 since 2007) hint that this is a pitcher as likely to be a setup man for his new team as the other two Blue Jays relievers rumored on the trading block, Scott Downs and Jason Frasor. A Gregg trade would be frustrating to his owners because of the loss of saves, and perhaps more so because Downs and Frasor might then duke it out for the job in Toronto. If you're speculating for cheap saves, something to think about: Downs has 18 consecutive scoreless appearances with a .175 BAA in them.
Leo Nunez, Florida Marlins: He might be less apt to be traded than his setup man, Clay Hensley, but needs to be listed, because there's hardly any guarantee when it comes to good closers for sub-.500 teams. Nunez was a popular name on the rumor mill weeks ago, but he has eight saves and a 2.70 ERA in July, so his owners are surely rooting he stays put. In the event he's dealt, Hensley can and should step in; he has a 3.09 ERA, .234 BAA and 10.41 K's-per-nine ratio this year.
Jonathan Papelbon, Boston Red Sox: The chances of him being dealt are probably even slimmer than Nunez's, but there are whispers the Red Sox could decide to pack the season in, in which case Daniel Bard probably deserves a look in the ninth inning. Good news, Papelbon owners: He's the kind of closer in terms of talent and experience who should retain his gig wherever he goes. More likely, the Red Sox will bolster the relief corps behind him, in which case it might only strengthen his case for saves looking forward.
Chad Qualls/Aaron Heilman, Arizona Diamondbacks: Calling either one a "closer" is stretching it, but manager Kirk Gibson won't officially declare Juan Gutierrez his closer, either, despite Gutierrez having notched the team's past two saves. Someone might take a chance on Qualls, whose 2.13 K-to-walk ratio, .436 BABIP and 51.4-percent strand rate have some thinking he has been largely a product of bad luck, or Heilman, who got off to a great start in a middle-relief role, but one thing to remember is that they'd probably have much less of a chance at saves anywhere else than they do in Arizona. The only benefit of their being dealt is that it might finally cement Gutierrez into closer status.
Joakim Soria, Kansas City Royals: By now surely you've heard rumors the Yankees are interested in him but that the Yankees reside on his no-trade list. That hardly rules out a deal entirely, be it to the Yankees or someone else. Soria wouldn't close in New York, but he has the skills to claim the role for other teams, even the Los Angeles Angels or Minnesota Twins. His fantasy owners are surely rooting against the prospect of the deal because of the distance his value could tumble, but if you're speculating upon a possible replacement, how about Robinson Tejeda? He has a 1.42 ERA, 0.91 WHIP and .176 BAA in his past 23 appearances, leading pitching coach Bob McClure to tell the team's website, "I think he could close one day." What if "one day" just happens to mean Aug. 1?
Kerry Wood, Cleveland Indians: He's set to begin a short rehabilitation assignment Thursday and could be activated by the weekend, meaning there's an outside chance he could be traded this week. More likely, however, he'll be snuck through waivers after Aug. 1, then dealt in the coming weeks. Wood's owners will be frustrated if he's shipped elsewhere into a setup role, but considering his injury history, they've also been prepared to be without him for long periods of time. If there's anything especially noteworthy about Wood's on-the-block status, it's that any deal of him means Chris Perez, perfect in his past five save chances and the owner of a 1.87 ERA since May 1, finally would get the job security he deserves.
My top five most likely to be dealt: Wood, Aardsma, Capps, Dotel, Gregg, though I could see only the first three actually being moved.
My top five possible closers to get now: Storen, Hanrahan, League, Meek, Tejeda.
Upgrade your roster
Add: Matt Belisle, Colorado Rockies.
Drop: Jhoulys Chacin, Colorado Rockies.
News that Rockies closer Huston Street will miss at least a few days due to an abdominal contusion has fantasy owners scrambling to get the next reliever in line for saves, and Belisle is as smart a choice as any.
In his past 20 appearances, Belisle has a 1.44 ERA, 1.04 WHIP and .242 BAA, making him one of the more productive middle relievers during that time. This Rockies bullpen hasn't had a more reliable reliever this season, one in which several of their former closer options have struggled with inconsistency. Opening Day closer Franklin Morales posted a 6.75 ERA in 23 appearances before being demoted to the minors. Manny Corpas, who closed in May and June, has a 8.10 ERA in his past 16 games. Among alternatives, Rafael Betancourt has a 4.50 ERA, not to mention he has been locked into a setup role all year by manager Jim Tracy. Taylor Buchholz is fresh off the disabled list, coming back from Tommy John surgery. And left-handers Joe Beimel and Randy Flores, while productive, are merely situational options.
While Belisle's chances at regular save opportunities in the long haul aren't great -- Street might not be out long and this job is his when healthy -- he's well worth scooping up for the short term. In NL-only leagues, he'll still be helpful in ERA, WHIP and K's even when he returns to his middle-relief role.
As for Chacin, there's hope for him as a starting pitcher in the future, but his recent demotion underscores how confident the Rockies are in their current starting five, Ubaldo Jimenez, Aaron Cook, Jason Hammel, Jorge De La Rosa and Jeff Francis. Chacin should be back the next time there's a rotation opening, and when he is he'll warrant an immediate pickup in NL-only and deeper mixed formats. Right now, he might eat up one of your roster spaces until the Sept. 1 roster expansion.
Tristan H. Cockcroft is a fantasy baseball analyst for ESPN.com and a two-time champion of the League of Alternative Baseball Reality (LABR) experts league. You can e-mail him here or follow him on Twitter @SultanofStat.
Fantasy
Senior writer for ESPN.com
Co-host of the Fantasy Focus Baseball podcast
Two-time LABR, two-time Tout Wars champion
Member of the FSWA Hall of Fame
SPONSORED HEADLINES
FANTASY TOP HEADLINES
MOST SENT STORIES ON ESPN.COM