Commentary
Replacing Jonathan Broxton, K-Rod
Not that it's the first time it has ever happened, but any week in which two of the top 10 closers are stripped of their jobs, and therefore the majority of their value to us (be it for the short- or long-term), it's big news in fantasy.
Their accomplishments speak volumes:
• One has the most strikeouts of any reliever since 2006 (459).
• One owns the single-season record for most saves (62, in 2008), and has the most saves of any pitcher since 2006 (209).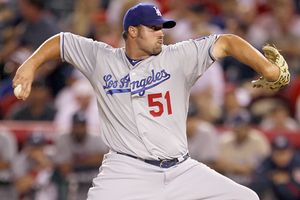 Jeff Gross/Getty ImagesJonathan Broxton is 1-4 and 2-for-5 in save chances since the All-Star break.
In case you can't guess them, or have been on a distant island vacation the first half of August, they're Jonathan Broxton of the Los Angeles Dodgers and Francisco Rodriguez of the New York Mets. Each lost his closer's role for a different reason: Broxton due to poor performance, Rodriguez due to an injury. One has a chance to recover his role in due time; the other one won't get another shot until 2011. Today, let's take a look at their respective stories, and perhaps most importantly in fantasy owners' ongoing quest for saves, the men potentially set to replace them:
You might recall the July 22 edition of "Relief Efforts," which previously discussed Broxton's somewhat diminished velocity. Since that date, he hasn't experienced much more success; while his ERA is 3.86 in nine outings, he blew two of four save chances and had a 1.39 WHIP during that time. Command actually has become a problem for Broxton, as he walked seven hitters in 9 1/3 innings, and in his past 16 2/3 innings overall, he has issued 13 free passes.
Broxton's velocity for the season, according to PitchFx, remains exactly where it was the last time we examined him, 95.4 mph on average with his fastball. But there are a few distressing developments: Since July 22, he has generated just 13 swinging strikes on 144 pitches (9.0 percent), and thrown only 60.4 percent of his total pitches for strikes. At the time of our last examination, his percentages in those departments were 9.5 and 68.0 during an eight-game "cold spell." And from the beginning of the season up to that point, his numbers were 13.1 and 70.3, right in line with his previous career performance. In other words, his velocity is down, he's overpowering opponents less often and he's having trouble locating.
That said, in his past three appearances, two of which came after he was removed from the closer role, Broxton has thrown 21 of 29 pitches (72.4 percent) for strikes, though he has also generated only two swinging strikes (6.9 percent). That's a terribly small sample size, but with continued improvement, a reliever as talented -- and hard throwing -- as him has every chance to recapture his old gig.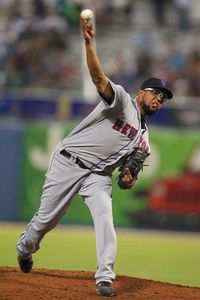 Al Bello/Getty ImagesFrancisco Rodriguez's future with the Mets is very uncertain.
Rodriguez, meanwhile, has no chance at reclaiming his role this season, following surgery on Tuesday for a torn ligament in his right thumb that will shelve him until 2011. He reportedly suffered the injury during an altercation with his girlfriend's father a week ago, an incident that cost him a few days' suspension and now has him on the disqualified list until healthy (or overturned by appeal, in which case he'd end up on the disabled list).
Rodriguez's keeper-league owners might not have anything to sweat, as he's expected to make a full recovery in time for spring training, but there are factors that detract from his value there, too. One is that his health will bear watching in the spring. Another is that, according to ESPNNewYork.com, the New York Mets have converted his contract to a nonguaranteed deal, meaning that he can be released at certain points during spring training. Finally, even if the Mets don't cut Rodriguez, they could always trade him; the chances of that are significantly higher than they might have been a week ago, and certainly his value would take a hit if he left pitcher-friendly Citi Field for a more hitter-friendly environment. Closers with question marks aren't always the safest keepers, so keep these factors in mind.
So who benefits from these late-inning changes?
For the Dodgers, manager Joe Torre somewhat surprisingly went against the "managerial grain," picking his most talented reliever, Hong-Chih Kuo, over the one with the most experience, Octavio Dotel. Maybe Dotel's miserable performance for the New York Yankees in 2006, during Torre's reign there, played a part, or perhaps it's simply a manager making the right decision, but whichever it is, Kuo's owners instantly received a boost in the all-important saves category. Add that on top of Kuo's No. 5 ranking among relievers (those with 40-plus innings) in both ERA (1.45) and WHIP (0.85), and No. 13 in strikeouts per nine (11.01) and, if he can hold the job the remainder of the year, he'd have a chance at legitimate top-10 closer value.
That said, Kuo did struggle during a recent Monday outing, allowing three runs in 1 1/3 innings' work to take a loss, and Dotel promptly blew the save by coming on in a bases-loaded, one-out, up-by-two situation and giving up a walk and a game-winning single, so neither reliever is any stronger a guarantee to notch saves than Broxton. It's Kuo's job today, but if the saves numbers for Dodgers relievers from today forward are split somewhat evenly, and go something like Broxton 6, Kuo 5, Dotel 2, would anyone really be surprised?
As for the Mets, who behind K-Rod previously had such a patchwork bullpen that Pedro Feliciano, who might be a LOOGY (Left-handed One Out GuY) on any other team, is on pace to lead the National League in appearances for the third consecutive year, it's anyone's guess who might lead the team in saves from today forward. One thing's for certain: This is an opportunity that extends into October (but only because the season ends Oct. 3, not because the Mets will make the playoffs).
TOP 75 RELIEF PITCHERS
Note: Tristan H. Cockcroft's top 75 relief pitchers are ranked for their expected performance from this point forward, not for statistics that have already been accrued.
Rnk

Player, Team

Prev
Rnk

1
Mariano Rivera, NYY
1
2
Heath Bell, SD
3
3
Billy Wagner, ATL
2
4
Joakim Soria, KC
5
5
Carlos Marmol, CHC
4
6
Brian Wilson, SF
7
7
Jonathan Papelbon, BOS
6
8
Rafael Soriano, TB
9
9
Neftali Feliz, TEX
11
10
Jose Valverde, DET
10
11
Jonathan Broxton, LAD
8
12
Francisco Cordero, CIN
14
13
Matt Capps, MIN
15
14
Huston Street, COL
13
15
Ryan Franklin, STL
17
16
David Aardsma, SEA
18
17
Brian Fuentes, LAA
16
18
Chris Perez, CLE
21
19
Leo Nunez, FLA
19
20
Kevin Gregg, TOR
23
21
John Axford, MIL
22
22
Brad Lidge, PHI
27
23
Drew Storen, WAS
26
24
Hong-Chih Kuo, LAD
42
25
Joel Hanrahan, PIT
25
26
Bobby Jenks, CHW
20
27
J.J. Putz, CHW
33
28
Luke Gregerson, SD
30
29
Daniel Bard, BOS
29
30
Michael Wuertz, OAK
31
31
Brandon Lyon, HOU
59
32
Evan Meek, PIT
28
33
Alfredo Simon, BAL
32
34
Aaron Heilman, ARI
40
35
Brandon League, SEA
37
36
Andrew Bailey, OAK
38
37
Tyler Clippard, WAS
36
38
Trevor Hoffman, MIL
35
39
Mike Gonzalez, BAL
39
40
Jon Rauch, MIN
34
41
Octavio Dotel, LAD
47
42
Jonny Venters, ATL
43
43
Hisanori Takahashi, NYM
NR
44
Joaquin Benoit, TB
44
45
Matt Thornton, CHW
46
46
Sean Marshall, CHC
41
47
Matt Lindstrom, HOU
24
48
Nick Masset, CIN
51
49
Mike Adams, SD
53
50
Sergio Romo, SF
52
51
Ryan Madson, PHI
64
52
Scott Downs, TOR
50
53
Rafael Betancourt, COL
56
54
Kerry Wood, NYY
58
55
Frank Francisco, TEX
45
56
Jason Frasor, TOR
48
57
Matt Belisle, COL
54
58
Arthur Rhodes, CIN
55
59
Darren O'Day, TEX
57
60
Fernando Rodney, LAA
49
61
Kenley Jansen, LAD
63
62
Sean Burnett, WAS
69
63
Takashi Saito, ATL
NR
64
Craig Breslow, OAK
60
65
Kyle McClellan, STL
62
66
Ryan Perry, DET
61
67
Clay Hensley, FLA
65
68
Matt Guerrier, MIN
67
69
Jeremy Affeldt, SF
68
70
Koji Uehara, BAL
74
71
Jose Contreras, PHI
66
72
Jesse Crain, MIN
NR
73
David Robertson, NYY
75
74
Pedro Feliciano, NYM
NR
75
Sam Demel, ARI
72
Hisanori Takahashi, the reliever-turned-starter-turned-reliever, gets first crack, and he converted his first career save chance with a 1-2-3 inning at Houston on Monday. Since his return to the bullpen, the left-hander has a 2.08 ERA, 0.81 WHIP and .147 BAA in seven appearances, giving him 2.56/1.16/.199 numbers in 24 games as a reliever this season. If there's any huge point in Takahashi's favor, it's that, like Feliciano, he's left-handed, and considering manager Jerry Manuel's faith in Feliciano, it says a lot that a different lefty got the call first. Grab Takahashi, because while somewhat inconsistent, he seems to have an advantage working shorter outings. Also, don't forget the points made in Wednesday's 60 Feet 6 Inches about the Mets' strong schedule for pitchers the remainder of the year.
If Takahashi isn't up to the gig over the long haul, however, who might get next crack? Bobby Parnell, he of the 3.38 ERA in 26 appearances, would be an obvious guess, except that he has a 4.85 ERA, 1.31 WHIP and .280 BAA in 14 games since the All-Star break, dropping him out of the unquestioned primary setup role. Manny Acosta could be a candidate, but command isn't always his friend; he has four walks in five innings in August and had an ugly outing on Aug. 11. Feliciano could get a try, except that taking him out of a setup role means Manuel would have to find someone else to call upon approximately once every other game. Veteran Elmer Dessens could be a dark horse candidate; he has a 1.76 ERA and 1.24 WHIP in 33 appearances this season but isn't your prototypical closer, at least not judging by his 3.52 K's-per-nine ratio. Still, as the Mets' most effective reliever -- of the ones still healthy -- this year, Dessens could be a sleeper in deep leagues.
Perhaps scouts were right when they hinted that, at the time of his inking a two-year, $10 million deal with the Orioles before last season, Uehara projected as more valuable coming out of the bullpen than the rotation. Somewhat of a disappointment working out of the rotation during his "rookie" season of 2009, partly due to injuries, Uehara has settled in nicely as a reliever since returning from elbow and hamstring issues in late June of this year.
In 16 appearances since his activation, Uehara has a 1.89 ERA, 1.11 WHIP and 10.42 K/9, all but one of those outings working at least part of the eighth inning or later. He has been especially dominant since the All-Star break; he has 0.60/0.80/10.80 numbers in 12 games during that time. Right-handers have the most trouble against him; they have .161/.190/.214 (AVG/OBP/SLG) rates against him this season.
But if you know anything about Koji Uehara, it's that he's a pitcher who relies on a fastball that doesn't often reach 90 mph. Per FanGraphs, he has averaged 87.6 mph with the pitch this season, 87.1 in 34 career appearances, and our instincts typically tell us that a pitcher who throws that softly is destined for failure. Not Uehara; he relies a great deal on deception, changing speeds and generating swings and misses with his splitter in two-strike counts, as Inside Edge reveals that he has thrown the pitch 35 percent of the time in those instances in his career. If there's anything that demonstrates the diversity of his arsenal, it's that he has limited opponents to .215/.245/.294 rates with his fastball in 2010. That's right, he's allowing an OPS below .550 with a sub-90 mph fastball.
So what's the relevance to fantasy owners? After all, the Orioles face a treacherous schedule for pitchers, and right now Uehara is mired in middle relief, with little chance at saves. Still, there's something you should consider: Since July 1, closer Alfredo Simon has a 6.10 ERA and 1.50 WHIP in 19 appearances, and ex-closer Mike Gonzalez, despite a 1.69 ERA in 11 games during that time span, has battled health issues of his own. Could Uehara get a sniff of saves down the stretch? Possibly.
Upgrade your roster
Add: Ryan Madson, Philadelphia Phillies.
Drop: Jon Rauch, Minnesota Twins.
Madson's return from a broken toe in early July was somewhat overlooked by the masses, perhaps partly due to closer Brad Lidge's own healthy return more than a month sooner; Lidge has 11 saves and a 3.52 ERA in 17 appearances since July 1 to maintain a stranglehold on the ninth-inning role. Jose Contreras, meanwhile, seemingly had a firm grip of his own on the primary setup gig.
If you're keeping track of the reliever who warrants the role of "Brad Lidge's handcuff," however, it's definitely now Madson. The right-hander has been a sensation in his past 11 appearances, during which he has a combined 11 1/3 shutout innings with 20 strikeouts and a .125 BAA. That's as hot a spell as he has experienced in his big league career, and considering Lidge's shaky history at closer the past year-plus, a handcuff might very well be necessary down the stretch. Madson might even make an impact in ERA and WHIP in NL-only formats.
Rauch, meanwhile, has been in a funk since being demoted from the closer role, with a 7.20 ERA, 2.20 WHIP and .391 BAA in six appearances during that time. It's particularly poor timing, considering new closer Matt Capps is only 5-for-7 in save chances with a 2.45 ERA and 1.45 WHIP in his first 11 games for his new team, leaving the door ever-so-slightly open for a competition. Rauch clearly looks like the Twins' eighth-inning option at best, and a so-so one at that.
Tristan H. Cockcroft is a fantasy baseball analyst for ESPN.com and a two-time champion of the League of Alternative Baseball Reality (LABR) experts league. You can e-mail him here, or follow him on Twitter @SultanofStat.
Fantasy
Senior writer for ESPN.com
Co-host of the Fantasy Focus Baseball podcast
Two-time LABR, two-time Tout Wars champion
Member of the FSWA Hall of Fame
SPONSORED HEADLINES
FANTASY TOP HEADLINES
MOST SENT STORIES ON ESPN.COM