Commentary
Roberts Report: Longoria's ups and downs
And so it begins.
Five days, seven games, seven different sites, and 14 different teams. I'll see all but four Florida-based spring training teams (the Phillies, Twins, Red Sox and Dodgers -- the latter two left town before I arrived).
Plenty of baseball, lots of miles on the rental car and a chance to do on-scene fantasy reporting from spring training sites, just as my fellow writers Jason Grey, Tristan Cockcroft and Christopher Harris have done already this spring. Not (m)any Web sites do that; ESPN Fantasy does.
With that intro out of the way, here is your Grapefruit League update, coming to you this time from St. Petersburg and Sarasota, Fla.
Pittsburgh at Tampa Bay (at St. Petersburg)
• I saw the best and worst of Evan Longoria on Monday. I watched him take batting practice and saw exactly what has the scouts drooling. The kid has among the quickest hands of any hitter I saw. A lot of line drives will come off that bat, and he's a very sure-handed fielder, too. But after watching his in-game at-bats, it's apparent he has a ways to go before becoming "the next best thing." He tracked fastballs well but flailed at the breaking stuff, reaching and extending on just about every one, which will lead to a high K count and countless ground balls to the left side. Scouts and major leaguers tell me that the biggest difference between minor league and major league pitching is the quality (and location) of the breaking stuff. Longoria clearly doesn't have that figured out yet ... and he was sent down after the game.
It's not too late! You have until April 18 to sign up and draft your own free fantasy baseball team!
Sign Up Today!
The early speculation by some is that Longoria was sent down to delay his major league "service-time clock" and that he'll be called up soon in April. I wouldn't count on that. Longoria held his own this spring, to the tune of a .262 average and three homers, but he still has work to do and the Rays will be cautious with his psyche. Let's not forget he has only 104 Triple-A at-bats to his credit, hitting .269 with a strikeout every 3.6 at-bats. I see something more in line with a late May or June call-up (assuming he's faring well), for what it's worth.
• Speaking of breaking stuff, Matt Morris showed plenty of it. First pitches, 3-2 counts, anytime. As someone who watched Morris pitch plenty in what you might call his heyday, it's sad to see that he no longer has a fastball he can throw past someone. He does have and always had a good curveball, but he's relegated to just that pitch, and he was hanging it from time to time Monday. I didn't think much of him heading into Monday's game; I think even less of him now. I wouldn't even touch him in an NL-only league.
• The Pirates announced Monday that Freddy Sanchez could be ready for Opening Day after all. He has been out with a sore right shoulder, but a recent MRI showed only inflammation in the rotator cuff and that the shoulder itself is structurally sound. Sanchez, who has been doing everything but throwing, will get back to throwing in the next few days, with the intent of playing in a spring game later this week. The Pirates said there is little chance of him making the shoulder worse if he returns now. The team's only concern would be if the inflammation leaves the joint, which shouldn't happen. Look for the durable Sanchez to be in the lineup on Opening Day.
• The Rays had no word on Scott Kazmir on Monday, but it should mean something that he has yet to pitch in a spring game and is not slotted for the first time through the rotation. I didn't see him around the facilities, nor was there talk of him making strides in his throwing program. This does not sound good. In related news, "new" No. 1 starter James Shields is the old man in the Rays rotation. He's 26. Fellow starters Andy Sonnanstine (No. 3) and Jason Hammel (No. 4) are 25, while Matt Garza (No. 2) and Edwin Jackson (No. 5) are 24.
Tomasso DeRosa/US PresswireDespite a rocky big league career so far, Edwin Jackson is still 24.
• I was quite impressed with what I saw of Jackson, Monday's starter. There was a noticeable pop of the catcher's glove when he threw, and he fired seven strong innings in Monday's win. There were a lot of hard-hit balls, but they were on the ground, which means he was keeping the ball down and/or the bats were a split-second behind the pitches. Either way, it's a good sign. Granted, he has been inconsistent in the past, but note that he's still only 24 and has raw talent. Of course, the downside to his maturation is that he is pitching to contact more, a bad thing for fantasy. In 26 2/3 spring innings, he has just 12 K's, which is not Jackson-esque. But Monday's performance was encouraging nonetheless, especially for owners of teams in AL-only leagues.
• I had a good talk with B.J. Upton, who is aware of his fantasy prowess but says he doesn't think much about it. Asked whether he could hit more home runs, Upton said he just tries to center the ball and not worry about it. Asked whether he would cut down on his K's, he said he just tries to center the ball and ... well, he proceeded to show me in the game, hitting seemingly everything on a line. One thing is for sure: Upton is a physical specimen. Very lean and lanky. I remember thinking he would lose his speed as he "fills out." That's not happening here, at least not anytime soon. He was proud to reveal his six-pack, and he's not an "awkward" 6-foot-3, but more of an NBA point guard. In fact, he covers so much ground in center field, it makes me wonder why it took the Rays so long to move him there.
• Speaking of foot speed, both Upton and Carl Crawford seemed to be pleased with their green-light status from manager Joe Maddon. Says Upton: "I can run whenever I want." And it's very telling that Akinori Iwamura, who actually looked like a decent fit as a leadoff man, laid down a perfect push bunt to reach first base and move the runners over. Said Doug Mientkiewicz to Morris, who was not able to cover the bag: "Yeah, they do that [stuff]. They're like Anaheim ... That's where Maddon came from." The aggressiveness works just fine for us.
• Speaking of Minky, he is still a slick fielder. With a lefty-hitting Adam LaRoche starting at first base, he is unlikely to catch on in Pittsburgh, but he'll find a job somewhere.
• We have him projected for 241 at-bats, but Cliff Floyd sees no reason why he couldn't get 350 to 400 this season, especially with Rocco Baldelli out. Floyd says he is healthy as can be and knows he must take occasional days off to remain that way.
• I liked what I saw from Pirates youngster Nyjer Morgan. I knew he could run, but I also was impressed with his ability to turn on pitches.
• I also liked what I saw of Eric Hinske, who played respectably in right field, hit the ball well and even stole a base. He could definitely help AL-only owners if given a good number of at-bats.
• Carlos Pena hit a towering fly to left field (the opposite way), growled and ran to first ... and the ball cleared the fence in straightaway left by 15 feet. You don't see non-wind-aided opposite-field home runs at parks in which the ball doesn't carry very often, and Pena accomplished it. It's worth noting here that we at ESPN seem to like Carlos Pena to repeat more than other sites do.
• Ryan Doumit said he has been given no indication how the catching split with Ronny Paulino will go. The two catchers have been splitting time fairly evenly this spring. Doumit said he also wouldn't mind getting a little time in the outfield, although he hasn't been given many reps there. Doumit came off as a team player, but he hopes to get "at least" 350 at-bats this year.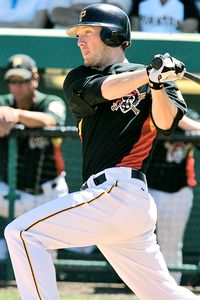 AP Photo/Gene J. PuskarA knee injury may be a big reason for Jason Bay's .247 average last year.
•
Jason Bay
assured me that his troublesome knee is feeling better. He had tendinitis in his knee last season. The injury needed rest, which he was unable to give it during the season. But Bay said the knee is fine, other than a little apprehension now and then, and that he worked hard this offseason to prepare it for this year. "This year I knew what to expect, and I've put in the work in the front end to add more life and years in the back end." So will he also run? "I'm by no means a steals guy, but I see no reason I can't steal 20-25 bases."
• I had just read about B.J. Ryan's elbow pain after he tried to return in 10 months following Tommy John surgery, and I thought it'd be hard to find a better person to ask about that than Al Reyes, who has had two Tommy John surgeries, 10 years apart. He said the forearm pain Ryan was feeling is completely normal and almost expected. The elbow pain is not: "That's not good," he said. Reyes, by the way, said he feels great and is happy to be setting up for Troy Percival, considering that's the role he has had for much of his career. "Getting those outs in the middle is very important to a team."
• "Which way to the Dev-..." I just about said it. As Buster Olney recently noted, the Rays have a playful fine system in place for those who slip and say "Devil Rays" instead of the Rays. I just about did it, and the security lady was ready to bust me. Seriously.
• The Rays' impressive win brings them to 16-5-2 this spring, a franchise record in wins. Something to take from that? Hmm.
Toronto at Cincinnati (at Sarasota)
• Blue Jays GM J.P. Ricciardi announced Monday night that Scott Rolen had a screw placed in his fractured right middle finger and will be out at least two weeks. Rolen can still do other baseball-related activities but won't be able to hit or throw until he gets the screw removed in 14 days. After that, he will return as his pain tolerance allows. "The fracture isn't a problem, but he lost the nail, which is another layer to protect his finger," Ricciardi said. "It's early, so we won't push it ... but it'll be tough to hold him back." Ricciardi has no plans to sign someone to replace Rolen, instead going with Marco Scutaro at third base. Not a good start for Rolen, whom many fantasy owners already considered to be an injury risk.
• Ricciardi also said injured reliever B.J. Ryan is out until "at least mid-April, in the best-case scenario" because of pain in his surgically repaired left (throwing) arm. The Jays intend to keep him in Florida as the team heads north to begin the season. Ryan is throwing on the side and "making strides," according to Ricciardi. Look for the Jays to be cautious with him, and even mid-April sounds optimistic to me.
• Rumor has it that although the Jays haven't yet made it official, they also will leave A.J. Burnett and Shaun Marcum back when the team returns north for the season. Burnett suffered a torn fingernail this spring and Marcum is recovering from knee surgery. Both still need more work to get ready for the season. No word yet on whether either of them will miss a start, but be prepared for it to happen, just in case.
• Adam Dunn sent the first pitch he saw (from Marcum) screaming over the right-field fence. Dunn is a patient hitter, but it's worth noting that in 2007, he hit .403 with nine homers in 62 balls put in play on the first pitch. Maybe with aggressive-minded manager Dusty Baker urging him to swing more, he could take better advantage of those numbers.
• You know who else homered? Joey Votto. He sent one a "country mile" to center field, hitting it so far that even Ken Griffey Jr. nodded his approval to Baker when they made eye contact shortly thereafter.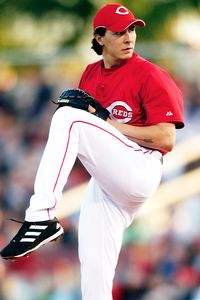 J. Meric/Getty ImagesA top prospect last year, Homer Bailey has not lived up to expectations.
• Despite earning his first win of the spring and allowing no earned runs in 4 1/3 innings,
Homer Bailey
looked just awful. He walked six batters, including Marcum, and ended up throwing just 42 of his 84 pitches for strikes. Even worse, his curveball was about the least deceptive curve I've seen in quite some time. He threw it from a different arm slot than his over-the-top fastball, and it had to be quite readable to hitters. He throws hard, but the kid just doesn't look ready for the bigs right now. I wouldn't want him anywhere near my mixed-league -- maybe not even my NL-only -- roster right now.
• Stat junkies don't like him, and for good reason, but Corey Patterson is still an impressive player to watch. He runs well and takes strong swings at the plate. We'd probably rather see Jay Bruce at the plate, but I could see tonight why Baker and the Reds snatched up this guy at a bargain-basement price.
• In case you missed it, the Blue Jays released Reed Johnson on Sunday and have called up Buck Coats to take his place on the roster. Johnson will catch on somewhere, but it might be for a minor league role.
• Among the guests at the sold-out game: ESPN's Dick Vitale and Dan Shulman ... and it was completely coincidental. Vitale is a local resident, while Shulman is a Toronto resident presumably checking out the Jays, for whom he spent seven years as their play-by-play man.
Next up (Wednesday): New York Yankees at Cleveland (at Winter Haven); Houston at Detroit (at Lakeland).
Brendan Roberts is a contributing writer/editor for ESPN Fantasy.
Fantasy
Brendan Roberts is a contributing writer/editor for ESPN Fantasy. He has been covering fantasy sports as an editor and writer for more than eight years and was awarded the Fantasy Baseball Writer of the Year award in 2006 from the Fantasy Sports Writers Association. Roberts can be read in both the fantasy baseball and football areas at ESPN.com.
MOST SENT STORIES ON ESPN.COM