Commentary
Bullish on Bruce in second half
Five bold predictions for the second half

The All-Star break will be upon us in a matter of days, and with it will come the ESPN Fantasy team's midseason update: All your fave fantasy writers will re-do their player rankings for the rest of the regular season. (In other words,
Carlos Beltran
won't make too many top-20s.) In advance of that, I thought I'd make a few predictions for some of the more surprising and disappointing players so far in 2009, guys who have either been carrying or killing fantasy squads from sea to shining sea. Here, then, are
Five Bold Predictions
for the fantasy baseball season's most important half.
1. Jay Bruce will carry your fantasy team.
Editor's note: Jay Bruce injured his wrist Saturday and could be out up to six weeks. The Big Rotowski was originally published Friday afternoon. Bruce, one of baseball's more heralded prospects of the past decade, announced his presence with authority last year, blasting 21 homers and hitting .254 in 413 at-bats. Given his track record of stolen bases in the minors (he stole 19 back in '06) and the inevitable comfort that a future star feels the longer he's in the majors, Bruce was a fantasy darling in drafts back in March. On average, he was the 68th hitter taken, at an average draft position of 98, putting him squarely in the 10th round. According to ESPN's player rater, though, Bruce has only been the 145th-best fantasy hitter so far this season, despite having accumulated 18 homers already. In fact, Dusty Baker benched Bruce on Thursday and Friday so the outfielder could "clear his head." While you can certainly whinge about his lack of RBIs (he's got only 38) and his high strikeouts (62), the most damaging aspect of his season so far is his batting average: .208.
And that will change. Bruce's batting average on balls in play so far in 2009 is .202. Bruce's BABIP (batting average on balls in play) is the lowest among qualifiers in baseball right now. Not only that, since 1974, the year FanGraphs.com's data for BABIP begins, not one single batter has ever finished with a BABIP this low. The lowest mark among qualifiers in a non-strike year in the past 35 years was a 38-year-old Brooks Robinson in 1975 at .205. Nobody has finished a non-strike season below .229 since Mark McGwire's .217 in 1991, and while, unlike with pitchers, a hitter's BABIP is a reflection of his own batting style, Bruce had a BABIP of .298 in his rookie season, and never less than .351 in three seasons at four levels in the minors. As long as he doesn't become strikeout-prone, this is a guy who should hit between .280 and .310 every year.
So what's the problem with Bruce? First off, he's hitting a fly ball almost half the time he's making contact (49.6 percent), up from 34.2 percent last season, while his line drive percentage has died out from 21.1 percent last season to 12.7 percent this season. His ground ball-to-fly ball ratio has also fundamentally changed, from 1.31 last season to 0.76 this season, and despite his lofty home run totals, he's hitting relatively fewer home runs per fly ball than he did last season: 20.2 percent to 15.4 percent. Plainly put: He's trying to do too much, it's not working, and it looks like Dusty Baker has noticed.
My guess is, Bruce will right the ship in the second half. He'll relax, hit more pitches square instead of trying to murder every pitch out of the park, and the batting average will come up as a result. I daresay he'll get out of Dusty's doghouse and hit close to .300 over the next three months, the ability to do which he's shown all the way through the minor leagues, and all his offensive numbers will rise accordingly. Bruce has actually been dropped in 5 percent of ESPN.com leagues. If yours is one of those leagues, grab him.
2. Carl Pavano will be worth owning in almost all leagues.
Right now the mercurial Pavano is owned in only 7 percent of ESPN leagues. It's not hard to understand why: In three starts from June 10 to June 24, he allowed 18 runs and 31 hits in 14 1/3 innings. That kind of awfulness doesn't just grow on trees. But follow my logic here. When Ricky Nolasco was at his deepest depths in late May, having given up eight earned runs in back-to-back starts which earned him a trip to the minors, I stood by him. I continued to rank Nolasco in my starting pitching column. I continued to talk about him as a potential add on multiple TV segments. And I scooped him up in a couple of NL-only leagues in which he'd been (justifiably) dropped. Why did I have such faith? Nolasco's batting average against on balls in play was literally the highest in the majors, and his strand rate (the percentage of baserunners that didn't eventually come around to score) was literally the lowest. While he was cursed with some pretty terrible Marlins defense, the numbers hinted that Nolasco had been supremely unlucky.
Now here comes Pavano. As of today, among starting pitching qualifiers, his batting average against on balls in play is the fourth-highest in the majors (.344) and his strand rate is the lowest in baseball (61.9 percent). By the powers of transitive logic, I hereby proclaim Carl Pavano the next Ricky Nolasco.
OK, no I don't. Pavano doesn't have Nolasco's fine curveball, and while each guy specializes in the slider as his out pitch, few would say that Pavano's is as good as Nolasco's. In general, that means Pavano probably isn't going to be the strikeout guy that Nolasco is. The fact is, though, that despite an ugly-looking 1.41 WHIP, Pavano has a 71-to-20 strikeout-to-walk ratio in 99 innings so far for the Indians, a ratio that puts him 14th in the majors and seventh in the American League. I'm throwing up in my mouth a little bit as I'm typing this, but I really think more consistent good times are ahead for Pavano, especially if he gets traded to a contender more likely to get him wins than Cleveland is.
[+] Enlarge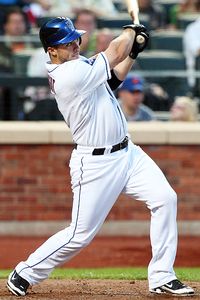 Jim McIsaac/Getty ImagesDavid Wright is hitting .328 despite being on pace for an alarming 163 strikeouts this season. His career worst was 118, in 2008.
3. David Wright and Joe Mauer are due for falls
Despite hitting only five homers so far in 2009, David Wright is ranked 19th among all players (batters and pitchers) in ESPN's player rater, and ranked
second
among all third basemen (not exactly a shabby fantasy position). Despite missing all of April with a back injury and still not quite having enough at-bats to qualify for a batting title, Joe Mauer is the 31st-rated player in fantasy so far, and the top catcher. I don't think either guy can keep up his blistering pace.
Wright has been an unfortunately batting-average-dependent player in '09. Yes, he's on pace for 40 steals, which will make him well worth owning no matter what. But nearly 30 percent of his value so far this year has come from the fact that he's hitting .328 despite seeing his strikeout rate jump more than eight percent from last year (18.8 percent to a whopping 26.8 percent, which isn't far from Ryan Howard territory). Wright's batting average on balls in play is a whopping .436, 32 points higher than anyone else in the majors. (Mauer's BABIP is .404, the only other such mark over .400 in baseball right now). No player has finished a season with a BABIP above .400 since Ichiro did it in 2004, and Wright's career BABIP is .350; outside of his rookie season, his BABIP has never been less than .328 or more than .362. There's nothing in Wright's other numbers that indicate he's doing anything truly different at the plate; he's hitting line drives, ground balls and fly balls at approximately the same rate he has throughout his career. So what we have here is essentially the same hitter, with more strikeouts but on pace for a career-best batting average? It just doesn't add up. Granted, Wright's homer-per-fly-ball rate is ridiculously low right now (5.7 percent compared to a 14.3 percent career average), but some of that can be traced to a lack of comfort at Citi Field, and some can also be traced to a lack of help in that injury-ravaged Mets lineup. I think Wright's homers will exceed his ludicrous five from the first half, but that his overall value will nevertheless drop in the second half.
As for Mauer, his home-run-per-fly-ball rate is 22.7 percent, the ninth-highest such mark in baseball and his highest mark in any season by a whopping 12 points. Like Wright, Mauer should experience less batting luck in the second half (his career BABIP mark is .348), In addition, whereas I think Wright will see his power return at least to some degree from July to September, Mauer has no place to go but down power-wise. His silly HR/FB rate has already allowed him to set a career high in homers, despite his having played only two months. While I'm not ruling out a skills increase for one of the game's best players who's only 25 years old, a one-year jump this big just isn't likely. I'll be surprised if Mauer hits more than six or seven dingers the rest of the way. Combine fewer fly balls going for homers with fewer balls in play turning into hits, and any attempted run at a .400 season should be short-lived.
4. Matt Cain will finally stop making me look ridiculous
I've been calling for Matt Cain's statistical downfall for two months. Hasn't happened yet. I've relented to the point where I now have Cain rated 17th among starting pitchers, but I'll let you in on a little secret: That's a mega-hypocritical ranking, because I still consider Cain one of the likeliest starters in baseball to suffer a severe downturn in the second half.
Why is that? Well, remember the logic I used to endorse Pavano? That same logic says Cain has been one of the luckiest guys around as he's amassed his 10 wins and 2.42 ERA. Whereas Pavano and Nolasco labored under the yoke of unfortunate circumstances, Cain has a .266 BAABIP and a shocking 86.1 percent strand rate, highest in the majors. Even in his nutty 2008 year when it seemed like Daisuke Matsuzaka left the bases loaded every inning without allowing runners to score, Dice-K's strand rate was 80.6 percent. It's true that you can't fake strikeouts, and Cain has 93 of those in his 115 1/3 innings. But there's really nothing about Cain's season that looks unlike his mediocre '08 campaign: similar strikeout rate, similar walk rate, similar fly-ball rate, similar home run rate. So his terrific first half doesn't look like the result of improved skills, but rather improved luck. Really, the only things that look different are his BAABIP and his strand rate. And while it wouldn't be impossible for that BAABIP to hang in the mid-.260s (not that outrageous a number), no qualified starting pitcher has finished a year with a strand rate as high as Cain's is right now since Pedro Martinez in 2000. Cain's 1.22 WHIP will probably rise some, and more of those baserunners are going to score. I think.
5. Colby Rasmus and Jordan Zimmermann will keep this up
It's happening a year later than we all hoped, but Cardinals outfielder Colby Rasmus is establishing himself as a viable mixed-league fantasy outfielder (and the prohibitive favorite for NL Rookie of the Year). Since struggling in the season's first six weeks, Rasmus has gone .290/.311/.704 (average/on-base/slugging) since May 15. His minor league history indicates he'll take a walk (his career minor league walk rate is 13.6 percent), so I'm not terribly worried by his 5.2 percent number so far this season, at least insofar as I don't think it means his respectable overall .280 average is in danger because of poor plate discipline. In addition, Rasmus stole 50 bases in three minor league seasons in the St. Louis organization, but has just one attempt this year. As a rule, the Cards this season just don't run: They've only got 40 total steals as a club, 27th in baseball, and Albert Pujols is their leading thief, with 10. I say Tony La Russa will grow to trust Rasmus' baserunning instincts more in the second half, because he's got legit speed that can't (or at least shouldn't) be ignored. And Rasmus hits second in the batting order most nights against righties, so chances should be there. He's only owned in about 10 percent of ESPN leagues.
Meanwhile, Jordan Zimmermann continues to fly under the radar screen in real-life and fantasy baseball, mostly because he's not going to net many wins pitching for the execrable Nationals. Like Rasmus, he's only owned in about 10 percent of leagues. But despite laboring under an unlucky BAABIP (.341) and strand rate (69.4 percent), all this rookie continues to do is submit fantasy-worthy outings. He hasn't allowed more than two runs in a game since May 27. He's got a sparkling 78-to-25 strikeout-to-walk ratio in 79 2/3 innings; that ratio is easily in the top 20 in all of baseball. Unfortunately, Zimmermann has the majors' worst defense behind him, and one of baseball's worst offenses providing him with what could loosely be termed "run support." And lest you think he's a soft-tosser who's merely fooling hitters his first time around the league, this is a kid with No. 2 starter's stuff: a fastball that regularly hangs out around 94 or 95, a really nice slider, and a change that belies his youth. He's still only got three wins, and it would be folly for me to guarantee he'll reach double digits by season's end. But in every other starting pitching category, Zimmermann will continue to be a fantasy asset.
Christopher Harris is a six-time Fantasy Sports Writing Association award winner. You can e-mail him here.
Fantasy
Senior writer for ESPN.com
Six-time Fantasy Sports Writing Association award winner
Author of "The Big Clear," a noir thriller
SPONSORED HEADLINES
FANTASY TOP HEADLINES
MOST SENT STORIES ON ESPN.COM